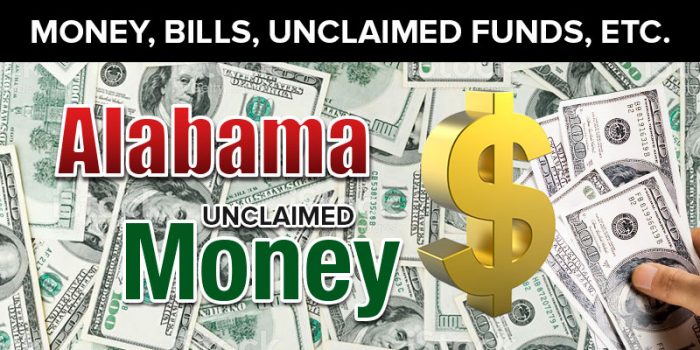 Looking for unclaimed money or abandoned property in Alabama? You probably already know that most states, including Alabama, have easy-to-use websites where you can go to search for your unclaimed money. However, you may not know all of the steps that you need to follow in order to run a comprehensive unclaimed property search. This how-to-guide will take you step-by-step through the process of finding and claiming unclaimed/abandoned property and money.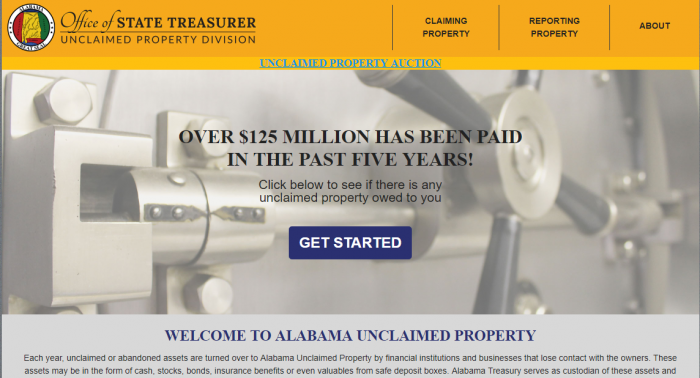 You may have been led to believe that the process for finding and claiming property is difficult. That is not true; the process is a relatively easy one, even if it can become somewhat time consuming. By providing you with an in-depth overview of the unclaimed money process, not only in Alabama but also in the other sites you should visit in order to run a complete search, we give you a better idea of what the unclaimed money search and claim process entails.
In this guide, we answer the most frequently asked questions about the unclaimed money process. We start by giving you Alabama's definition of unclaimed property. We tell you where to go to find unclaimed property in Alabama and locations outside of Alabama that you should include in your search. We explain why states have unclaimed property databases. We explain how unclaimed property databases work. We provide an overview of Alabama's unclaimed money laws and links to those laws. We take you step-by-step through the unclaimed money process for the state of Alabama. We detail the type of documentation you may need to provide to verify your unclaimed money claim. Finally, we discuss finder services and whether you need to use a finder/locator service in order to find and claim your abandoned property.
At Alabama's unclaimed money database, you can search for your own unclaimed property. The state takes possession of property once it is considered abandoned. That classification is based on the amount of contact that the property owner has had with the holder. Once contact has not occurred for a specified period of time and the holder is unable to reach the property owner, the property is considered abandoned. The holder is then required to notify the state about the unclaimed property, and the property is transferred into the state's custody. The state does not become the owner of the property, but does become the custodian of the property until the actual owner can claim the property. You can conduct an immediate search on Alabama's unclaimed property database.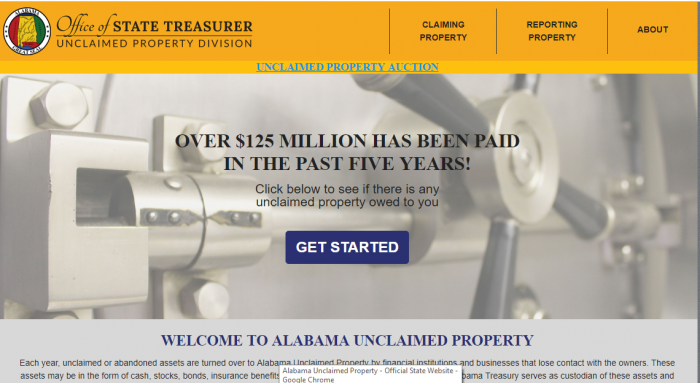 We always recommend that people start their unclaimed property searches in the state where they live or where they lived in the past. State databases are a great place to find your unclaimed property. However, not all money escheats to the state. For example, money that is held by the IRS or another federal government agency will stay with the federal government and not go into a state database. Furthermore, money stays in the estate where the property owner lived when an account was open, or, if the property owner's address is unknown, the location where the holder was located or headquartered. As a result, you may need to look at several states and some federal websites to run a complete search.
Alabama's Unclaimed Property Database
Alabama's unclaimed property database consolidates information from every county in Alabama. You will find information about property in all of the following counties: Autauga, Baldwin, Barbour, Bibb, Blount, Bullock, Butler, Calhoun, Chambers, Cherokee, Chilton, Choctaw, Clarke, Clay, Cleburne, Coffee, Colbert, Conecuh, Coosa, Covington, Crenshaw, Cullman, Dale, Dallas, De Kalb, Elmore, Escambia, Etowah, Fayette, Franklin, Geneva, Greene, Hale, Henry, Houston, Jackson, Jefferson, Lamar, Lauderdale, Lawrence, Lee, Limestone, Lowndes, Macon, Madison, Marengo, Marion, Marshall, Mobile, Monroe, Montgomery, Morgan, Perry, Pickens, Pike, Randolph, Russell, St. Clair, Shelby, Sumter, Talladega, Tallapoosa, Tuscaloosa, Walker, Washington, Wilcox, and Winston.
What is Unclaimed Money?
Each state defines unclaimed property for itself. In Alabama, unclaimed property refers to various types of abandoned financial assets. Like with most states, Alabama specifically excludes real estate and vehicles from its unclaimed property statutes. Examples of unclaimed property include: savings accounts, checking accounts, unpaid wages, securities, life insurance payouts, material in safe deposit boxes, and uncashed checks. Before turning property over to the state, the organization holding the property, which is known as the holder, has to make efforts to contact the owner and establish activity with them. If the holders' efforts do not produce activity, then the holder is required to report it to the state, along with the owner's last known address. Once the property is in the custody of the state of Alabama, the state's unclaimed property program begins an outreach program to try to find the rightful owner.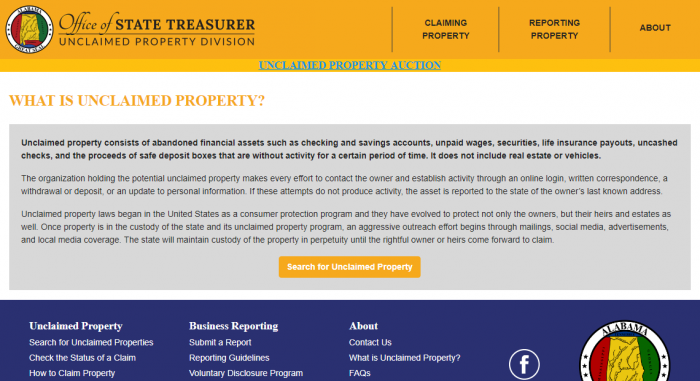 How Much Unclaimed Money is in Alabama?
Over the last five years, the state of Alabama has returned over $125 million to rightful owners. Alabama currently has over $400 million in unclaimed assets. This is only a small fraction of the total amount of unclaimed property in the United States. According to the National Association of Unclaimed Property Administrators (NAUPA), which is an organization that is set up to help return unclaimed property to its rightful owners, and composed of many members of state and territorial unclaimed property websites, the U.S. has at least an estimated $42 billion in unclaimed funds.
Alabama Unclaimed Money Finder
Begin your search for unclaimed money at Alabama's unclaimed money site.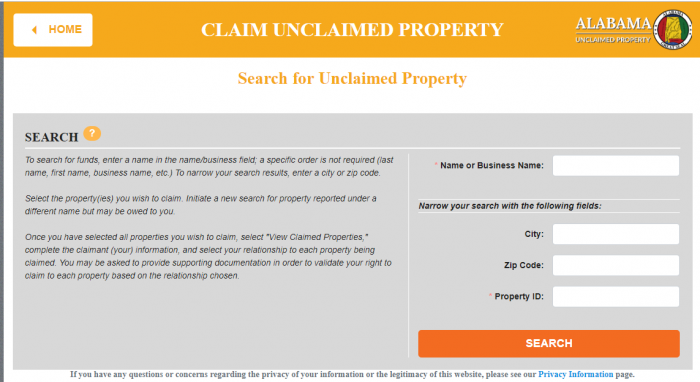 Once you are at the site, beginning your search is easy. The only information that you must have in order to conduct a search is a last name or the business name. Of course, you can enter additional information if you want to narrow the search, including the city, the zip code, or the property identification number.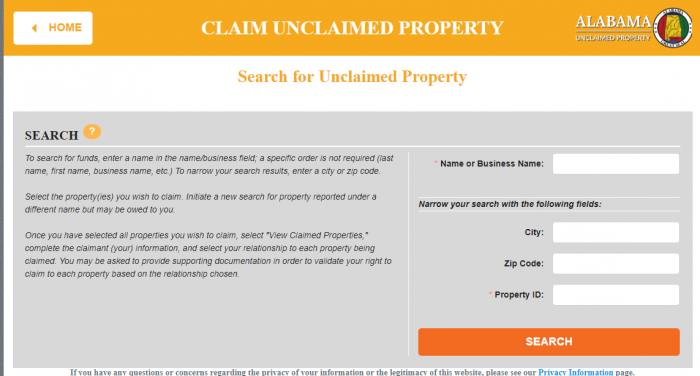 Using only a last name to run a search has its pros and cons. While the state of Alabama lets you run a search using only that search parameter, doing so can result in so many positive results that the search becomes meaningless. Therefore, it might actually keep you from finding money that might be yours. On the other hand, using more parameters will exclude some potential results. To highlight this issue, we begin our example search using a last-name only, and we use the common last name "Smith." The result screen tells us that our search resulted in 1,000 properties, but that is actually not correct. Instead, the website has a 1,000 limit on search results; we do not know the actual number of results from that search: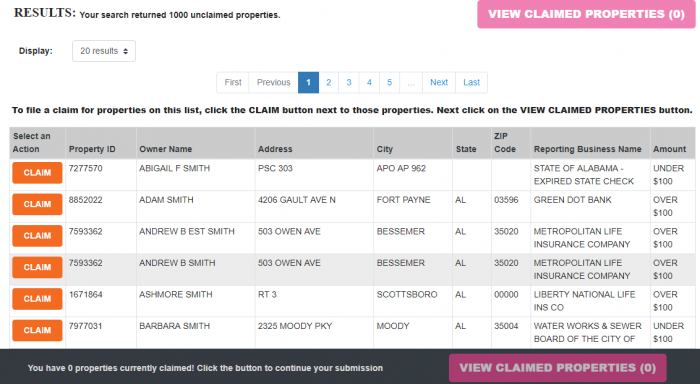 Fortunately, we can use extra information to help narrow down the search and yield a manageable number of results. Adding a first name is a great place to start. However, you may need to run additional searches if you add in a first name. For our example, we are going to use another generic name "Bob" as our first name. However, that is usually a nickname. If a person's real name is Bobby or Robert, then you would want to run searches with those names as well. Searching for "Bob Smith" instead of just Smith, we still had over 1,000 results, but if you look at the search results you will see that is because it still gave us all of the results for Smith. However, the Bob Smith results are listed at the top of the search results, and there are only four of them: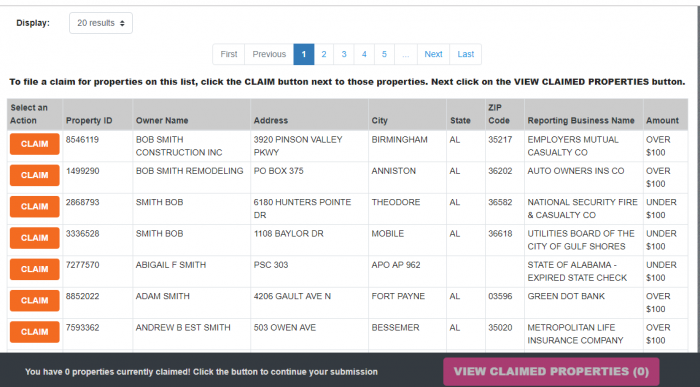 To further narrow down the results, you can add in information from any of the search parameters. If we add in the city of Mobile in the search field, then the results get more specifically tailored. There are still more than 1,000 search results, but only one of them matches Bob Smith and is in Mobile: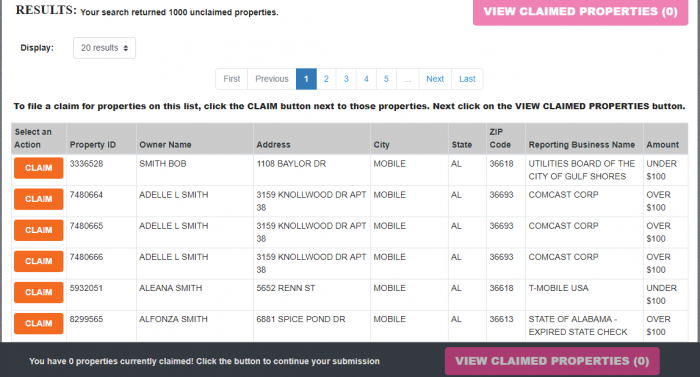 Once you have a preliminary list of results, you can hit the "claim" button to begin the claim process. Once you have claimed properties, you will see the "claim" button replaced by an "X."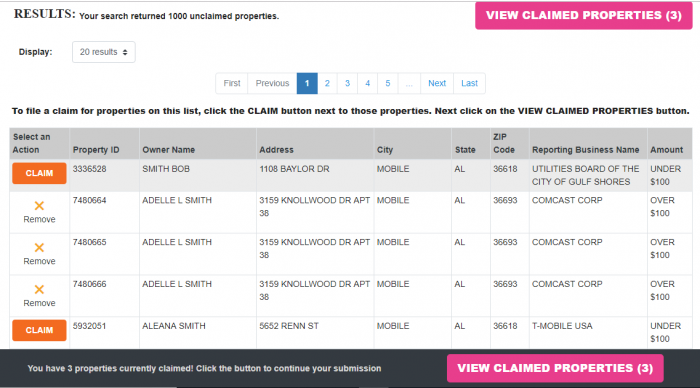 Once you have selected the properties you wish to claim, you may then select the button at the top or the bottom that says "View Claimed Properties":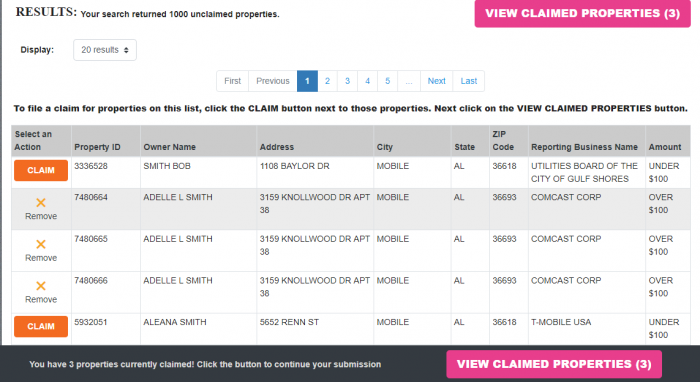 Once you have selected to "view claimed properties" you get a screen that looks like this: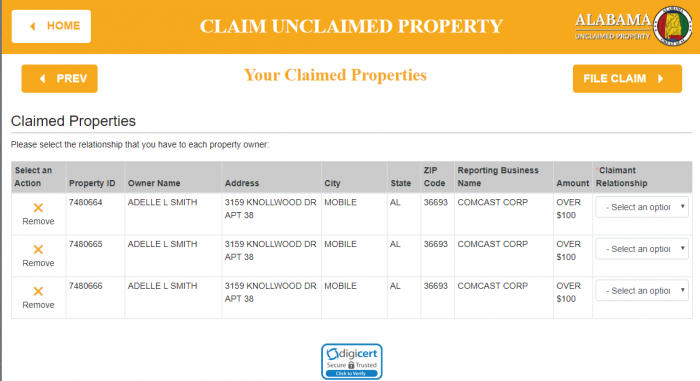 Once you get to this screen, you are asked to choose a claimant relationship for each property that you are trying to claim. You get a drop-down menu when you hit the arrow on the claimant relationship button. The choices are: owner, estate representative, heir, and business representative. Once you have selected a claimant relationship, you can get to the following screen, which asks you to provide the claimant's personal information: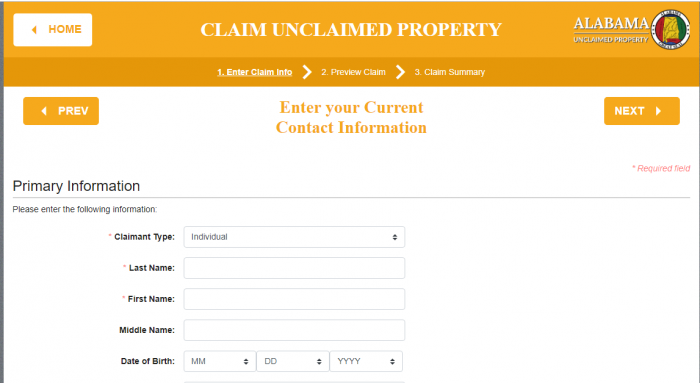 At this screen, you will be asked to provide several different types of information including: a complete name, date of birth, phone number, email address, physical address, and social security number or tax identity number, and address. While you are not required to enter your social security of tax identity number, failure to do so can Once you enter the information, you will be given the opportunity to preview your claim prior to submitting it. After submitting your claim, the state will let you know what type of supporting documentation you need to provide in order to claim the property.
After you have submitted your claim, you need to collect any supporting documents that you were told to gather and send it to the state at RSA Union Building, 100 North Union Street, Suite 636, Montgomery, AL 36104: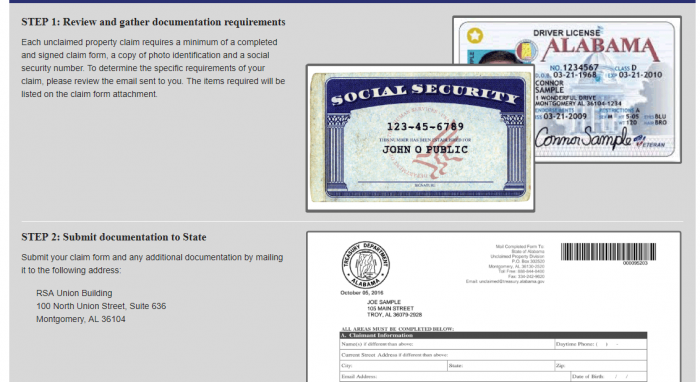 Unclaimed Money Laws in Alabama
Alabama's unclaimed property law is known as Article 2A Uniform Disposition of Unclaimed Property Act of 2004. A full text version of it is available in a .pdf at the Alabama State Treasurer's website.
Alabama Unclaimed Money FAQ
How long does Alabama hold unclaimed money?
Alabama takes custody of the unclaimed property, but not possession. It will hold the property in its custody in perpetuity until it can be claimed by the rightful owner or a person authorized to claim it on behalf of the rightful owner.
Examples of Unclaimed Money
In Alabama, unclaimed property can include things such as: savings accounts, checking accounts, uncashed checks, items from safe deposit boxes, life insurance payouts, unpaid wages, and securities. It will not include vehicles or real property.
Does state of AL make efforts to locate owners?
The state of Alabama makes significant efforts to locate actual owners, including sending out quick claim postcards that make it easy for rightful owners to claim their property.
Other sources to search besides AL state database?
We have repeatedly told you that running an unclaimed money or property search is going to involve looking at multiple databases. If you live in Alabama or recently left the state, then you want to start with the Alabama database. You also want to include any states where you have resided. However, you might need to expand the search beyond just your state of residence.
Make a list of the states you should search. Include the state where you live, any states where you have resided, states where relatives who may have put property in your name have lived, and any states where you may have business contacts. To determine whether you may have business contacts in a state make sure and include states where your employer is incorporated and states where your insurers may have been based.
You also want to include some non-state sources. As we have already told you, money held by the federal government never escheats to the state. In addition, some other types of money, like pension benefits or life insurance benefits, may also not ever get in the state's custody. The four sites that should be part of every unclaimed money search are: the Life Insurance Policy Locator, the National Pension Benefit Guaranty Corporation, the Internal Revenue Service, and the U.S. Treasury. In addition to those four sites, which may be holding money for you or an ancestor, you should look at your personal circumstances and determine whether you should check these other federal sites as well: the Department of Housing and Urban Development, the FDIC, the Veteran's Administration, and the National Credit Union Administration. Contact information for them is listed below:
FDIC: https://closedbanks.fdic.gov/funds/.
Department of Housing and Urban Development: http://entp.hud.gov/dsrs/refunds.
National Credit Union Administration: www.ncua.gov/services/Pages/asset-management/unclaimed-deposits.aspx.
Veteran's Administration Benefits Department: www.insurance.va.gov/liability/ufsearch.htm.
We tell everyone to search at the unclaimed property database for the Internal Revenue Service. Why is this so important? What many people do not realize is that the IRS does not forward tax refund checks if someone has moved. Furthermore, unclaimed tax returns stay in the possession of the IRS rather than escheating to the state: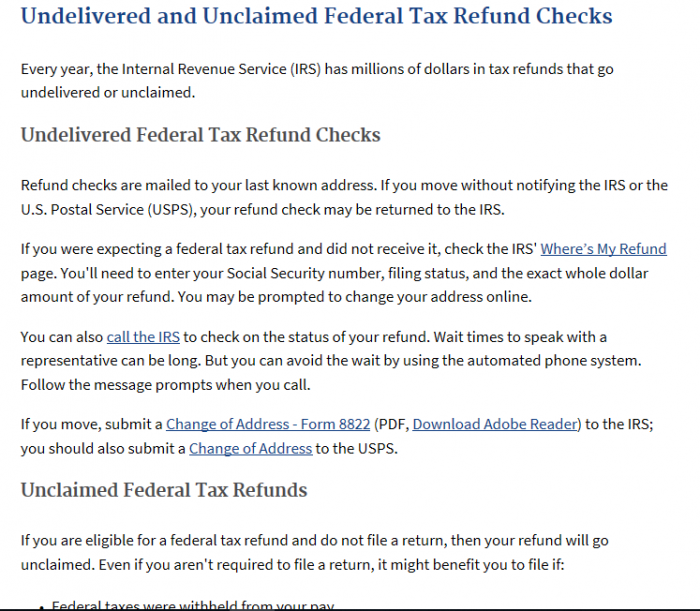 For those of you who think that you should have received a refund, but have not gotten it, you can search for it by going to their Where's My Refund? page: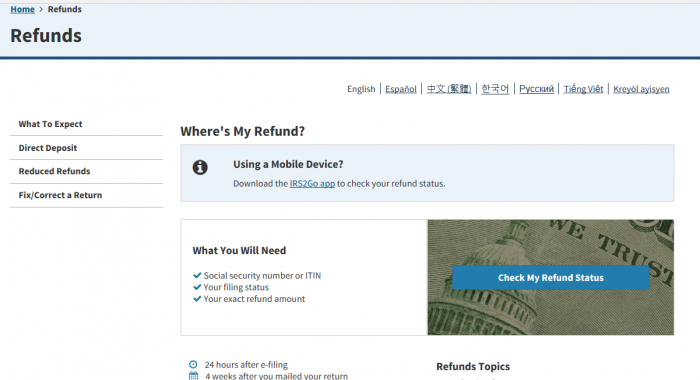 The second site we tell people to search is the U.S. Treasury. There is over $17 billion in unclaimed bond funds right now. However, you should be forewarned that it can be very difficult to find lost bond money at this site. Previously, the U.S. Treasury had a great website set up, which allowed people to track down unclaimed bonds. They have discontinued that site. However, you can still claim your unclaimed bonds. You can choose from three methods to start your search: calling the Treasury at 844-284-2676, writing to the Bureau of Public Debt, or visiting the Treasury Direct website.
The third site we recommend people visit is the Pension Benefit Guaranty Corporation. The PBGC is a federal organization that guarantees pension benefits. The PBGC has a database set up to help people find their unclaimed benefits. It is worth taking the time to search the sight, because over 70,000 potential claimants have over $400 million in unclaimed pension benefits, and one potential claimant has over $1 million in unclaimed pension benefits!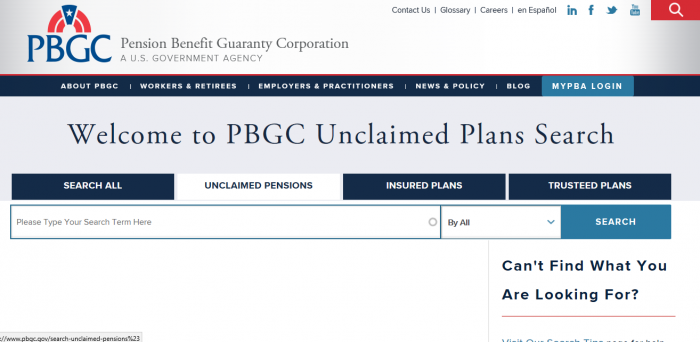 One of the difficulties with locating life insurance benefits is that the companies frequently do not know the state of the intended recipient. Fortunately, the National Association of Insurance Commissioners' Life Insurance Policy Locator Service, has set up a system that can help you locate unclaimed life insurance benefits. They do not have a searchable database, but they do allow you to put your information in so that member insurers can search their databases to find out if you are an intended beneficiary of an unpaid policy: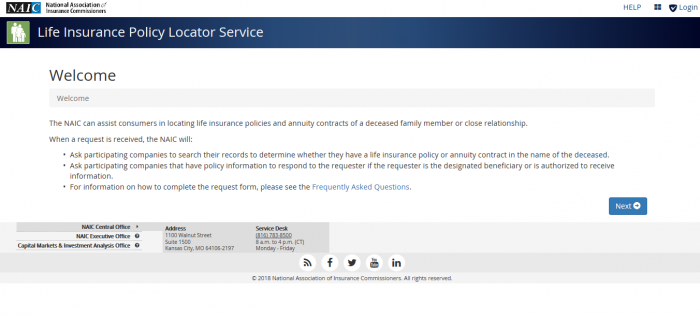 What is the best way prevent my property from becoming lost or unclaimed?
This is probably one of our most frequently asked questions. While there is no absolute fail-safe manner, if you follow the steps we have listed, you greatly reduce your chances of ever losing your money:
Make records of all of your existing accounts. Keep them in a central location. Account information should include: the name(s) on the account, the account number, the holder, the holder's physical location, the holder's contact information, and passwords (kept in a separate location).
Add any new accounts as soon as you open them.
If your account records are digital, keep your password available at another location.
Store your account passwords in a different location than your other account information, but make sure that you have access to your passwords.
If you store property in a safety deposit box, make sure and include the physical location and box number for that safety deposit box. Keep keys to safety deposit boxes with your other account information.
Put any deposit or refund due dates on your calendar. Also set up reminders to contact your financial institutions at least once a year after opening your account.
Notify your holders anytime you have a change in personal information. These changes include things like name changes, marriages, divorces, phone number changes, and address changes.
Choose electronic account management when it is an option, and use a single email address for your accounts.
How do I make sure my heirs know where my assets are if I die?
A will is not sufficient; make sure and appoint a trusted individual who has access to your financial information in the event of your death or incapacitation.
Should I hire a finder to conduct the search?
The State of Alabama's official position is that people should not hire finders to help them search for or claim unclaimed property. Finder services, which may also be known as locator services, are third-party services that charge a fee to search for and claim unclaimed property on your behalf. However, if you would not run a search on your own, it may be profitable for you to choose to use a finder service.
Why does Alabama take possession of unclaimed property?
Alabama considers its unclaimed property procedures to be a consumer protection action and takes possession to help reunite people with their abandoned property.
Conclusion
Thinking about running an unclaimed property search? Follow the steps we have outlined to help increase your chances of finding your abandoned money.