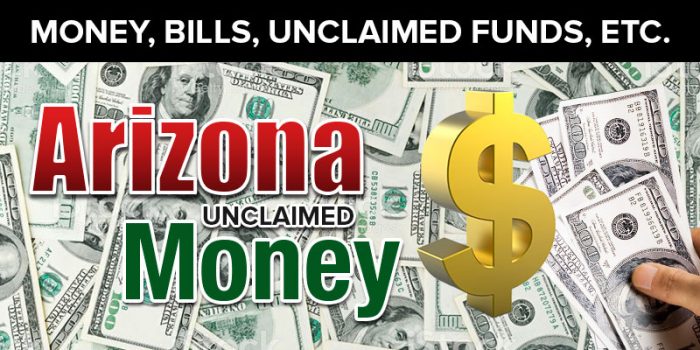 Are you in Arizona and looking for unclaimed money? Great! Our comprehensive how-to guide will tell you everything you need to know to find unclaimed property that is being held by the state of Arizona, as well as unclaimed property or money that may be being held by the federal government or by other state governments.
In this comprehensive how-to guide, you will find out everything you need to know to find and claim unclaimed money in Arizona. The guide provides you with: the definition of unclaimed property; information on how to search for unclaimed money; all of the places you need to know to search for abandoned property; an explanation of why states have unclaimed property databases; how the unclaimed money laws work including links to Arizona unclaimed property laws; the steps to take to file an unclaimed property claim in Arizona; examples of the type of documentation you need to file an unclaimed property claim; and a discussion of whether or not to use a "finder" service.
Arizona maintains an unclaimed money database, where it holds money for property owners who have failed to claim their money from holders for a period of time defined by statute. Arizona's unclaimed money database is operated by Missing Money, in partnership with the Arizona Unclaimed Property Unit, a division of the Arizona Department of Revenue. You can go directly to Missing Money to start your search or you can access it from the Arizona Unclaimed Money database: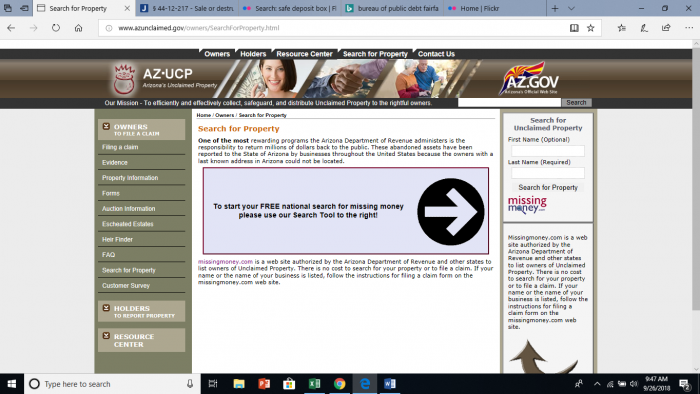 While Arizona's dedicated unclaimed property information is great for finding any money or property that may have escheated to the state of Arizona, it is not the only place that you need to search in order to run a comprehensive unclaimed asset search. Some money, such as money held by the federal government, does not escheat to the state. In addition, if the person for whom you are searching ever lived in another state or established business contacts in another state, you may need to search multiple states to run a complete asset search.
Many people are intimidated by the unclaimed asset search process. The process, itself, is actually pretty simple. States and federal government agencies have plenty of tools to help you find abandoned property. However, it can be very time-consuming, since a thorough unclaimed asset search generally involves looking for property in multiple databases. You need to look for property in the state where you currently live, states where you previously lived, and states where you have business contacts. To find the databases for those states, you can run Google searches for each states or visit Missing Money, which has links to state and provincial government databases or agreements with those governments to host the information that you would otherwise find on a state database: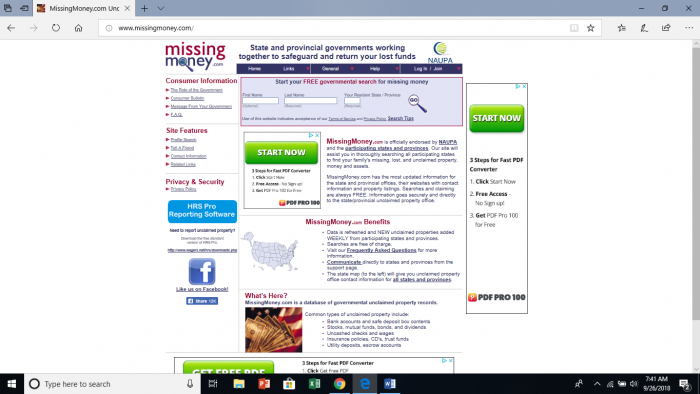 Arizona's Unclaimed Property Database
All of Arizona's counties report their unclaimed money to the state. Therefore, you will find information about property regardless of whether the property was originally located in: Apache, Cochise, Coconino, Gila, Graham, Greenlee, La Paz, Maricopa, Mohave, Navajo, Pima, Pinal, Santa Cruz, Yavapai, or Yuma counties.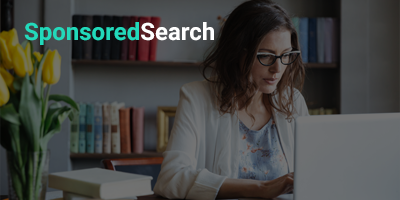 Search Public Records
What is Unclaimed Money?
Generally, unclaimed money or property is money that has an identified owner, but is being held by a holder that has been unable to reach the property owner for a statutorily defined period of time. Arizona's unclaimed property law is the Arizona Uniform Disposition of Unclaimed Property Act, Arizona Revised Statutes § 44.3.1 et al. This statute provides the definition of the types of property that can be considered abandoned and the applicable time periods for property to be defined as abandoned:
According to the state of Arizona, it holds money for owners if the owner's last known address is located in Arizona. Unclaimed property can include items such as money, uncashed checks, state warrants, drafts, interest dividends, income, uncashed payroll checks, checking accounts, savings accounts, safe deposit box contents, customer overpayments, securities, credit balances, and unidentified remittances.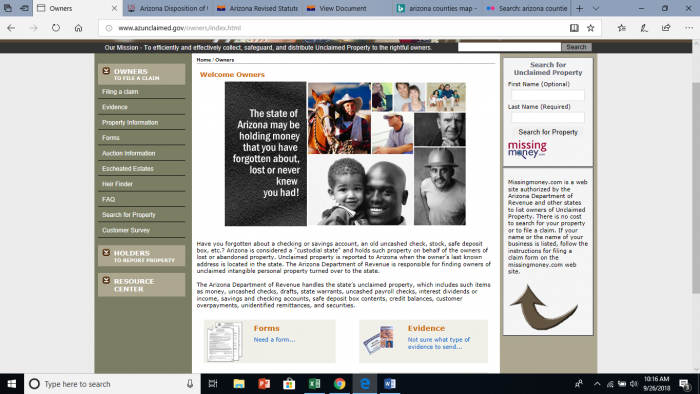 Does Arizona keep all unclaimed property until the actual owner is located?
No, it does not. While some states will hold unclaimed property indefinitely, in Arizona unclaimed property reverts to the state's ownership if unclaimed for 35 years.
Does the State of Arizona Hold All Unclaimed Property That Is Held by Residents of the State?
No, it does not. Arizona holds property when the last known address of the holder was in the state of Arizona. If you resided in another state at the time that you placed the property with the holder and failed to inform the holder that you moved out of state, then the property will almost certainly be held by the state database in the state where you resided at the time. In addition, some types of property never escheat to the state of Arizona, including property that is held by a federal government agency.
What Arizona Law Governs Unclaimed Money and Property?
The Arizona Uniform Disposition of Unclaimed Property Act, Arizona Revised Statutes § 44.3.1 et al. provides time frames for property to be abandoned, how the property is to be handled, and when the unclaimed property and money revert to the state.
What Kinds of Property or Money Can Become Unclaimed Property?
Virtually any type of property can become unclaimed property if the owner fails to maintain contact with the holder. However, real property, with its tax requirements, will often revert to ownership of the state before it can ever attain unclaimed property status.
Can Physical Property Be Unclaimed Property?
Absolutely. Physical property can be unclaimed property as long as it was in the custody of a holder. The most common scenario for physical property to become unclaimed is if it has been placed in a safety deposit box in a bank.
How Much Unclaimed Property Is Out There?
A bunch! According to the National Association of Unclaimed Property Administrators (NAUPA), there is an estimated $42 billion in unclaimed property in the United States. In Arizona, there is currently $1,534,930,705. due to owners. Of course, it is important to keep in mind that these numbers are constantly fluctuating estimates, since people will be claiming property and holders will be reporting new unclaimed property to the state.
How Long Does Arizona Hold Unclaimed Money?
Arizona will hold unclaimed money and property for up to 35 years; after 35 years the property escheats to the state.
Where Can I Find Unclaimed Property?
Many states have their own unclaimed property databases, as do several federal unclaimed property sites. You can also look at the Missing Money website, www.missingmoney.com. Many states use Missing Money for their unclaimed property registries. Even states and provinces that operate their own unclaimed money sites make that information available on Missing Money, as well.
Why Does Arizona Take Possession of Unclaimed Property?
There are two primary reasons that Arizona takes custodial possession of unclaimed property. First, it seeks to preserve the property rights of the original property owners. Second, because the property reverts to the state after a 35-year period, the state wishes to preserve its claim to the property.
Does the State of Arizona Make Any Efforts to Locate the Rightful Owners of Money or Property?
Because Arizona Revised Statutes § 44-315 requires the state to maintain confidentiality of owner listings, except in the searchable database and a once-yearly published list, it is difficult for the state to track down original owners. However, holders are required to notify owners of property worth more than $50 prior to reporting it and transferring it to the state. If you have not moved and have not been contacted by the holder of the property before the money went to the unclaimed database, they may have sent the notice and had it delivered to another address by mistake or the original company may have merged with another company.
What Information Do You Need to Run an Unclaimed Property Search?
In Arizona you begin your search with the following information: last name or company name if you are searching for a business and first name. That is all that Missing Money requires to initiate a search: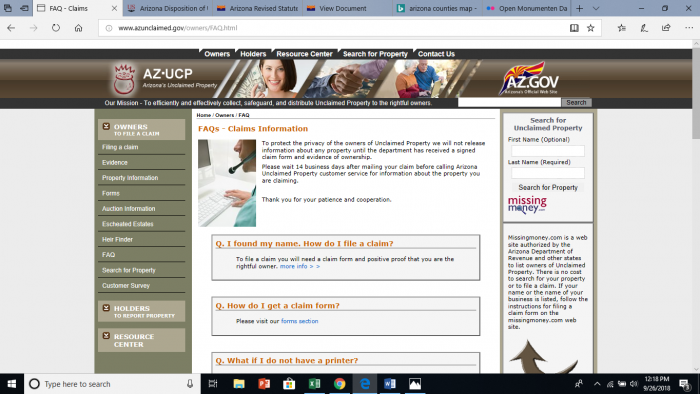 However, using those search parameters will likely result in many false positives. Therefore, you should have additional information available to you when you begin your search. Some information that people find helpful when conducting a search includes: other names like married names, maiden names, nicknames, and aliases; current address; prior address; employer names and addresses; social security number; common misspellings of your name.
How Do You Find Unclaimed Money?
We suggest taking a methodical approach to your unclaimed money search. Begin by making a list of all states where you, or the person for whom you are searching, lives or previously lived. Next, add in states where you, or the person for whom you are searching, may have had business contacts. If it is possible that you are an heir to money, then add in states where a deceased many have resided, as well as the deceased's information. This should give you a comprehensive list of states for your search.
Next, consider all of the databases other than state databases where you may want to look for your missing property. This should include federal databases, such as the IRS.com and Treasury.gov. In addition, it should include any specialized databases that might apply to you or your family, such as the Holocaust Survivors and Victims Database.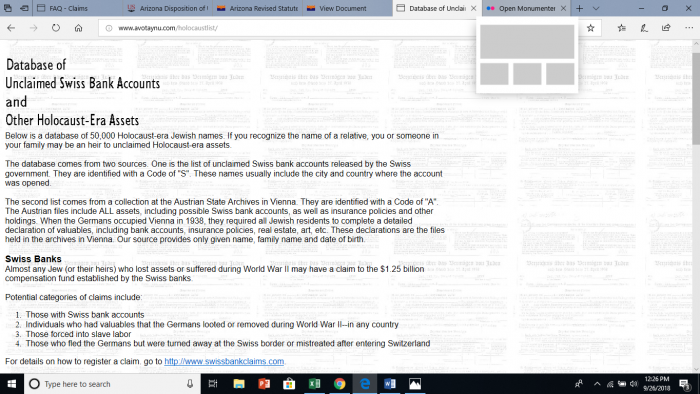 Then, you want to make sure you can find all of the databases that you need to begin your search. There are two ways to look for their databases. First, you can use Google or any other reputable search engine to find the information. Simply enter "missing money" + the state name into the search bar: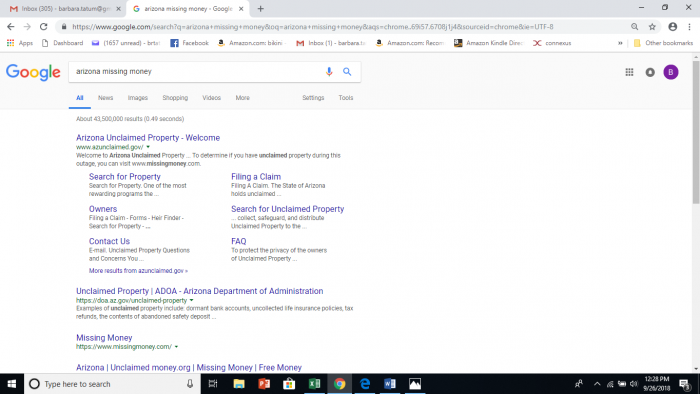 The search results will return a number of different sites. Some will be paid sites, but you are looking for sites with a .gov designation. These will be official sites for the state, usually linked to their treasury department. Those departments may also be known as comptrollers, controllers, departments of revenue, or financial officers.
You can also go straight to www.missingmoney.com, to find links to state and provincial databases.
What Is a Finder Service?
Finders, which may be referred to as heir locators or asset location services, are any individual or business that acts as your agent in recovering lost or abandoned funds. Finders generally charge a fee for service, and, in the state of Arizona they are limited to charging 30% or less of the amount that they recover.
Should I Hire a Finder to Conduct the Search?
While we get this question frequently, it is not one that we can answer. You can perform all of the same actions as a finder service for free; states and other custodial holders do not charge to locate or claim assets. However, the process can be extremely time consuming, which means that many people put it on their "to do" list, but never get to it. If hiring a finder service makes it likely that you will recover unclaimed assets, but not hiring one means you will probably not take the time to make the effort, then hiring a finder service can be a great decision for you.
Are There Fraudulent Finder Services?
Just like any service where you may be required to hand over personal information, especially financial information, you should be extremely cautious when picking a finder service. Unsolicited offers for finder services may be legitimate or they may be attempts to phish your personal information. The State of Arizona can let you know if a finder is registered in the state. In addition, Arizona limits finders to a 30% fee; any finder attempting to charge a greater percentage is violating the law.
Are There Sources for Unclaimed Property Other Than the State Databases?
Some of the best sources for unclaimed property are not in the state databases. Types of unclaimed property that generally do not make it into the state databases include: uncashed federal tax refunds, unpaid life insurance benefits, unclaimed US Treasury bonds, and unclaimed federally guaranteed pension benefits.
We suggest starting your search with the Internal Revenue Service. The IRS does not turn over uncashed tax refund checks to the state where the owner lived at the time the check was originally sent. In addition, the IRS does not forward tax refunds. One way to avoid having unclaimed income tax refund money is to file your income taxes each year, even when you are not required to do so. This ensures that the IRS has your current address on file.
If you believe that you should have received a refund from the IRS, but did not get one, we urge you to visit the IRS's Where's My Refund? page: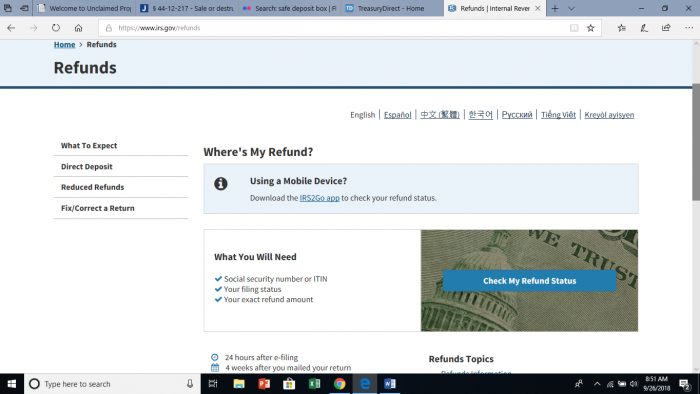 Another major source of unclaimed property is U.S. Savings Bonds. In fact, there is over $17 billion in unclaimed savings bonds. Unfortunately, the government has recently complicated the process for locating and claiming lost savings bonds. The U.S. Treasury used to operate a lost savings bond database at Treasury Direct. It no longer does. You can still find information on how to claim lost bonds at that website, but you may have to call them at 844-284-2676 to help you locate the property. You can also write to the Bureau of Public Debt for information about lost savings bonds.
The Pension Benefit Guaranty Corporation, a federal agency that guarantees pension benefits, also operates an unpaid pension database. Currently, there is over $400 million in unclaimed pension benefits, belonging to over 70,000 potential claimants.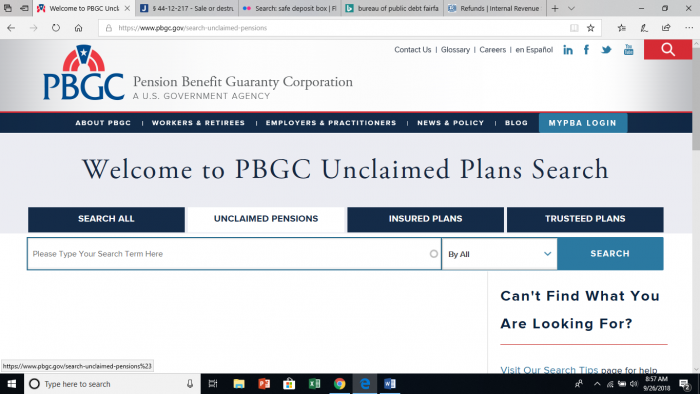 Another significant source of unclaimed property is unclaimed life insurance policies. There is no single searchable database for those policies. Many will revert to the state in which they were purchased, but, oftentimes, insurers lack sufficient information to even guess where the policies should be held. The National Association of Insurance Commissioners' Life Insurance Policy Locator Service does not offer a searchable database for potential beneficiaries, but it does allow you to enter your information so that insurers with unpaid policies can check to see if you are one of their beneficiaries.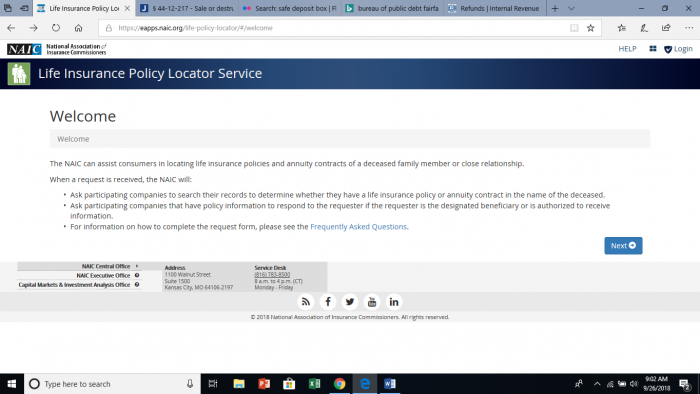 How Do You Find Unclaimed Money in Arizona?
At the Arizona Unclaimed Property website, you will find a link to Missing Money's website, www.missingmoney.com. You can also use the search bar that is embedded on the Arizona Unclaimed Property homepage: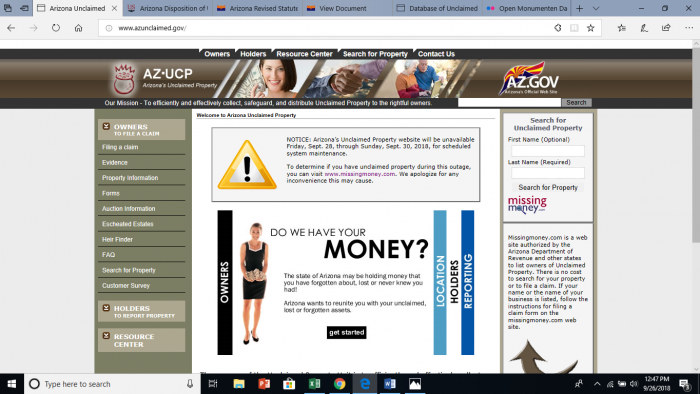 What Are the Steps to Making an Unclaimed Money or Property Claim?
After you have located your money, you need to fill out a claim form. You must provide a clear copy of a photo i.d. or have your signature notarized. If you have changed your name, you must verify the name change. You need to provide proof of your social security number. You have to provide proof that you lived at or received mail at the original address. Joint owners must file together unless one is deceased, the owners are divorced, or the owners are no longer in contact.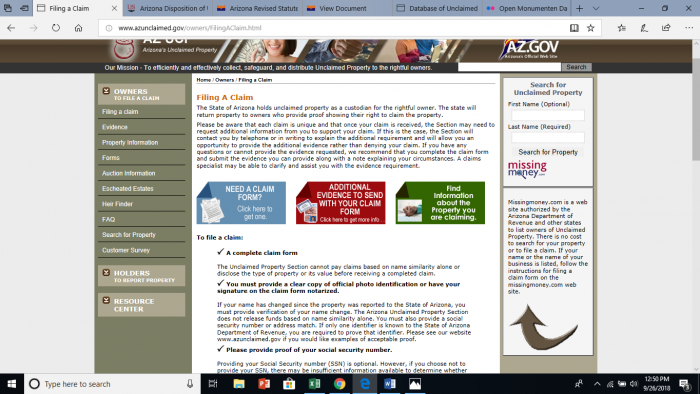 How Do You Prove Your Claim for Unclaimed Money in Arizona?
Arizona requires different levels of evidence, depending on what type of property you are trying to claim, and whether you are claiming the money for yourself or on behalf of someone else. Fortunately, at http://www.azunclaimed.gov/owners/Evidence/index.html, you can find a quick Q&A that asks about what property you are trying to claim and then provides you with information about the type of evidence you will need in order to make that claim: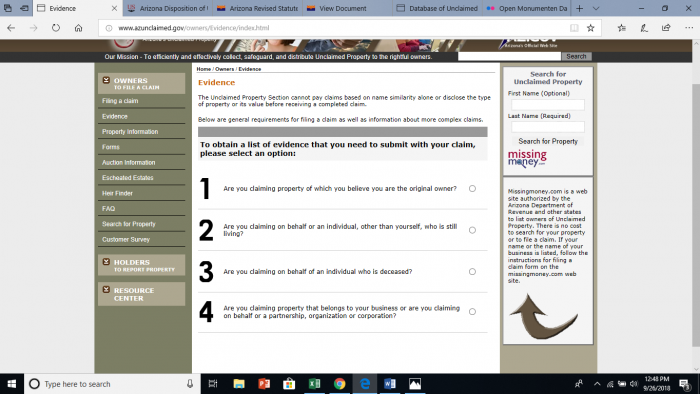 How Can I Prevent My Property From Becoming Lost or Unclaimed?
Although finding lost property can lead to an unexpected windfall, most of us would rather just not lose the property in the first place! We have provided some tips for ensuring that your money does not become unclaimed:
Keep detailed financial records and make sure that another trusted adult has access to those records in the event you die or are incapacitated. These records should include: the name of the holder; the name you used to open the account; account numbers; the physical address of the holder; when the account was opened; any due dates for deposits; and phone numbers for the holder.
If you have the option to use electronic account management, choose that option.
Notify your financial institutions immediately about any changes in address, phone number, or name.
If you have property in a physical location, like a safety deposit box or storage unit, make sure and include information about that location, how to access the property, and a key to the unit.
How Do I Make Sure My Heirs Know Where My Assets Are if I Die?
Many people mistakenly believe that a will is all that they need to make sure that their heirs will get their property. However, a will does not tell your administrators where to find your assets. We suggest making sure that a trusted person knows where to find information about where your assets are located in the event of your death or incapacitation.
Conclusion
This complete guide to finding unclaimed money in Arizona has provided you with the information you need to search for and claim your unclaimed property, and hopefully given you enough of an overview of the process for you to make an informed decision about whether to use an asset location service.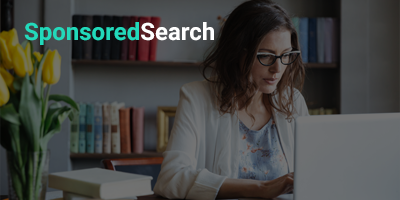 Search Public Records