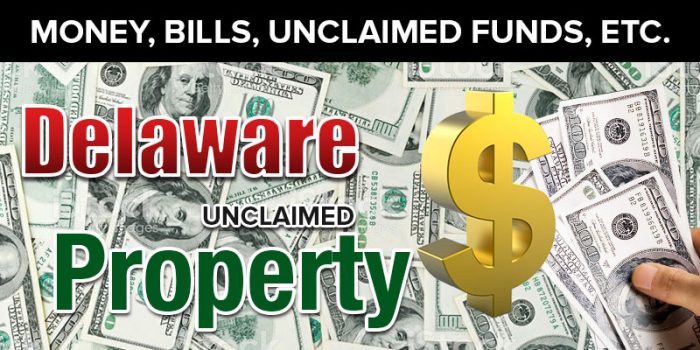 Delaware's unclaimed property program is handled by the Delaware Office of Unclaimed Property. This office has helped return over $300 million in property to its rightful owners over the last three years. Delaware operates an easy to use searchable database that helps reunite people with their property, and efforts to do so have resulted in an increasing level of success in helping people find their lost money.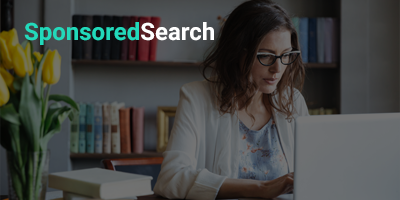 Search Public Records
For some people, there is some confusion about what the term unclaimed money means. This is understandable, because the term unclaimed could lead one to believe that the money has no owner and is up for grabs. It actually means the opposite. Unclaimed money is not money without an owner; it is, instead, money with an identified owner, but that is considered unclaimed because the owner cannot be located.
Almost any type of intangible personal property can be considered unclaimed property. Intangible property generally refers to the type of property that cannot be held or touched, but can be represented by another property. For example, money is intangible property because its value is not in the paper that represents it, but in the idea of it. So, anything that can be converted to money, such as account balances or stocks, falls into that category. However, unclaimed property can also include some tangible assets, like the contents of safety deposit boxes, though those contents may be converted to money by the state. In Delaware, the most common types of unclaimed property include: unpaid wages, refunds, deposits, unclaimed dividends, interest, stocks, bonds, debentures, and payment for goods and services.
The majority of states work with Missing Money to process their unclaimed money claims. You can find Missing Money's information on its website at www.missingmoney.com. However, Delaware operates its own missing money database. Like other U.S. based unclaimed property databases, this state-run database operates in a manner that is consistent with most other state databases. Therefore, if you have run a search for property in another state, you may be able to use Delaware's website without any additional help. However, if you are worried about the process, we have you covered. We have provided a complete tutorial that will show you how to search for Missing Money in Delaware, using an example name to search for, and with screen shots of relevant pages so that you can completely understand all instructions. We have similar instructions for other states, so you can always check out our tutorials if you have any questions about running searches for your unclaimed money.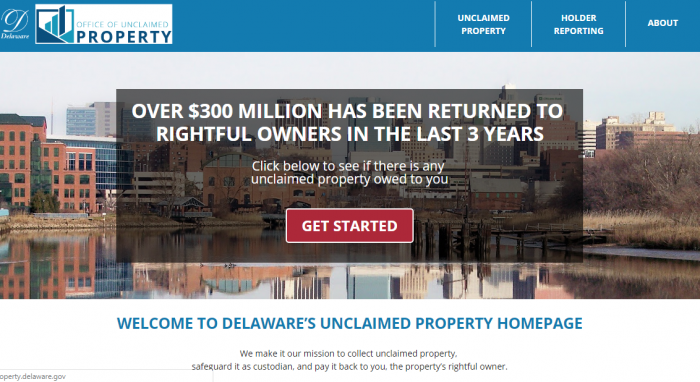 Delaware's Unclaimed Property Database
Prior to consolidating all of the state's unclaimed property into a central state database, searching for unclaimed property in a state meant searching in every county in the state for that property. In some states with hundreds of counties, this search process could be very time consuming. Because Delaware only has three counties, the process meant three times the work, but was still manageable. However, you still save time running a Delaware search today, because that search simultaneously searches in New Castle, Kent, and Sussex counties.
What is Unclaimed Property?
While every state has its own statutory definition of unclaimed property, they are all fairly consistent. Property that would be considered unclaimed in one state would probably be considered unclaimed in another state, although the statutory time periods for property to be considered abandoned might vary dramatically from state to state. According to the National Association of Unclaimed Property Administrators, unclaimed or abandoned property refers to accounts held by financial institutions or companies (holders) that have had no activity or contact with the property owner for at least one year. This time period varies from state to state. Almost any type of property that can be held in an account can be considered unclaimed property, though the most common types include: savings accounts, checking accounts, uncashed dividend checks, uncashed payroll checks, unclaimed wages, stocks, traveler's checks, refunds, trust distributions, unredeemed money orders, unspent gift certificates, insurance benefits, overpayments, refunds, life insurance policies, mineral royalty payments, annuities, certificates of deposits, and property found in safe deposit boxes. Generally, there are some types of property that are exempted from becoming unclaimed property: real property and motor vehicles.
How Much Unclaimed Property in Delaware?
Delaware does not provide information on the total amount of unclaimed property that it has, but it does state that it has returned over $300 million to property owners over the last three years. The total amount of unclaimed property in the United States is $42 billion according to the National Association of Unclaimed Property Administrators (NAUPA).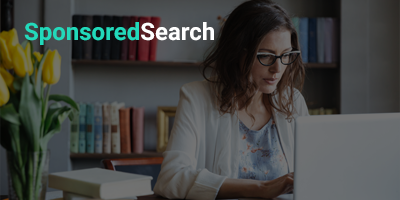 Search Public Records
Delaware's Unclaimed Property Search
Delaware's Unclaimed Property program is located at: https://unclaimedproperty.delaware.gov/app/claim-search:
The Delaware page to Claim Unclaimed Property has different input areas: name or business name, city, and property ID number. You can run a search with just a name or business name.
In order to make it easy for our users to compare state databases, we run the same search in each state. We use the name Bob Smith. We have chosen a very common name intentionally; with common names there is a much higher chance of getting an unmanageable number of search results. This will mean that you have to use some other way to narrow down your results. To see if that is the case in Delaware, we start by searching just for the last name Smith. We get the information that the search has returned 1,000 results. However, as with many state pages, these results are misleading, as the maximum number of results that a search will return is 1,000: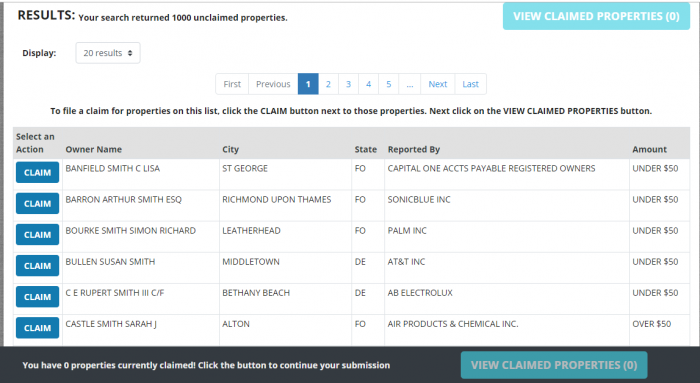 Because Delaware caps the search results at 1,000 hits, the searcher has no way of knowing how many actual hits there are just for the name Smith. We can make the effort of narrowing down the results by using "Bob Smith" in the name search bar instead of just "Smith." This common name must be fairly popular in Delaware, because we still get more than 1,000 results: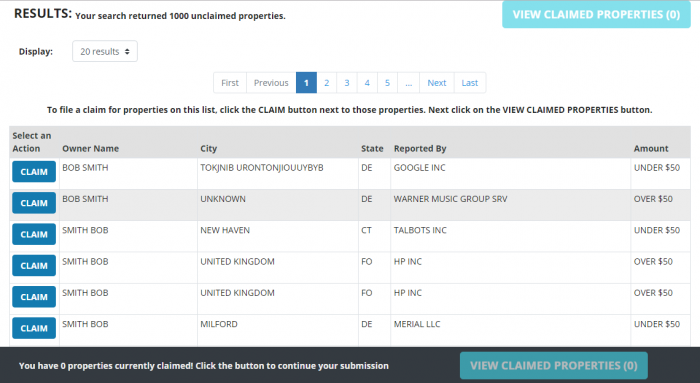 You may wonder why this did not result in a meaningful change in the number of search results? Well, it does and it does not. The search still looks for all things that have Smith in them, but it does place the exact Bob Smith matches at the top. Only a few results down, you begin to see other Smith results. So, using the full name does help tailor the search.
Delaware also lets you use other search parameters, namely, the city or property ID number. You can then use the cities where you resided to help you find your results. We chose the city of New Haven and added it to our existing Bob Smith search: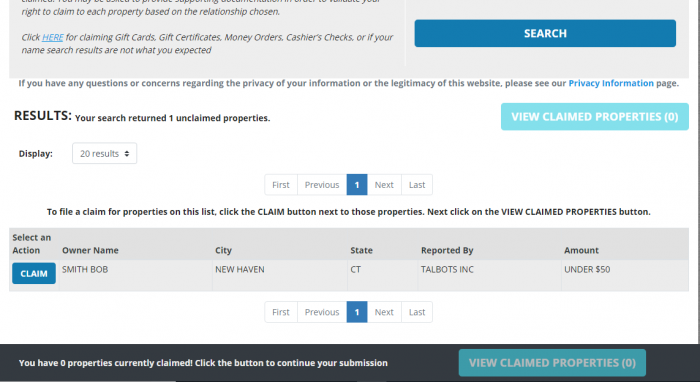 Combining the city with the exact name search makes the search much more manageable, taking it from over 1,000 possible results to a single result. However, it might eliminate some potential results. For example, Bob is usually a nickname for Robert, and during a lifetime a Bob might go by Bob, Bobby, Robert, or Rob. You would want to run searches for any known other names, as well. In addition, many people live in multiple cities throughout their lives, so you might run searches in various cities.
Once you have your search results, you can look and see what information the results provide about each property. This varies from state to state. In Delaware, the information provided includes the owner's name, the city, the state, who reported the property, and the amount of the property. You will also see a claim button on the left hand portion of the property record.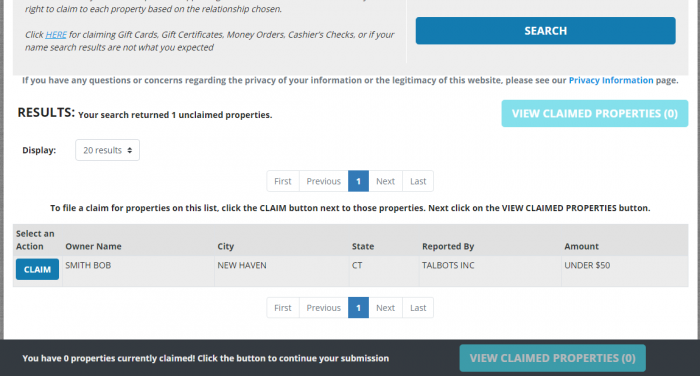 To claim a property, hit the claim button. Once you do, you will see that the property no longer has a claim button by it, but, instead, has an "X" indicating that you have claimed it and an option to remove it from your claim list: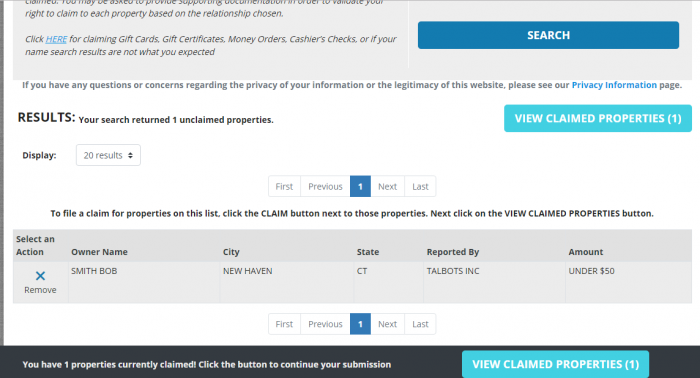 After you have picked all of the properties that you might want to claim, you hit the view claimed properties button. There will be one on the top right of the screen, as well as one on the bottom right of the screen. Hitting this button takes you a page with an overview of all of the properties you are claiming: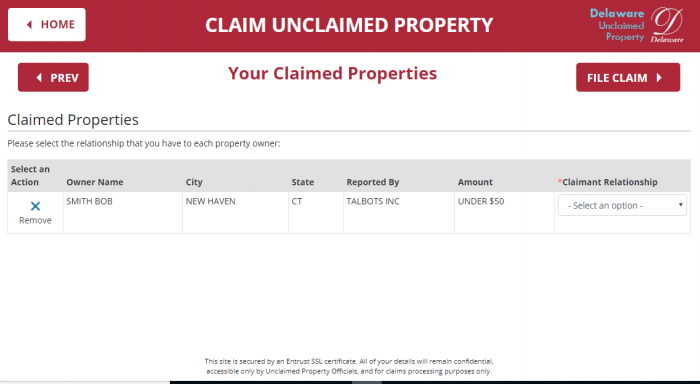 On the far right of each claimed property, you will notice a part to select the claimant relationship. This refers to your relationship to the original property owner. The choices available include: owner, estate representative, heir, business representative, and 3rd party: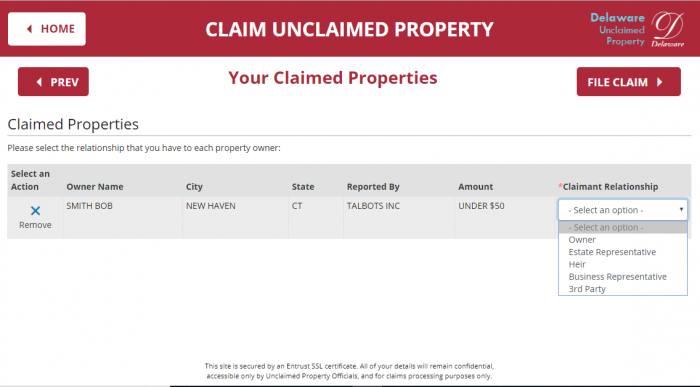 In some instances, you may be claiming several properties, so be sure to select the right relationship to the property owner for each property you are attempting to claim. Once you have selected all of the relationships (we chose "owner" for this example), you hit the File Claim button at the top right of the page: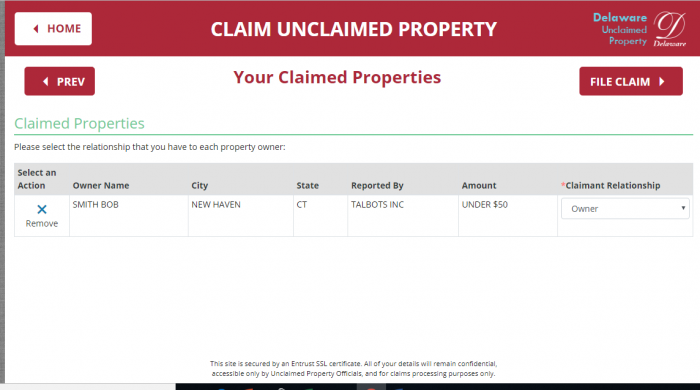 From there, you are taken to a claimant information form. It will request current contact information for you, including: You will be taken to a screen that asks for your contact information. The requested information will include: the information requested includes the claimant type, last name, first name, middle name, date of birth, email address, home phone, social security or tax id number, address, and how you heard about the program: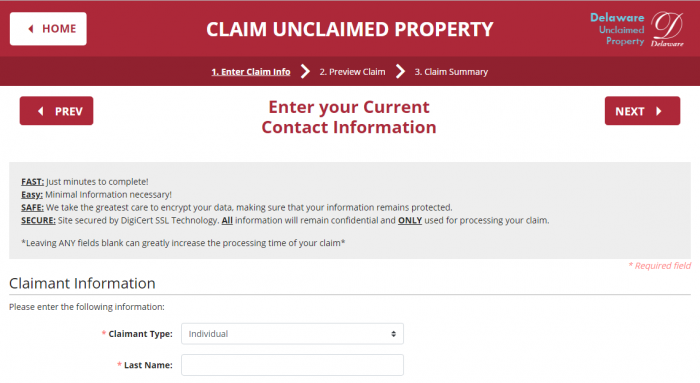 After filling out the information, you hit the next button. What appears on that screen depends on the type of property you are claiming and your relationship to the property owner. However, it will include any detailed instructions you need to follow to process your claim, including information about any documentation that you need to provide.
Unclaimed Property Laws in Delaware
Delaware's unclaimed property laws are found in Delaware Code Title 12, Chapter 11.
Delaware Unclaimed Money FAQ
How long does Delaware hold Unclaimed Property?
While some states will only hold money for a certain number of years, Delaware will hold property in its custody for the original owner or the heirs/ assignees for an unlimited amount of time.
Examples of Unclaimed Property
The most common types of unclaimed money come from accounts people place money in or get money from, and include: savings and checking accounts, unpaid wages, uncashed checks, dividends, stocks, bonds, refunds and overpayments. The contents of safe deposit boxes can also be unclaimed property, though the contents may be sold or auctioned and the proceeds held as unclaimed property, instead.
Does the state of DE make efforts to locate owners?
Delaware's main outreach program for unclaimed property is its comprehensive, searchable unclaimed property database.
Other sources to search besides DE state database?
Many people make the mistake of only searching the state they live in for unclaimed property. However, even if you have only ever lived in Delaware, you will probably need to include some other locations in your unclaimed property search. You want to search any state where someone may have put money in your name, as well as some federal databases because federally held property does not escheat to the state. For states, think about where you have lived, where you have business contacts, and where any ancestors or relatives may have put money in your name or left you money. Include all of those states in your search list.
In addition, keep in mind that the federal government never turns over money to state unclaimed property lists, but holds onto it for the owners, instead. Even private businesses, like life insurance companies, may not turn over property to unclaimed property databases, because they may not be able to identify a state for the owner of the property. For those reasons, we strongly urge all people to look at the following four databases: the Internal Revenue Service (IRS), the Pension Benefit Guaranty Corporation, the U.S. Treasury, and the Life Insurance Policy Locator.
The IRS is the federal organization that everyone should search for unclaimed money. They handle money for almost every person in the United States. Moreover, they have a policy of not forwarding income tax refund checks, which means that if you move after filing your taxes, but before receiving your refund, the refund will not be sent to you. They explain that policy in detail on the IRS website: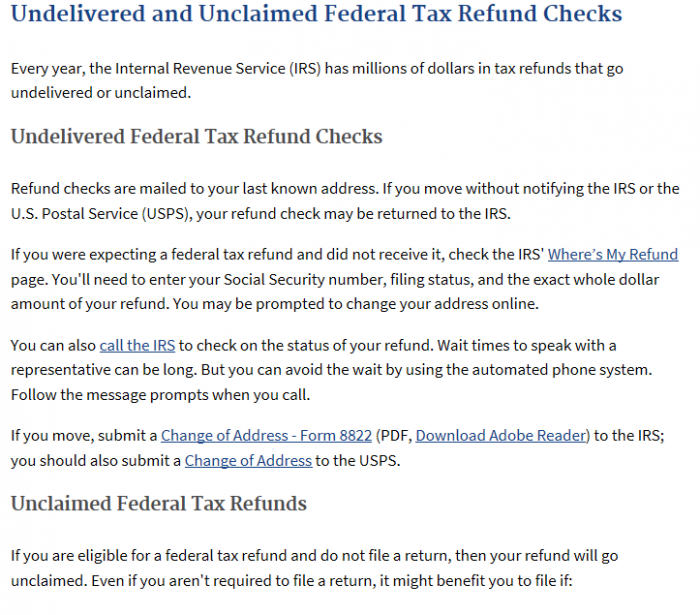 Therefore, if you think that you should have received a tax refund, but never got it, you can go to the IRS's easy-to-use Where's My Refund? page, to help you locate your money: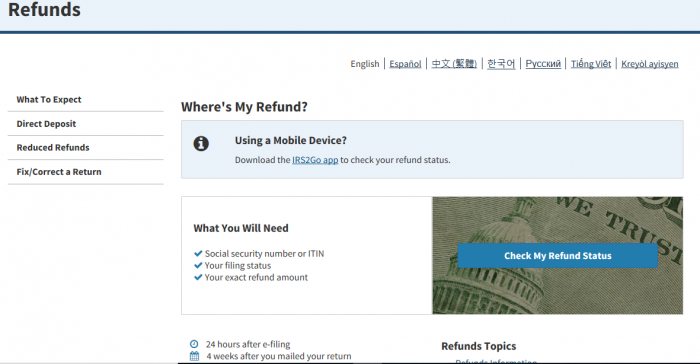 While the IRS may be the best-known federal agency that handles a lot of money, it is only one of many. The U.S. Treasury does not forcefully process taxpayer money, but still handles a large amount of money for Americans each year. Much of this money is handled as gift transactions for big events, such as births and graduations, so oftentimes the property owners may not even be aware that they have money with the Treasury. Unfortunately, searching for these savings bonds can be a difficult process. Not long ago, the U.S. Treasury operated an unclaimed property database that worked similarly to state databases. That database made it easy for property owners to find and claim their unclaimed bond funds. However, the Treasury has since discontinued that service and started requiring more documentation for recovered claims. While you cannot find a searchable database at their website, you can find more information by calling them at 844-284-2676 or visiting the Treasury Direct website.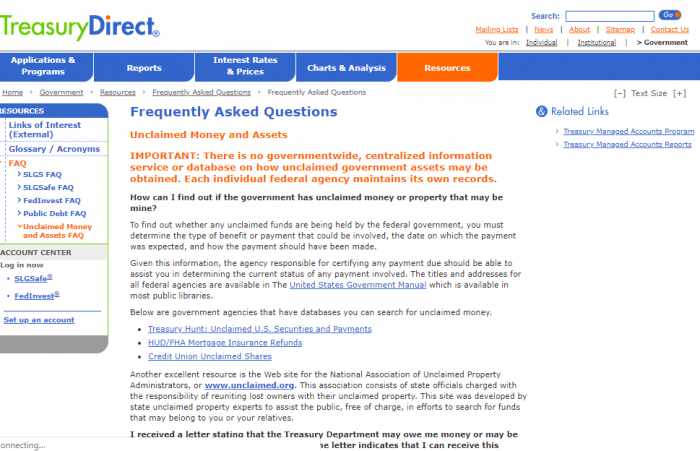 While most people rightfully think of pension benefits as being privately-held, they may not realize that they are also government guaranteed. The Pension Benefit Guaranty Corporation (PBGC) is a federally run organization that guarantees private pension benefits. It also has a database that can help people see if they have any unpaid pension benefits. This is a great service, because, since the country has moved away from pensions for retirement, many long-time workers may have forgotten about pension benefits earned when they were younger. Look to see if you have any unpaid pension benefits on the PBGC's unclaimed pension database: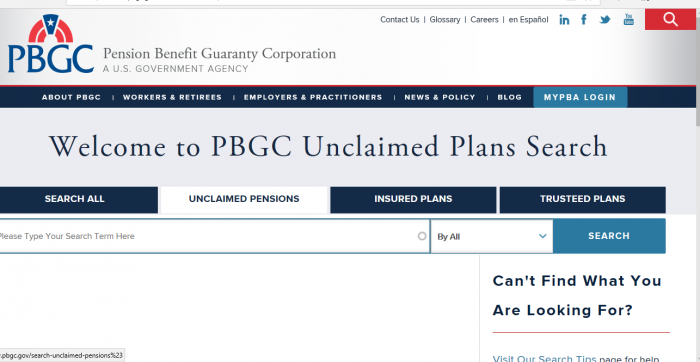 One of the more complicated areas of unclaimed property searching is looking for insurance benefits, particularly life insurance benefits. A person can name you the beneficiary of a life insurance policy without ever notifying you of that fact. In addition, a person can name you a beneficiary without giving a life insurance company enough information to find and locate you. If the insurance companies do not know where you are located, they do not know to which state database they should report unpaid claims. The National Association of Insurance Commissioners' Life Insurance Policy Locator Service, and organization that has many (but not all) of the various life insurance companies in the United States among its members, has established a service to help people located unpaid life insurance claims. It does not work the same as state unclaimed property databases; you cannot search their records. Instead, you can input information that the organization will distribute to its member agencies, so that the agencies can search through their records to see if they have any unclaimed policy benefits for you: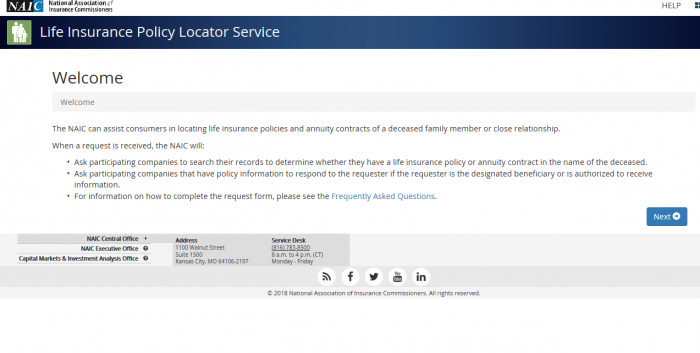 While we suggest those four sites as must-search for almost everyone, there are additional federal sites that you may want to search, depending on your individual circumstances. A non-inclusive list of those is: the FDIC, the Department of Housing and Urban Development, the National Credit Union Administration, and the Veteran's Administration Benefits Department
What is the best way prevent my property from becoming lost or unclaimed?
While finding unclaimed property can be fun, the best thing to do is avoid having your property ever become lost in the first place. Keeping detailed account records, contacting your account holders on a regular basis, and informing your account holders if you move, have a name change, or change other contact information can help you keep track of your money. In addition, when it is an option, we strongly recommend using electronic account management.
How do I make sure my heirs know where my assets are if I die?
Designate a trusted individual to have access to your account information in the event you die or are incapacitated, and make sure to give them all of the information that they need (account numbers, passwords, etc.) to get into those accounts.
Should I hire a finder to conduct the search?
Delaware allows third-party finders to charge a fee to search for and claim unclaimed property on your behalf. Because doing so is free for you, you may opt to save the money and do the search, yourself. However, if you do not have the time to run a search, you may find it worthwhile to engage a finder.
Why does Delaware take possession of unclaimed property?
There are two reasons that states, including Delaware, take possession of unclaimed property. First, it is a consumer protection action, designed to help consumers find their unclaimed money. Second, the state gets to use the unclaimed property to earn money for the state until it is claimed.
Conclusion
There are literally billions of dollars in unclaimed property just waiting to be discovered. Is some of it yours?