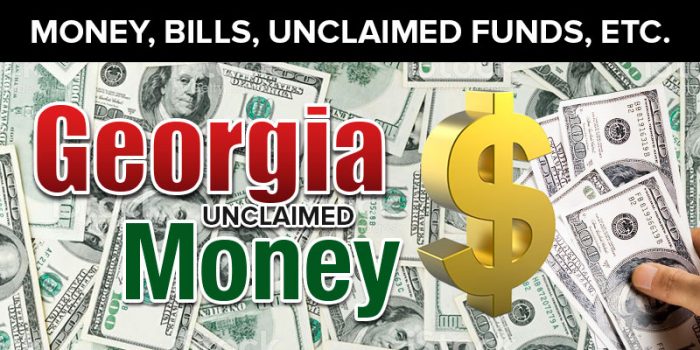 Looking for unclaimed property in Georgia? If so, you have come to the right place. In this comprehensive guide, we give you all the information that you need to find unclaimed property that is being held by the state of Georgia, as well as by other state and federal government agencies.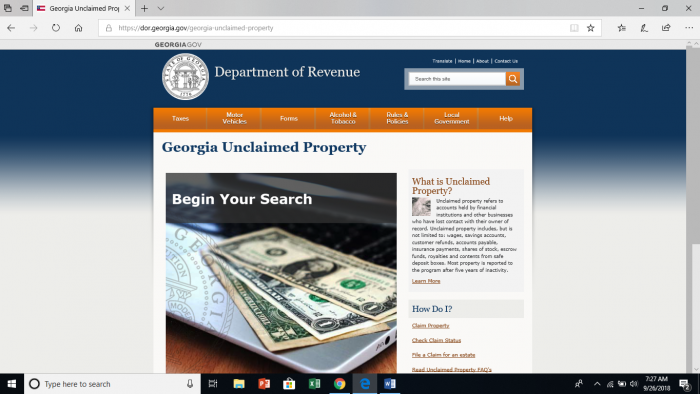 Georgia, like other states, has a state unclaimed money database. In Georgia, this database is operated by the Georgia Department of Revenue. The Department of Revenue takes over possession of unclaimed property that is held by private entities in the State of Georgia. However, some property does not revert to the state's possession, which is why it is important to look in other locations, as well, when you are running an unclaimed property search. Read on to find out information about where all you should look when performing an unclaimed property search and to find links to those websites.
Although finding unclaimed money is a relatively simple process, it can be a very time-consuming one. That is because most searches are going to need to include multiple databases. In addition to searching for property in the state where you are located, you also want to search for abandoned property in states where you previously lived, states where you have business contacts (such as places where employers or insurers were headquartered), and several federal databases. While most states and provinces have their own, independent databases, which will contain the most up-to-date property search information, some states use www.MissingMoney.com.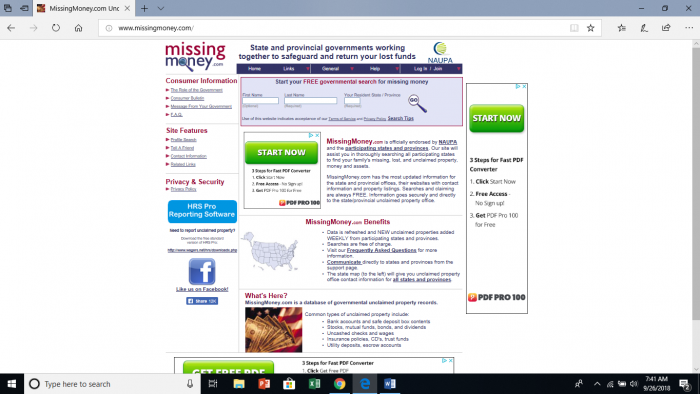 At MissingMoney.com, you can find links to state and provincial government databases that have information on missing money or property.
By following all of the steps in our how-to guide, you will be able to locate unclaimed property in various different databases. The guide contains information about: the definition of unclaimed property; how to search for unclaimed money; where to search for abandoned property; why states have unclaimed property databases; how the unclaimed money laws work; the steps to take to file an unclaimed property claim; the type of documentation you need to file an unclaimed property claim; and information about third-party "finder" services.
Georgia's Unclaimed Property Database
Before states created unclaimed property databases, to find unclaimed property you would often have to conduct a county-by-county search. In Georgia, that would have involved looking for unclaimed property in all of the following counties: Appling, Atkinson, Bacon, Baker, Baldwin, Banks, Barrow, Bartow, Ben Hill, Berrien, Bibb, Bleckley, Brantley, Brooks, Bryan, Bulloch, Burke, Butts, Calhoun, Camden, Candler, Carroll, Catoosa, Charlton, Chatham, Chattahoochee, Chattooga, Cherokee, Clarke, Clay, Clayton, Clinch, Cobb, Coffee, Colquitt, Columbia, Cook, Coweta, Crawford, Crisp, Dade, Dawson, De Kalb, Decatur, Dodge, Dooly, Dougherty, Douglas, Early, Echols, Effingham, Elbert, Emanuel, Evans, Fannin, Fayette, Floyd, Forsyth, Franklin, Fulton, Gilmer, Glascock, Glynn, Gordon, Grady, Greene, Gwinnett, Habersham, Hall, Hancock, Haralson, Harris, Hart, Heard, Henry, Houston, Irwin, Jackson, Jasper, Jeff Davis, Jefferson, Jenkins, Johnson, Jones, Lamar, Lanier, Laurens, Lee, Liberty, Lincoln, Long, Lowndes, Lumpkin, Macon, Madison, Marion, McDuffie, McIntosh, Meriwether, Miller, Mitchell, Monroe, Montgomery, Morgan, Murray, Muscogee, Newton, Oconee, Oglethorpe, Paulding, Peach, Pickens, Pierce, Pike, Polk, Pulaski, Putnam, Quitman, Rabun, Randolph, Richmond, Rockdale, Schley, Screven, Seminole, Spalding, Stephens, Stewart, Sumter, Talbot, Taliaferro, Tattnall, Taylor, Telfair, Terrell, Thomas, Tift, Toombs, Towns, Treutlen, Troup, Turner, Twiggs, Union, Upson, Walker, Walton, Ware, Warren, Washington, Wayne, Webster, Wheeler, White, Whitfield, Wilcox, Wilkes, Wilkinson, and Worth.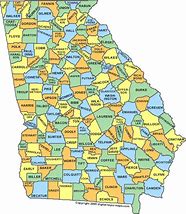 What is unclaimed money?
The definition of unclaimed property or unclaimed money varies from state to state, though the basics remain the same. You can find the Georgia Department of Revenue's definition of unclaimed property at https://dor.georgia.gov/what-unclaimed-property.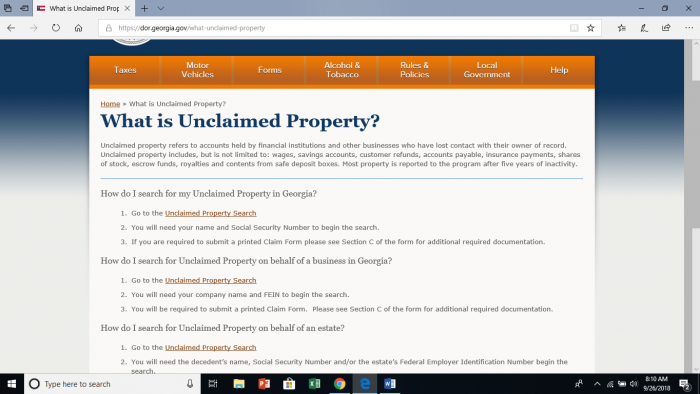 In Georgia, unclaimed property "refers to accounts held by financial institutions and other businesses who have lost contact with their owner of record. Unclaimed property includes, but is not limited to: wages, savings accounts, customer refunds, accounts payable, insurance payments, shares of stock, escrow funds, royalties and contents from safe deposit boxes. Most property is reported to the program after five years of inactivity."
Does Georgia keep all unclaimed property until the actual owner is located?
States have different rules about how they hold unclaimed property and unclaimed money. Some states try to hold all property until it can be claimed, while other states have provisions to liquidate certain types of unclaimed property if it remains unclaimed for statutory periods of time. Georgia is a hybrid state; it holds some property indefinitely, while liquidating other properties.
For example, under O.C.G.A. § 44-12-217, Georgia regularly releases abandoned securities held by the Georgia Department of Revenue for sale, and sells them at the prices prevailing on the relevant established stock exchange at the time that the sale occurs. The proceeds from that sale are then held for the original owner.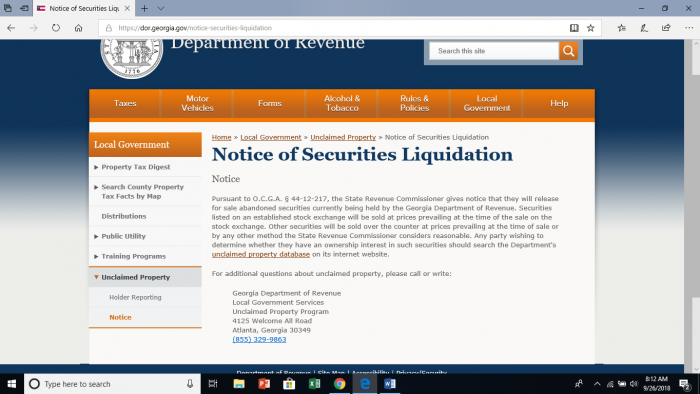 Does the State of Georgia hold all unclaimed property that is held by residents of the state?
No. This is an important thing to understand. While Georgia state law does give the state the right to hold most of the unclaimed money and property in the state, not all property escheats to the state. For example, property that is held by some branch of the federal government, like the IRS, does not escheat to the state. U.S Treasury bonds, pension funds, and some life insurance policies also do not escheat to the state.
What Georgia law governs unclaimed money and property?
Georgia's Disposition of Unclaimed Property Act, Georgia Code § 44-12-190 et al. governs unclaimed property and money throughout the state.
What are examples of unclaimed property or money?
While people often thing of deposits, such as bank accounts, deposits for rent or utilities, or any other type of deposit, when thinking about unclaimed money, there are other types of unclaimed property as well. Any type of money or property that belongs to the owner but is in the possession of a holder can be considered unclaimed property. One significant source of unclaimed property is property held in safe deposit boxes.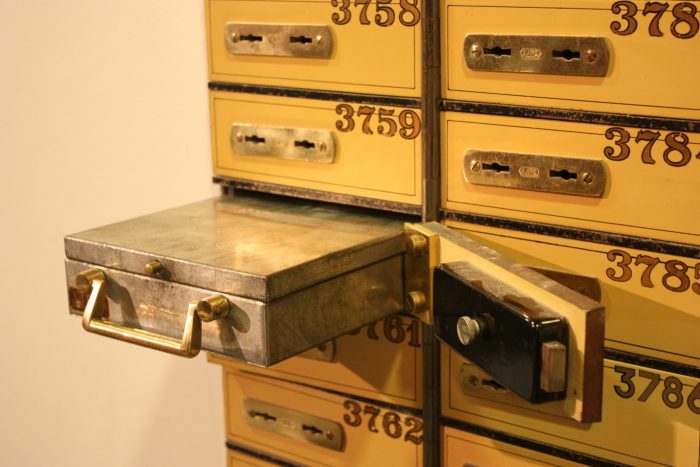 How much unclaimed property is out there?
While the amount of each unclaimed property account is usually under $1,000, the total amount of unclaimed property available is staggering. The National Association of Unclaimed Property Administrators (NAUPA) estimates that there is about $42 billion in unclaimed property in the United States. This number is constantly fluctuating as people claims some previously unclaimed property and the holders of unclaimed property report more property to the states.
How long does Georgia hold unclaimed money?
That answers varies with the type of property, though the default period is three years for non-cash holdings. Georgia Code § 44-12-217 outlines when Georgia will sell or destroy abandoned property that it is holding for the owner.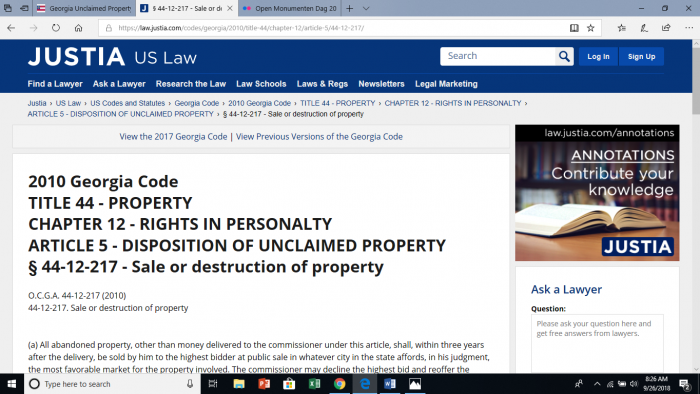 Where can I find unclaimed property?
To find unclaimed property, you want to search in the databases of all of the states in which you have resided or formed business contacts, as well as federal databases. Another good place to start is at the Missing Money website: www.missingmoney.com.
Why does Georgia take possession of unclaimed property?
The state takes possession of unclaimed property in order to preserve the rightful owner's right to access the money. The state also uses income from the property that it holds.
Does the State of Georgia make any efforts to locate the rightful owners of money or property?
Georgia publishes the names of all unclaimed property owners in a list each July and maintains a database where people can search for unclaimed property. If you have been contacted by an asset recovery search and notified that you have property that will soon be on the unclaimed property list, you do not have to work with that company to recover your property. You can contact the holder of the property to arrange to get it or follow the normal steps to claim the property once it is turned over to the state.
What information do you need to run an unclaimed property search?
In Georgia, you begin your search with the following information: last name or company name if you are searching for a business, first name, and city. You can conduct the search with only the last name/company name.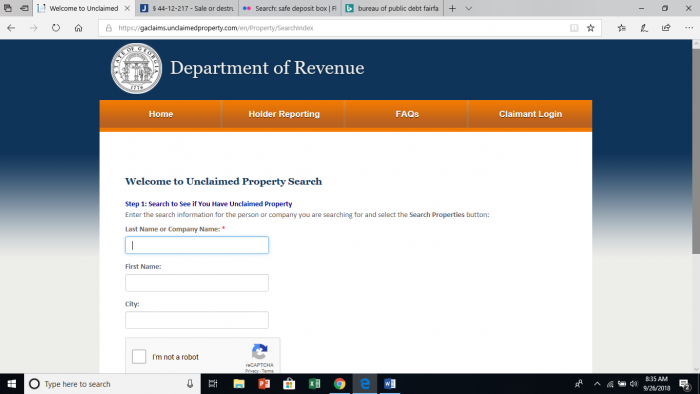 However, you may find the results of such a search have more information than you need. To help you narrow down the search results, the following information can be useful: name; other names that may have been used such as maiden names, prior married names, nicknames, aliases, and common misspellings of your name; current address; prior addresses; employers and their addresses; and social security number.
How do you find unclaimed money?
Generally, you will need to search multiple databases to run a comprehensive unclaimed money search. Therefore, our suggested first step is to make a list of all of the states where you (or the person for whom you are searching) lived or had business contacts. To determine where a person may have had business contacts, you may need to look for states where employers or insurers were headquartered. In addition, you want to list any federal or national databases that might have missing property information.
Next, you want to find all of the databases that you want to search. You can look for them in two ways. If your list of states is relatively short, then finding the links to the databases is as easy as running a quick Google search using a phrase such as "missing money" + the state name: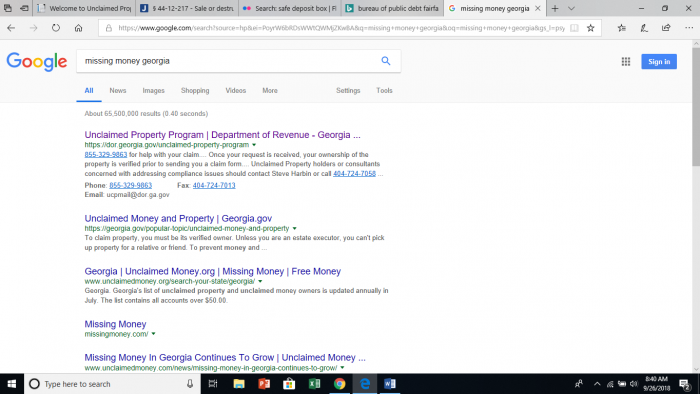 Usually, these databases can be found at state treasurer's offices. Just keep in mind that not all states call their treasurers by that title. Other titles to look for include: comptroller, controller, financial officer, and department of revenue. If you are having problems finding the databases or need to find multiple databases, you can look at www.missingmoney.com, which contains links to state and provincial databases.
What is a finder service?
Finders, also known as asset location services, are any individual or business that acts as your agent in recovering lost or abandoned funds.
Should I hire a finder to conduct the search?
This is one of the questions that we get asked most frequently, and also one of the most difficult to answer. Searching in state and federal databases is free and there are no fees associated with claiming most types of unclaimed property and money. However, if you choose to use a finder service, then part of your agreement with that service will be the payment of a fee. The fee is generally a percentage of any of the funds that the service locates and claims on your behalf. Therefore, you get less money if you use a finder service.
That said, we have already discussed how running an unclaimed property search can be extremely time consuming. It may be that you do not have the time or the inclination to run your own search. In those instances, using a finder service may result in you getting less money than if you did the search yourself, but result in you getting far more money than you would get by never running the search.
Are there fraudulent finder services?
Absolutely. Finder service scams are one way that con artists can phish for your personal information. Therefore, we advise against responding to any unsolicited offers for finder services, and suggest that you check with the state of Georgia to determine if a finder service is authorized to act within the state.
Are there sources for unclaimed property other than the state databases?
Yes. There are several federal sources of unclaimed property. The top four sources are: unpaid life insurance benefits, uncashed federal tax refunds, unclaimed US Treasury bonds, and unclaimed federally guaranteed pension benefits.
Any person looking for unclaimed property should check with the Internal Revenue Service. Because the IRS does not forward tax refund checks, it has millions of dollars in unclaimed tax refunds. Moreover, this money never reverts to the state, but stays in the possession of the IRS until claimed by the property owner.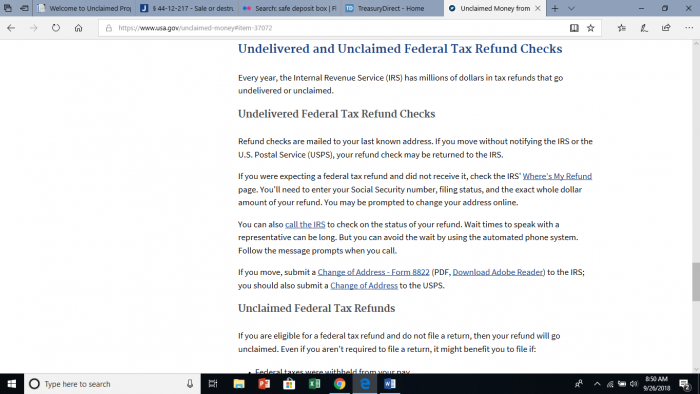 You can also check at the IRS's Where's My Refund? page: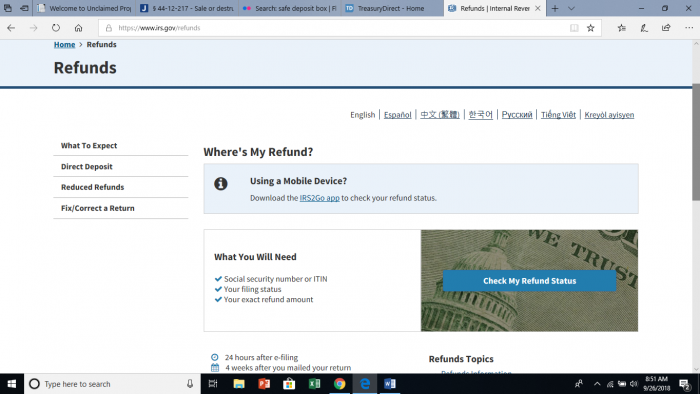 Lost savings bonds are another major source of unclaimed property; the U.S. has over $17 billion in unclaimed bonds. Until recently the U.S. Treasury, which you can find at Treasury Direct, operated an easy-to-use database that allowed people to search for unclaimed treasury bonds. It discontinued that service, but owners can still claim their lost treasury bonds. You can visit them online or call them at 844-284-2676, if you need help with the process. You can also write to the Bureau of Public Debt for information about lost savings bonds.
Not all property held by a federal government agency was originally government property. For example, pension benefits are privately held property, but they are guaranteed by the Pension Benefit Guaranty Corporation, which has a searchable database to locate unpaid pension benefits at its website. Unpaid pension benefits are a major source of unclaimed property claims. There are over 70,000 people out there who have pension benefits that they could claim, and those benefits are worth a total of over $400,000,000.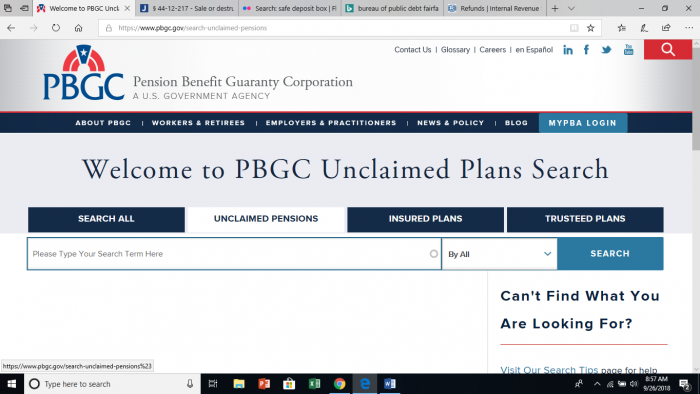 Finally, you want to look at life insurance policies. Life insurance policies can be a difficult type of unclaimed property to navigate. Some state databases will have life insurance policy information, but not all policies make it to those databases. In addition, life insurance policies may not be held in the state where a person lived, but in the state where the insurance company or employer was based. There is not a single database to use to find the policies. However, you do not necessarily have to search through all insurers that are currently or were historically operating. You can, instead, go to the National Association of Insurance Commissioners' Life Insurance Policy Locator Service. While they do not have searchable life insurance policy database, they do allow you to enter your information so that insurers with unpaid policies can find you: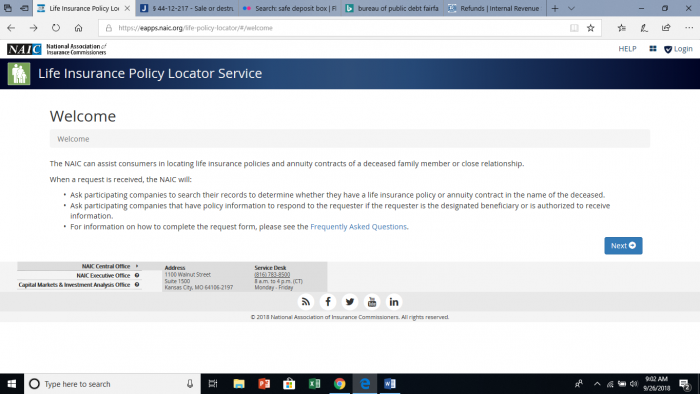 How do you find unclaimed money in Georgia?
Go you to the Georgia Department of Revenue's unclaimed property database and search for property with your last name or business name, first name, and city.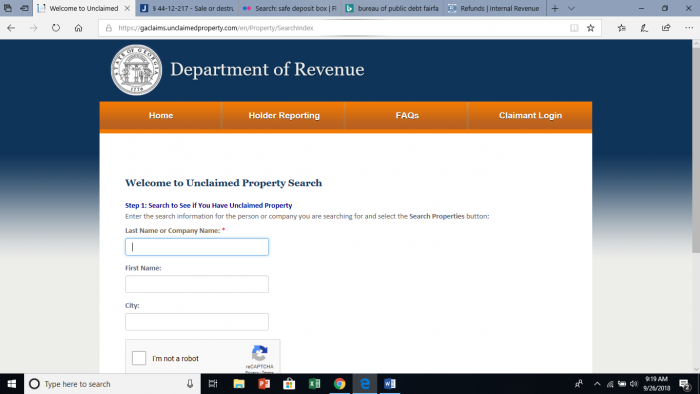 You can also purchase a complete list of unclaimed property from the state. It is published in July of each year.
How do you claim your unclaimed money in Georgia?
When you run a search for unclaimed property, it will come up with all possible matches: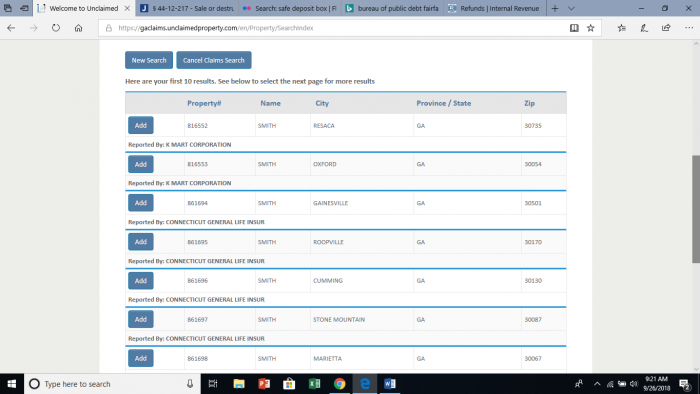 You click the "add" button by each property you believe belongs to you. Those properties then go into your saved properties. Once you have finished adding properties, you will hit the button on the top right that tells you to "claim properties in your cart:"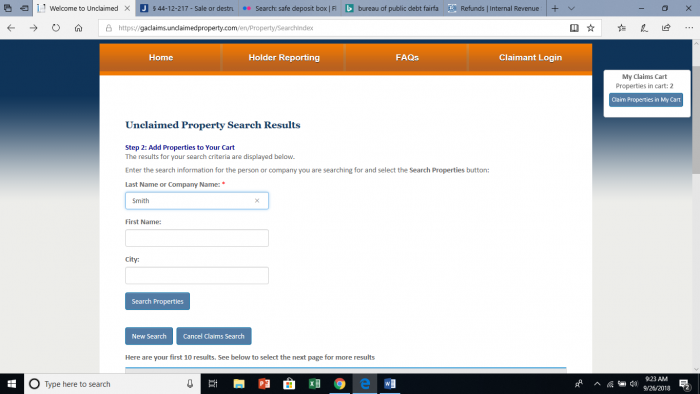 Hitting that button takes you to your claims cart. You can claim property with which you have different relationships at that stage. However, you must register in order to claim property. To register, you will need to provide personal information, and to claim the property you may be required to prove that information: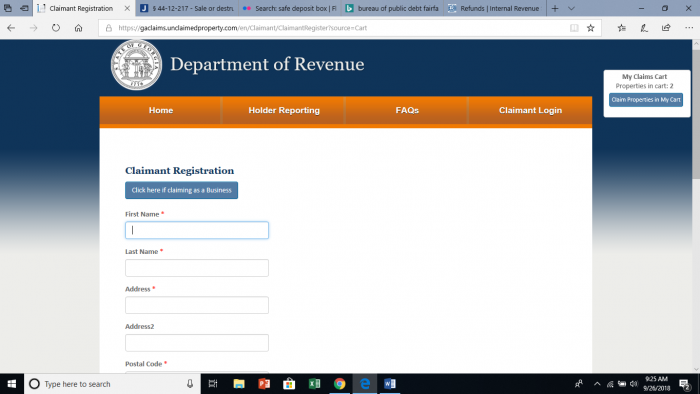 How can I prevent my property from becoming lost or unclaimed?
While finding lost property can be a fun treasure hunt, the best thing is to never lose money or property in the first place. We have compiled a list of handy tips that will help you keep up with any property or money that you have:
Keep detailed financial records that describe the location of all of your accounts. This information should include: the holder's business name, the branch location if applicable, the account number, the name on the account, when the account was opened, the date that deposits are due, the contact information for the holder, and the dates you should expect refunds.
Use electronic banking when possible.
Notify your financial institutions immediately about any changes in address, phone number, or name.
If you have property in a safety deposit box or other physical location, such as a storage unit, note the physical location of the storage facility, the box or unit number, and how to access the property, including any extra keys.
How do I make sure my heirs know where my assets are if I die?
It is important to note that, while a will directs where you want your property to go, it does not tell your administrator where you have the property. Make sure that your administrator or executor has access to your financial records. In addition, you may want to tell a trusted person how to access your financial information in the event that you are incapacitated.
Conclusion
Hopefully, our comprehensive unclaimed money guide told you everything you need to know about how to begin an unclaimed asset search. Even if you have previously searched for unclaimed property, we advise searching regularly, since holders are only required to report assets after they have been unclaimed for a statutory period of time.