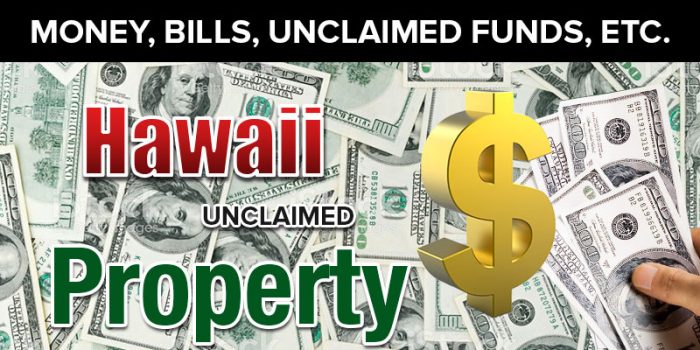 Hawaii's unclaimed property program is run by the State of Hawaii's Department of Budget & Finance Unclaimed Property Program. The Acting Director of Finance is Robert Yu. Hawaii has a similar definition for unclaimed property as other states. It may be called unclaimed property, unclaimed money, abandoned property, or abandoned money. All of these names are a little misleading, because they may leave one with the impression that the money is up for grabs. On the contrary, unclaimed money has an identified owner. The reason that the property has not been reunited with the owner is because the holder, which is a third party that was given custody of the money, has lost contact with the property owner. This usually happens because someone forgot about the property in question and changed their contact information without notifying the holder. It may also happen if an owner's information was entered incorrectly in the holder's database. There are various types of unclaimed property, including: checking accounts, savings accounts, traveler's checks, uncashed checks, unclaimed wages, certificates of deposit, bonds, stocks, money orders, insurance proceeds, insurance benefits, credits, unclaimed refunds, and bonds.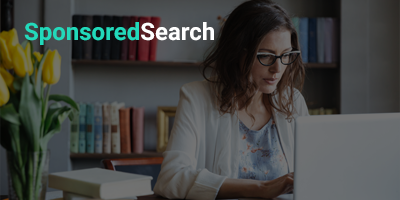 Search Public Records
Hawaii's unclaimed property program is similar to the unclaimed property programs in other states. It is a consumer protection program. Prior to the advent of unclaimed property laws, holders had little incentive to report unclaimed money to anyone because they could use the unclaimed property to generate income for indefinite periods of time. By creating a single depository, the states make it easy for property owners to find their missing property. In addition, Hawaii gets to use the money in the unclaimed property fund to earn income for the state until the unclaimed money is claimed.
Hawaii is not one of the many states that uses the Missing Money database to run its unclaimed property searches. Instead, Hawaii handles its own unclaimed property database.
Although it can be time-consuming, the unclaimed property process is not a very difficult one. Hawaii's unclaimed property database operates similar to the databases in other states. Once you have gone through our Hawaii unclaimed property database, you should be able to use what you learn to help you with unclaimed property searches in almost any state. However, if you need additional help for other states, you can look up those states in our database; we have tutorials for almost every state and are regularly adding additional states.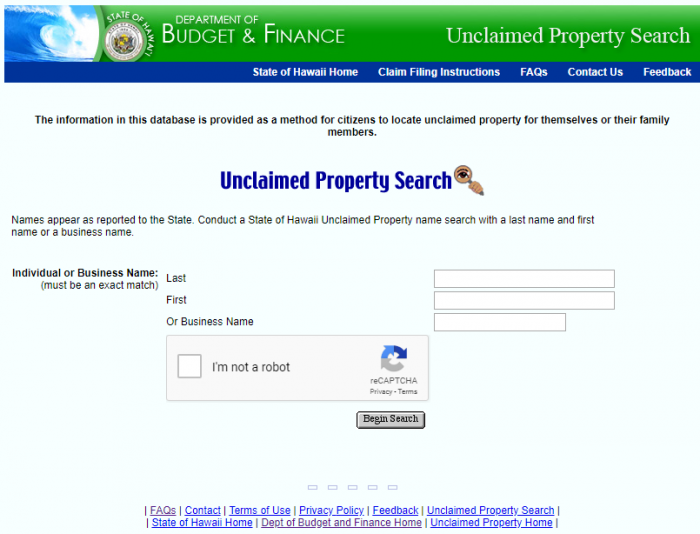 Starting an unclaimed property search in Hawaii begins at Hawaii's unclaimed property database. In this tutorial, we take you step-by-step through the unclaimed money process. This tutorial will show you everything you need to know about running an unclaimed property search and filing a claim for that property. In addition, we answer some other frequently asked questions, like the websites and links you need to find Hawaii's unclaimed property database, information and links to Hawaii's unclaimed/ abandoned property laws, some information about finder services and whether finder services are permitted.
Hawaii's unclaimed property page is located on the website at the Department of Budget and Finance.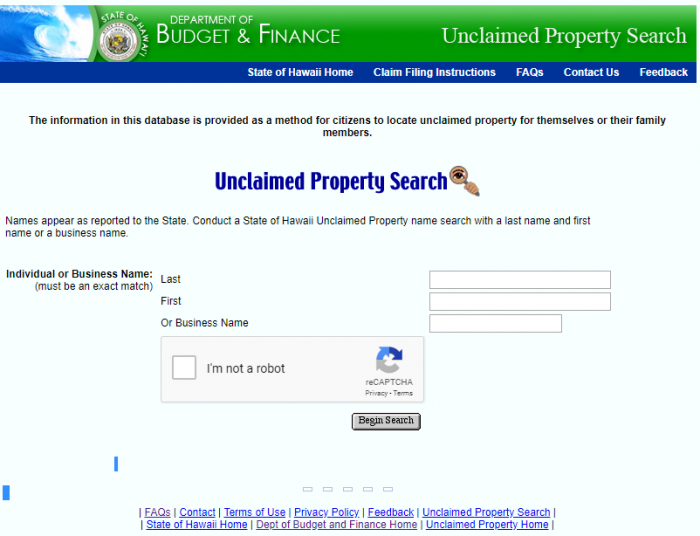 Hawaii's Unclaimed Property Database
Even before states created unclaimed property databases, it as theoretically possible to do comprehensive statewide unclaimed property searches. However, that often meant searching in individual county unclaimed property databases or watching for that time of year that holders would be required to publish lists of property owners for whom they were holding abandoned property. In a state like Hawaii, which actually has very few county-like subdivisions, these searches were never incredibly burdensome. However, now you can run a state-wide search that simultaneously examines the following states: Hawaii, Honolulu, Kalawao, Kauai, and Maui.
What is Unclaimed Property?
The name unclaimed property can be a little misleading, because it somewhat suggests that the money does not have an owner and is ready to be claimed by anyone. This is not what the term means at all. Unclaimed money is described by a number of different names: unclaimed money, unclaimed property, abandoned money, and abandoned property. All of the terms mean the same thing. It does not refer to money that has no owner and is available for anyone to claim. Instead, it refers to property that has an identified owner, but the holder that has custody of the property is unable to locate the owner. Holders are third-parties that do not have ownership of the property, but do have custody of the property for some reason. Usually, holders are financial organizations, such as banks, but may be other businesses, like utility companies, which may hold deposits for others. Some examples of holders include banks, corporations, insurance companies, utility companies, and business associations. However, any business that holds money for another party could function as a holder. Unclaimed money can be any type of intangible personal property. Intangible personal property generally refers to the type of property that can be easily converted to cash. Some examples of intangible personal property include: the money in savings or checking accounts, stocks, bonds, mutual funds, uncashed checks, unpaid wages, insurance benefits, refunds, rebates, traveler's checks, and even some personal property held in safety deposit boxes. Two big types of property are generally exempted from the state's unclaimed property laws: real property and motor vehicles.
Before the property can be considered abandoned or unclaimed, it has to be identified as unclaimed money by the holder. This happens after the holder loses contact with the property owner for a period of time defined by statute. The amount of time may vary with the type of property and does vary from state to state. Usually, property is not intentionally abandoned. Instead, most property that is identified as abandoned would probably be better described as forgotten property. Generally, people forget about the property and neglect to give the holder information when their contact information changes. For example, they often fail to tell the holders about name changes, address changes, and changes in phone numbers. Another way property becomes abandoned is when the property owner dies and the heirs do not know about the property and cannot claim it.
How Much Unclaimed Property in Hawaii?
Hawaii has over $150 million in unclaimed funds, waiting to be claimed by the rightful owners. While this may seem like a very large amount, it is actually small when compared to states with larger populations. In addition, it is only a small fraction of the amount of total unclaimed money available in the United States. According to a group devoted to helping people locate their unclaimed money, the National Association of Unclaimed Property Administrators (NAUPA), there is more than $42 billion in unclaimed property currently available in the entire United States.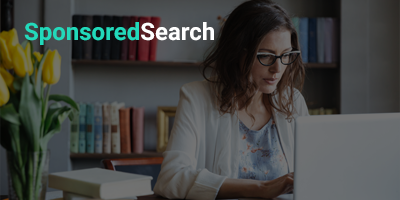 Search Public Records
Hawaii Unclaimed Property Finder
Hawaii's Unclaimed Property Finder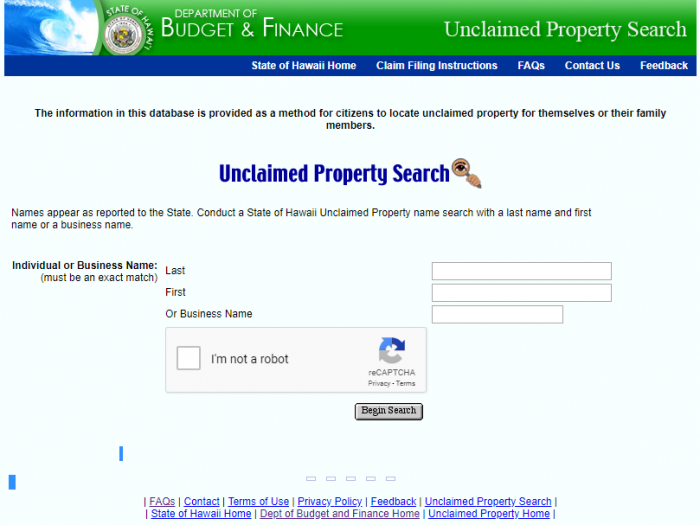 Like the search engines for many smaller states, Hawaii's initial search does not allow you to narrow down the search elements significantly. Instead, you can only search by name. You can search by last name, first name, or business name. The names must be exact matches to the terms you enter.
In all of our tutorials, we use the same name to show our examples. We do this to provide continuity and make it easier for users to compare and contrast similarities and differences in the different state search processes. We selected the very common name "Bob Smith" as the name we would use in our tutorials. This name is very common, which can result in getting too many search results when you begin the search process. We are aware of this flaw, and have chosen a common name on purpose. It is to help users understand the steps that you can take to narrow down search results if your initial search parameters yield too many search results.
Because we believe we have the option to search only by last-name, that is how we begin our search. We start our search by last name only. However, it immediately becomes apparent that Hawaii does not support a last-name only search. Instead, if you are searching for an individual, you are instructed to enter a first name for your search: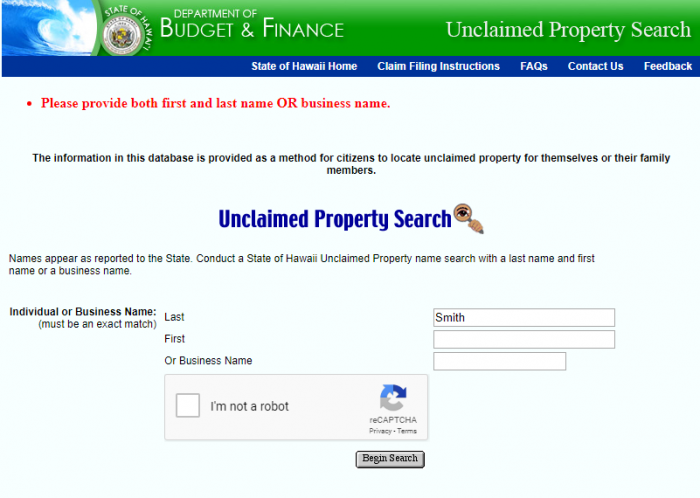 The results tell us that we need to provide both first and last name or a business name for the individual. Because entering a last name only gives us no results, we need to enter in the first name Bob to see what results we get for our search: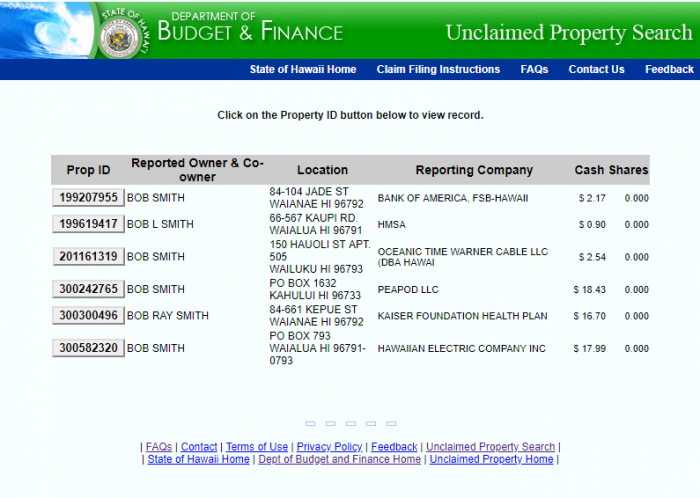 This results in just a small handful of search possibilities, which means it is really easy to look through the results and determine whether or not they match your search. There is, however, one problem with the Hawaii unclaimed property search engine; it only provides exact matches. Look through the results, you can see that the only results are for Bob. It will not include any other names, such as Bobby or Robert. For a name like Bob, which is frequently a nickname for longer names, you would have to search for the longer names as well if you want to ensure that you are not eliminating potential search results. Adding the first name is wonderful, because it narrows down our search results to three possibilities. However, if you are searching for a name like Bob, which is frequently used as a shortened version or "nickname" for other names, you might want to search for those names as well. For example, Bob is a nickname for Robert. Searching for Robert Smith increases search results tremendously: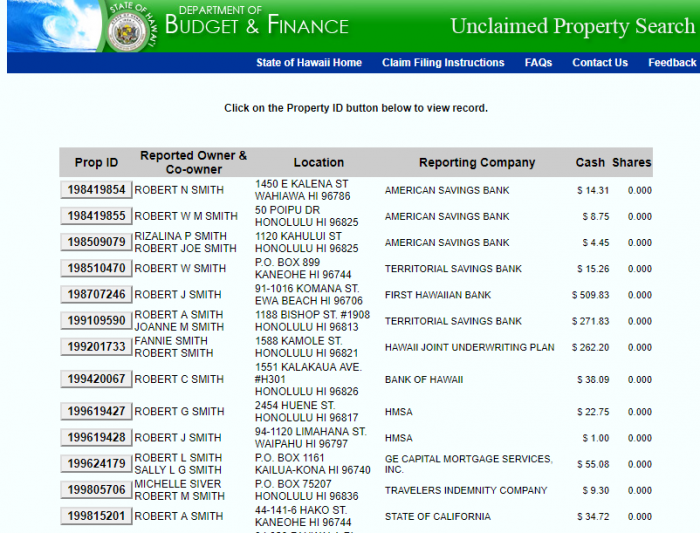 In our example, we ran searches for Bob and for Robert, but you would also want to run searches for the name Bobby or any other nickname that you know the person would have used. Keep in mind that some people also go only by their initials, so you might want to search for B Smith or for R Smith.
Looking at the search results, you can see that each results has a property id number, a reported owner (and co-owner when one exists), the location (the last known address for the property owner), the reporting company, the cash amount of the claim, and the shares in the claim.
Most unclaimed property search engines have a claim button next to their claims. Hawaii does not. To begin a claim, you click on the property id button. When you do, you get a page with the following results: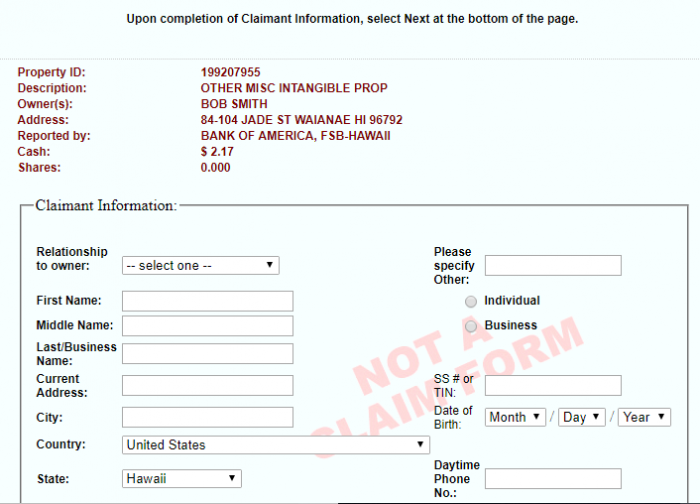 These results contain the property id number, a description of the property, the name of the owner or owners, the last known address for the owners, who reported the property, the amount of cash of the claim, and number of shares.
For each property you want to claim, you are asked to fill out the following claim form: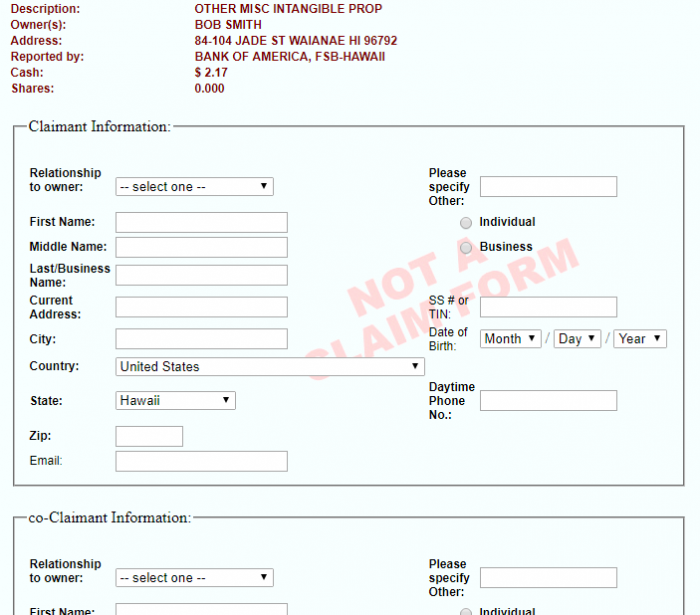 The claimant form asks for the claimant's relationship to the owner, the claimant's first name, the claimant's middle name, and the claimant's last name (the business name is requested instead of a last name if the owner or claimant is a business), the claimant's current address, the claimant's social security or tax ID number, the claimant's date of birth, and contact phone numbers and emails. If there are co-claimants, then you are asked to fill out the same information for them in the co-claimant box: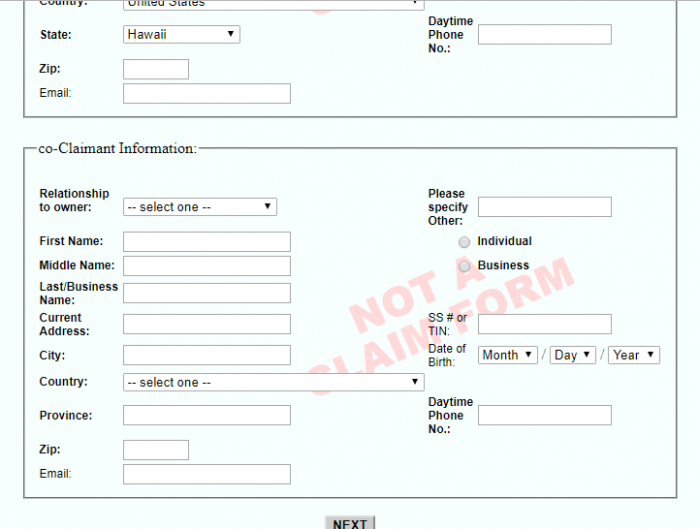 Unclaimed Property Laws in Hawaii
The Hawaii Unclaimed Property Statutes are located in Hawaii Revised Statutes, Chapter 523A.
Hawaii Unclaimed Property FAQ
How long does Hawaii hold unclaimed property?
Like many other states, Hawaii will hold unclaimed property for an indefinite period of time until the owners or their heirs can claim their property.
Examples of Unclaimed Money
Although unclaimed property can be just about any type of intangible personal property that is either already in cash or easily converted to cash, there are some types of property that are relatively likely to become unclaimed property. Some examples of this property include money in bank accounts, stocks, bonds, mutual funds, deposits, refunds, unpaid wages, unpaid insurance benefits, and the contents of safe deposit boxes. This list is not all inclusive, but just provides examples of different types of unclaimed money.
Does the state of Hawaii make efforts to locate owners?
Hawaii does not make extensive outreach efforts to locate owners, but you can search online for unclaimed property or call the local unclaimed property offices on each of Hawaii's islands.
Other sources to search besides Hawaii state database?
When people begin their search for unclaimed property, they often mistakenly believe that they can only search in the state where they live and that will be enough to help them find any unclaimed property. It is important to realize that states have their own unclaimed property databases, and those databases are for people whose last known address was in that state. There are also federal level databases that have unclaimed property that might not ever be reported in a state database. That is why we suggest that most people running unclaimed property searches will need to look in multiple states and in several federal databases.
To start your search, you want to begin by making a list of all of the states you need to search. At a minimum, you should check every state where you have resided as well as the state where you currently reside. For most people, we also suggest checking any states where anyone who may have put money in your name resides or resided. If you have established business contacts in other states, you should check those states as well. There are four national level sites that we suggest everyone search: the Internal Revenue Service (IRS), the Pension Benefit Guaranty Corporation, the U.S. Treasury, and the Life Insurance Policy Locator.
The IRS is a major source of unclaimed property, in large part because the IRS will not forward IRS tax refund checks if they are undeliverable to the property owner. The policy is explained in depth at the IRS website: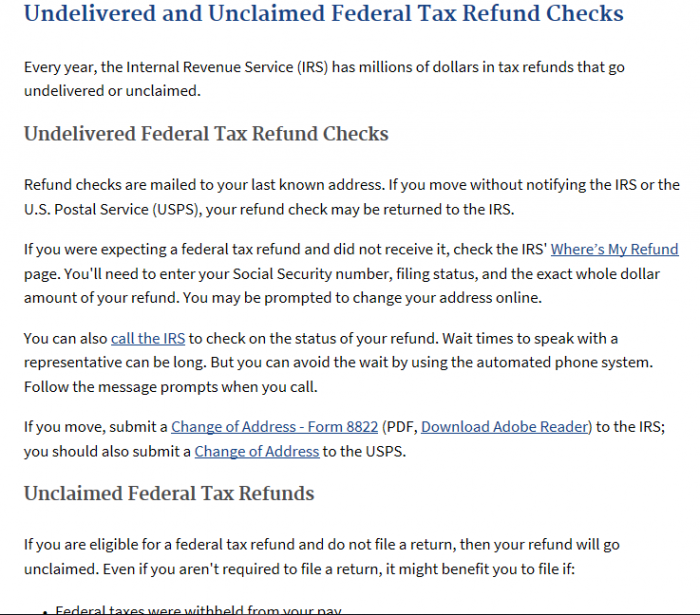 If you believe that you have an IRS refund that you have not received, you can search for it on the IRS's Where's My Refund? page.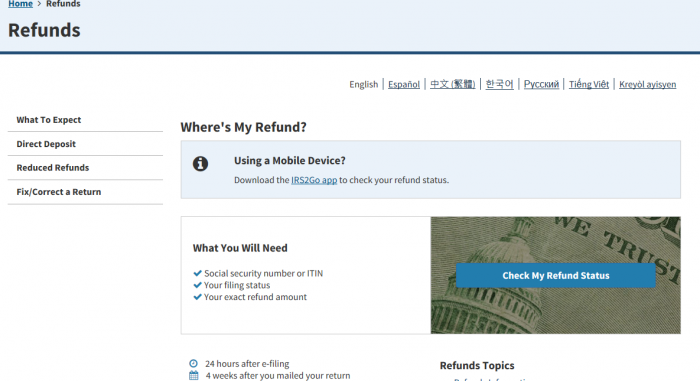 In addition to the IRS, the US Treasury has custody of a lot of money for people in the US. In addition, it may not have current contact information for people because people often buy bonds for infants or children. It used to be easy to look for unclaimed bonds on the U.S. Treasury's bond search database. They have discontinued this database. You can, however, still contact the US Treasury at 844-284-2676 or visit Treasury Direct for more information: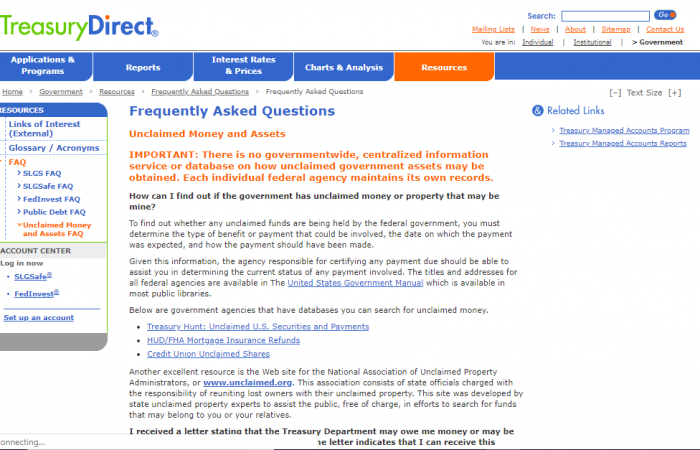 An interesting potential source of unclaimed property is pension benefits. Because pensions have become significantly less common, many workers with pensions from early in their careers may not even realize that they have pension benefits. Fortunately, the Pension Benefit Guaranty Corporation (PBGC), a government organization that guarantees pension benefits in the U.S., runs an unclaimed pension database: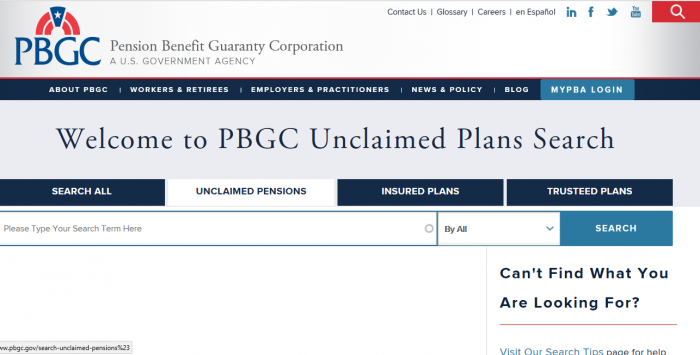 The final national site that we suggest all people visit is the National Association of Insurance Commissioners' Life Insurance Policy Locator Service. While it is not a federal government site, this national site is a conglomeration of life insurance policy companies. You can fill in your information, and they will distribute it to member organizations to see if you are the beneficiary on any unpaid life insurance claims held by their member agencies: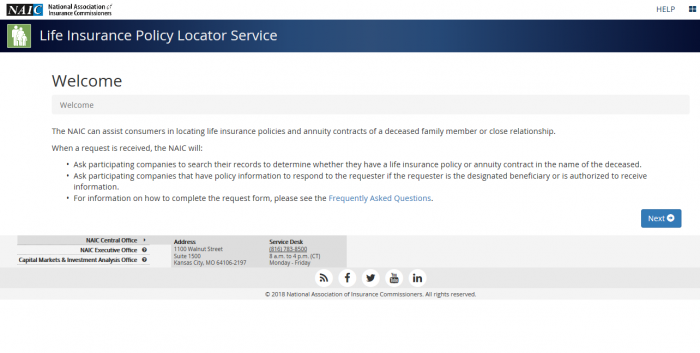 There are some other sites that you might want to search if your individual circumstances mean that you had contact with these agencies. These four sites are: the FDIC, the Department of Housing and Urban Development, the National Credit Union Administration, and the Veterans Administration Benefits Department.
What is the best way prevent my property from becoming lost or unclaimed?
People want to know what steps they can take to keep their property from becoming unclaimed. The biggest thing is to keep thorough records of any property that you have. Account information should include the name of the holder, your account number, contact information, and any important due dates. If you have the option of selecting electronic account information, you should do so, because it makes it easier for you to remain in contact with your account holders.
How do I make sure my heirs know where my assets are if I die?
A will is not sufficient to inform your heirs of where your assets are located. We suggest that you designate a trusted individual with access to all of your account information in the event of your death or incapacitation.
Should I hire a finder to conduct the search?
Hawaii does not provide any guidance on whether or not a person should use a finder service to help find and claim unclaimed property. As with other states, unclaimed property searches in Hawaii are free. However, they can be time-consuming. You can choose to hire a finder, who will take a percentage of any money that they do manage to locate, and save the time in the search. It is a personal choice. You can find the rules for finder services in Hawaii Revised Statutes Chapter 523A-25.
Why does Hawaii take possession of unclaimed property?
Hawaii's unclaimed property law is a consumer protection statute, which is aimed at reuniting property owners with their unclaimed/ abandoned property.
Conclusion
Hawaii has over $150 million in its unclaimed property program. Run your search today and find out if anything is yours.