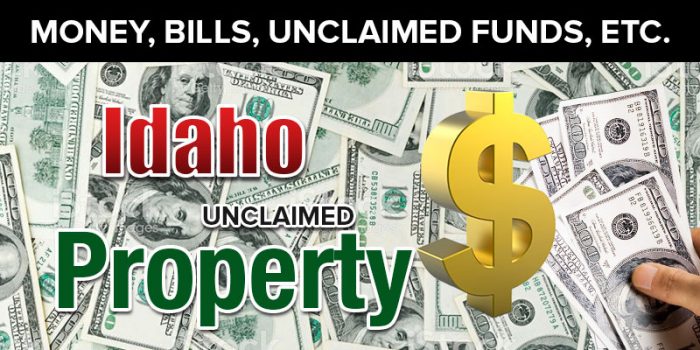 Idaho's unclaimed property program is run by the Idaho State Treasurer's Office. The Idaho State Treasurer is Julie A. Ellsworth. As of April 9, 2019, the state had paid out more than 1.6 million in unclaimed property claims since the beginning of the year. The purpose of Idaho's unclaimed property website is to help reunite actual owners with their unclaimed property. The unclaimed property program gets millions of dollars each year. This money comes from holders, usually financial companies, who are unable to locate the owners of the property. Property owners may include individuals, their heirs, estates, businesses, churches, and charities.
Idaho's unclaimed property program developed for the same reason that other unclaimed property programs developed; it is a consumer protection effort to protect owners, heirs, and estates when they lose track of their money. There are a number of reasons that property owners might lose track of money, such as moving, dying, or just forgetting about the money. There are several different types of unclaimed property, including, but not limited to: dormant bank accounts, stocks, bonds, unclaimed wages, insurance claim payments or benefits, uncashed checks, and the contents of safe deposit boxes.
Idaho's unclaimed property laws require holders to contact an owner if money becomes abandoned. If the owner does not respond to that attempt at contact, then the money is classified as abandoned. Holders are required to review their records and search for unclaimed money and make the report by November 1st of each year.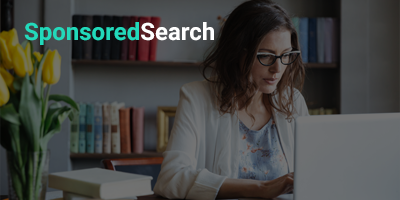 Search Public Records
After the state of Idaho takes custody of the property with its Unclaimed Property Program, the state begins an outreach program. The state uses social media, promotions, and statewide marketing coverage to make people in Idaho aware of the unclaimed property program.

Idaho does not use the Missing Money website to handle its unclaimed property. However, the setup of Idaho's unclaimed property database will seem familiar if you have ever run an unclaimed property search. You can find Idaho's unclaimed property program here.
Many people think that the unclaimed money search process is going to be difficult. Actually most states, including Idaho, have worked hard to develop easy-to-search databases and have tried to streamline the claim process. As a result, the whole process is relatively easy, though it may be very time consuming. In addition, while states may use different databases, how-to-search is fairly similar for each state. This means that after you have handled a search and submitted claims in one state, you will probably be able to apply those same skills to additional searches in other states. However, if you find the process daunting, we have you covered; we have tutorials for running unclaimed property searches in almost every state and are continuously adding new tutorials to our website!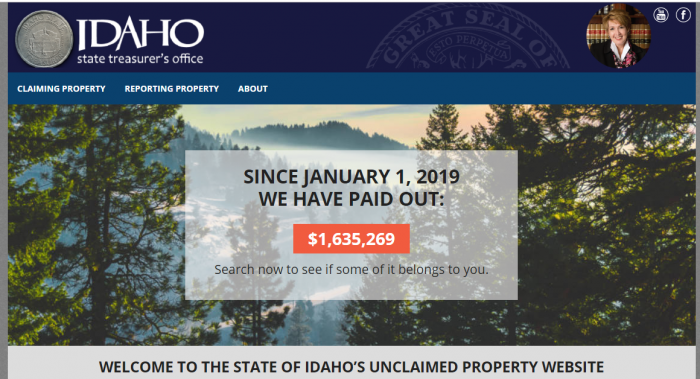 To start your unclaimed property search in Idaho, you simply need to look on the state's unclaimed property database. It has search parameters, which will allow you to easily search for property under your name. To help you through the process, we have a step-by-step tutorial. This tutorial takes you through all of the steps to find and claim your abandoned property in Idaho. In addition to providing a comprehensive how-to for property searches in Idaho, the tutorial also contains answer to some of the most frequently asked questions about unclaimed property in Idaho, including: the website and links for Idaho's unclaimed property database, links to Idaho's unclaimed property laws, and a discussion of whether or not you should use a finder/locator service to help you find and claim your abandoned property.
Idaho's unclaimed property page can be found by going to the Idaho State Treasurer's website or by going directly to the unclaimed property program's page.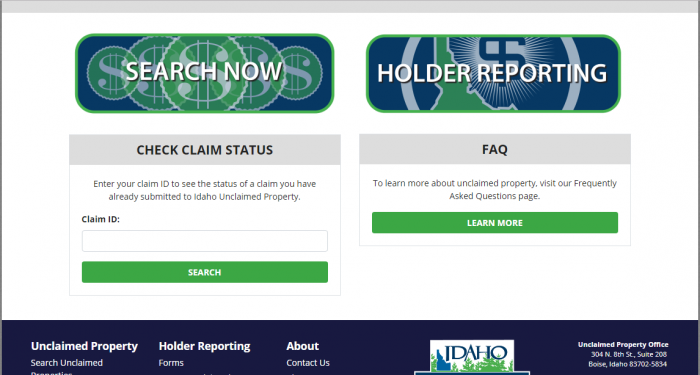 From that page, you can begin the search process if you are individual or report that you have money if you are a holder.
Idaho's Unclaimed Property Database
Like all other states and territories in the United States, Idaho now has a comprehensive statewide unclaimed property database. This greatly simplifies the search process, because property searches in Idaho once required you to look in all of the following counties: Ada, Adams, Bannock, Bear Lake, Benewah, Bingham, Blaine, Boise, Bonner, Bonneville, Boundary, Butte, Camas, Canyon, Caribou, Cassia, Clark, Clearwater, Custer, Elmore, Franklin, Fremont, Gem, Gooding, Idaho, Jefferson, Jerome, Kootenai, Latah, Lemhi, Lewis, Lincoln, Madison, Minidoka, Nez Perce, Oneida, Owyhee, Payette, Power, Shoshone, Teton, Twin Falls, Valley, and Washington.
What is Unclaimed Property?
According to Idaho, unclaimed property refers to unclaimed or abandoned intangible property. You may know the term intangible property by another name: money. That is why you may hear unclaimed property referred to as unclaimed money, abandoned money, and abandoned property. This unclaimed money can come in several different forms, including, but not limited to: checking accounts, stocks, mutual funds, savings accounts, utility refunds, bonds, and items stored in safety deposit boxes. The State of Idaho gets custody of this property when holders have lost contact with customers and are unable to reach them after making an outreach effort. Holders are usually businesses that have custody of your money for some reason. They include, but are not limited to: corporations, banks, utility companies, insurance companies, medical offices, and business associations.
Although the program is the unclaimed property program, it specifically refers to the type of intangible property that can easily be converted to negotiable instruments; in other words, it refers to money. Some types of property will never be included in unclaimed property, including real estate and motor vehicles.
Before money can be classified as unclaimed, it must first be abandoned. Money can become abandoned in a number of ways, and the process is usually an accidental one. A property owner may forget about the property and fail to notify a holder when the property owner moves or changes names. In addition, holders can make errors during name changes, address changes, or internal record-keeping changes that cause them to lose contact with the property owner. In Idaho, most property will be considered abandoned if the holder has had no contact with the property owner for a period of five years, though some types of property, such as wages and utility deposits, will be considered unclaimed after a year.
How Much Unclaimed Money is in Idaho?
Idaho has over $150 million in unclaimed property available for rightful claimants. This is only a very small portion of the unclaimed property available in the United States. The National Association of Unclaimed Property Administrators (NAUPA) is a group that is committed to helping owners reunite with their abandoned property. They estimate that there is more than $42 billion in unclaimed property available in the entire United States.
Idaho Unclaimed Money Finder
You can begin your search for unclaimed property in Idaho.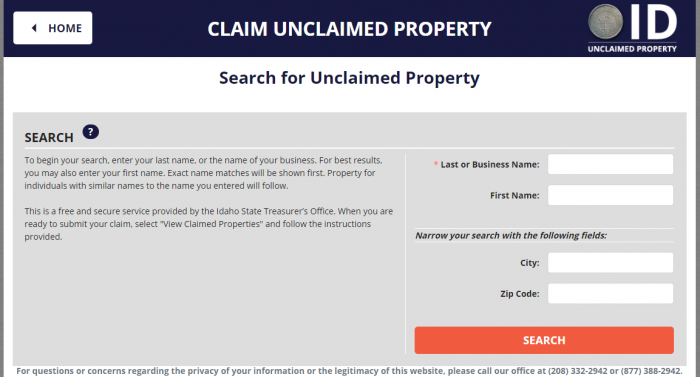 Like most states, Idaho gives you the option of running a search with only a last name or business name. If you want to narrow down your search, you can also add a first name, city, and/or zip code. The city and zip code would be for the last known address the holder had for you in the state.
For the purposes of our tutorial, we are going to use the name Bob Smith, which is the name we use in all of our tutorials. We use the same name in each tutorial to make it easier for you to compare state search processes. We also intentionally chose a common name for a few reasons. The first reason is to make sure that we will always get positive hits in our search results. The second is that there are some potential pitfalls in searching for common names, and we use one to help you see how to deal with those pitfalls.
We begin the search by looking only for the last name "Smith."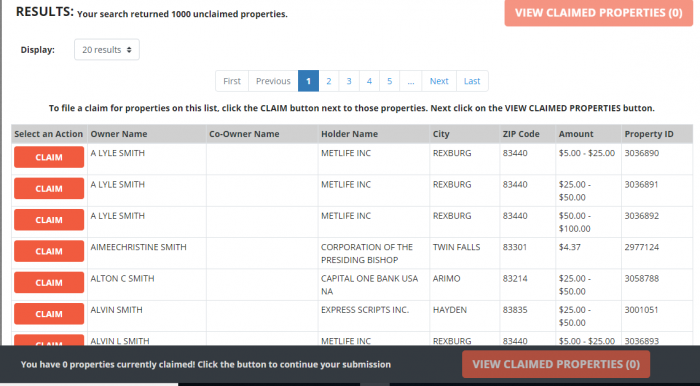 The results say that there are 1,000 results. However, if you run a few searches you realize that 1,000 is the maximum number of results that Idaho's database can return. Therefore, we know that there are at least 1,000 "Smith" results and that they are probably not all included in the listed results. Therefore, we need to add some additional parameters to the search. We start by adding the first name "Bob" to our search: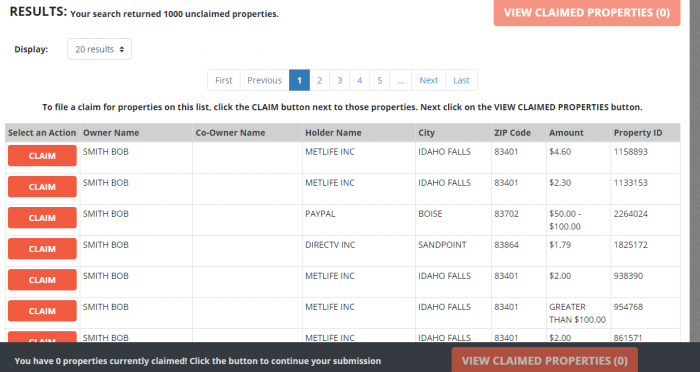 Apparently, Bob Smith is a pretty common name in Idaho, because we still got more than 1,000 search results. Therefore, we are going to add a city, Boise, to our searches, which will hopefully narrow down the search results to a manageable amount: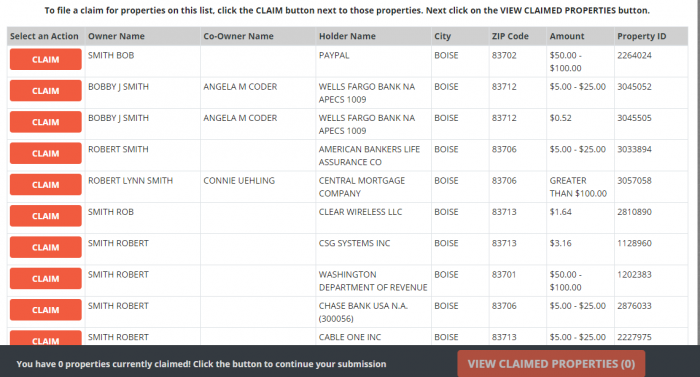 There were still more than 1,000 hits, so we are going to further narrow the search by looking for the zip code 83702: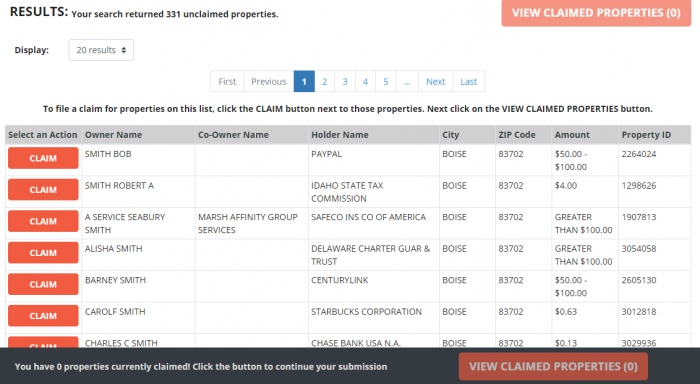 With the addition of that additional parameter, we get down to a manageable number of results, 331. What this means is that if you have a very common name, but lived at multiple addresses in Idaho, you may need to run multiple zip code searches in order to make sure that you actually see all of your potential abandoned properties.
Take a look at the results that you get when you run a search: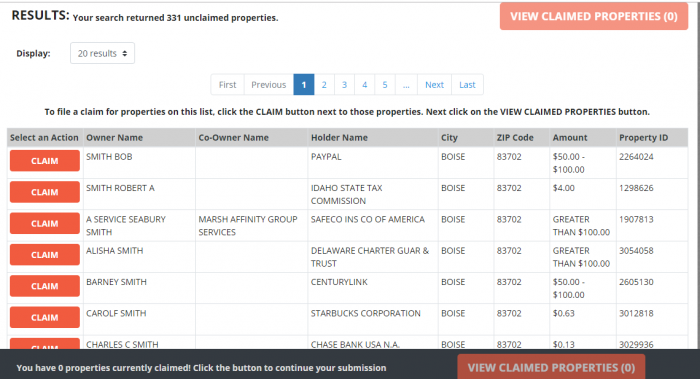 The results have a claim button the far left, the owner name, the co-owner name when there is one, the holder name, the city, the zip code, the amount of the claim, and a property i.d.
To make a claim, you hit the claim button next to the property. When you have claimed a property, the claim button disappears and is replaced by a big "x":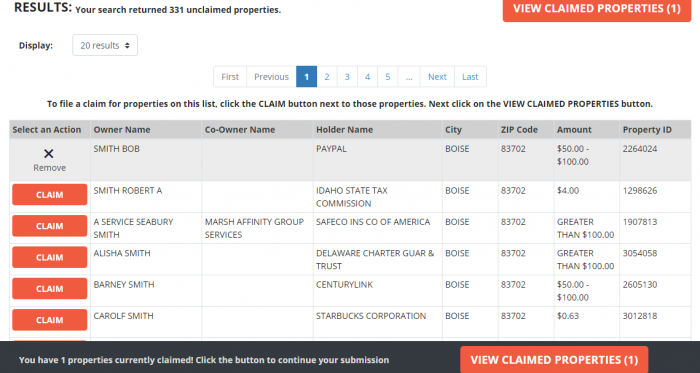 .
After you finish claiming all of the properties you believe that you can claim, you continue by hitting the "view claimed properties" button that you will find at the top right of the screen: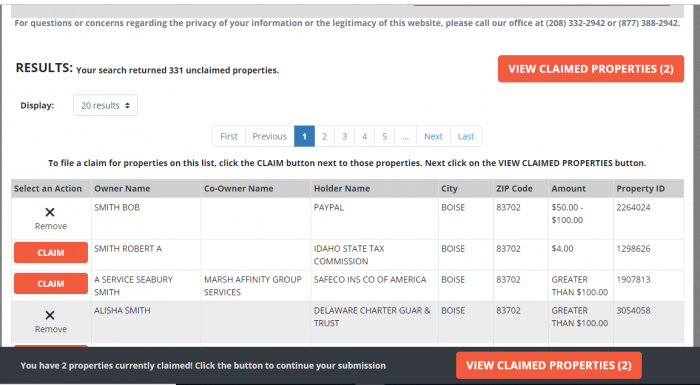 Hitting the claim property button takes you to a page that looks like this: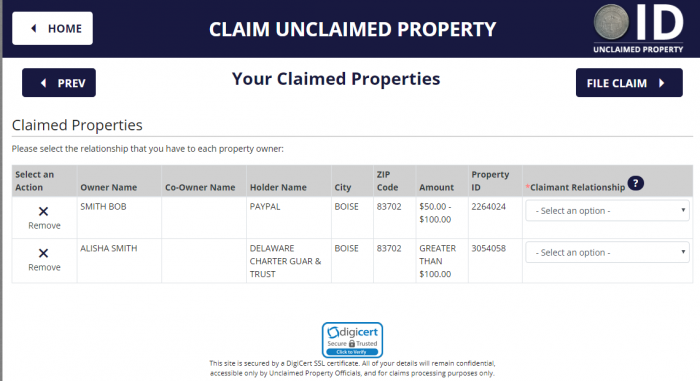 On this page, you get to review whether or not you can claim the properties. You will also be asked to select a claimant relationship for each of the properties that you have selected. The claimant relationship drop-down box is located to the right of each claim. The options it gives you are: owner, heir, or business: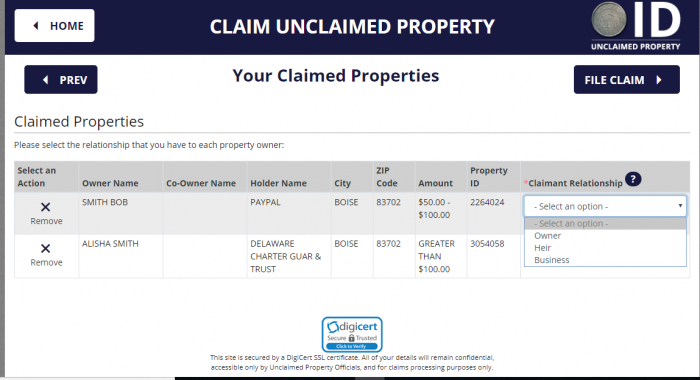 Once you have selected a relationship, you can hit the "file claim" button on the top right of the screen: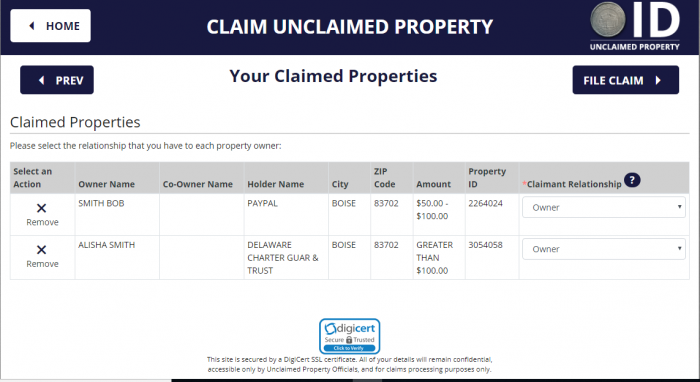 Once you hit the file claim button, you are taken to a claim form. You will be asked to supply a variety of identifying information and contact information on that form, including: claimant type, last name, first name, middle name, date of birth, email address, home phone number, other contact numbers, driver's license number, social security number or tax id number, address, city, state, and zip code. Not all information is required, but the more information you supply, the more likely it is that you will match with your claim: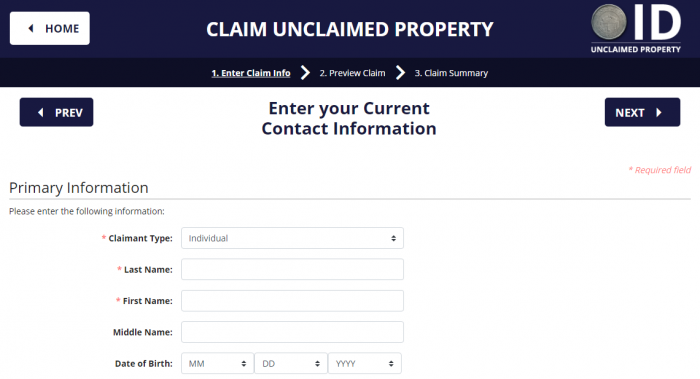 You will have an opportunity to preview your claim before submitting it, to make sure that you have included all of the appropriate information for each claim.
Unclaimed Property Laws in Idaho
The Idaho Unclaimed Property Law is found in Idaho Statutes Title 14, Chapter 5.
Idaho Unclaimed Property FAQ
How long does Idaho hold unclaimed money?
As of 2012, all unclaimed property in Idaho will be available to the original owner or his or her heirs forever.
Examples of Idaho Unclaimed Property
In Idaho, abandoned property is really abandoned money. Pretty much any type of property that is readily converted to an intangible asset like money can be considered abandoned property, but real property and motor vehicles are excluded. Some examples of abandoned property include: cash, savings accounts, bonds, stocks, checking accounts, royalties, refunds, wages, the contents of safe deposit boxes, utility deposits, court deposits, insurance benefits, and cash dividends.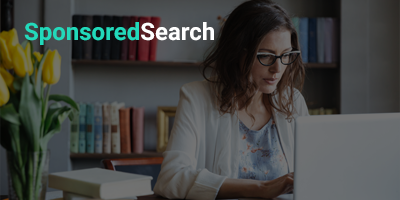 Search Public Records
Does the state of ID make efforts to locate owners?
Idaho makes various outreach efforts on social media, through publicity campaigns, and other methods to try to inform people in Idaho about the unclaimed property program. In addition, it runs an extensive unclaimed property database, where people can search for and claim their unclaimed property.
Other sources to search besides ID state database?
To run a comprehensive search, you need to do more than search the state where you live. You may find yourself searching multiple state databases and at least a handful of federal databases.
While some people may not need to search any other states, the odds are high that you will need to include at least one additional state in your search. The list of states you should search should include any state where you have ever resided, any state where someone who may have left you as an heir may have lived, any states where someone may have placed property in your name, and any state where you may have established meaningful business contacts.
You will also want to include a variety of national-level sites in your search, because the majority of claimants have money pass through at least one of these sites. That does not mean that you will necessarily find abandoned property at one of these states, just that you have probably had money in one of them at one point in time. The four must-search states we recommend for everyone are: the Internal Revenue Service (IRS), the Pension Benefit Guaranty Corporation, the U.S. Treasury, and the Life Insurance Policy Locator.
It is probably obvious why we include the IRS; almost everyone has money withheld for taxes and most of us receive tax refunds at some point in our lives. What you may not realize is that, if the IRS is unable to deliver your tax refund check to you, it does not attempt to forward the refund. It also does not send the money to the state where you live. Instead, it holds onto the money for you. The IRS explains this policy at its website: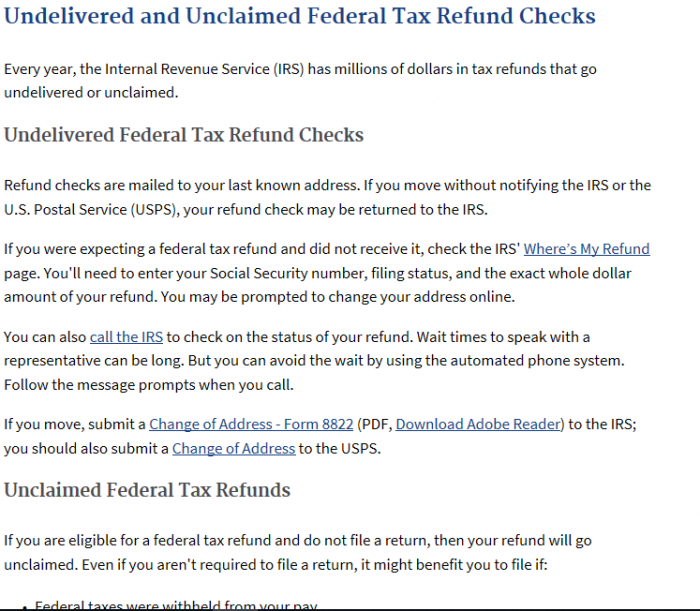 If you think that you should have received a tax return, but did not, you can always check the IRS's Where's My Refund? page: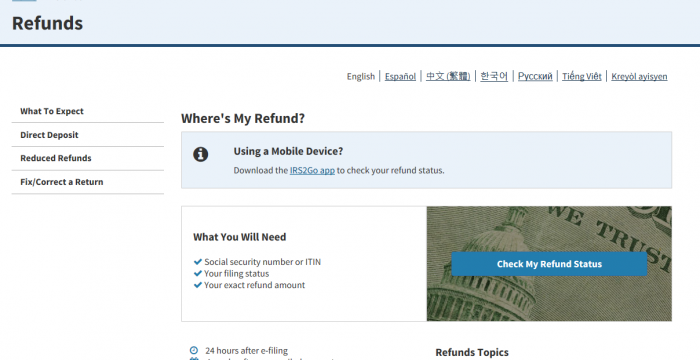 Although fewer people have money held by the U.S. Treasury than the IRS, it is also a significant source of abandoned property. The Treasury used to make it easy to find your abandoned savings bonds, which they made searchable in a database very similar to the state unclaimed property databases. They discontinued this process and have made it much more difficult to find and claim abandoned property. However, you can call them at 844-284-2676 or visit them at their website for more information: Treasury Direct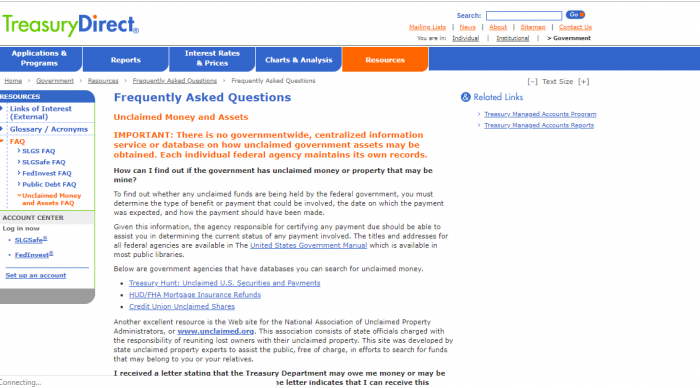 Although it may not apply to younger claimants, all of our older claimants need to go visit the Pension Benefit Guaranty Corporation (PBGC) and check out their unclaimed pension database. Many people do not realize that pension benefits are actually guaranteed by a federal corporation, the PBGC, and it operates a database with the goal of reuniting people with their unclaimed pension benefits: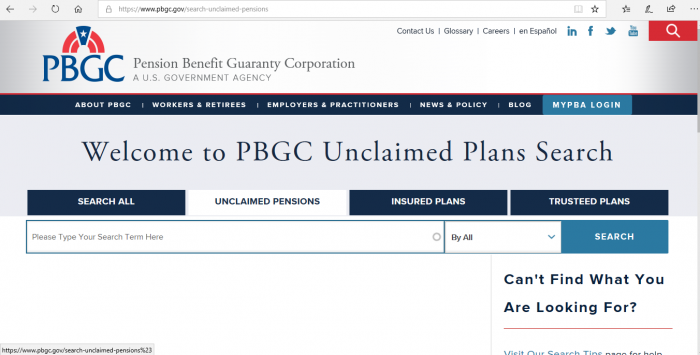 Another national-level site that we suggest is not actually part of the federal government, but a nationwide private service. It is the National Association of Insurance Commissioners' Life Insurance Policy Locator Service. This service operates a little differently than the searchable databases we have shown you. Instead, you enter your information and the Service distributes your information to its member insurance companies and then those companies search their databases to determine whether you are the beneficiary on any unclaimed insurance benefits: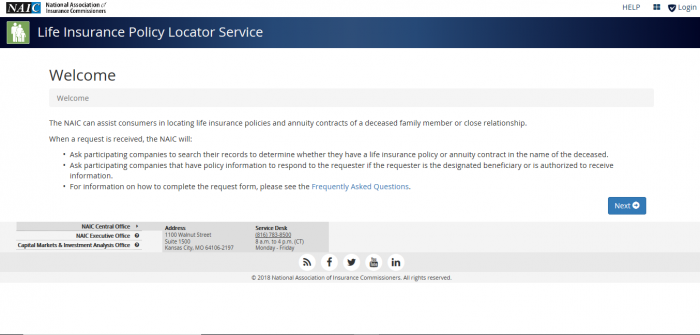 While the above four are what we consider the must-visit national-level sites, they are not the only sites where you may find your abandoned property. Some people may also want to search the following sites: the FDIC, the Department of Housing and Urban Development, the National Credit Union Administration, and the Veteran's Administration Benefits Department.
What is the best way prevent my property from becoming lost or unclaimed?
This may be one of the top questions that we get. Keep track of all of your accounts and keep detailed account records. Inform all of your financial institutions any time you have a change in name, address, or marital status. Respond to your financial institutions' requests for contact. Use electronic account management when possible, so that you always have contact with your banks. Finally, contact all of your account holders at least once per year.
How do I make sure my heirs know where my assets are if I die?
Designate a trusted individual to get access to the detailed account records mentioned above in the event that you die or are incapacitated. Also make sure that they have passwords so that they can get into your accounts
Should I hire a finder to conduct the search?
In Idaho, a finder service is not allowed to make a fee off of helping you find and claim your property until the property has been deemed abandoned for at least two years. Therefore, it is easy to see that Idaho does not encourage finder/locator services. However, if you are too busy to run your own searches, paying a fee to a finder may be worth it to help you recover your unclaimed money.
Why does Idaho take possession of unclaimed property?
Idaho's unclaimed property program is considered a consumer protection statute and its goal is to help reunite people with their unclaimed property.
Conclusion
Idaho's unclaimed property program is easy-to-use and has over $150 million just waiting to be claimed by its original owner. Could that be you? The only way to find out is to search their database and see if there is property waiting for you!