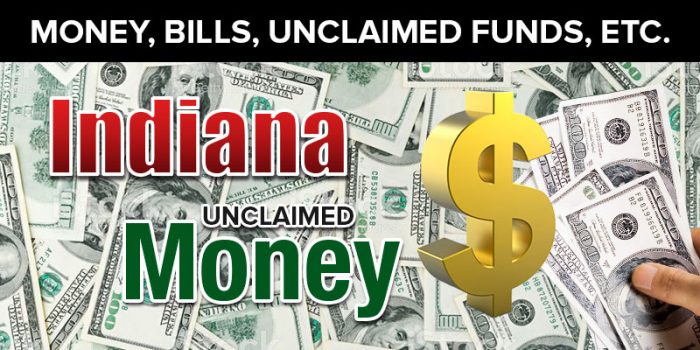 Are you on the hunt for unclaimed property in Indiana? In Indiana, the State of Indiana Office of the Attorney General operates the Unclaimed Property Division. You can visit their website for information and to begin your hunt for unclaimed property in Indiana: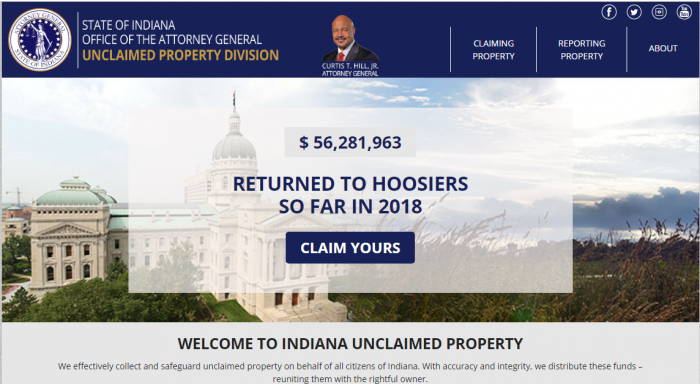 While the Indiana Unclaimed Property Division is a great place to start in your unclaimed property search, many people make the mistake of only looking in state databases. However, the reality is that it is very unusual for someone not to have business or financial contacts outside of the state. Because of these contacts, there may be other databases you need to search in order to find all of your unclaimed money. That is why we have put together a comprehensive how-to-guide for people running unclaimed property searches.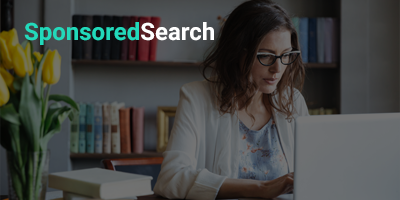 Search Public Records
Most people who are starting an unclaimed property search have some questions about the process. Our how-to-guide answers all of those questions including: What is unclaimed property/ unclaimed money? Is unclaimed money the same as abandoned property? How is property classified as abandoned or unclaimed? How do I search for unclaimed money? Where do I go to run an unclaimed property search? Where can I find Indiana's unclaimed property laws? What are Indiana's state resources to help me search for unclaimed property, and do I have to visit multiple sites to find that property? What is the purpose of Indiana's unclaimed property database? What other sites should I visit when running my unclaimed money search? Once I have located unclaimed property, how do I file a claim for that property? What type of proof of ownership or identity do I need to provide to file an unclaimed property claim? What is a finder service and do I need to use a finder service to find or claim my unclaimed property?
Indiana's Unclaimed Property Division is responsible for getting reports of unclaimed property from the third party holders, holding that property for the original owners until it can be reclaimed, and establishing pathways for original owners to claim their unclaimed property. Indiana's state law states that requires third-party holders of property to turn over custody of that property to the state if they have lost contact with the actual property owner. The time period that property has to be abandoned to trigger reporting requirements is dictated by statute. Property is held by the state to make it easier for actual owners to find and reclaim their property.
Indiana operates a website that helps you search for and claim your unclaimed money. You can find this website at https://indianaunclaimed.gov/app/claim-search:
While the Indiana database is where you want to start your search for unclaimed property, you do not want to end your search after only looking at that database. Indiana only has information for property that has escheated to the state of Indiana. This usually covers only property that has been abandoned in Indiana. You may not think that you have any financial contacts outside of the state of Indiana, especially if you have only ever lived in Indiana. However, it is easier to establish financial contacts out of state than you realize. If you have or had out-of-state relatives, it is possible for them to have opened accounts for you or left money for you in another state. It is also possible to have out-of-state contacts if you have an employer or an insurance company that is headquartered out of your state. Even if you do not have financial contacts in other states, you probably have contacts with federal agencies that may have your property. For example, some types of property, such as unpaid income tax refunds and abandoned savings bonds, never escheat to the state of Indiana.
For many people, finding out how much is involved in an unclaimed property search can be overwhelming. Fortunately, most federal agencies and all state and U.S. territories have made it easy to search for and claim your unclaimed property. You can visit websites to search for your property and follow clear instructions about how to claim the property and what proof of ownership you need to provide to verify your claim.
What is Unclaimed Money?
Each state specifically defines unclaimed money or property, but the definition remains fairly consistent from state-to-state and territory-to-territory. The state law determines when property is considered abandoned, but abandonment refers to the holder losing contact with the property owner. Different things can be considered contact, including online logins, written correspondence, withdrawals, deposits, and updates to personal information. While many people think of bank accounts as the primary source of unclaimed property. In fact, there are several different types of property that can be considered abandoned property including, but not limited to: stocks, bonds, cash, vendor balances, refunds, overpayments, mutual funds, and uncashed payroll checks.
Equally important to the question of what unclaimed property is, you must know what does not qualify as unclaimed property. Generally, real property and vehicles will not count as unclaimed property. In addition, you may enter into a contract, such as a lease agreement, which prevents your party from being considered unclaimed property and specifically gives a third party holder, such as a landlord, the right to convert and control that property.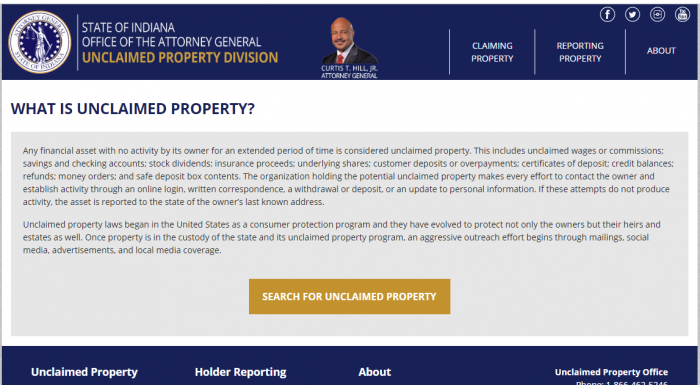 How Much Unclaimed Money is in Indiana?
Indiana has over $550 million in unclaimed property. In 2018, it has paid out over $50 million in claims, but it has also received an additional $28 million in unclaimed property. Keep in mind that all of these amounts are always fluctuating because property is continuously being reported as unclaimed and claimed by the actual owners. Although Indiana has over half a billion dollars in unclaimed property, it actually has only a small portion of the nation's unclaimed property. According to the National Association of Unclaimed Property Administrators (NAUPA), a nationwide unclaimed/abandoned property and money organization, there is around $42 billion in unclaimed property in the United States.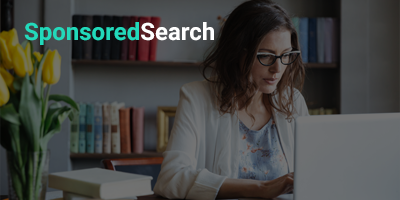 Search Public Records
Indiana Unclaimed Money Finder
You can find Indiana's unclaimed property locator at https://indianaunclaimed.gov/: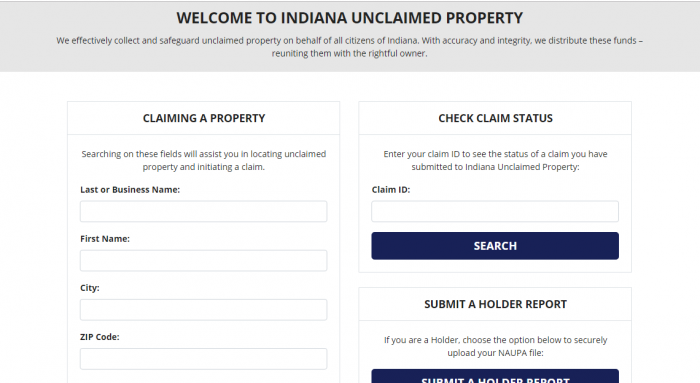 :
At that website, you can find information for every county in the state, including:
There are two ways to begin your unclaimed money/property search: with your last name or business name or with your property i.d. number: Adams, Allen, Bartholomew, Benton, Blackford, Boone, Brown, Carroll, Cass, Clark, Clay, Clinton, Crawford, Daviess, Dearborn, Decatur, De Kalb, Delaware, Dubois, Elkhart, Fayette, Floyd, Fountain, Franklin, Fulton, Gibson, Grant, Greene, Hamilton, Hancock, Harrison, Hendricks, Henry, Howard, Huntington, Jackson, Jasper, Jay, Jefferson, Jennings, Johnson, Knox, Kosciusko, La Porte Lagrange, Lake, Lawrence, Madison, Marion, Marshall, Martin, Miami, Monroe, Montgomery, Morgan, Newton, Noble, Ohio, Orange, Owen, Parke, Perry, Pike, Porter, Posey, Pulaski, Putnam, Randolph, Ripley, Rush, St. Joseph, Scott, Shelby, Spencer, Starke, Steuben, Sullivan, Switzerland, Tippecanoe, Tipton, Union, Vanderburgh, Vermillion, Vigo, Wabash, Warren, Warrick, Washington, Wayne, Wells, White, and Whitley.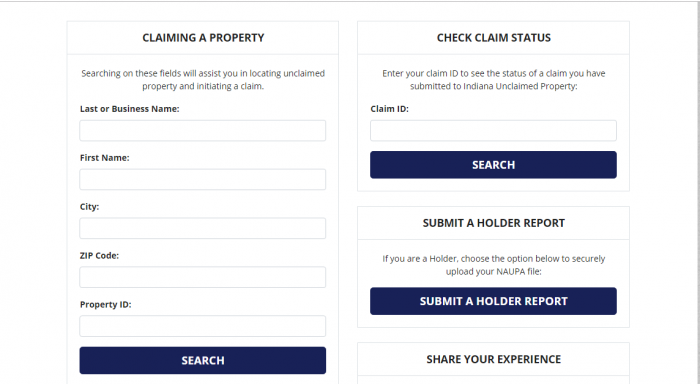 You can search by last name or business name only, or you can add in additional search parameters like first name, city, zip code, or property ID. Allowing you to search by last name or business name only can provide you with a more comprehensive list of results. However, if you have a common last name, you may not get all of the results. The website limits itself to 1000 responses. You can see that searching for a common last name, such as Smith returns all of those results and that there may be results it does not return: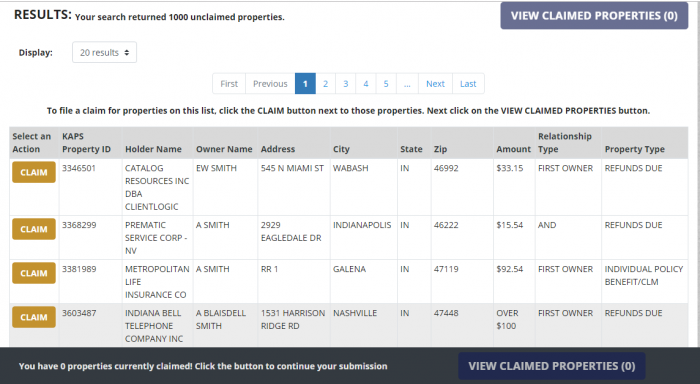 As you can see, Indiana provides additional information for each claim. They have a KAPS Property ID number, the name of the holder, the owner name, the address, the city, the state, the zip code, the amount (if it is over $100 then it will just be listed that it is over $100), the relationship type, and the property type.
If you see claims that you believe are yours, then you can hit the claim button on the left. When you have claimed property an "x" will appear in the space where the claim button was: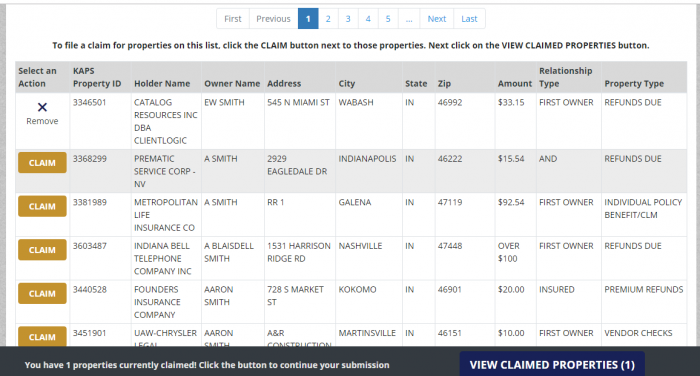 Once you have selected all of the properties that you want to claim, you can then choose to view all claimed properties: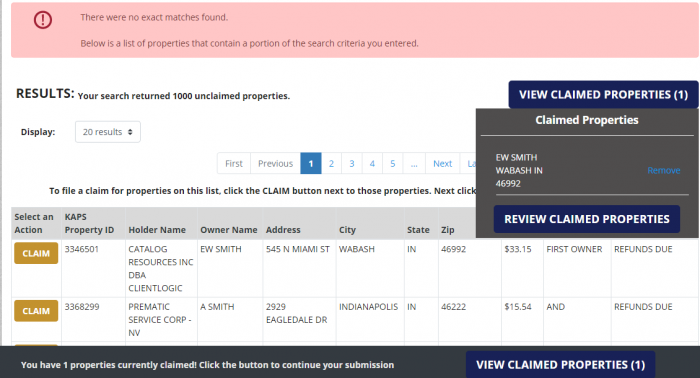 For each property, you will be asked to describe your relationship to the property by choosing that relationship from a drop-down menu: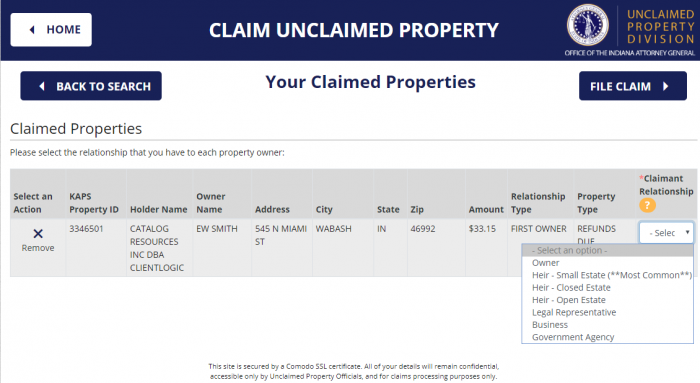 For each claim, you will need to fill in claim information, including: claimant type, last name, first name, middle name, date of birth, email address, phone numbers, and social security or tax ID number: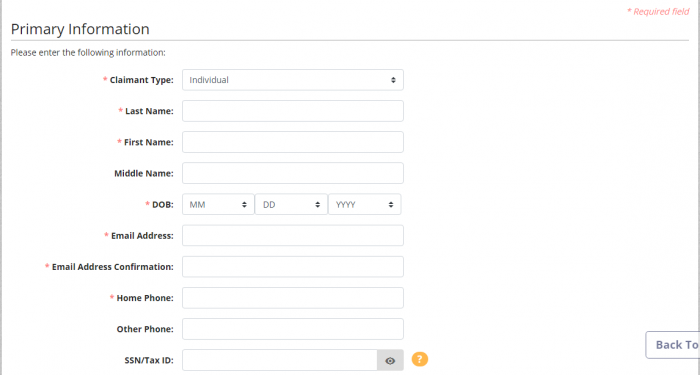 Unclaimed Money Laws in Indiana
Indiana's Unclaimed Property Law is found in Indiana Code § 32-34-1: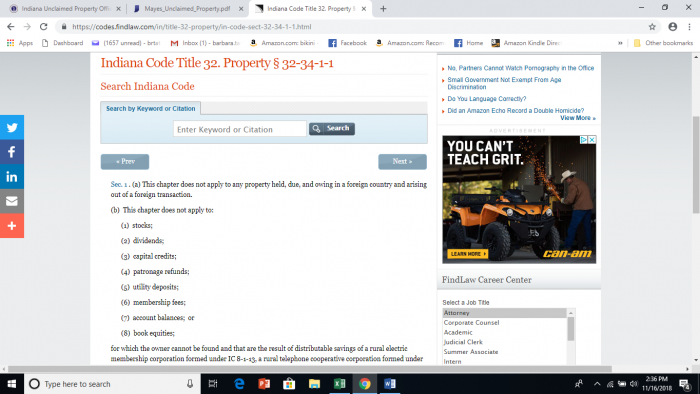 Indiana Unclaimed Money FAQ
How long does Indiana hold unclaimed money?
While many states hold unclaimed property for the actual owners indefinitely, Indiana does not. If money is unclaimed for 25 years, it is absorbed into the General Fund and can no longer be claimed: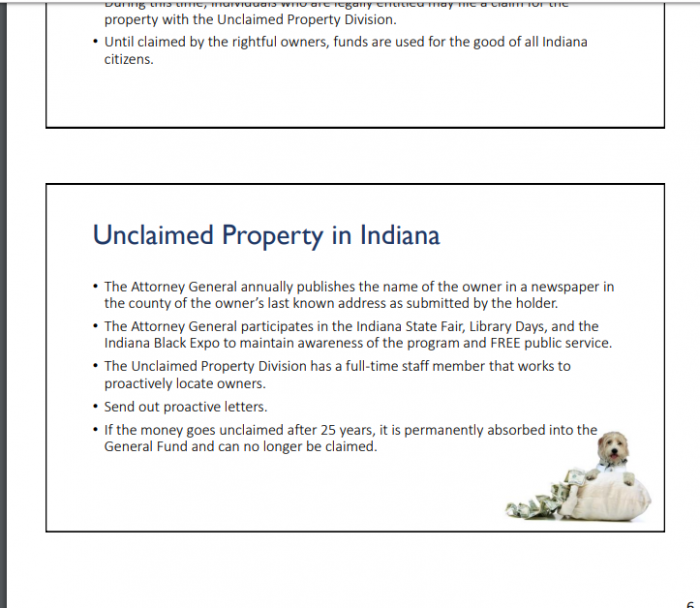 Examples of Unclaimed Money
In Indiana, any financial asset, except for real property and vehicles, that has been left with a holder without any activity or contact for the dormancy period can be considered unclaimed property. Some types of unclaimed property are: safe deposit box contents, uncashed checks like paychecks, deposits, credits, stocks and bonds, the content of bank accounts, certificates of credits, refunds, overpayments; and paid-up life insurance policies.
Does state of Indiana make efforts to locate owners?
Yes. Indiana makes efforts to find the actual owners of unclaimed property. The Indiana Attorney General's Office publishes the names of all unclaimed property owners after it is reported by the holder. They are published in newspapers in the state, published by county age. Properties that are turned over in a year are published in the newspaper by November 30th of the following year.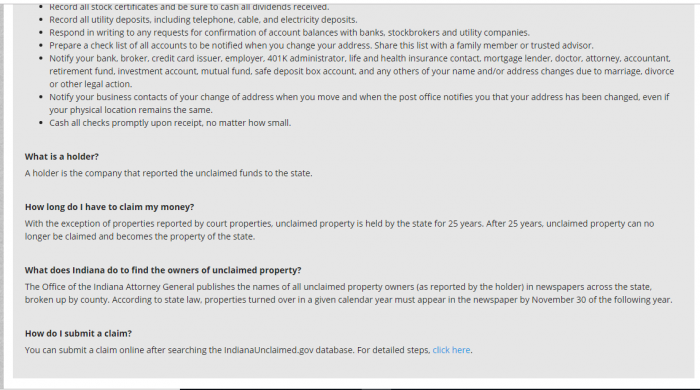 Other sources to search besides Indiana state database?
Remember when we told you at the beginning of this how-to-guide that there were other places you would need to search to find your unclaimed property? There are several places you need to look at, and we suggest you start by planning out all of the sites you need to visit, so you can tackle the search methodically.
Start by making a list of any state that you need to search for unclaimed money. Of course you want to include any place where you ever lived; all U.S. states and territories have their own unclaimed money registries. Do you have an employer that is headquartered out of state? If so, you might have property on that state's registry. Have you traveled out of state and purchased money orders, gift cards, or traveler's checks in another state; if so, you may have unclaimed property in those states. Do not forget states where relatives live.
After you finish with the states, you want to think about types of property that do not escheat to the states. Most property originating with the federal government falls into this category. Four must-search sites are: the U.S. Treasury, the IRS, the National Pension Benefit Guaranty Corporation, and the Life Insurance Policy Locator Service.
The U.S. Treasury has over $17 billion in unclaimed savings bonds, and many people may not even be aware that they have treasury bonds because they are often bought as gifts for children. Unfortunately, the U.S. Treasury does not make it easy to search for or claim abandoned property. Until recently, the U.S. Treasury had a very easy way to find and claim abandoned saving bonds, but they discontinued that site. You can still locate and claim lost bonds, but the process has become more difficult. You can find more information at the Treasury Direct website, or by phone at 844-284-2676. You can also write to the Bureau of Public Debt.
The Internal Revenue Service is another important source of unclaimed money. If checks are not delivered to taxpayers, they are returned to the IRS instead of being forwarded: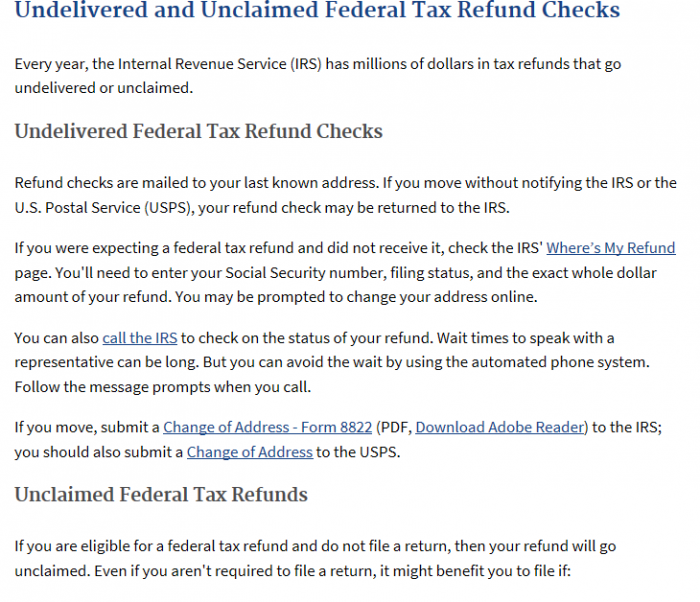 If you think that you have a refund that you have not received, you can check at the IRS's Where's My Refund? page: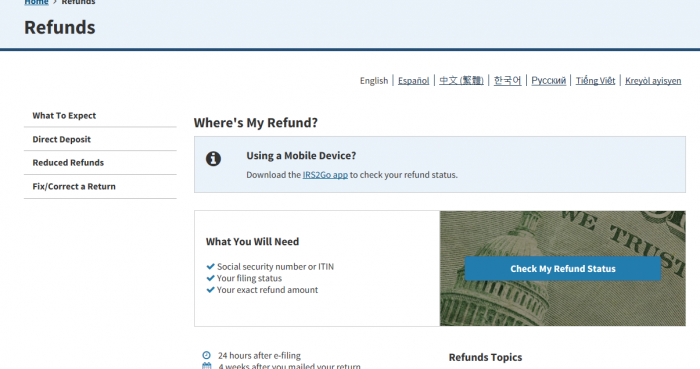 While pensions may no longer be common, there is actually $400 million in unclaimed pension benefits, with over 70,000 potential claimants. Fortunately, pensions are guaranteed by the federal government through the Pension Benefit Guaranty Corporation: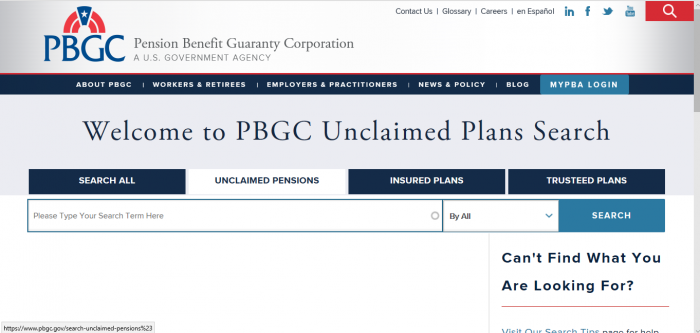 A final site, which is not linked to the federal government but does help you find assets that are not kept at the state level, is the National Association of Insurance Commissioners' Life Insurance Policy Locator Service. This organization of life insurance companies can help you find out whether you have unpaid benefits. However, their site works differently than most unclaimed property databases; they do not let you search for property, but will take your information and give it to their member insurers so that they can search and see if you are the beneficiary of any unpaid claims: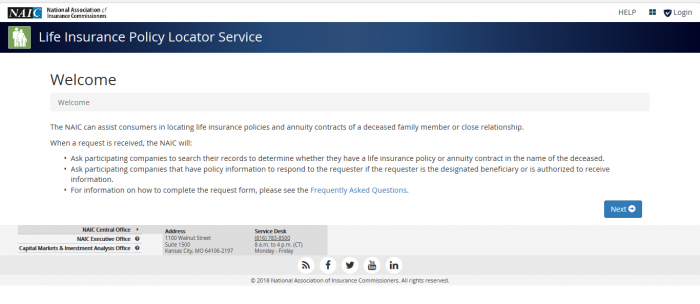 How do I make sure my heirs know where my assets are if I die?
Many people believe that all they need to do to ensure that their heirs get their assets is to write a will. However, wills do not tell your executor where to locate your assets. In addition, life insurance benefits generally pass outside of a will. Therefore, it is critical that you ensure that a trusted person, probably the one you name as executor or administrator of your estate, has access to your financial records and knows where to locate your assets. In addition, you need to make sure that they can find keys you need to open safety deposit boxes or other storage areas.
How can I prevent my property from becoming lost or unclaimed?
There are some easy steps you can follow to keep your property from becoming abandoned.
Make a detailed record of all bank accounts, including the physical location where you opened the account, the contact information for the bank, your account numbers, and the name you used to open the account.
Stay in contact with all of the holders of your property and check in with them at least every three years.
Keep a record of all stock certificates and cash any dividend checks.
If a holder contacts you for additional information, respond in writing to those requests.
Make a list of all of your accounts, so that you can notify them if you change your address, phone number, or name. Make sure that a trusted individual has access to this information in the event that you die or are incapacitated.
If you have any changes to your status because of a legal action like a divorce, make sure and notify any potential holders of your property. These holders include, but may not be limited to: banks, brokers, credit card companies, employers, 401k administrators, life insurers, health insurer, mortgage lenders, attorneys, doctors, accountants, retirement funds, investment accounts, mutual funds, and safe deposit account holders.
Make sure that your employer knows when you move.
Promptly cash all checks that you receive.
Should I hire a finder to conduct the search?
This is probably the question that we get the most. People want to know whether finder/locator services are legitimate and, if so, if they need to use them to find unclaimed money. Finder services, which may also be known as locator services, are third-party services that are not affiliated with the state government. These services will search for and claim your unclaimed property for you. They charge a fee for their services, and this fee is generally a percentage of any money that they find and successfully claim for you.
The decision of whether you should use a finder service really comes down to your personal preference. Searching for unclaimed money is free, and, if you have the time for a search you can accomplish the same thing as a locator service without losing a percentage of any abandoned property that you may have. However, if you do not have the time to conduct your own search, using a locator service can be a great way to find your property.
If you do choose to use a locator service, you need to make sure that the service you choose is legitimate. A locator service needs your personal information to find and claim unclaimed money, putting you at risk for identity theft if you choose a sham locator service.
Why does Indiana take possession of unclaimed property?
Indiana takes possession of unclaimed property for two reasons. The first reason is so that Indiana can collect, safeguard, and return property to its rightful owners. The second reason is that after 25 years the property reverts to state ownership.
Conclusion
Searching for unclaimed property in Indiana can be an exciting treasure hunt. With billions of dollars out there waiting to be found, maybe some of it is yours.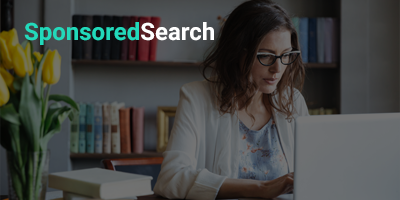 Search Public Records