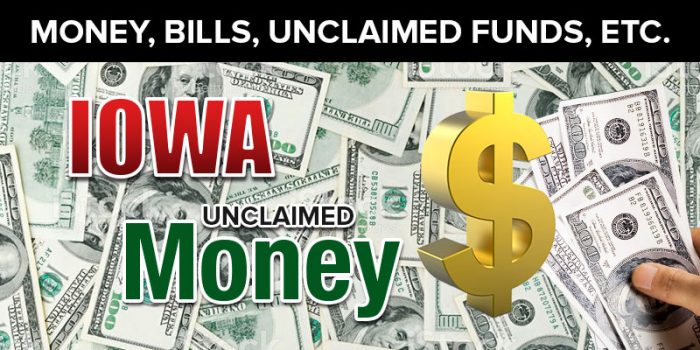 Iowa's Great Iowa Treasure Hunt is the name for the state's unclaimed property database, where you can search for unclaimed or abandoned property or money being held by the state. In Iowa, money is considered lost or abandoned if the holder of the money, usually a financial institution, loses contact with the actual owner of the money. The property in question is anything that counts as an obligation that the company holds on behalf of the holder. The Iowa State Treasurer is responsible for the Iowa unclaimed money fund. Michael L. Fitzgerald is the current Iowa State Treasurer.
Like most states, Iowa does not allow all types of property to become classified as unclaimed property. For example, as is the case in other states, real estate and motor vehicles are not included in the unclaimed property laws. Instead, they specifically designate unclaimed property as the type of property that represents an obligation by the holder to the actual owner. The state of Iowa provides a number of examples of this type of property, including: payroll checks, checking accounts, stocks, savings accounts, bonds, certificates of deposit, contents of safe deposit boxes, insurance checks, utility refunds, overpayments, and dividends. These examples are non-exhaustive, but should provide you with an idea of the type of property that is often classified as unclaimed property.
The process for determining that money is unclaimed is similar from state-to-state. First, you have to stop having activity on the account or property for a statutory period of time. For most categories of property in Iowa, this period of time is three years. Then, the holder has to be unable to contact you. The holder is required to make certain efforts to contact you before determining that it is unable to do so. Once the holder determines that it is unable to contact a property owner, the holder then reports the property as abandoned to the Iowa State Treasurer. The State Treasurer then makes efforts to contact the property owner and puts the money in the state's unclaimed property database.
Iowa's Great Treasure Hunt website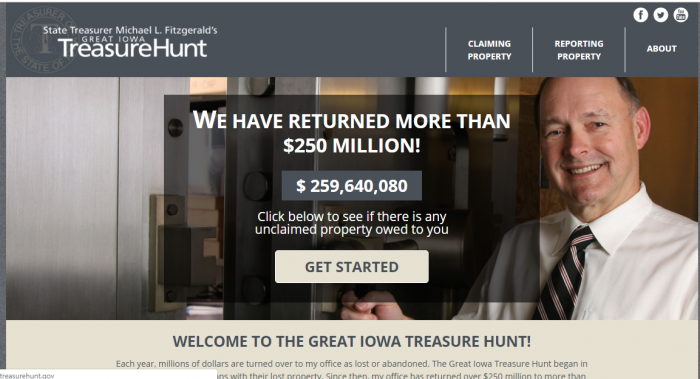 If you are just getting started on your unclaimed property search, you may be worried that the process will be difficult. We hope that by the time you finish our tutorial, you will no longer have those fears. Searching for unclaimed property is not difficult, though the process can be somewhat time-consuming and you may find it frustrating that how you search varies from state-to-state. Fortunately, while each state has its individual differences, once you have mastered search basics, you can use those skills to look in other states and at the national databases.
The most important part of starting your search is just starting your search. Most people start their search with the state where they are most likely to find unclaimed money. For many people, this is their state of residence, though it could be a state where you recently resided, a state where a relative resided, or a state where you have established business contacts. Wherever you start your search, you want to extend that search to include all state and national websites where you may recover unclaimed property. That is why we suggest you start the search process with a list. Include the state you reside, all states where you have resided, any states where relatives who have left you as an heir resided, and states where you may have business contacts. To determine whether or not you have a business contact in a state, you may want to find out where your employer or any of your insurers are headquartered. Later in this guide, we will discuss the non-state resources you should search when looking for unclaimed property.
If you have already searched for unclaimed property in other states, then you will be relieved to know that Iowa has a fairly standard unclaimed property search process. However, it does not use Missing Money to handle its unclaimed property database. In case you are unfamiliar with Missing Money, it is a website that handles a significant portion of unclaimed property databases in the United States. When a state uses Missing Money, it can simplify the search process because it allows you to search multiple states with a single search. In this tutorial, we will cover the basics of a property search in Iowa, including: how Iowa defines unclaimed money, links to Iowa's Great Treasure Hunt database, links and information on Iowa's abandoned property laws, a step-by-step guide on how to search for unclaimed property in Iowa, how to file an abandoned property claim, and information about using finder/locator services.
Iowa has named its unclaimed property program the Great Iowa Treasure Hunt. You can find it here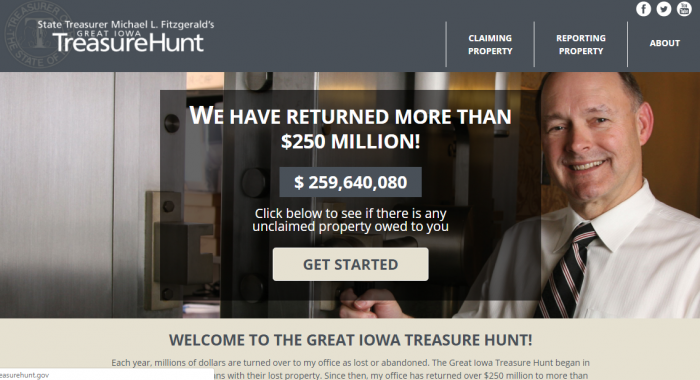 Iowa uses the term abandoned property to describe its unclaimed property, you may also hear it referred to as abandoned money, unclaimed money, unclaimed property, and abandoned property. These terms are used interchangeably to describe unclaimed property.
Iowa's Unclaimed Property Database
Iowa's unclaimed property database covers all of the counties in Iowa: Adair, Adams, Allamakee, Appanoose, Audubon, Benton, Black Hawk, Boone, Bremer, Buchanan, Buena Vista, Butler, Calhoun, Carroll, Cass, Cedar, Cerro Gordo, Cherokee, Chickasaw, Clarke, Clay, Clayton, Clinton, Crawford, Dallas, Davis, Decatur, Delaware, Des Moines, Dickinson, Dubuque, Emmet, Fayette, Floyd, Franklin, Fremont, Greene, Grundy, Guthrie, Hamilton, Hancock, Hardin, Harrison, Henry, Howard, Humboldt, Ida, Iowa, Jackson, Jasper, Jefferson, Johnson, Jones, Keokuk, Kossuth, Lee, Linn, Louisa, Lucas, Lyon, Madison, Mahaska, Marion, Marshall, Mills, Mitchell, Monona, Monroe, Montgomery, Muscatine, O'Brien, Osceola, Page, Palo Alto, Plymouth, Pocahontas, Polk, Pottawattamie, Poweshiek, Ringgold, Sac, Scott, Shelby, Sioux, Story, Tama, Taylor, Union, Van Buren, Wapello, Warren, Washington, Wayne, Webster, Winnebago, Winneshiek, Woodbury, Worth, and Wright.
What is Unclaimed Money?
In Iowa's description of unclaimed money, they describe how unclaimed property laws began in the United States. They discuss unclaimed property's role in consumer protection and how unclaimed property laws are designed to protect property owners, their heirs, and their estates. According to the state of Iowa, unclaimed property includes the following types of property: savings accounts, checking accounts, securities, life insurance payouts, unpaid wages, uncashed checks, and the contents of safe deposit boxes. The law specifically exempts vehicles and real estate from their unclaimed property laws.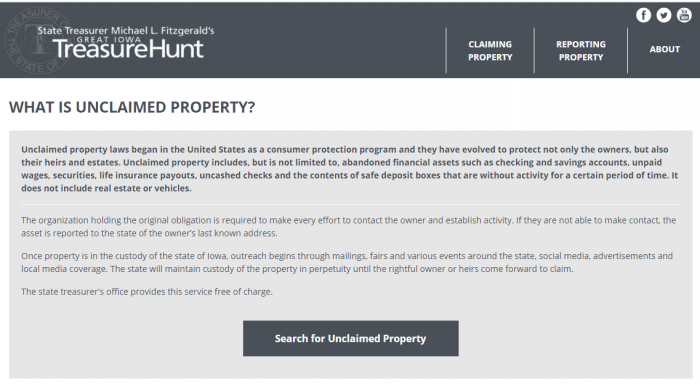 How Much Unclaimed Money is in Iowa?
So far, Iowa has returned over $259,640,080 in abandoned property to the original owners of that property. Each year, millions of dollars are turned over to the Iowa State Treasurer as abandoned property. While this amount is in constant fluctuation, nationwide there is over $42 billion in unclaimed property. These estimates come from the National Association of Unclaimed Property Administrators (NAUPA), an organization that consists of several unclaimed property administrators and is devoted to helping people search for and claim their abandoned property.
Iowa Unclaimed Money Finder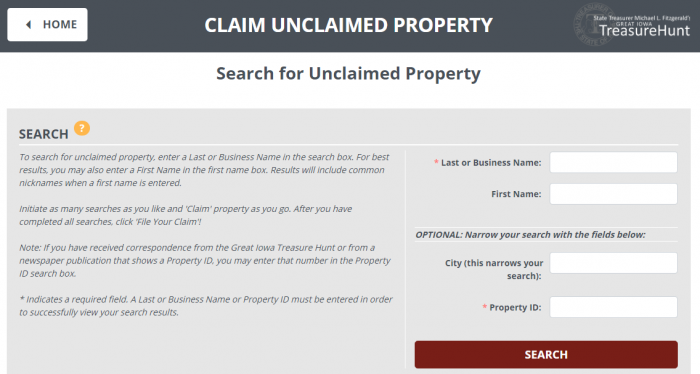 You can run a property search with relatively little information: all you need is a last name, business name, or property ID number to run the search: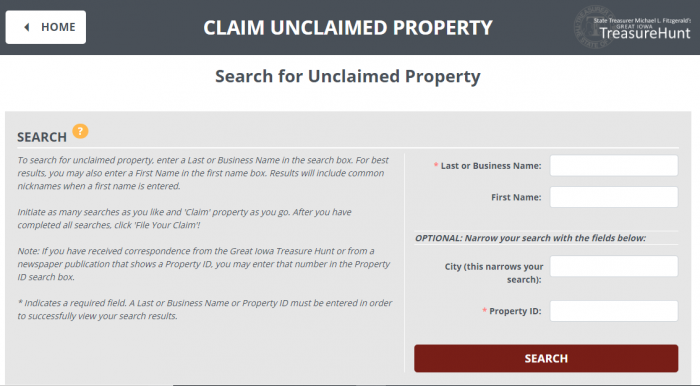 If you have an unusual last name, then running a last-name only search may make sense. However, if you have a common last name, running a last-name only search may not meaningfully narrow down your search. For example, searching for the last name Smith results in 1,000 hits, which actually could be far more than 1,000 because the system stops at 1,000 results: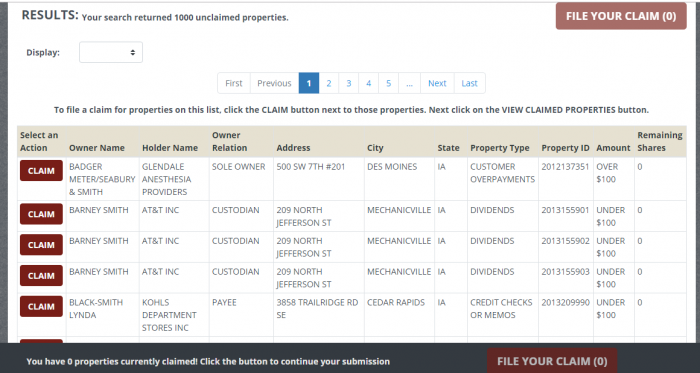 You can add in a first name to help narrow down your search results. However, if are searching for a name that is still commons, such as "Bob Smith," you still get over 1,000 search results: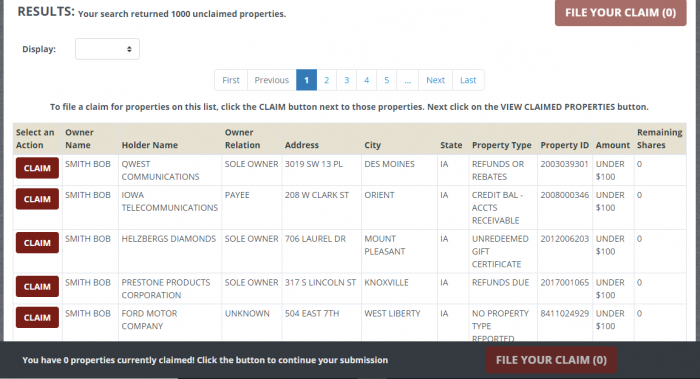 You can further narrow the search by using a city. We looked for Bob Smith in Des Moines. Because Des Moines is a large city, this reduction still had over 1,000 results. However, you can see that Iowa includes variations of the name Bob in addition to the actual name Bob: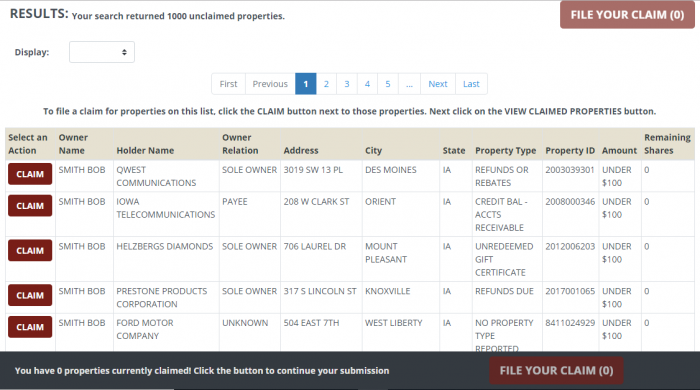 When you look at each of the properties listed on the website, you see a significant amount of information available for each property: the owner's name, holder name, the relationship of the owner to the property, the address provided when the account was open, the city, the state, the type of property, the property ID number, the amount of the claim, and the number of remaining shares if applicable.
While a name like Bob Smith is common and results in thousands of results, other names may have fewer results. However, it is important to keep in mind that many people go by multiple names. You may go by a middle name, initials, or a nickname. You may also want to search for a maiden name or a married name.
If you find property that you think belongs to you, you can claim it by clicking the claim button that is located to the left of the property on the search page: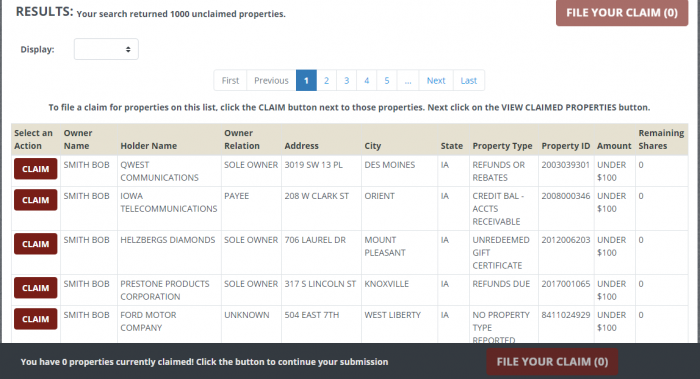 After you hit the claim button for the properties you have identified, you will see that they are selected and that you are given the option to hit a file your claim button at the bottom of the screen: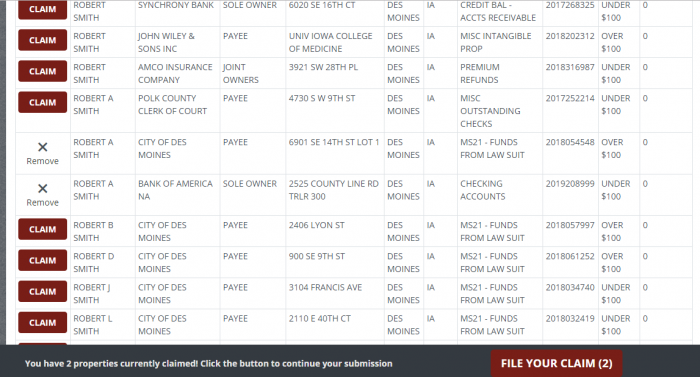 Hitting the button to file your claim takes you to a screen that looks like this: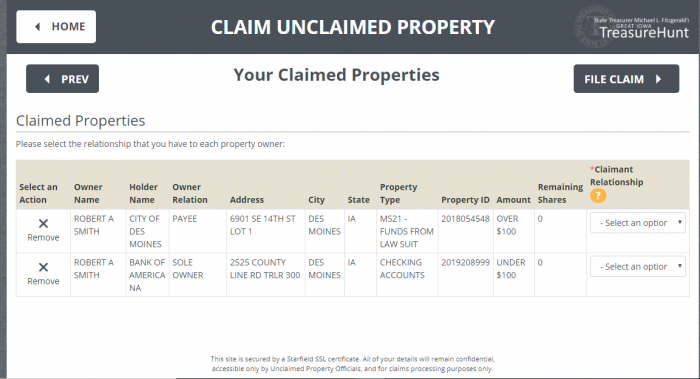 On the right, you notice that there is a claimant relationship category. You are asked to describe your relationship to the property owner before you proceed with your claim. Your options are myself, open estate, heir, open business, and claimed business. It is important for you to choose the right relationship, because your relationship to the property owner will determine what type of proof you are asked to provide to proceed with your claim.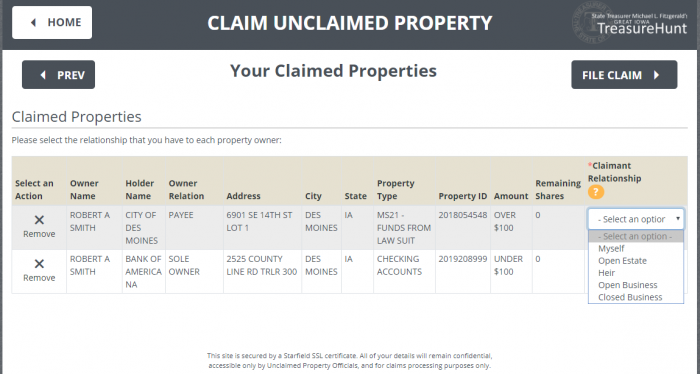 After you have selected a claimant relationship, you are asked to fill in a claim information form: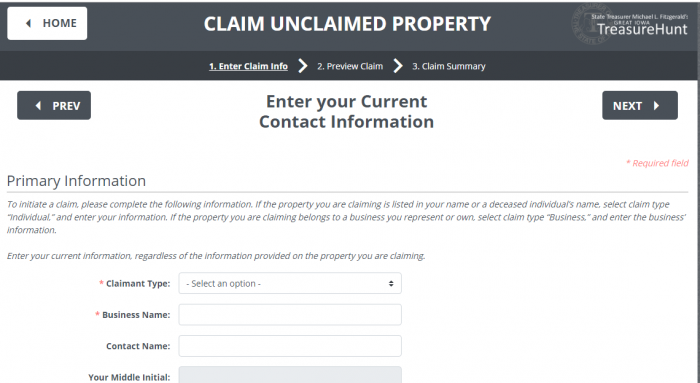 The information that the form asks for you to list includes: the claimant type, business name (if applicable), contact name, middle initial, date of birth, email address, business phone, other phone, social security or tax ID number, country, your address, city, state, zip code, and whether you have been contacted by a locator or finder service.
Depending on the type of claim, you may be asked to provide some type of proof of your identity and proof that you are entitled to the claim. You may be asked to provide a photo ID, proof of your social security number, and proof of ownership of the claim such as proof of the address associated with the claim. You can upload the documents on the website: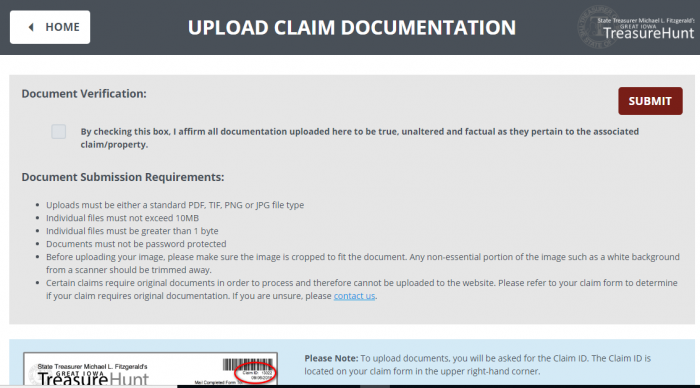 To upload them, you need to include the following information: claim ID number and email address: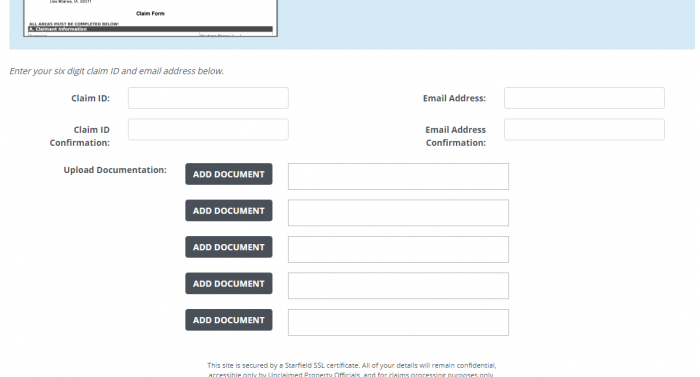 Unclaimed Money Laws in Iowa
Iowa's Unclaimed Property Law is located in Iowa Code Chapter 556 and Iowa Administrative Code Chapter 781-9.
Iowa Unclaimed Property FAQ
How long does Iowa hold unclaimed money?
Iowa will hold money in perpetuity until the actual owner or the owner's heirs comes forward.
Examples of Unclaimed Money
In Iowa, unclaimed property includes a wide range of property types, but specifically excludes vehicles and real property. Examples of unclaimed property include things such as: money in checking or savings accounts, unpaid wages, uncashed checks, insurance (including life insurance) payouts, contents of safe deposit boxes, securities, stocks, bonds, and dividends.
Does the state of IA make efforts to locate owners?
The state of Iowa makes substantial efforts to locate property owners once it has abandoned property in its custody. These outreach efforts include: mailings, events around the state to inform people about the unclaimed property program, advertisements, local media coverage, and social media coverage.
Other sources to search besides IA state database?
You probably began your property search by looking in Iowa because you live in Iowa or recently lived in Iowa. Even if you have only ever lived in Iowa, you may need to look in other states for abandoned property. You may need to look at other state databases and some national-level databases.
You want to make a comprehensive list of states when you begin your search. Obviously, you want to include all of the states in which you have resided. You also want to include states where ancestors that may have left you heirs to their property may have lived. Do you have any reason to believe that you have established any type of business contacts in other states? If you have an out-of-state employer or an insurer that is based in another state, you may have contacts in that state. You can even have property in a state if you have done something simple like purchased traveler's checks or money orders in that state.
You also want to make a list of national databases that you want to check to see if you have unclaimed property on those databases. The four databases that most people should check include: the Internal Revenue Service (IRS), the Pension Benefit Guaranty Corporation, the U.S. Treasury, and the Life Insurance Policy Locator. There are some additional national level sites that some people may also need to check, but that are not necessarily applicable to all people: the FDIC https://closedbanks.fdic.gov/funds/, the Department of Housing and Urban Development http://entp.hud.gov/dsrs/refunds, the National Credit Union Administration www.ncua.gov/services/Pages/asset-management/unclaimed-deposits.aspx, and the Veteran's Administration Benefits Department www.insurance.va.gov/liability/ufsearch.htm
We think your national-level search should start with the IRS. The IRS has possession of money for most Americans at some point in time. The IRS does not forward unclaimed tax refunds. The money also does not escheat to the state. So, if you never received a federal income tax return, then the money is still with the IRS. The IRS provides information about undelivered income tax returns: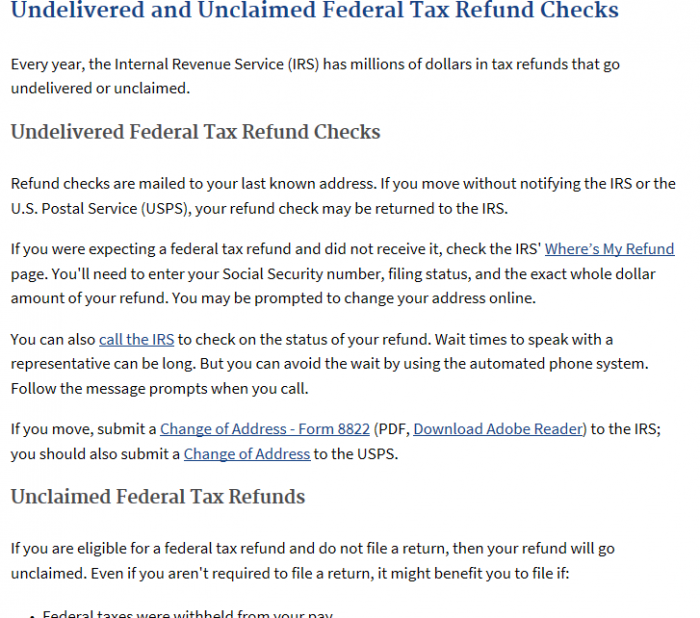 In fact, it even has a page dedicated to helping you track down your missing tax refunds, which you can find on the IRS's Where's My Refund? page on its website: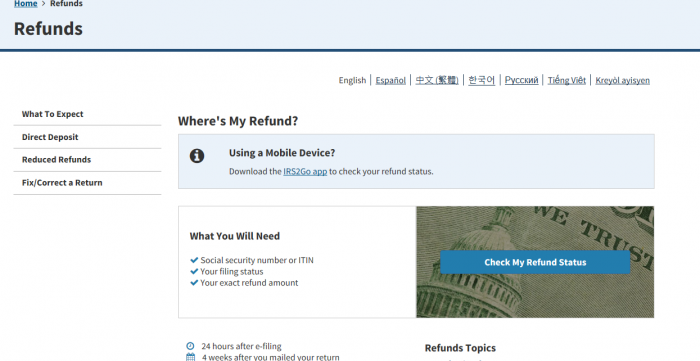 While the IRS handles money for most Americans at some point in time, it is not the only major national source of money. The U.S. Treasury has over $17 billion in unclaimed property, most of which is in the form of unpaid savings bonds. You can visit the U.S. Treasury website at Treasury Direct for information on how to find unclaimed bonds, or contact them at 844-284-2676: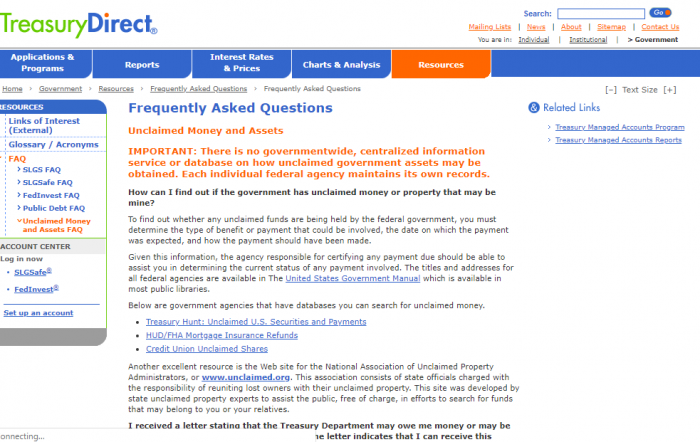 A federal government division that most people do not know about is the Pension Benefit Guaranty Corporation (PBGC), which is a federal level organization that guarantees pension benefits. They operate a database that can help people locate their unclaimed pension benefits: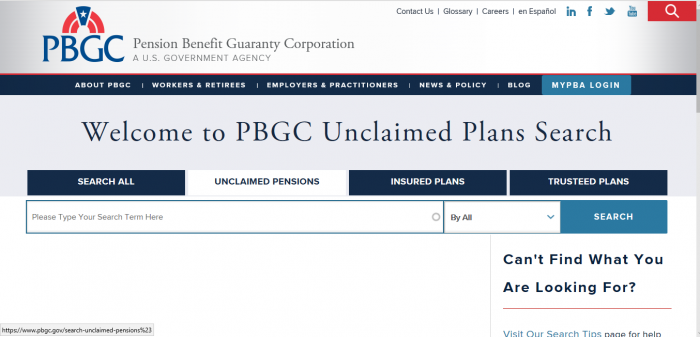 One of the things we suggest for all potential claimants is to check and see if you are the beneficiary of any life insurance benefits. Many people die with life insurance policies that have named beneficiaries, but they have failed to let anyone know about the existence of the policy. While there is no searchable database for intended beneficiaries, you can go to the National Association of Insurance Commissioners' Life Insurance Policy Locator Service, which lets you put your personal information into their database and then lets their member agencies search to see if you are the named beneficiary in any of their policies: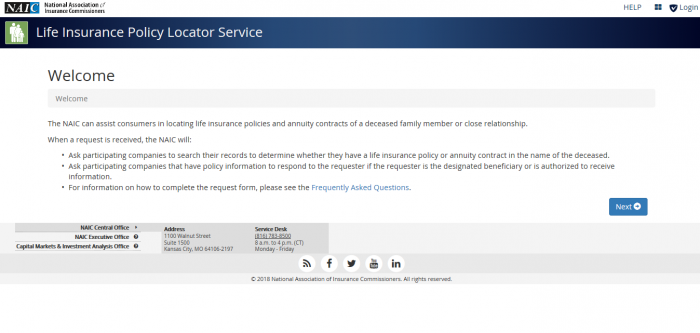 What is the best way prevent my property from becoming lost or unclaimed?
Iowa has a three-year period for abandonment, so to keep your property from becoming unclaimed or abandoned in Iowa, you need to contact your financial institutions at least every three years. However, you may have property held in other locations. You also want to make sure that all of your financial institutions have your contact information, update them with any changes including name changes, and opt-in to electronic account management when it is available.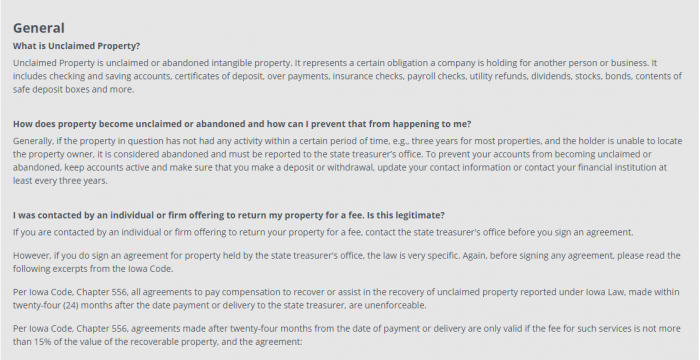 How do I make sure my heirs know where my assets are if I die?
Do not make the common mistake of believing that a will is a sufficient way to make sure your heirs have access to your assets when you die. While a will can tell how you want your assets distributed, it does not tell where to locate those assets. We recommend designating a trusted individual to have access to your financial records and information in the event of your death or incapacitation.
Should I hire a finder to conduct the search?
Iowa law specifically addresses the use of finder/locator services, their obligations to you, and your obligations once you have signed a contract with a finder service: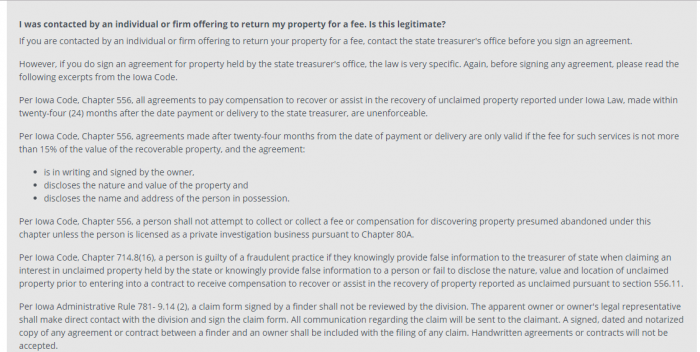 Why does Iowa take possession of unclaimed property?
Iowa's unclaimed property laws are consumer protection laws aimed at helping actual owners more easily locate their money when it becomes lost or abandoned.
Conclusion
Iowa's unclaimed property program is comprehensive and makes efforts to contact property owners to help people reunite with their lost or abandoned property. If you think you may have lost money in Iowa, visit the Great Iowa Treasure Hunt website and begin your property search today!