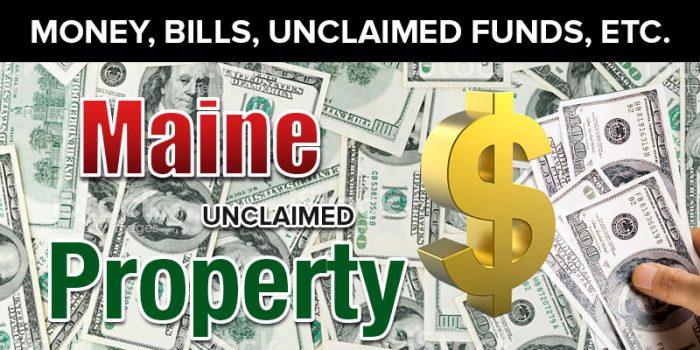 In Maine, the unclaimed property program is handled by the Maine State Treasurer. Each year, the Maine State Treasurer receives millions in unclaimed assets from both local and national businesses and organizations. These businesses and organizations are known as holders because they hold the property for the actual owners of the property. When they turn over these assets is dictated by law; after a certain period of time where the holder is unable to contact the property owner, the property is considered abandoned, but this time period depends on the type of asset. Once the assets are turned over to the state, the State Treasurer holds the assets for the property owners, until the rightful owners or their heirs can come forward and claim the property.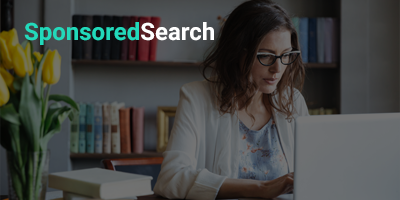 Search Public Records
While the property is referred to as unclaimed, abandoned, or missing, the name can actually be somewhat misleading. That is because the property has an identified owner; the holder has just become unable to contact that owner. The whole point of the unclaimed property program is not to help people make new claims on property that is not theirs, but to help identified owners reclaim their money.
There are a variety of different types of assets that may be considered unclaimed property. Some examples of that property include various types of intangible personal property, such as: checking accounts, savings accounts, money orders, uncashed checks, unpaid wages, stocks, bonds, dividends, money orders, insurance policy proceeds, refunds, death benefits, traveler's checks, and matured certificates of deposit. While most unclaimed assets are negotiable instruments, unclaimed assets also include the contents of safe deposit boxes.
Maine operates its own unclaimed property program. This is important to know because many states use the same website, www.missingmoney.com, to run their unclaimed property programs. For states who use Missing Money, you can simultaneously search for unclaimed property in multiple states. Maine's system is independent, which means that you are only searching in Maine's unclaimed assets when you run a search. However, it is very similar to some of the search systems used by other states and to the database run by the Missing Money program. We will provide a step-by-step tutorial to show you how to search for missing money in Maine. You can apply much of what you learn to other state searches. However, if there are differences between Maine's approach and how other states run their unclaimed property programs, you can always look at our state-specific tutorials.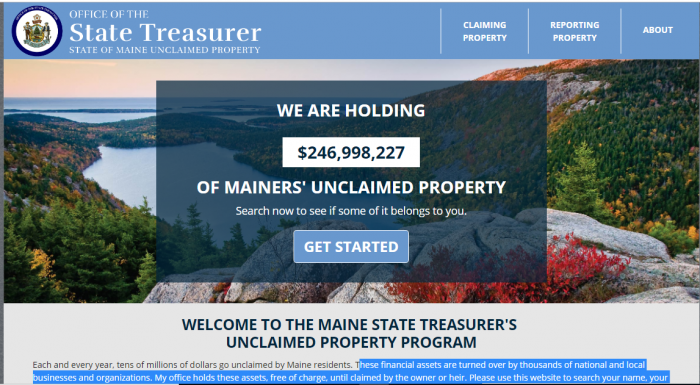 Maine Unclaimed Property Database
Most states developed their unclaimed property programs sometime in the 1970s. These programs meant that there was a single consolidated place for people to look if they were searching for unclaimed property in their state. However, before these unclaimed databases were developed, people could still search for unclaimed property; they just had to do it on a county-by-county basis. In Maine, that would have meant searching all of the following counties: Androscoggin, Aroostook, Cumberland, Franklin, Hancock, Kennebec, Knox, Lincoln, Oxford, Penobscot, Piscataquis, Sagadahoc, Somerset, Waldo, Washington, and York. Fortunately, with today's one-stop database, you no longer have to run multiple searches to search the entire state.
What is Unclaimed Property?
Each state defines unclaimed money or unclaimed property in a slightly different way, though the general definition remains consistent from state to state. It also goes by various names, including: unclaimed money, unclaimed property, unclaimed assets, abandoned property, abandoned money, and abandoned assets. According to the state of Maine, unclaimed property refers to money or other financial assets, which have been labeled lost or abandoned after the owner could not be located after a specific time period of inactivity. Generally, the holder of the property is going to have had to make efforts to contact the property owner before considering the property lost or unclaimed. Examples of unclaimed property include: the contents of safe deposit boxes, bank accounts, refunds, uncashed checks, unpaid wages, stocks, bonds, dividends, life insurance policies, and refunds. In Maine, the following types of property are specifically exempt from the unclaimed property program: real estate, vehicles, and animals.
How Much Unclaimed Property in Maine?
It can be difficult to tell how much unclaimed money is available in some states, but Maine does a great job of consistently updating the amount of unclaimed property they are holding on their Unclaimed Property website. At the time of publishing this article, they had $246,998,227 in unclaimed money. However, this figure regularly changes, so you may want to check their website for updates. While this may seem like a huge amount, it is only a small fraction of the billions of dollars in unclaimed property available in the United States. The National Association of Unclaimed Property Administrators (NAUPA) is an organization that is responsible for helping unite people with their unclaimed property, and they state that there is currently more than $42 billion in unclaimed property available in the United States.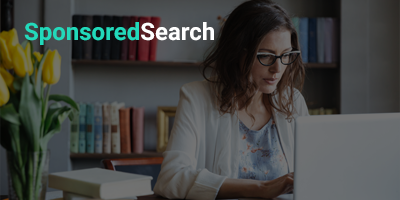 Search Public Records
Maine Unclaimed Property Finder
You can find Maine's Unclaimed Property searchable database or submit a holder report on its Unclaimed Property welcome page.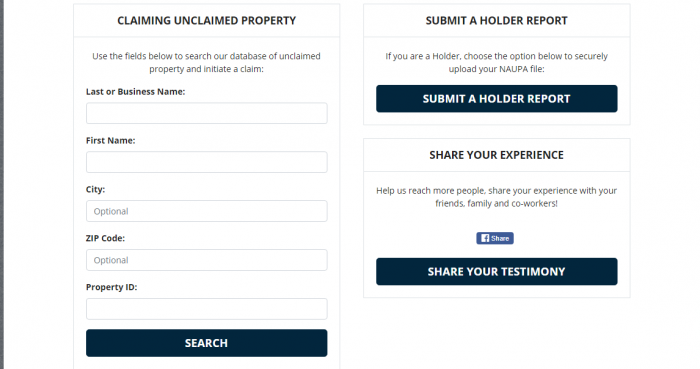 You can begin your search with just a last name, or you can include other details in your search such as the first name, city, zip code, or property ID number.
For the purposes of our tutorials, we run the searches the same way in each state and use the same names for our searches. We use the name Bob Smith for our searches because it is a very common name. This is done intentionally, because there are some difficulties with searching for common names. The biggest potential pitfall is that the search will turn up so many results that it will be impossible to check for all of them. For example, when we search by last-name only, using the last name Smith, Maine tells us that they have over 1,000 search results. A disclaimer like this lets us know that we have not even seen all of the search results: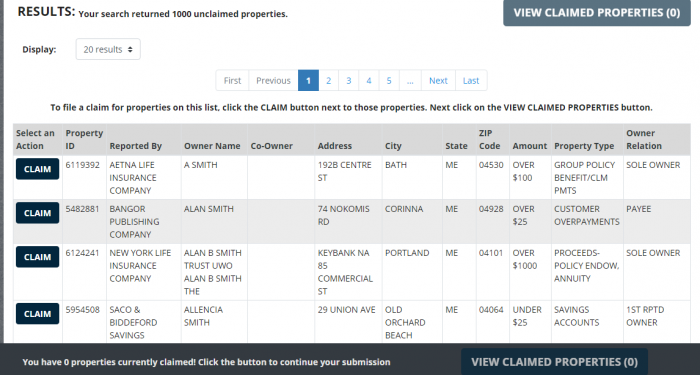 With over 1,000 results, and no way of knowing if there are a few more results or thousands of more results, a last-name only search for Smith in Maine is simply not usable. Fortunately, we can add in the first name Bob and theoretically narrow down our potential search results: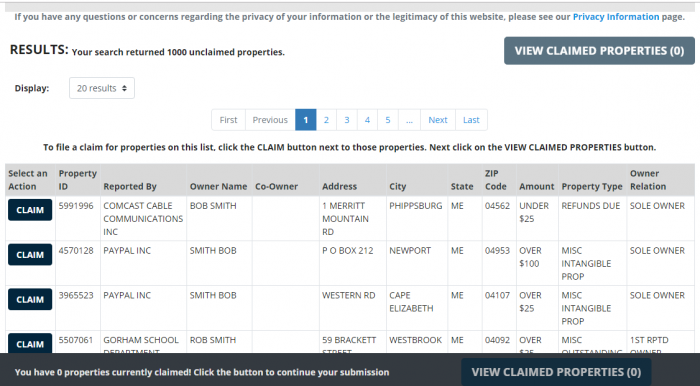 However, Bob Smith appears to be a fairly popular name, and we still have over 1,000 potential results. This is where it becomes important to actually look at the results. When you do, you see that only the first three results are actually Bob Smith; after that, the search results include Rob Smith and Robert Smith. This is an important detail, because some states will only return exact search results, while others will include other first names. States that include other first names in their search results often do the same thing that Maine has done, and include the names that are often associated with the name you chose in your search results. Therefore, in these results, you see Rob and Robert immediately after the results for Bob. This can save you a step in searching. Normally, we remind people that if there are other possibilities that someone would have used for a legal name, you should run a search for those names, as well. Because Maine already includes those names, you do not have to run additional searches for Rob Smith, Robert Smith, Bobbie Smith, or Bob Smith, like you would need to do in states with exact-name only matches.
In addition, in Maine you can further narrow down your search results by including the city. This can be helpful if you are looking for property and only lived in one or two cities. For the purposes of this example, we will add the city of Newport to our search parameters: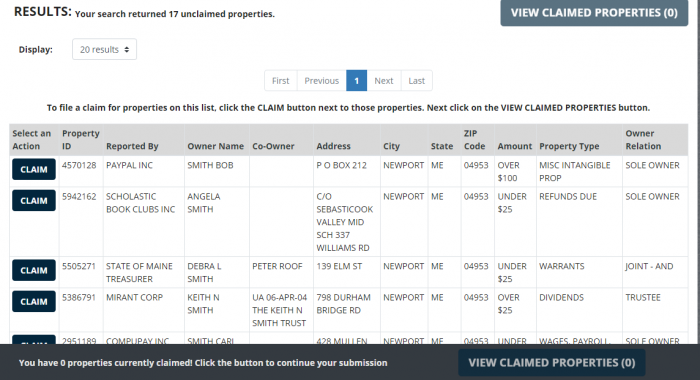 Narrowing your search results by city makes a tremendous difference; it takes your search results from over 1,000 to 17 possible properties. Therefore, if you know a city or cities to search, you can use those results to help you really reduce the number of potential results that you have to search.
Looking at the potential search results, you see that each record has the following information. Each record has a claim button, property identification number, the name of the holder, the name of the property owner, the co-owner if there is a co-owner, the property owner's last known address, the city, the state, the zip code, whether the claim is over or under $25, what type of property it is, and how the property is held.
To select a property to claim, you click on the claim button, and it will change from a claim button to giving you the option to remove it from the claimed list: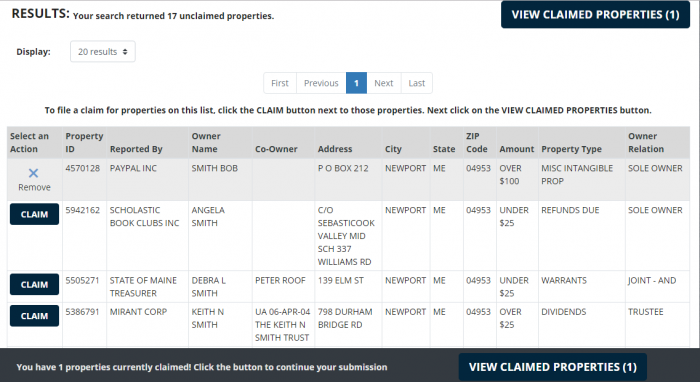 After choosing which properties you want to claim, you hit the view claimed properties button to continue with the claim process: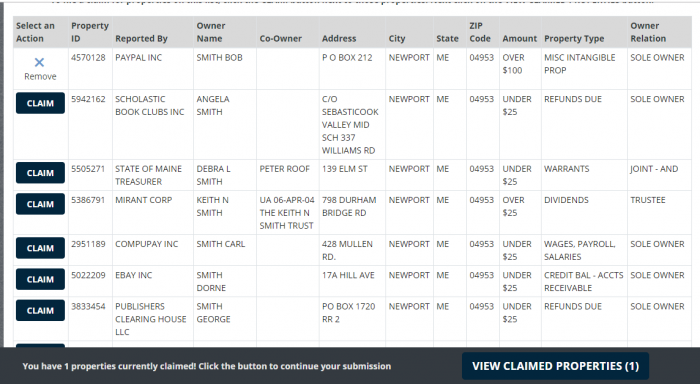 Once you hit the view claimed properties button, you are taken to a page that looks like this: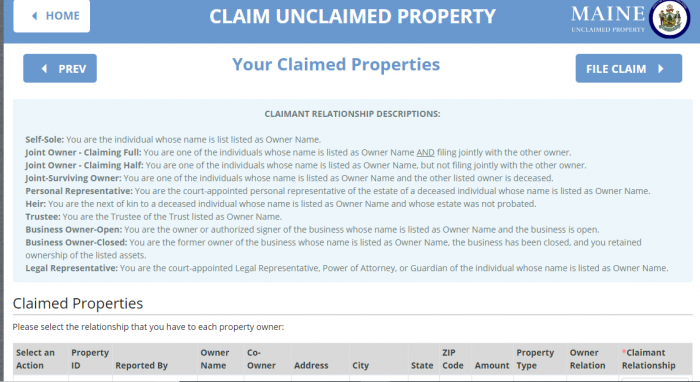 You are asked to pick your relationship to the property you are claiming. The options are self-sole; joint-owner claiming full (this means you are claiming with the other joint owner); joint-owner claiming half (you are not filing jointly with another owner); joint-surviving owner (you are one of the joint owners, and the other is deceased); personal representative (you are a court-appointed personal representative of the estate of a deceased individual); heir (you are the next of kin of the deceased owner); trustee (you are the legal trustee of the owner); business owner open (you are the owner of the business listed, which is still open); business owner closed (you are the former owner of a closed business); and legal representative (you are the court appointed legal representative). If you have selected multiple properties, you can pick different relationships for the various properties. Once you select the relationships, you hit the file claim button on the top right of the page. Then, you are asked to enter your contact information: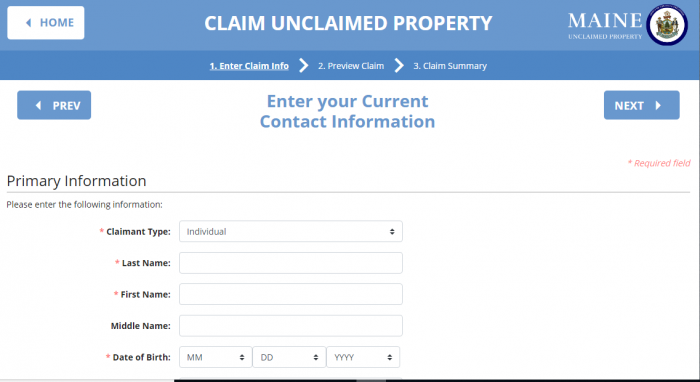 The information requested includes the claimant type, last name, first name, middle name, date of birth, email address, home phone, social security or tax id number, address, and how you heard about the program. After you fill out that information, you hit the Next button on the top of the screen. That takes you to an informational page. If you are required to submit any supporting documentation, the website will inform you of what you need to submit and where you need to send it. You may be required to submit proof of identification and proof of former residence in order to process most claims.
Unclaimed Property Laws in Maine
Maine's unclaimed property law is known as the Uniform Unclaimed Property Act, and is located in Maine Revised Statutes Title 33, Chapter 41.
Maine Unclaimed Property FAQ
How long does Maine hold unclaimed money?
Like most states, Maine will hold unclaimed property for an indefinite period of time, until it can be claimed by property owners or their heirs.
Examples of Unclaimed Money
Maine specifically exempts real estate, vehicles, and animals from its unclaimed property. Examples of unclaimed property are: safe deposit box contents, refunds, unpaid wages, life insurance policies, stocks and dividends, uncashed checks, and money in bank accounts.
Does the state of ME make efforts to locate owners?
According to the Maine State Treasurer, the state makes a number of different outreach efforts aimed at uniting property owners with their money. These efforts include town hall outreach, telethons, direct mail, press releases, and the state's searchable database.
Other sources to search besides ME state database?
Sometimes people believe that the Maine state database is the only one that they need to search if they are looking for unclaimed property. However, even if you have only ever lived in Maine, you may need to expand your search beyond the state's database to optimize your chances of finding all of your unclaimed property.
The first thing we suggest is making a list of any state that could be included in your search. Of course, this means including any states were you resided. However, you also want to include any states where you may have established any business contacts. You may also want to include any states where anyone who may have put property in your name or left you property lived.
You should also look at federal sites, because federal money never goes onto the state unclaimed property databases. There are four federal or national level sites that we suggest everyone check, just to make sure that they are not holding any unclaimed property on your behalf. These include the Internal Revenue Service (IRS), the Pension Benefit Guaranty Corporation, the U.S. Treasury, and the Life Insurance Policy Locator.
You almost certainly have heard of the IRS, but it may not have occurred to you that the IRS is a holder. However, it takes custody of more money for people in the U.S. than any other holder because every taxpayer has money with the IRS at some point in time. Much of this money is returned to taxpayers via refunds, but the IRS has a policy of not forwarding income tax refunds if they are undeliverable. Instead, it holds onto the refund until it can be claimed by the taxpayer. You can find out more about this policy at the IRS website: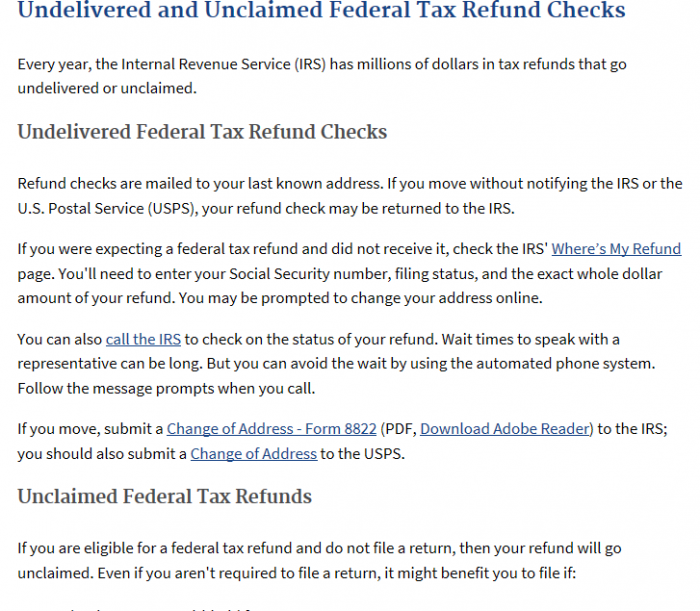 Wondering where your IRS refund is? Check out the IRS's Where's My Refund? page: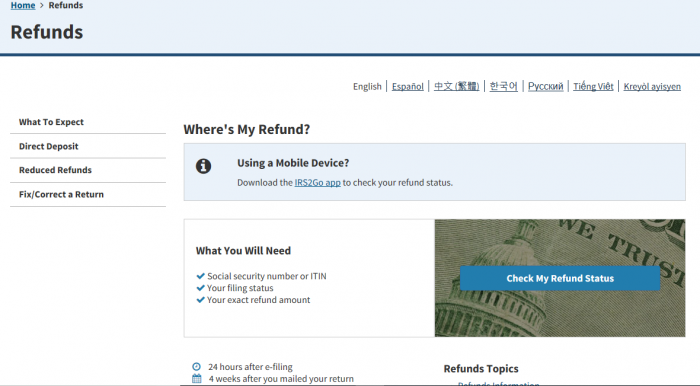 While it does not hold money for as many individuals as the IRS, the U.S. Treasury does hold a lot of money for individuals. They used to have an easy-to-use searchable savings bond registry, but they discontinued that service. You can call them at 844-284-2676 or visit Treasury Direct for more information: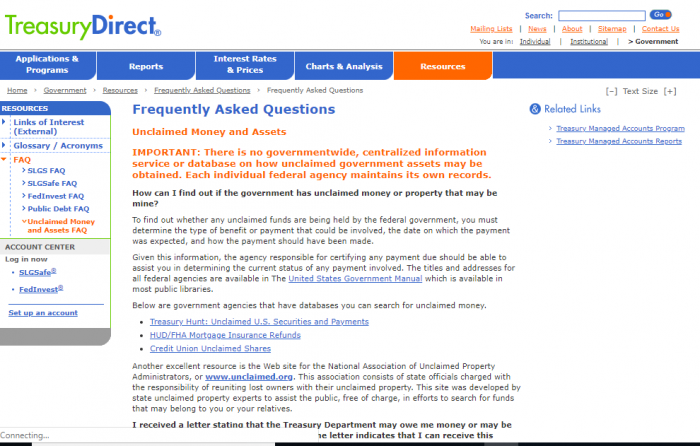 While many employers no longer pay pensions, they used to be an expected part of employment. Many older people may not even realize that they have pension benefits due from their employers. Fortunately, pension benefits are guaranteed by a federal corporation, the Pension Benefit Guaranty Corporation (PBGC), which runs an unclaimed pension database to help people find and claim their unclaimed pension benefits: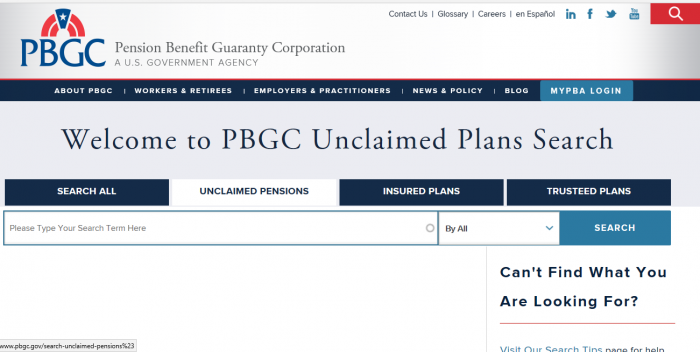 Although it is not a government-run site, there is another national-level site that can be helpful if you are trying to locate unclaimed property. It is run by the National Association of Insurance Commissioners' Life Insurance Policy Locator Service. If you go to their website, you cannot search a database, but you can enter information for them to distribute to their member agencies, who will then search their records to see if you have any unclaimed property in the form of unpaid life insurance benefits: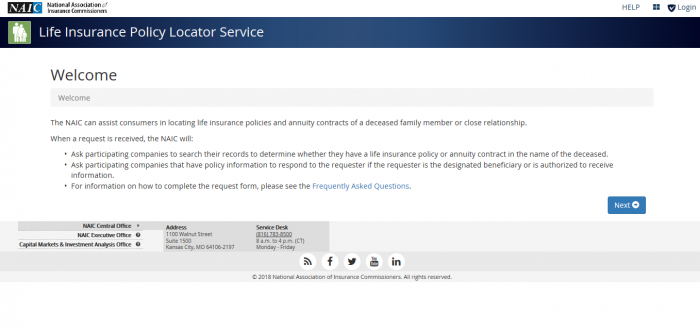 Depending on your individual circumstances, you may also want to search the following sites: the FDIC, the Department of Housing and Urban Development, the National Credit Union Administration, and the Veteran's Administration Benefits Department.
What is the best way prevent my property from becoming lost or unclaimed?
Finding unclaimed property can be a lot of fun, but the most financially responsible thing is to never lose your money in the first place. Most abandoned money is lost because people forget about it, so keeping detailed account records, with reminders to contact your financial institutions on a regular basis, is a great way to help you keep track of your money. Contact your financial institutions when you have any changes in personal information. Finally, if electronic account management is an option, choose that option and use a personal email address so that it is not connected to an employer and moves with you if you change jobs.
How do I make sure my heirs know where my assets are if I die?
It is not enough to tell how you want your money distributed it you die; you also need to make sure that your heirs know where to find your property. We suggest designating a trusted individual to have access to your accounts in the event of your death or incapacitation, and giving them full access instructions.
Should I hire a finder to conduct the search?
Maine does not prohibit using a finder service, but it is free to search and file a claim in Maine. Therefore, whether or not to use a finder service really depends on whether you have the time to run your own search.
Why does Maine take possession of unclaimed property?
Maine takes possession of unclaimed property as a consumer protection action, aimed at helping property owners reunite with their property.
Conclusion
Maine has almost a quarter billion in unclaimed property, just waiting for its rightful owners. Could some of it be yours?