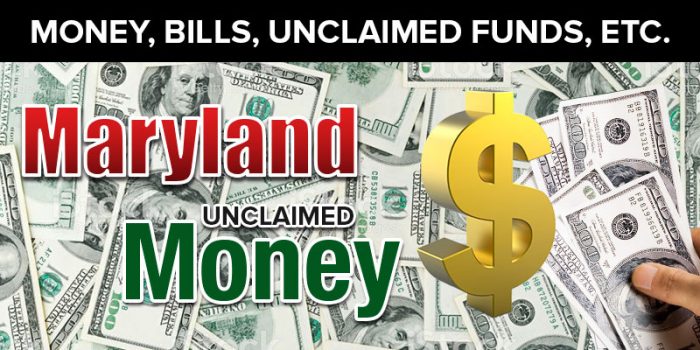 Maryland's unclaimed property is handled by the Comptroller of Maryland. The Comptroller of Maryland operates the Maryland Unclaimed Property website. At this website, people in Maryland can find their lost and abandoned property: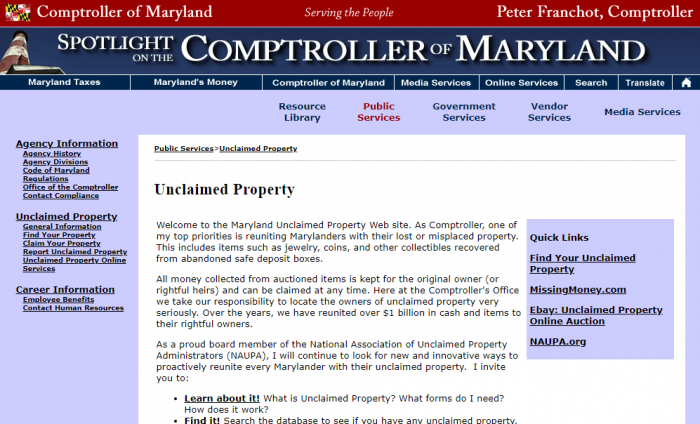 While you may begin your unclaimed money search at the Maryland Unclaimed Property site, it is only the first place you want to check when you are looking for your abandoned or lost property. To maximize your chances of locating missing property, you want to expand your search beyond the state of Maryland's unclaimed property database. You want to look at other states, because you probably have contacts outside of your own state. Furthermore, you want to look at national level databases, which may contain information about property that would not revert to the state of Maryland. In this guide, we provide all of the information you need for a comprehensive unclaimed property search.
Whether this is your first time searching for unclaimed property or you have run unclaimed property searches in the past, you may have some questions about the right way to run a search for unclaimed property. In this article, we will cover the questions that most frequently occur when someone is running an unclaimed property search. We will tell you the definition of unclaimed money/ unclaimed property? We will let you know if unclaimed money, unclaimed property, abandoned money, and abandoned property are all the same thing. We let you know how property gets labeled as abandoned or unclaimed? We outline the steps you should follow to run an unclaimed property/money search, including the sites you can visit to run an unclaimed property search. We will tell you what Maryland's unclaimed property laws are and show you where to find them. We will help you find the resources available in Maryland to help you find your unclaimed property. We will tell you why you need to look at a number of sites when running an unclaimed property search, and which sites you should search. We will let you know what Maryland's unclaimed money database can and cannot do to help you in your property search. We let you know the process for claiming unclaimed property in Maryland, including the steps you need to file a claim for the property and the proof you need to establish ownership of the property or to prove your claim. We will also discuss finder/locator services, what they are, and whether you need to use one in order to claim your unclaimed property.
The Comptroller of Maryland is in charge of unclaimed property management for the state. Maryland takes custody of property that is handed over by holders. Holders include banks and other organizations and financial institutions, government agencies, and businesses that have custody of someone else's property. These organizations report abandoned or unclaimed property to the state after a period of three years. The state of Maryland attempts to locate the original owners in a number of different ways, including newspaper advertising, news media campaigns, outreach programs, mass mailings, online promotional videos, and an online search service. Property from safety deposit boxes is not retained in its original format, but is auctioned on eBay to get the vest value for the original owners.
Maryland's general information page for its unclaimed property website is located at https://comptroller.marylandtaxes.gov/Public_Services/Unclaimed_Property/General_Information/default.shtml: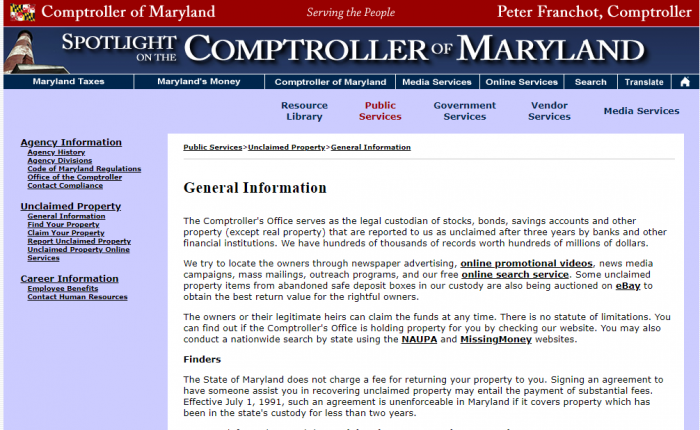 Once you have examined the Maryland database, you will probably want to check other resources. That is because each state has state-specific information; the Maryland database will only have information for property that has escheated to Maryland. Accounts that were opened in different states and/or with out-of-state addresses will probably not be on the Maryland list. In addition, if you have paid taxes, have a savings bond, or have pension money, then that money will probably remain with the federal government.
While it would be easier if all of the states consolidated their unclaimed money databases into a single, searchable database, the process is easier than it looks. While you may have to visit several states, you can do almost all of your unclaimed money search online. In addition, even though there is some variation between different states sites cause there are several steps involved when you begin an unclaimed money search, it can feel a little overwhelming. The good news is that all states, most territories, and several branches of the federal government have online websites that make searching for abandoned property simple. They also have step-by-step instructions for claiming your unclaimed money or property.
What is Unclaimed Money?
Every state defines unclaimed property in similar ways, but individual state statutes make a difference in how the states define property. or each state, there is a legal definition of what constitutes unclaimed property/ unclaimed money. In Maryland, most unclaimed property is money. This money comes from deposits made with financial institutions and other holders. It is considered unclaimed if the holder does not have contact with the owner for three years. The money can come from various different formats, including: bank accounts, safe deposit box contents, wages, insurance benefits, stocks, dividends, and security deposits. However, three types of property never become unclaimed property: real estate, boats, and cars.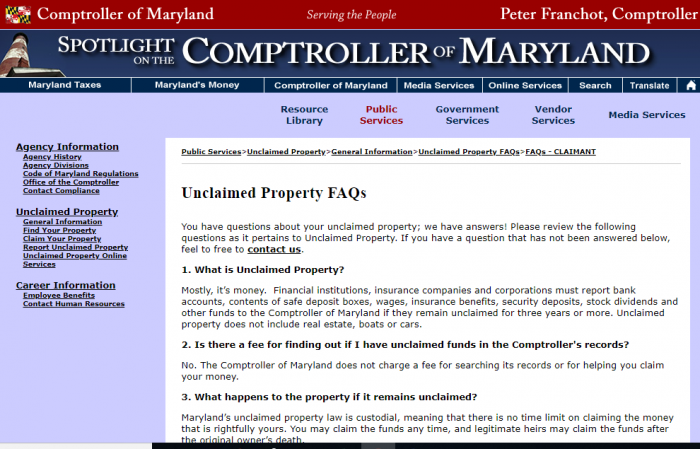 How Much Unclaimed Money is in Maryland?
Since Maryland began its unclaimed property program, it has reunited actual owners with over $300 million in unclaimed money. The Maryland Comptroller is also a proud member of the National Association of Unclaimed Property Administrators (NAUPA), a national organization that is responsible for tracking unclaimed money and property throughout the United States and seeking to reunite owners with that money. Nationwide, NAUPA estimates that there is currently around $42 billion in unclaimed property.
Maryland Unclaimed Money Finder
You can find Maryland's unclaimed money finder at: https://interactive.marylandtaxes.gov/Individuals/Unclaim/default.aspx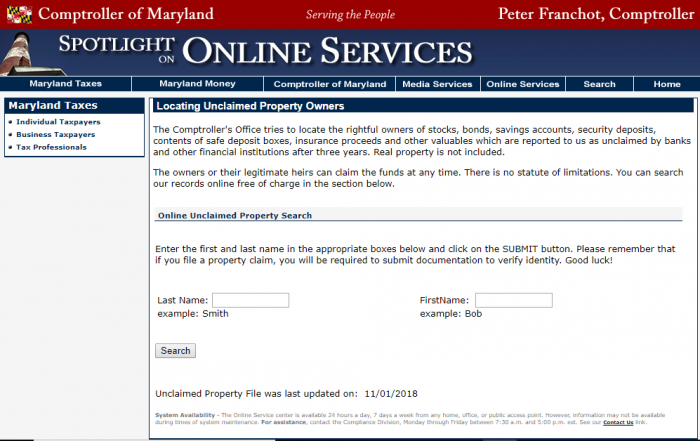 The state unclaimed property search service provides information for addresses in each of Maryland's 24 counties, including: Allegany, Anne Arundel, Baltimore, Baltimore City, Calvert, Caroline, Carroll, Cecil, Charles, Dorchester, Frederick, Garrett, Harford, Howard, Kent, Montgomery, Prince George's, Queen Anne's, St. Mary's, Somerset, Talbot, Washington, Wicomico, and Worcester.
Maryland lets you run a search with first and last name, but you can also search by last name only or by business name: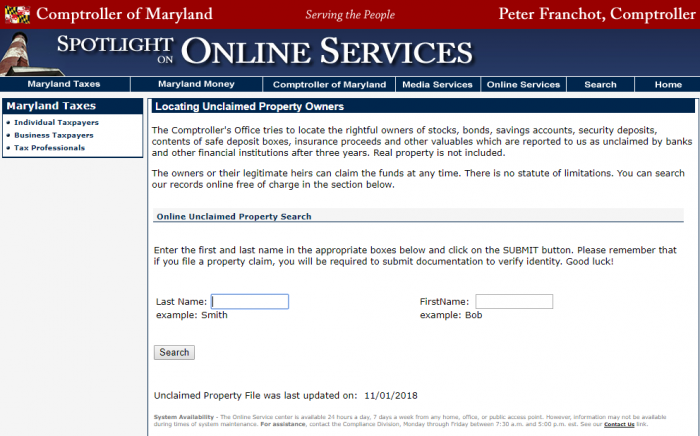 Of course, the more information you have available during your search, the more narrowly you can tailor your search. For Maryland, this is not as important when you first begin your search, since you only have the ability to search by first and last name. However, it can be very important as you try to narrow down your search results. For example, running a search for the last name Smith returned 11,010 results. In addition, it returned variations on the last name, such as Smithso, Smithso, and Smithcott. However, it also provided information like first name, middle initial, and the address at the time of reporting. Knowing that information can help you narrow down results: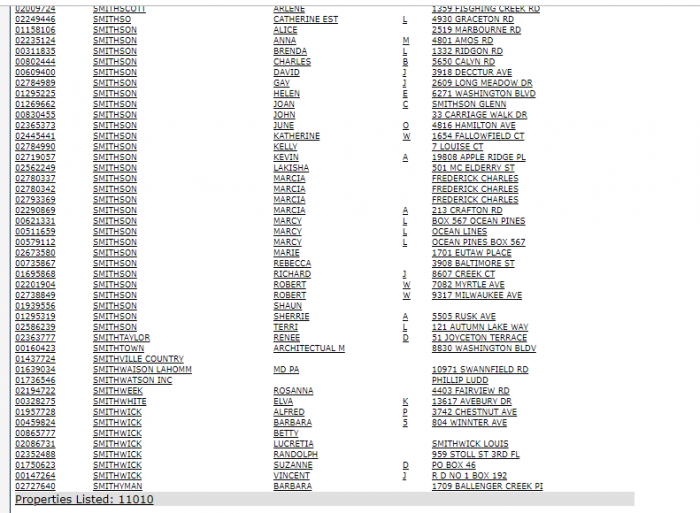 If you know a first name, that can really help you narrow down results. For example, running a search for "Bob Smith" results in 9 hits, rather than thousands of hits: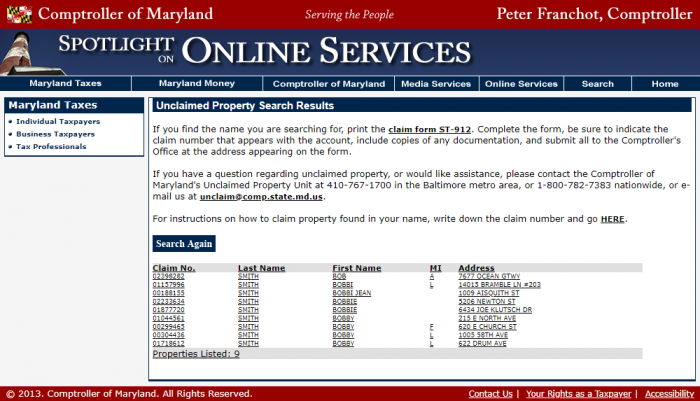 Looking at the results, you see that each property has a claim number, a last name, a first name (if available), a middle initial (if available), and the address. The amount of the claim is not listed.
While many states allow you to select claims and begin the process of claiming them on the search page, Maryland requires you to go to another page. You simply write down the claim numbers for each claim you believe is yours and go to the Claiming Your Property page, http://comptroller.marylandtaxes.gov/Public_Services/Unclaimed_Property/Claim_Your_Property/default.shtml: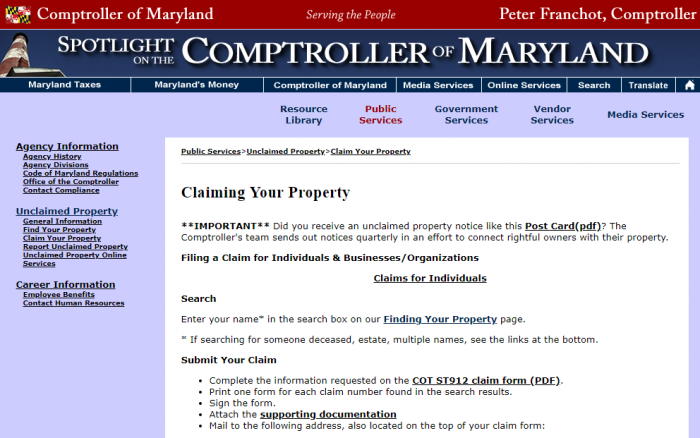 To submit your claim, you need to complete a COT ST912 claim form for each claim number you find in the search results. Sign the form, attach the supporting documentation requested, and mail the completed form and documentation to:
Comptroller of Maryland- Unclaimed Property Unit
301 West Preston Street, Room 310
Baltimore, MD 21201-2385
Supporting documentation you may be asked to provide includes: driver's license or other state-issued i.d., social security card or other documentation containing your social security number, bank documents, proof of affiliation with the holder, and letters of administration and a copy of the death certificate if claiming on the behalf of a decedent.
Unclaimed Money Laws in Maryland
Maryland provides a .pdf link to its unclaimed property laws, which you can find at: https://comptroller.marylandtaxes.gov/Public_Services/Unclaimed_Property/static_files/Abandoned_Property_Act.pdf.
Maryland Unclaimed Money FAQ
How long does Maryland hold unclaimed money?
Maryland does not impose a time limit on claims. Instead, its unclaimed money law is custodial. This means that it will hold unclaimed money/property indefinitely, for either the original owner or the owner's heirs. However, if the property includes personal property, for example from a safe deposit box, the state may auction the material and then hold the proceeds for the original owner.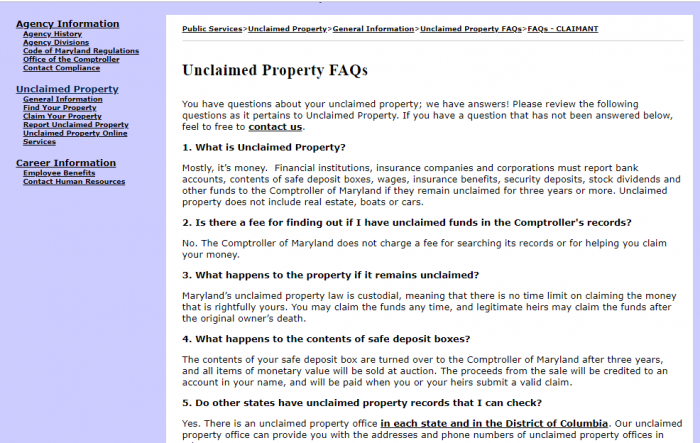 Examples of Unclaimed Money
Maryland specifically exempts cars, boats, and real estate from becoming unclaimed money. The types of property that frequently become labeled as unclaimed money include: money in savings or checking accounts, uncashed checks, deposits, stocks, dividends, bonds, and the contents of safe deposit boxes.
Does state of MD make efforts to locate owners?
Yes. The State of Maryland makes more efforts than many other states to help locate the true owners of unclaimed property. In addition to its free online search service, Maryland engages in online promotional videos, newspaper advertising, news media campaigns, outreach programs, and mass mailings. They auction unclaimed property items that are found in safe deposit boxes on eBay, which is another way for people to find unclaimed property.
Other sources to search besides MD state database?
You already know that you have to search more than just the Maryland website if you want to run a complete unclaimed property search. This is where we provide you with the information you need about the sites we think are essential to running a comprehensive search for your abandoned property.
Even if you live in Maryland, you may need to search in other states to find unclaimed property, however searching all states and U.S. territories is probably a waste of your time. That is why you should narrow down your list. Of course, you want to include any states where you have ever resided. Then, think about states where you have had relatives reside. Very distant relatives are unlikely to have left you money or have put property in your name, but parents, grandparents, and aunts and uncles may have, so search every state where they have lived. Then, think about whether it is possible that you have established business contacts in another state, especially if that contact might not have your Maryland address. If the answer is yes, include that state on your list. The most common instances of this are life insurance companies and employers with headquarters outside of Maryland.
While the state-level sites are an important component of an unclaimed property search, they are only part of the picture. Keep in mind that some property never reverts to the state. This is generally true of property that is held, or guaranteed, by the federal government. Therefore, we always recommend that everyone check the following four sites: the Life Insurance Policy Locator, the National Pension Benefit Guaranty Corporation, the Internal Revenue Service, and the U.S. Treasury.
If you decide that you are only going to search one other site outside of the state of Maryland, then it should be the Internal Revenue Service. Even if you have not ever had to pay federal taxes, it is virtually impossible for you not to have a taxpayer relative. In addition, the odds are fairly high that the IRS is holding onto some unclaimed money on your behalf, because of the IRS's policy not to forward tax refund checks that are undeliverable: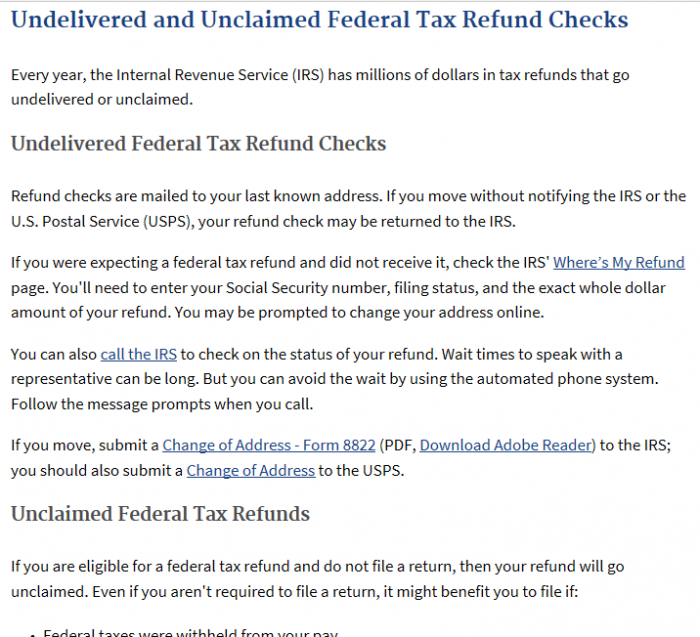 This policy leads to enough undelivered checks each year that the IRS even set up a page specifically to help people find their refunds. It is known as the Where's My Refund? page: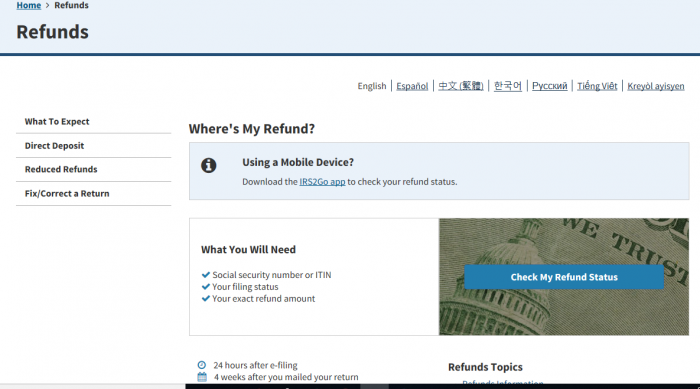 While the IRS may be the most popular source for unclaimed money at the federal level, it is not the only one. The U.S. Treasury is another important place to check for abandoned property. This is because bonds do not escheat to the states, unless the state has physical possession of the bond (for example, if the bond was placed in safety deposit box, which was subsequently abandoned). Currently, there are over $17 billion in unclaimed savings bonds. Unfortunately, finding unclaimed savings bonds can be a difficult process. It does not have to be; until recently, the U.S. Treasury had a website that simplified the process tremendously, but it discontinued that practice. While no longer simple, you can still claim property through this process. You just have to visit the Treasury Direct website, write to the Bureau of Public Debt, or call them by phone at 844-284-2676.
Although it is not exactly federal money, you can actually find pension benefits at a federal website. This is because pension benefits are federally guaranteed by the Pension Benefit Guaranty Corporation. This is a huge source of unclaimed property, with over $400 million in unclaimed pension benefits and over 70,000 potential claimants:
Finally, life insurance benefits can be particularly difficult to track down. This is due to the fact that beneficiaries and policy holders may not have been in the same state. In fact, policy holders may not have provided insurers with sufficient information to track down a beneficiary. In other instances, policy holders are unaware that a deceased has passed. While there is no collective life insurance policy database that is searchable by users, you can enter your information in a database at the National Association of Insurance Commissioners' Life Insurance Policy Locator Service. They will then circulate their information to their member insurers, who will check their own files to see if you are the beneficiary on any unpaid policies: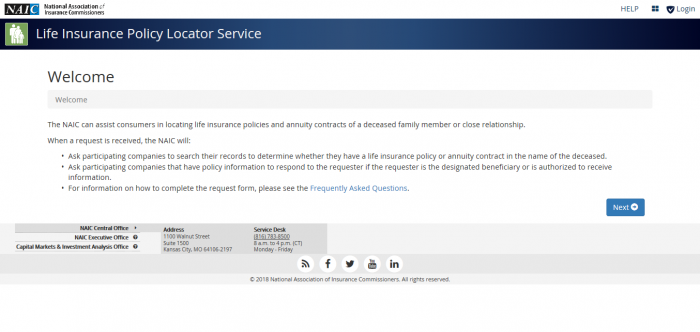 How can I prevent my property from becoming lost or unclaimed?
Finding unclaimed property can be a lot of fun, but it is always better never to lose that property in the first place. That is why we have put together a handy list of tips we suggest to help you keep track of your property.
You should always keep detailed account records, every time you are involved in a financial transaction that puts a third party in charge of your money. These account records should include fairly extensive information, including: the physical location where you opened the account, the contact information for the bank, your account numbers, and the name you used to open the account. You want to keep all of these records in a central location, so that you have an easy-to-access, comprehensive record of all of your accounts.
Other tips for keeping track of your property include: contacting all of your account holders at least once every three years; responding to all requests for information or contact from any holders as soon as possible; and cashing all checks as soon as they are received. If you make any changes, such as moving, changing phone numbers, getting a divorce, changing your name, or experience a death in your family, notify the holders of property of any relevant changes.
Finally, you want to make sure and choose a trusted individual who will have access to your financial information in the event of your death or incapacitation. Tell this person where your records are and how to access them.
How do I make sure my heirs know where my assets are if I die?
When you are estate planning, you probably think that a will is all you need to ensure that your heirs get your assets when you pass. However, a will tells your executor what you want to do with your property, but not where to find that property. Remember how we told you to pick a trusted individual that can access your finances in the event of your death or incapacitation? That is exactly what you need to do to make sure your heirs can locate your assets.
Should I hire a finder to conduct the search?
Locator/ finder services are third parties that charge a fee (usually a percentage of the amount found and recovered on your behalf) to run searches for unclaimed property and make claims on your behalf. The Maryland takes a different position on finder/locator services than many states. In fact, it makes an agreement with a finder unenforceable if the property has been in the state's custody for less than two years. This is because there are fees associated with using finder services and the state's goal is to let you have access to your money without fees. This restriction makes sense when you consider the pros and cons of using a locator service. On the plus side, locator services save you time and may help you recover money you would not have otherwise found. On the minus side, locator services charge you a fee for searches and claims that are free for you to run and file.
If you do decide to use a locator service, make your selection carefully. Because finders need identifying personal information to perform their services, you will find some illegitimate business hiding among the legitimate finder services.
Why does Maryland take possession of unclaimed property?
Maryland takes possession of unclaimed property in an effort to reunite actual owners with their property.
Conclusion
While finding abandoned property can be a time-consuming process, it is not a difficult one. Following the suggestions we outline above, you can run a comprehensive search for unclaimed property on your behalf or for someone else. Happy hunting!