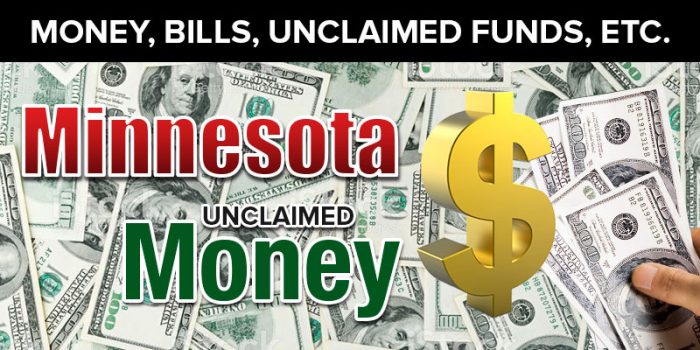 In Minnesota, the Commerce Department is responsible for handling unclaimed money and property. Every year, the Department receives millions of dollars' worth of money or property that is considered unclaimed, or abandoned by the state. You can find information about the state's unclaimed property program, as well as a link to search for any unclaimed property you may have in the state, at Minnesota's unclaimed property website.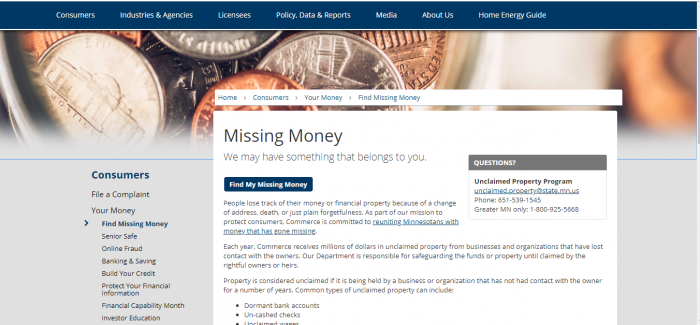 If you are a Minnesota resident, then the state's unclaimed property page is the where you should start your unclaimed property page. In fact, your state of residence is generally where we suggest you begin an unclaimed property search. That is because, in the United States, each state or territory operates an individual unclaimed property page. At these pages, you can search for any abandoned property that has reverted to the custody of that state. However, each of these sites is state-specific. While some states are part of a larger program that lets you search multiple states at once, each state has its own site. Generally, abandoned property ends up in the custody of the states where the owner lived at the time the property was placed under the control of the holder. However, some types of property never end up in the custody of the state. Therefore, looking only at Minnesota means you may miss some property.
The best way to ensure that you find unclaimed property is to make sure and run a comprehensive search whenever you look for that property. A comprehensive search is one that expands beyond just your state, including other states and some national-level sites. When people begin to make a list of the other states they should search, they automatically think of other states where they have lived. That is a good start, but it is incomplete. When you run your unclaimed property search, you want to include any state where you may have assets. In addition, even if you do not think you have any unclaimed property at the national level, we suggest that everyone look at least one of the national-level websites that we include in our how-to-guide: the IRS.
Many people feel overwhelmed after realizing that they need to search multiple sites for their unclaimed property search. However, while the process can become quite time-consuming, it does not have to be difficult or burdensome. Even if you have searched for unclaimed property before, we think that our how-to guide will have information that you can use to simplify the property search process. Not only does it give you tips for simplifying the process, but it also covers the most frequently asked questions about the unclaimed money search and claim process. These questions include:
(1) How do you define unclaimed property and unclaimed money?
(2) Is unclaimed property/money the same as abandoned property/money?
(3) What criteria does Minnesota use to determine when property is considered unclaimed/abandoned?
(4) In Minnesota, what are the statutory time periods for considering money unclaimed?
(5) What are the steps to follow in an unclaimed property search?
(6) How do I file an unclaimed money claim in Minnesota?
(7) What does the state of Minnesota do to help me locate my unclaimed or abandoned property?
(8) What is a locator/ finder service?
(9) Will using a finder service help me locate and claim my unclaimed property?
The Minnesota Department of Commerce takes possession of unclaimed money after the holder has had no contact with the actual owner for a statutorily set period of time. The expiration of that time period triggers a reporting requirement, and the holder has to let Minnesota know about the property. Minnesota when takes custody of the property and holds it for the actual owner.
You can access the search page directly from Minnesota's Missing Money Home Page.  Simply expand the tab that says Missing Money Locator: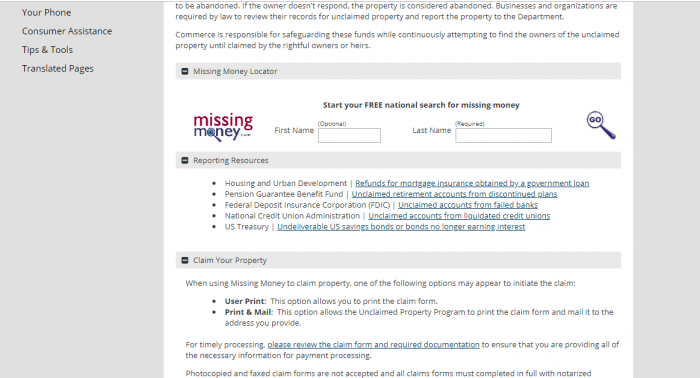 If you have detailed questions about unclaimed money in Minnesota, you may want to visit the office of Minnesota Attorney General and read the unclaimed property page.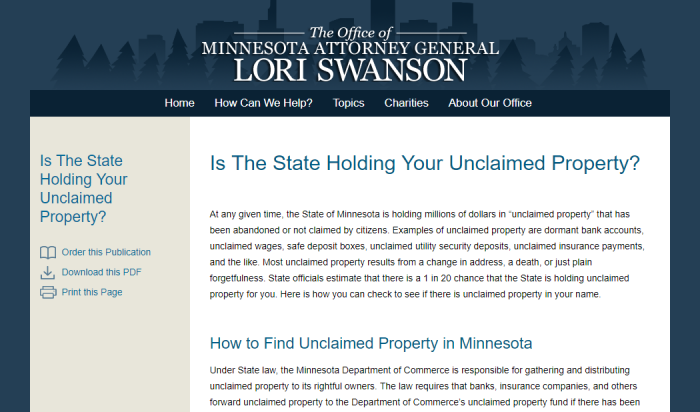 While you may want to start your search in Minnesota, it is unusual to be able to complete a search for missing money by looking only at a single state database. Most missing money searches need to take into account multiple states as well as some national-level resources.
Although many states use the same service to handle their missing money searches, there is not yet a single nation-wide database that allows for a one-and-done approach to finding unclaimed property. Therefore, you need to make a plan to search all of the necessary sites, so you do not overlook any potential claims.
What is Unclaimed Money?
Every state has its own definition of unclaimed money or property, though there is a significant amount of overlap. Unclaimed money is not money that is "up for grabs;" it is money with an identified owner, but the holder of that money has lost contact with the original owner for a specified number of years. The number of years can vary from property type to property type. Some examples of unclaimed property include: stocks or bonds, dormant bank accounts, unclaimed wages, insurance claim payments, insurance benefits, uncashed checks, and the contents of safe deposit boxes.
Before a holder, which can include a variety of businesses such as banks and insurance companies, turns property over to the state, they are supposed to make attempts to contact the owner of the property. Only if the owner does not respond to these attempts is the property considered abandoned. Moreover, owners are required to periodically review the property in their possession to determine if they are holding any property meeting the definition of unclaimed property.
How Much Unclaimed Money is in Minnesota?
Although the amount is constantly fluctuating, Minnesota is holding millions of dollars in unclaimed property at any given time. They estimate that 1 in 20 people in Minnesota have unclaimed property. If you expand your search beyond Minnesota, the odds get even better. The National Association of Unclaimed Property Administrators (NAUPA), is an organization that devotes its energy to helping reunite owners with unclaimed money in the United States. They estimate the total amount of unclaimed money in the U.S. to be around $42 billion.
Minnesota Unclaimed Money Finder
Minnesota uses the Missing Money website to help run its missing money searches. You can access it at https://www.missingmoney.com/:
Because unclaimed property is managed at a state-level, property from all of Minnesota's counties ends up in the state registry. That means that you can run one search to find property in all of the following counties: Aitkin, Anoka, Becker, Beltrami, Benton, Big Stone, Blue Earth, Brown, Carlton, Carver, Cass, Chippewa, Chisago, Clay, Clearwater, Cook, Cottonwood, Crow Wing, Dakota, Dodge, Douglas, Faribault, Fillmore, Freeborn, Goodhue, Grant, Hennepin, Houston, Hubbard, Isanti, Jackson, Kanabec, Kandiyohi, Kittson, Koochiching, Lac Qui Parle, Lake, Lake of the Wood, Le Sueur, Lincoln, Lyon, Mahnonmen, Marshall, Martin, McLeod, Meeker, Millie Lacs, Morrison, Mower, Murray, Nicollet, Nobles, Norman, Olmsted, Otter Tail, Pennington, Pine, Pipestone, Polk, Pope, Ramsey, Red Lake, Redwood, Renville, Rice, Rock, Roseau, St. Louis, Scott, Sherburne, Sibley, Stearns, Steele, Stevens, Swift, Todd, Traverse, Wabasha, Wadena, Waseca, Washington, Watonwan, Wilkin, Winona, Wright, and Yellow Medicine.
Beginning your search is easy! Simply put in a last name and MN into the Missing Money website: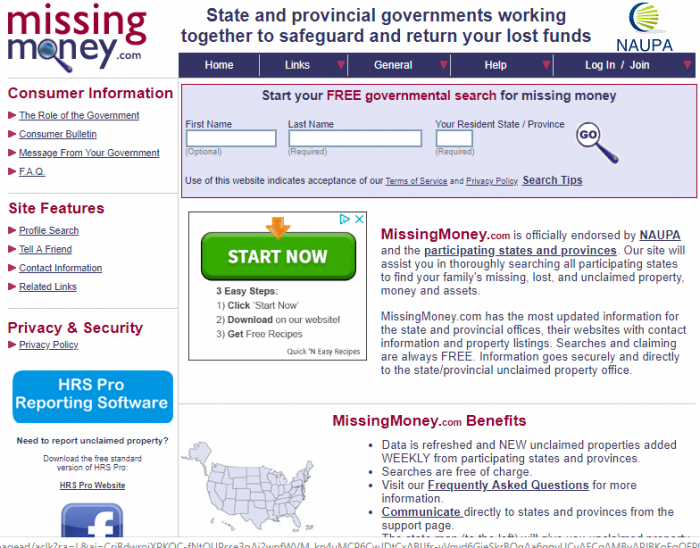 Missing Money lets you choose whether to search for that state or to search in all of the participating states and provinces on the Missing Money website. If you search for a common name, like Smith, you get over 200 results, whether you are looking just at Minnesota or in all of the provinces: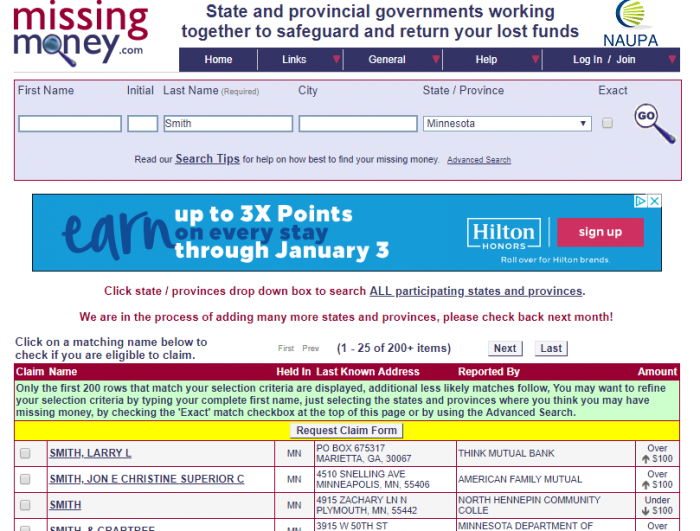 However, you can add in additional information to narrow down your search. Missing Money lets you add in a first name and a city. When we searched for "Bob Smith" instead of just Smith, the results went from over 200 to 10: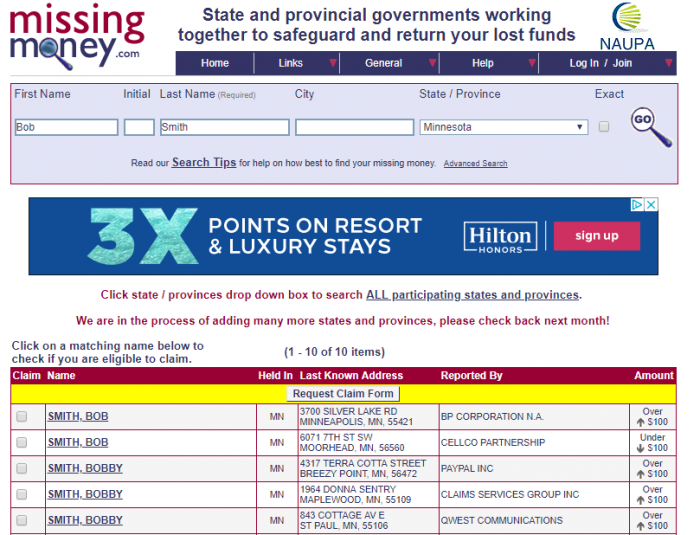 If we further narrowed the search by including the city of St. Paul, then we get the following results, which include results where the city was not disclosed: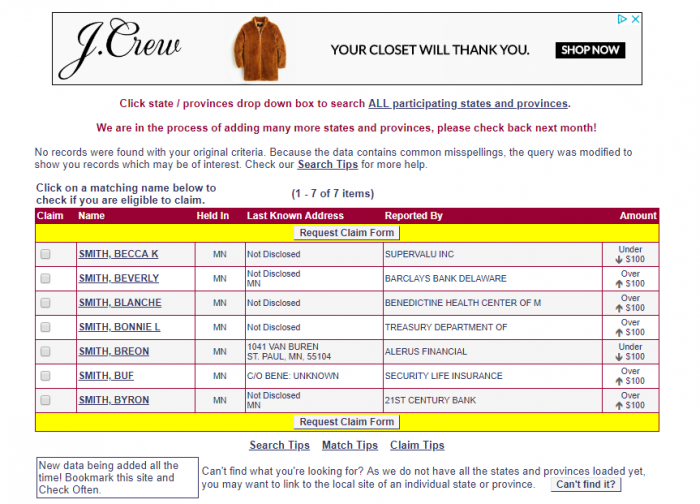 As you can see, even though the search was narrowed to "Bob," the results included other "B" first names, because there were no results for Bob. This helps ensure that you find property, even if a name was misspelled in the record.
You will notice a check box to the left of the information. To select a claim for filing, you check the box: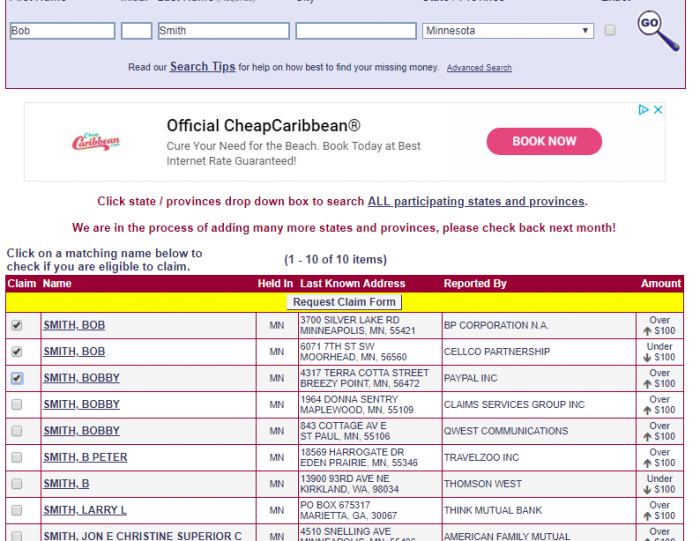 .
Then, hit the "Request Claim Form" button, which will result in you seeing a screen that looks like this: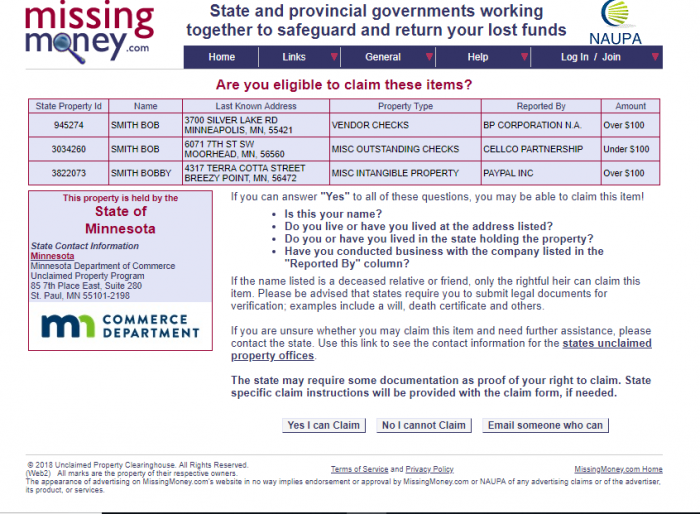 The form asks you if you can claim the items, by having you consider whether: it is your name, you live or have lived at the listed address, you live or have lived in the state holding the property, or you have ever conducted business with the company listed as the holder. It also provides information about rightful holders. If you can answer yes, then you can click the "Yes I can Claim button." If you cannot claim, but think you know the rightful owner, you are given the option to push the "Email someone who can" button.
If you hit the "Yes I can Claim button" it takes you to a claim form, which will apply to all of the properties you said you could claim. The claim inquiry forms ask you for basic information including your relationship to the name on the property, your first name, your last name, your current address, your email, your phone number, your date of birth, and your social security or tax identity number. The claim inquiry form looks like this: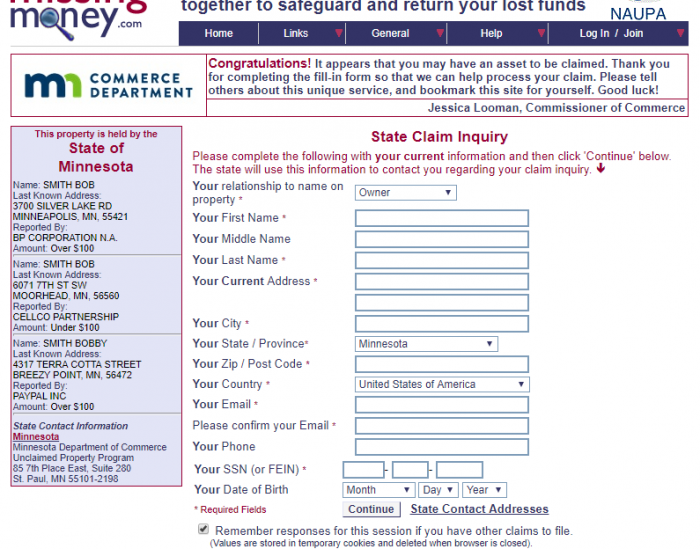 After you submit the information, then the state can contact you about the claims and let you know what type of additional information it may need to process your claim. Generally, you will need to be able to provide proof of your identification and some proof that you resided at the address in question.
Unclaimed Money Laws in Minnesota
You can find Minnesota's unclaimed property law in Minnesota Statutes chpt. 345
Minnesota Unclaimed Money FAQ
How long does Minnesota hold unclaimed money?
Minnesota's Commerce Department only acts as the custodian of property, and does not take actual possession of the property. It will hold the money as the custodian for an indefinite period of time.
Examples of Unclaimed Money
As with most states, in Minnesota real property and motor vehicles are exempt from becoming unclaimed property. In fact, the only tangible property that becomes unclaimed is property located in safe deposit boxes. Other examples of unclaimed property include: dormant bank accounts (checking and saving), unclaimed wages, insurance benefits, uncashed checks, insurance claim payments, stocks, and bonds.
Does state of Minnesota make efforts to locate owners?
The State of Minnesota puts much of the burden of locating owners onto the holders, by requiring them to make attempts to locate owners if the property in question is a large amount. However, compared to other states, once the money is in the custody of the state, Minnesota does not make significant efforts to locate owners. Instead, owners need to contact the Department of Commerce to search for the money.
Other sources to search besides Minnesota state database?
We always tell people to search for property in any state where they may have business contacts, even if they never resided in the state. So, you want to make a comprehensive list of all of the states where you may have business contacts.
Next, you need to consider whether you have money in non-state sources. We always tell people to look for money at the following four sites: the Life Insurance Policy Locator, the National Pension Benefit Guaranty Corporation, the Internal Revenue Service, and the U.S. Treasury. In addition, you may want to check the FDIC's website https://closedbanks.fdic.gov/funds/; the Department of Housing and Urban Development's website http://entp.hud.gov/dsrs/refunds; the National Credit Union Administration's website: www.ncua.gov/services/Pages/asset-management/unclaimed-deposits.aspx; and the Veteran's Administration Benefits website www.insurance.va.gov/liability/ufsearch.htm.
Everyone should search the Internal Revenue Service, since most of us are either taxpayers or related to taxpayers. The IRS never turns over tax returns to the state and it will not forward missing tax returns if you move and do not provide the IRS with a change of address: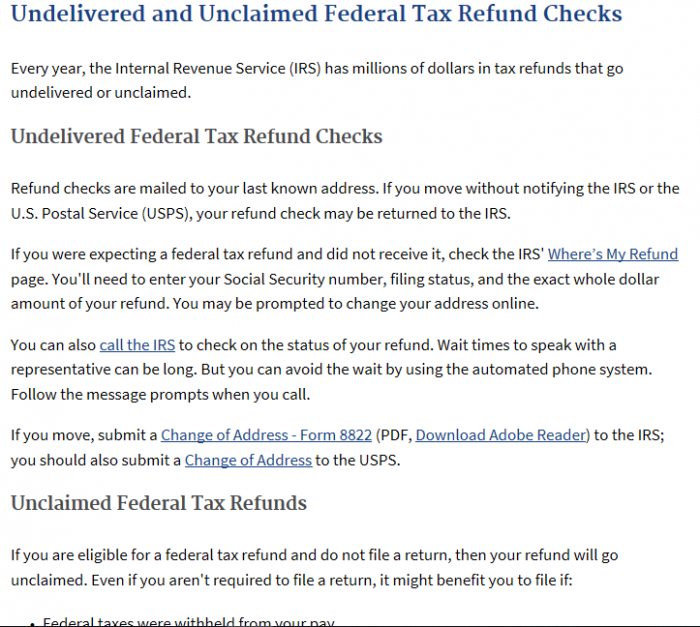 If you think you have a missing refund, you can visit the IRS's Where's My Refund? page: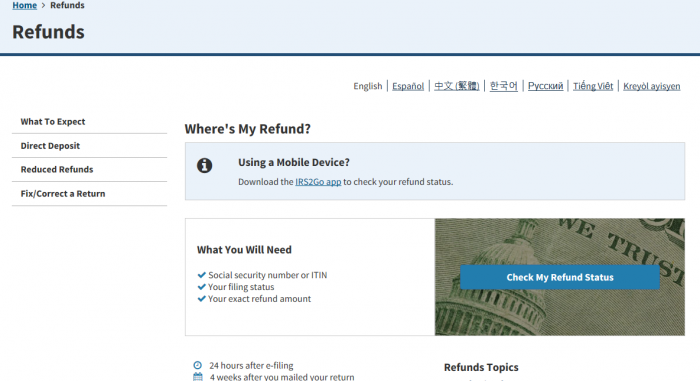 Many people may also have money in unclaimed savings bonds. Unfortunately, the U.S. Treasury no longer has an easy-to-search website that can help you locate those bonds. While the process has become more complicated, given that there is over $17 billion in unclaimed bonds, a search is still worthwhile! You can start by Treasury Direct website, writing to the Bureau of Public Debt, or calling them by phone at 844-284-2676.
You probably think you need to search for pension money with your employer. However, that is a common misconception. Pensions are actually guaranteed by the federal government's Pension Benefit Guaranty Corporation, which can also help you locate unpaid pension benefits. They are currently in custody of over $400 million in unclaimed pension benefits, with over 70,000 missing claimants: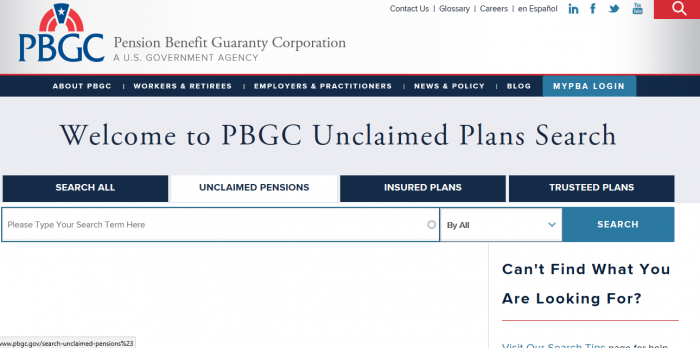 A final non-state site operates at a national level, but is not a government site. The National Association of Insurance Commissioners' Life Insurance Policy Locator Service operates as a type of clearinghouse for its member insurance companies. It does not have a searchable database, but allows you to put in your information. The member insurers can then search their files to see if they are holding onto any benefits that should go to you: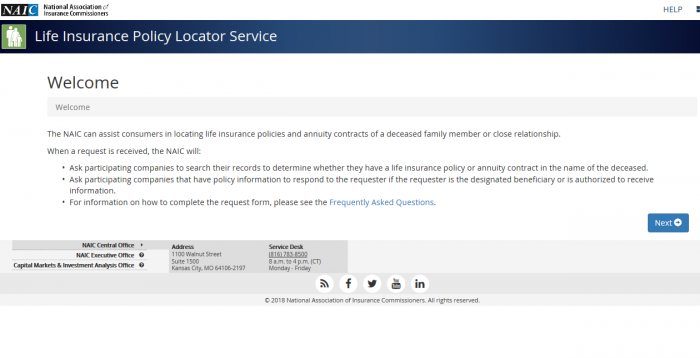 How can I prevent my property from becoming lost or unclaimed?
Even if the process for finding unclaimed money has become greatly simplified, the reality is that the best option is not to lose money or property in the first place. That is why we have put together some steps to follow to help you keep track of your property. You should follow these steps for all accounts that you currently have, as well as for any new account you open.
Establish a central location for account records.
For safety's sake, set up a different location for passwords, but make sure that passwords are identifiable for each account for someone who has access to your account information. Establish a physical location for keys to safe deposit boxes or any storage rental units.
For each account, include the following information: account number, name used on the account, the holder's name and contact information, and passwords.
Keep track of any dates when you should have deposits or refunds due back to you.
Establish a yearly date to contact your financial institutions.
Notify holders of any changes in your personal information including: marriages, divorces, name changes, address changes, and phone number changes.
Designate a trusted individual to have access to your information in the event of your death or incapacitation.
How do I make sure my heirs know where my assets are if I die?
Many people believe that leaving a will is enough to ensure that their assets get to their heirs when they die. However, this common misconception can actually lead to your heirs not getting your property. A will directs your administrator how to divide your assets, but not how to locate them. Make sure and pick a trusted person who can access your account information in the event of your death or incapacitation. That will ensure that they know where to find your assets.
Should I hire a finder to conduct the search?
The state of Minnesota is somewhat adamant that you do not need a finder to conduct unclaimed property searches or file your claims. This is true, but may be an oversimplification. To understand this answer, you need to know what a finder service is. A finder, which may also be known a locator, is a third-party service that charges a fee to help you locate your unclaimed assets. Since you can run the searches and file the claims for free, hiring these services cost you money that you do not have to send. However, the process can be time-consuming. Therefore, if you are unlikely to run a search yourself, then hiring a finder service may end up being a good idea. Just be careful when choosing a finder service; because they need access to your personal information in order to do their job, you want to make sure you choose a reputable business.
Why does Minnesota take possession of unclaimed property?
The goal of Minnesota's unclaimed money program is to help reunite people with unclaimed money and property.
Conclusion
Have you ever wondered if you have any unclaimed property waiting for you to find it? Many people do; in fact, there are literally billions of dollars out there waiting to be found by their real owners. So, start hunting today!