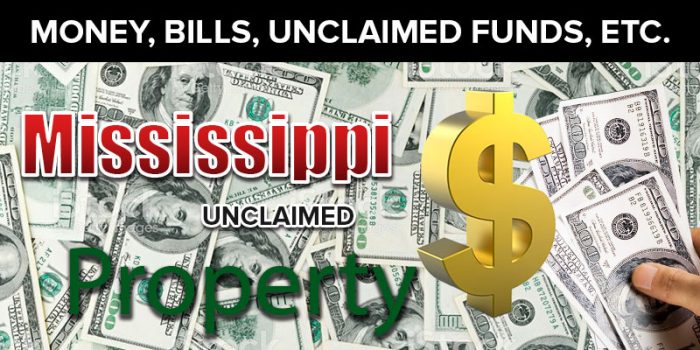 The State Treasury of Mississippi, which is overseen by Mississippi State Treasurer Lynn Fitch, is responsible for administering Mississippi's Unclaimed Property Act. Under this law, holders, which are businesses that hold money for property owners, must turn over money to the Office of the State Treasurer, any asset that has been abandoned after a period of no-contact for a five-year period. Holders refer to a variety of different businesses that might be holding money for property owners. Examples of holders include retail stores, utility companies, business associations, insurance companies, credit unions, and banks. Money may be in the form of cash, stocks, and checks.
The State Treasury takes possession or custody of the property, but never claims ownership of the property. Instead, its job is to hold onto the property until the rightful owner can make a claim. In addition, the Unclaimed Property Division is responsible for trying to find the property's rightful owner.
While Mississippi refers to this property primarily as unclaimed property, you may hear it referred to by other names, as well. Sometimes unclaimed property is known as unclaimed money, abandoned property, and abandoned money. If you see these terms on the Mississippi unclaimed property pages or in this tutorial, you should know that they are used interchangeably with the term unclaimed property.
Mississippi's process for claiming unclaimed property will seem familiar if you have ever searched for and claimed unclaimed property in any state. Mississippi's five-year period is longer than you find in many states, but after a holder has had no contract with a property owner for the statutory period of time, and has made attempts to contact the property owner, the holder turns the money over to the state. The state places the money it in its unclaimed property database, where people can search to see if they have any abandoned or unclaimed property.
You can find Mississippi's unclaimed property page here.
Many people find the idea of searching for and claiming abandoned property to be very intimidating. However, in reality the process is rather straightforward. In addition, even though states may use different databases to track unclaimed property, they are usually similar enough that skills learned for searching in one state can be applied in another state. That said, you should be forewarned that an unclaimed property search may be time-consuming, especially if you have a common name, if you have lived in multiple locations, or if you have gone through multiple names throughout your lifetime.
In Mississippi, you start your search for unclaimed money by looking to see if you have any abandoned property listed in their database. While many states use the Missing Money database to handle their abandoned property claims, Mississippi runs its own database. In our step-by-step tutorial, we will cover all of the steps involved in searching for and claiming abandoned property in Mississippi. In addition, we will provide website and link information for Mississippi's unclaimed property database, basic information on Mississippi's unclaimed property laws, and information about finder/ locator services and whether you should utilize them in your unclaimed property search.
You can find a link to Mississippi's unclaimed property database on the home page for its unclaimed property program here.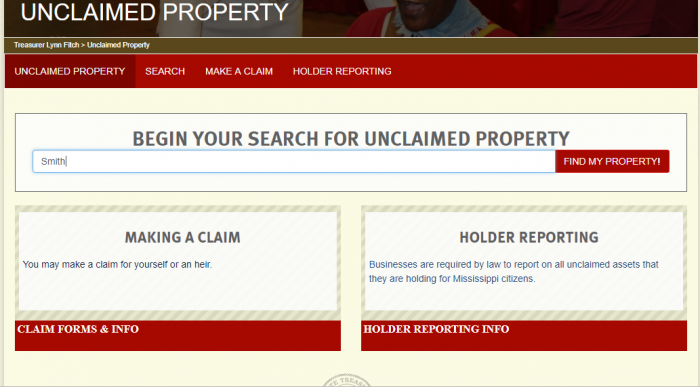 Mississippi's Unclaimed Property Database
Before states decided to consolidate their unclaimed property into statewide programs, many counties had their own versions of unclaimed property databases. Therefore, you would have been required to look in each county in the state to determine whether or not you had unclaimed property in that state. In Mississippi, that would have required looking at all of the following counties: Adams, Alcorn, Amite, Attala, Benton, Bolivar, Calhoun, Carroll, Chickasaw, Choctaw, Claiborne, Clarke, Clay, Coahoma, Copiah, Covington, De Soto, Forrest, Franklin, George, Greene, Grenada, Hancock, Harrison, Hinds, Holmes, Humphreys, Issaquena, Itawamba, Jackson, Jasper, Jefferson, Jefferson Davis, Jones, Kemper, Lafayette, Lamar, Lauderdale, Lawrence, Leake, Lee, Leflore, Lincoln, Lowndes, Madison, Marion, Marshall, Monroe, Montgomery, Neshoba, Newton, Noxubee, Oktibbeha, Panola, Pearl River, Perry, Pike, Pontotoc, Prentiss, Quitman, Rankin, Scott, Sharkey, Simpson, Smith, Stone, Sunflower, Tallahatchie, Tate, Tippah, Tishomingo, Tunica, Union, Walthall, Warren, Washington, Wayne, Webster, Wilkinson, Winston, Yalobusha, and Yazoo. Fortunately, today you can just look in Mississippi's statewide unclaimed property database for information from all of those counties.
What is Unclaimed Money?
As in most other states, Mississippi specifically exempts certain types of property from its unclaimed money database: houses, cars, and boats. Unclaimed property refers to things like money or stocks. To find unclaimed or abandoned land, you can look through land records, which are kept at the local County Courthouses. Unclaimed money generally refers to the type of property that, if it was returned would be returned in the format of cash money or a negotiable instrument, like a check.
Property is classified as unclaimed if the holder of the money has been unable to establish contact with the property's owner for a period of five years. However, holders are only required to make claims in the fall of every third year. This means that property may actually be identified as unclaimed, but not reported for almost another three years. This is different from many states, where holders are required to make annual reports.
How Much Unclaimed Money is in Mississippi?
While Mississippi does not publish how much money is currently in its unclaimed property program, it has connected people with more than $170 million in their abandoned property since the program began in 1982. Many states do not report how much money is available, often because those numbers fluctuate as money is claimed and new reports of unclaimed money are made by holders. To get an idea of how much money is available nationwide, you can turn to the, National Association of Unclaimed Property Administrators (NAUPA), which is an organization devoted to helping property owners locate and claim their lost or abandoned property. NAUPA estimates that there is currently around $42 billion in unclaimed property in the United States.
Mississippi Unclaimed Money Finder
Mississippi's unclaimed property database is located here: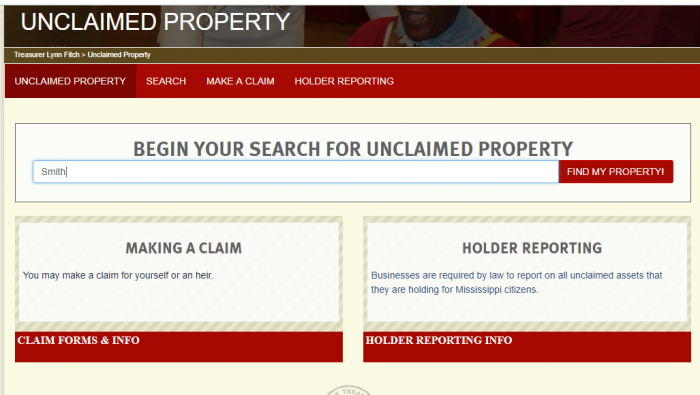 At that page, you can begin your search by entering a name. You can look for property by business name, by last name only, or with a combination of first and last name.
For the purposes of this tutorial, we are going to run a search for a finder with a common name, Bob Smith. We use the same name in each of our tutorials, to make it easier for you to compare the how-to information across states, so that you can easily apply what you learn in one tutorial to your searches in other states. In addition, we choose to use a very common name because there are some potential pitfalls to searching for very common names. We want to make you aware of them and give you tips on how to avoid them, so that your own search will run as smoothly as possible. With a commonly occurring name like Bob Smith, one of the biggest potential pitfalls is that you will get too many positive search results.
Mississippi does not have a large population, but searching by last-name only, we still found hundreds of possible results:
Unlike many other state databases, Mississippi does not tell you the total number of results that you received, nor does it put results on separate pages. Instead, you get a page that displays all of the results. However, while there is no display of the number, there were hundreds of results for the search using the last-name only.
Including a first name did not happen to help us in Mississippi. When we searched for Bob Smith, we got the following response: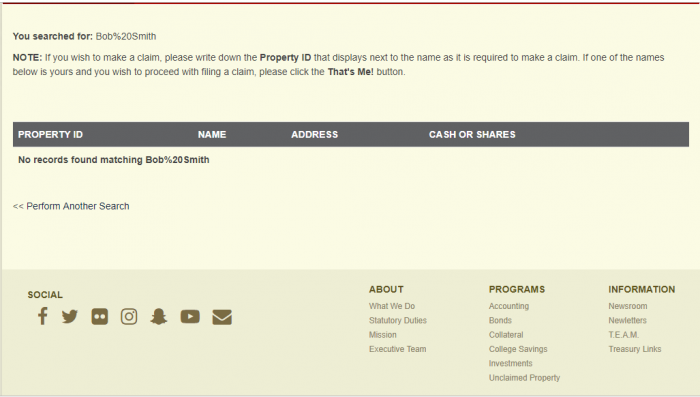 Because Bob Smith is a fairly common name, we found that result unlikely. Therefore, we searched for Robert Smith instead. We still got a similar response: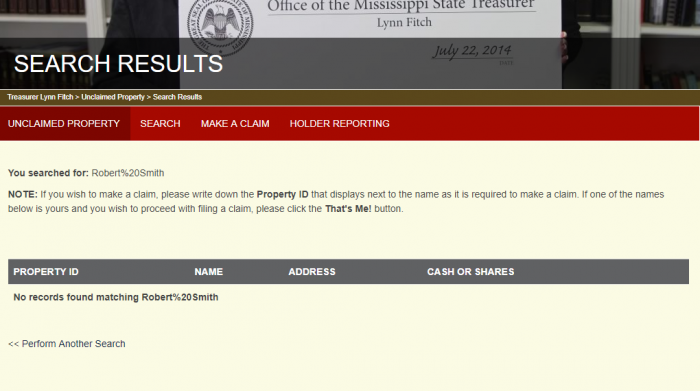 This information led us to the conclusion that in Mississippi, you only need a last name to run your property search. In fact, you should only use your last name, because using your first and last name together may result in eliminating some of your abandoned property from the list. This is different from the search procedure in almost every other state and is something that you need to know when you begin searching for property in Mississippi.
Going back to our original search, using only "Smith" we can scroll through the results until we get to the name Bob. Those search results that look like this: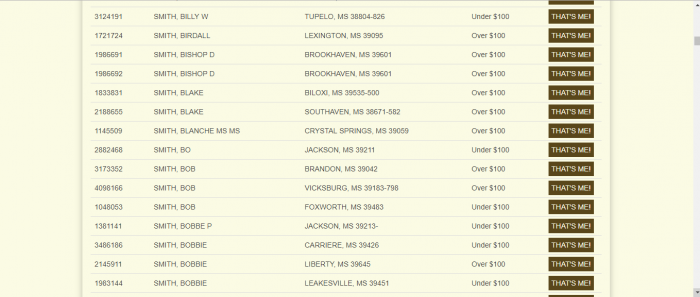 You will notice that they have a claim number, the last name of the property owner, the first name if available, the city where the property owner's last known address was located, the zip code of that city, whether the claim is worth more or less than $100, and a button marked "that's me" which you use to start the claim for the property.
Hitting the "that's me" button on the properties is the first step to starting your claim. Once you hit the button, you are taken to a page that instructs you to print and complete an unclaimed property claim form. You are also instructed to include the property identification number, which will be written on the screen (it comes from the property number that you selected).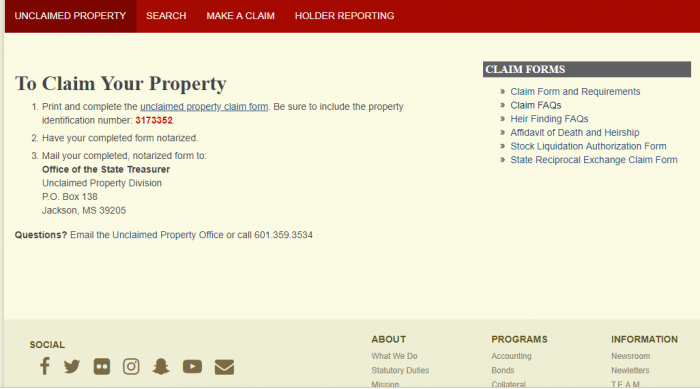 You can also find unclaimed property forms here
They look like this: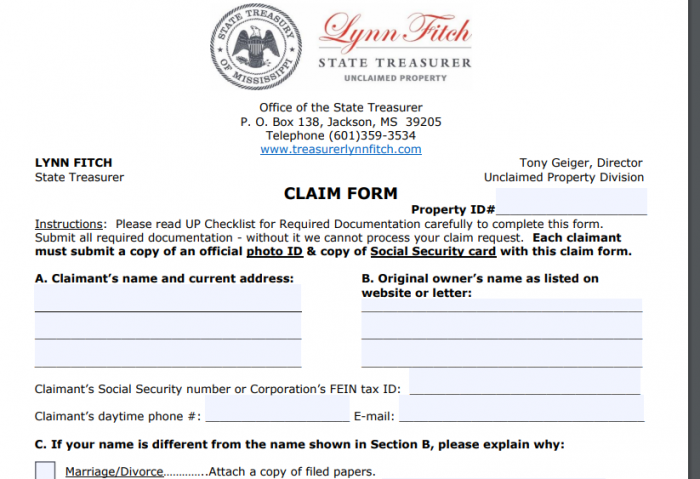 The claim forms ask you for a variety of different personal information including the claimant's name and address, the original owner's name, the claimant's social security number or FEIN tax id number, a phone number, and an email. While this form is not as convenient as online forms, it does contain a detailed list of the type of proof that you need to provide for your claim. For example, if you have had a name change because of a marriage or divorce, it directs you to provide proof. It also instructs you to provide proof of identification, proof of your social security number, and any other type of documentation you may need to prove your claim.
Once you have completed the claim form, you are instructed to have it notarized, then to send the notarized form to the following address:
Office of the State Treasurer
Unclaimed Property Division
P.O. Box 138
Jackson, MS 39205
Unclaimed Money Laws in Mississippi
Mississippi's unclaimed money laws can be located in the Uniform Disposition of Unclaimed Property Act, 2010 Mississippi Code, Title 89, Chpt. 12.
Mississippi Unclaimed Money FAQ
How long does Mississippi hold unclaimed money?
Mississippi hold unclaimed property in perpetuity, which means that it holds the unclaimed property until it is claimed by the original owner of by a person, such as an heir, who has the right to claim the property.
Examples of Unclaimed Money
In Mississippi, unclaimed property generally refers to money or property that can be easily converted to a negotiable instrument. Examples of abandoned property include things like: savings accounts, checking accounts, money orders, uncashed checks, cashier's checks, utility and other deposits, stocks, bonds, unpaid commissions and wages, and cashier's checks. Mississippi specifically exempts real property and motor vehicles from its unclaimed money program.
Does the state of MS make efforts to locate owners?
Mississippi actually engages in significant outreach efforts to locate the original property owners. One of its main outreach programs involves the State Fair, where it runs a booth not only to inform people about the state's unclaimed property program, but also to help them make their unclaimed property claims.
Other sources to search besides MS state database?
It is important to realize that not all money will escheat to the state where you reside. Some types of abandoned property, including money that is held by the federal government and some types of insurance benefits, never get into the state's custody. Furthermore, if you held property in a different state, that property may be held in that state's unclaimed property databases. Therefore, most people will actually need to check multiple locations to run a comprehensive unclaimed property search.
First, you want to make a list of the states you should search for your unclaimed property search. You obviously want to include any states where you have lived. However, you may also need to include some states where you have not resided on your list. Would anyone have put property in your name or could you be an heir to someone? If so, include those states on your list. You might also want to include any states where you have business contacts.
Next, you want to look at national-level sites to include. Money held by any part of the federal government will not escheat to the state. In addition, there are some national-level databases that might be holding your money if they are unable to locate you. The top four databases that we suggest most people include in their unclaimed property searches are: the Internal Revenue Service (IRS), the Pension Benefit Guaranty Corporation, the U.S. Treasury, and the Life Insurance Policy Locator.
For most Americans, the IRS is one of the most likely sources of unclaimed property, because it processes money for almost everyone. In addition, the IRS will never forward a tax return; if you move, the tax refund is returned to them and they hold it until you can claim it. This policy is explained in detail on the IRS website: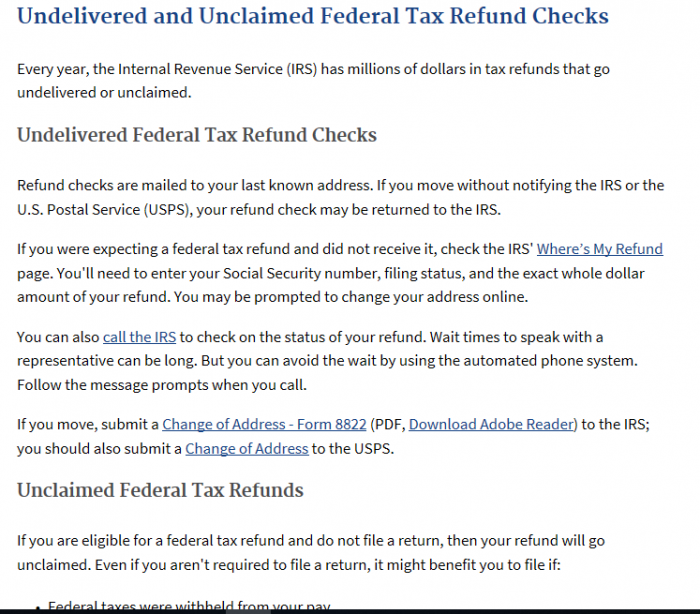 If you think you should have received a tax refund, but did not, you can even go to a dedicated IRS Where's My Refund? page to look for your money: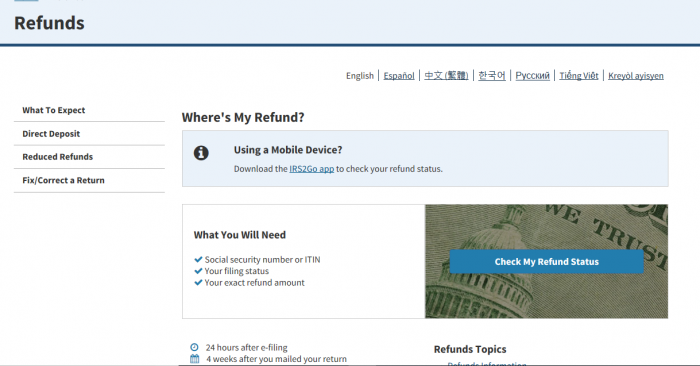 Another government agency that has a number of unclaimed money resources is the U.S. Treasury. The Treasury used to run an easy-to-use database that could help you locate lost or abandoned savings bonds. They have discontinued that site. However, you can still get help locating your lost or abandoned savings bonds by contacting the Treasury at 844-284-2676 or visiting their Treasury Direct website.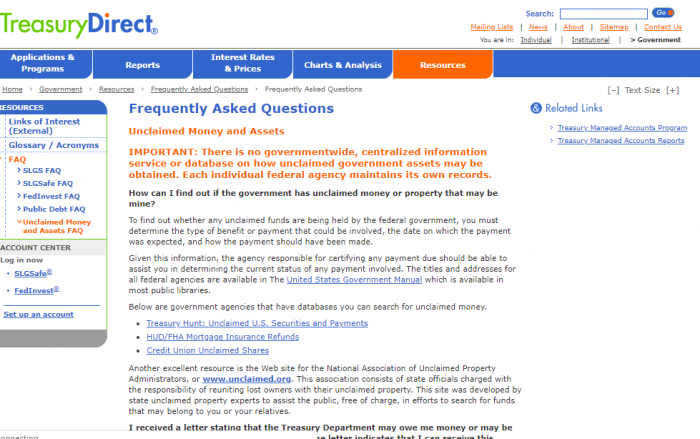 Most people are unaware that private pensions are actually guaranteed by a federal corporation, the Pension Benefit Guaranty Corporation (PBGC). As the prevalence of pensions has declined, many people have moved to jobs with no pensions benefits and may have forgotten pensions at prior jobs. You can visit the PBGC database to help find any unclaimed pension benefits: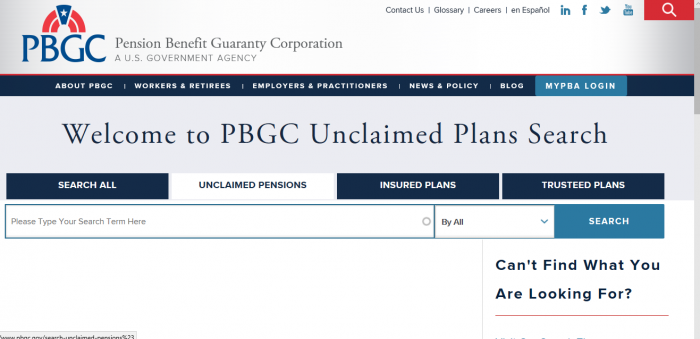 While there is no federal equivalent of the PBGC for life insurance benefits, there is a national-level organization that insurers can join to help them find the intended beneficiaries of unpaid life insurance policies. This site works differently from normal unclaimed money search databases, because it does not allow you to search for the property. However, you can enter your details and member insurers will check to see if you are a beneficiary on any of their policies. This site is run by the National Association of Insurance Commissioners' Life Insurance Policy Locator Service: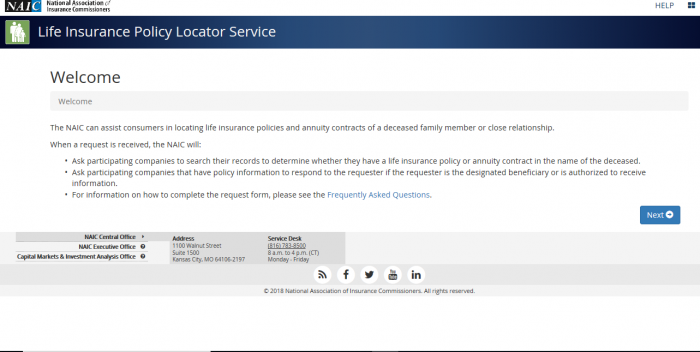 Finally, there are some organizations that are very detail-specific. For some people, searching them is a waste of time. However, if you know that you have had interactions with them, then searching them may help you uncover your property. These organizations include, but are not limited to: the FDIC, the Department of Housing and Urban Development, the National Credit Union Administration, and the Veteran's Administration Benefits Department.
What is the best way prevent my property from becoming lost or unclaimed?
While finding money can be a lot of fun, the best way to make sure that you have all of your money is never to lose it in the first place. Some good tips to follow are: cash all checks when received; keep detailed records of all of your accounts; contact the holder of your accounts on a yearly basis; respond to all communications from any of your holders; and inform holders whenever you have a change in personal information such as a name change or a change of address. We also recommend choosing electronic account management and using a single email address to handle all of those records, when that is a possibility.
How do I make sure my heirs know where my assets are if I die?
One of the most common mistakes people make is assuming that by writing a will they are ensuring that their heirs will get their property when they die. While a will tells people how you want your property distributed, it does not tell them where to find the property. You can include a list of account information to be included with your will or you can designate a trusted person to get access to your account information in the event that you die or are incapacitated. You want to leave that person the account records listed in the question above.
Should I hire a finder to conduct the search?
Mississippi does not discourage finders, but the Mississippi claim search process is free. Therefore, unless time is an issue, you probably want to run your own search before hiring a finder. If you do use a finder/ locator service in Mississippi, be advised that they are limited as to what percentage of the claim they can charge for their services.
Why does Mississippi take possession of unclaimed property?
Mississippi's unclaimed property program is a consumer protection program aimed at insuring that property owners are able to access their property.
Conclusion
Mississippi's unclaimed property program is younger than similar programs in most states and is updated less frequently. That is why we strongly suggest that if you believe you may have unclaimed property in Mississippi, even if you have recently checked for that property, that you check again.