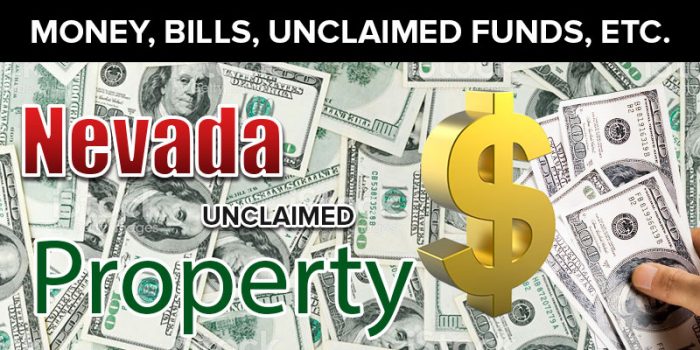 The Nevada Treasurer handles unclaimed property claims in the state through a subdivision known as Nevada Unclaimed Property. The purpose of this subdivision is so that the state can take custody of abandoned property that belongs to current or former Nevada residents. The division works with holders and claimants to reunite the rightful owners with their money. The state never becomes the owner of the property, but is merely the custodian until the rightful owner can be found. The Nevada Treasurer is responsible for administering this program and the current Treasurer is Zach Conine.
Nevada holds hundreds of millions of dollars in unclaimed property. This unclaimed property, which may also be known as abandoned property, can be in several different formats including: bank accounts, uncashed checks, insurance proceeds, utility deposits, and gift certificates. Some types of property are never considered abandoned property, such as real estate or motor vehicles. The property is considered abandoned if the owner has failed to have contact with the holder of the property for an extended period of time, which is defined by statute and is usually one to three years, depending on the property type.
Nevada's process for finding and claiming unclaimed money is similar to the process in other states. Once a holder determines that there has been no contact with the property owner for a statutory period of time, the holder attempts to contact the property owner. If there is no response from the property owner, then the holder reports the unclaimed property to the state. The state then makes efforts to contact the owner and the property is held in Nevada's unclaimed property database.
Nevada's Unclaimed Property website is found on the Nevada Treasury website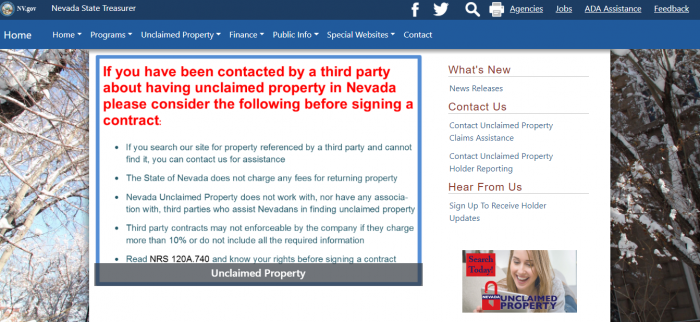 Many people worry that the unclaimed money process will be confusing or difficult. While it can be time-consuming, the process is actually pretty simple. Even better, once you have done an unclaimed property search in one state, you will find that you can use those skills when you search in other states, as well.
The first step in your property search is deciding where to search. Many people begin their property search in the state where they currently live. Other people begin looking in states where they may have previously resided. Where you start your search is not really that important, but you should keep track of which states you have searched. To maximize your chances of finding abandoned property, you also want to start by searching a state where you resided three or more years ago. We recommend making a list of all of the state and federal level resources you intend to search, so that you can cross them off as you proceed through your search.
Nevada's unclaimed money site looks a little different from other state sites, but the process for finding and claiming property in Nevada is similar to the process you follow in other states. It does not use Missing Money to run its unclaimed property database, though it does link to Missing Money to help people run searches in states that do use Missing Money. In our tutorial, we will cover specifics about how to run an abandoned property search in Nevada. The tutorial includes information such as: how to search for abandoned property in Nevada; how to claim abandoned property in Nevada, including the Fast Track status for smaller claims; links to Nevada's unclaimed property database; links to Nevada's unclaimed property laws; and information about finder/locator services.
Nevada calls its unclaimed property database the Unclaimed Property Search Portal.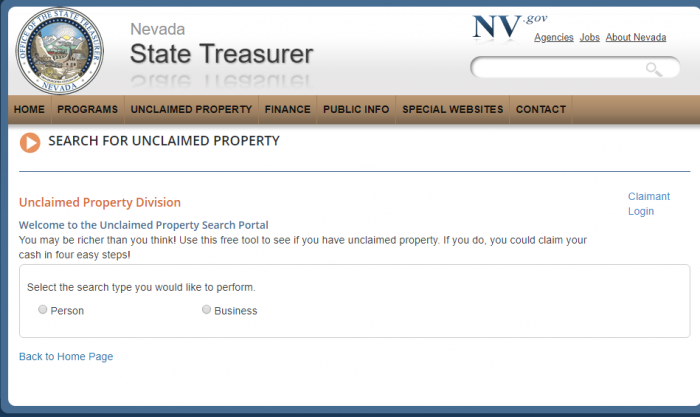 Nevada uses the term unclaimed property, which is the most common term used. However, you may also see unclaimed property referred to as abandoned property. In addition, you may run across the terms unclaimed money and abandoned money. In fact, Nevada uses some of these other terms on their website.
Nevada's Unclaimed Property Database
Before statewide unclaimed property databases became the norm, people had to search for unclaimed property on a county-by-county basis. This would have meant that, in Nevada, you would have needed to run searches on all of the following counties in order to run a comprehensive statewide search: Carson City, Churchill, Clark, Douglas, Elko, Esmeralda, Eureka, Humboldt, Lander, Lincoln, Lyon, Mineral, Nye, Pershing, Storey, Washoe, and White Pine. Fortunately, because the statewide database now contains information about all of the counties in Nevada, you no longer have to run these individualized searches.
What is Unclaimed Money?
Each state has its own definition of unclaimed money/ abandoned property. While these definitions are essentially the same, they may contain some important statewide differences. Like most states, Nevada specifically excludes real estate and motor vehicles from its unclaimed property laws. Basically, Nevada looks at unclaimed property in terms of obligation. If a holder has possession of something that creates a financial obligation from the holder to the owner of the property, then it is the type of property that can be considered unclaimed or abandoned if left abandoned for the statutory period of time.
How Much Unclaimed Money is in Nevada?
Nevada is a relatively sparsely populated state, but it has a huge amount of unclaimed property. Currently, Nevada is holding over $830 million in unclaimed funds. Last year, Nevada returned over $37 million in unclaimed/ abandoned property to its rightful owners. Just keep in mind that, while this number is large, it reflects only a small portion of unclaimed property available. In the United States, there is approximately $42 billion in unclaimed property. This figure is the one cited by the National Association of Unclaimed Property Administrators (NAUPA). NAUPA is an organization devoted to helping actual owners find and claim their abandoned property. Usually unclaimed property administrators, such as the various state treasurers, are members of NAUPA, but its membership is not limited to public officials.
Nevada Unclaimed Money Finder
Nevada's Unclaimed Property Search Portal
As you can see, you can run searches for people or for a business name. If you select to run a search for a person, then you get a search page that looks like this: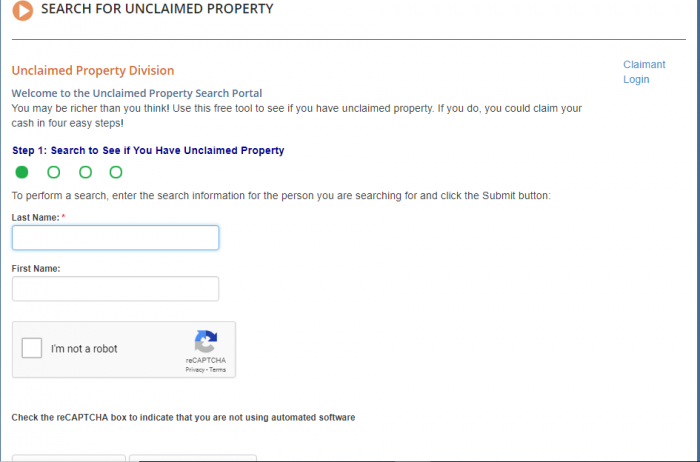 Searching for a person lets you search by last name only, by last name and first name. At the beginning stage, it does not allow for additional search parameters.
If you run a search for a business, then you get a search page that looks like this: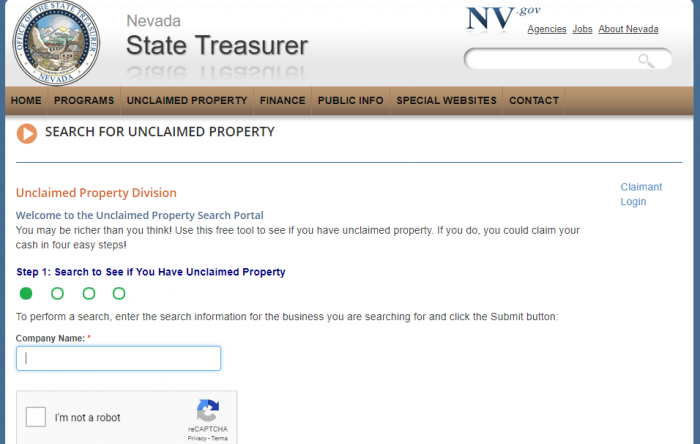 You can run your search using only the business name. You cannot add other search parameters to the search at this time.
For the purposes of this tutorial, we are going to run a search for the name Bob Smith. The search is conducted for a person, not a business. Searching for a business is a similar process, but we are following the search for an individual process to take you through some of the steps you may encounter during your own search. We intentionally chose a common name because of some of the challenges that can occur when searching for a common name.
For example, with unusual last names, a last name search may make sense. The more common the last name, the more likely you are to have an unmanageable amount of search results when searching solely by last name. Searching for Smith in Nevada results in 67 pages with 15 records on each page: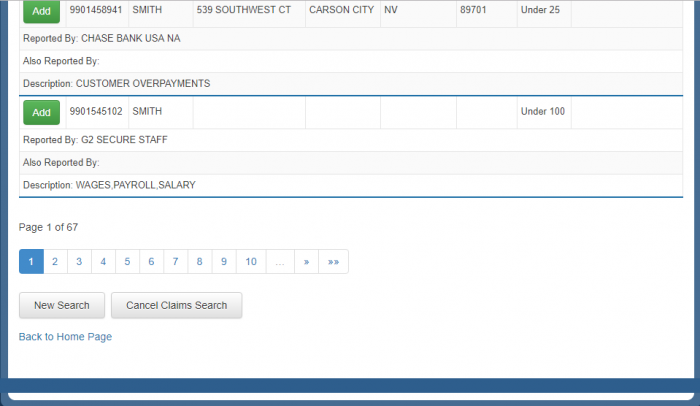 Searching for Bob Smith helps narrow down those results. Instead of 67 pages of 15 records per page, you get 6 pages of 15 records per page: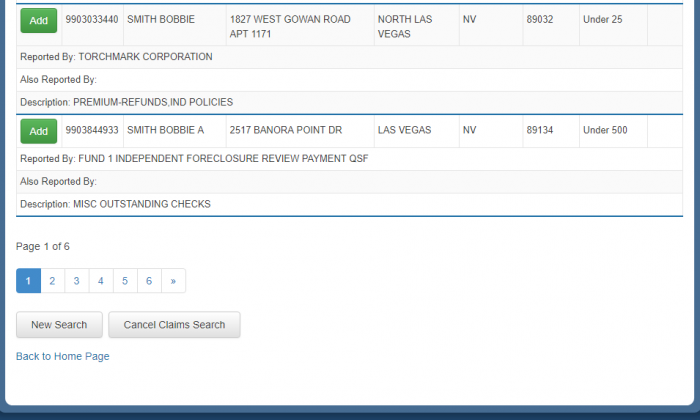 Regardless of how many search results you get; it is important to know what you are looking at with the search records: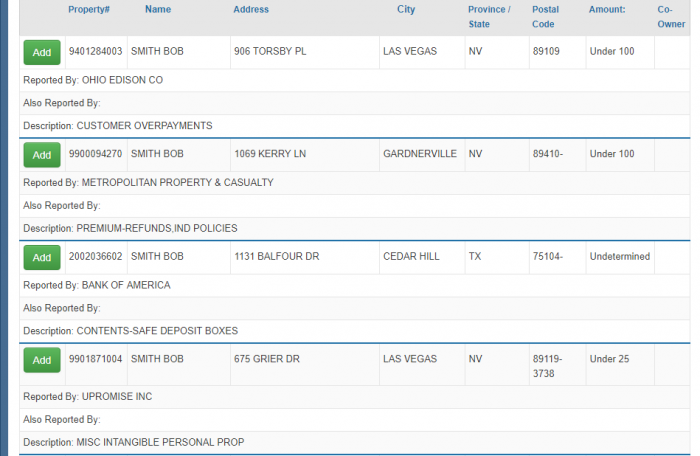 Each result has a property number, the name of the property owner, the address of the property owner (last known), the city, the state, the postal code, and the amount of the claim. There is also space to identify a co-owner, if a co-owner is listed on the property.
We chose an intentionally generic name like Bob Smith for a few reasons. One reason is to show you that there can be an unmanageable number of results for a common name when doing a last-name only search. The other is to show you that you may have to do multiple searches. For example, Nevada turns up results for names containing Bob, like Bobbie and Bobby, but not for names where Bob is a common nickname, such as Robert. You may have search for multiple names to ensure that you have found all unclaimed property associated with an individual. Did the person go by a given legal name, a nickname, initials, a married name, or a maiden name? If so, you will want to include those names in your search.
If you think that you have found property that belongs to you, you can click the green "Add" button the right side of the record. Doing so will result in a property being added to the list of potential claims you have:
If you find property that you think belongs to you, you can claim it by clicking the claim button that is located to the left of the property on the search page: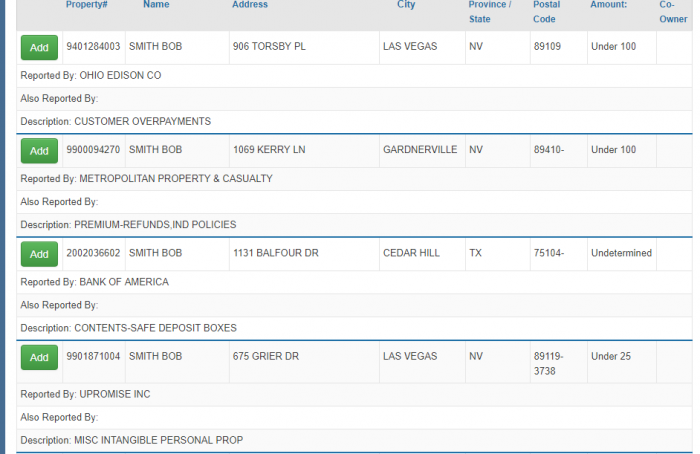 Once you hit a green add button, a pop-up should appear on the screen, indicating that you have added a claim or claims, to your cart: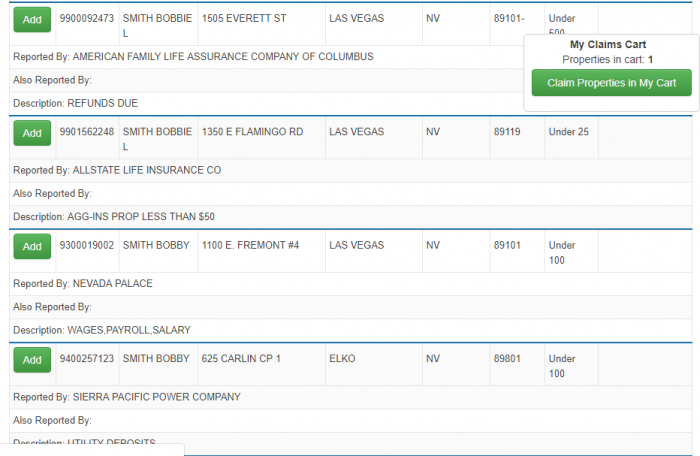 Once you have selected all of the properties that you believe you can claim, you hit that green "claim properties in my cart" button. Hitting the button takes you to the next step in the claim process, a screen that looks like this: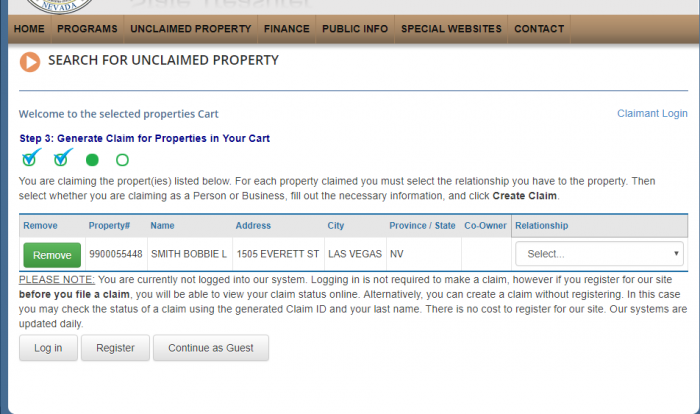 This example only shows one property, but you may have several different properties that you are claiming. You will notice that, on the right of each property, you will see a place to claim your relationship. This is a necessary part of each claim. Your options will be: owner; heir-executor; business-corporate officer; holder refund; guardian-custodian; and other.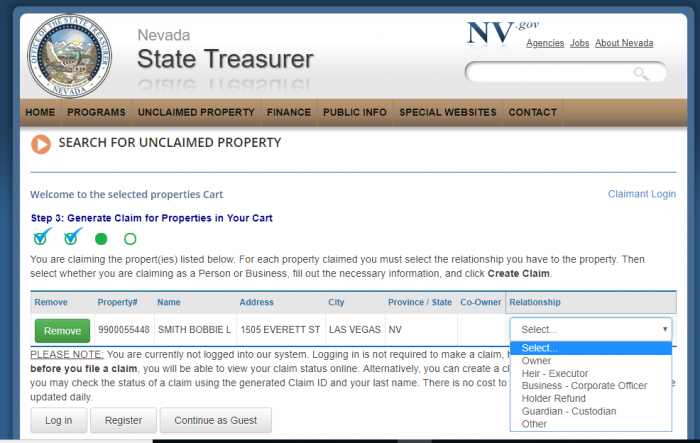 If you are not logged in to the system, you can continue as a guest. If you are logged into the system, your information may already be saved. If your information is not saved or is incomplete, you will be asked to fill in claimant information: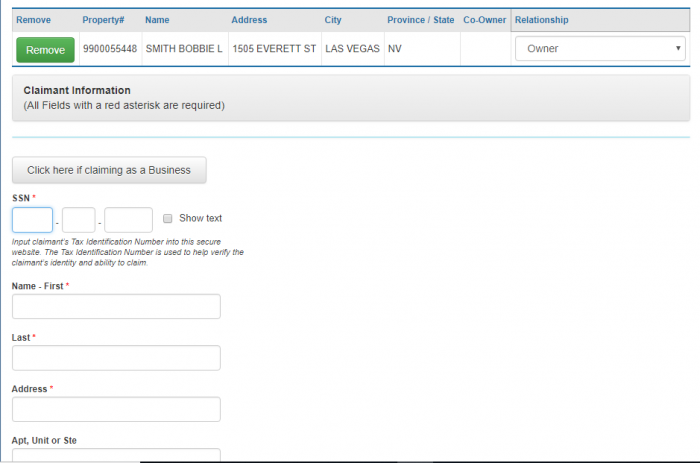 Information requested on the claimant information form includes: social security number, first name, last name, address, zip code, city, state, email address, phone, country, and birth date.
The Nevada claim form also contains an indemnity clause. This clause states that your claim is valid and just and indemnifies the state from claims by other valid owners. You must agree to the indemnification clause in order to create a claim: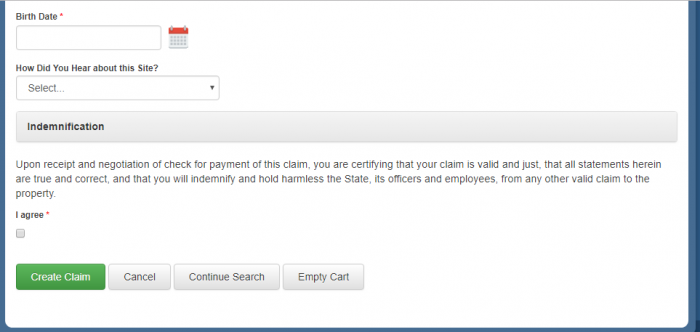 Proof for the claims depends on your specific circumstances. For some claims, you may be asked to fill out additional forms. You can find those forms here.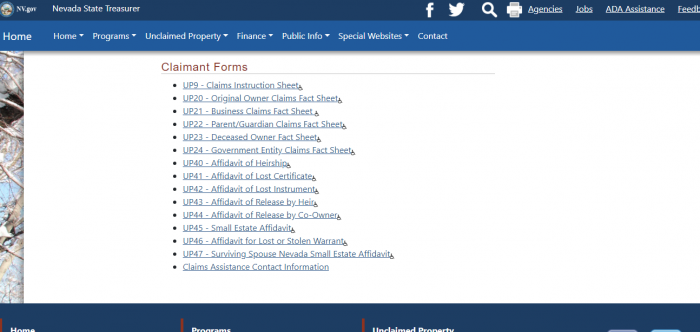 In addition to that information, you may need to provide proof of ownership of the claim. For individuals, proof of ownership can include: the claimant's driver's license or other government-issued photo identification; or a copy of claimant's social security card or a government-issued document showing the social security number. For businesses, proof of ownership needs to include: documentation providing the tax identification number (TIN) or federal employer's identification number (FEIN); documentation providing evidence that the person filing the claim has authority to act on behalf of the business; and a copy of the authorized person's government-issued photo identification. For some property, no social security number, TIN, or FEIN will have been reported on the property. In those instances, the claimant will have to submit additional documentation proving a relationship to the property.
Unclaimed Money Laws in Nevada
Nevada's Unclaimed Property (Uniform Act) in Nevada Revised States Chapter 120A.
Nevada Unclaimed Property FAQ
How long does Nevada hold unclaimed money?
Nevada acts as the custodian for unclaimed money in perpetuity, which means that it will hold the money for the original owner or the owner's heirs until the money is claimed. However, no interest is paid for the property for the time it is held in custody.
Examples of Unclaimed Money
Nevada's list of examples of unclaimed property includes the following: uncashed payroll checks, bank accounts, utility deposits, traveler's checks, insurance checks, stocks, gift certificates, mutual funds, bonds, insurance policy benefits, dividends, insurance claim payments, oil and gas royalties, court deposits, and safety deposit box contents. The list is non-exhaustive, however the state of Nevada specifically exempts the following types of property: automobiles, boats, taxes, and tangible properties.
Does the state of NV make efforts to locate owners?
The state publishes public notices of the property in the paper and sends contact postcards to the last listed address for the property.
Other sources to search besides NV state database?
We assume that if you are starting your search in Nevada, you live in or recently lived in Nevada. However, you may want to include other states in your search. You want to look in all states where you have resided, as well as any states where you may have business contacts. In addition, you may want to check some national-level sites. There are some sites we suggest for all people, as well as some sites that you might want to check based on your specific circumstances. The sites we suggest for everyone are: the Internal Revenue Service (IRS), the Pension Benefit Guaranty Corporation, the U.S. Treasury, and the Life Insurance Policy Locator. The additional sites that you may want to check, depending on your individual circumstances include: the FDIC, the Department of Housing and Urban Development http://entp.hud.gov/dsrs/refunds, the National Credit Union Administration, and the Veteran's Administration Benefits Department.
In our opinion, everyone needs to check the IRS. The IRS is the nation's largest holder of property, the money it holds never escheats to the state, and income tax refunds are never forwarded to a new address. The IRS specifically addresses this on its website: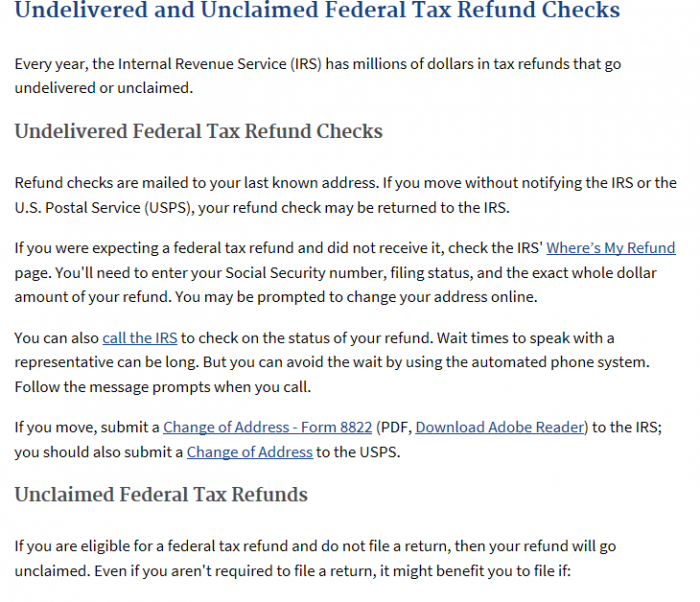 If you believe that you should have received an income tax return, you can even check for the refund on the IRS's Where's My Refund? page.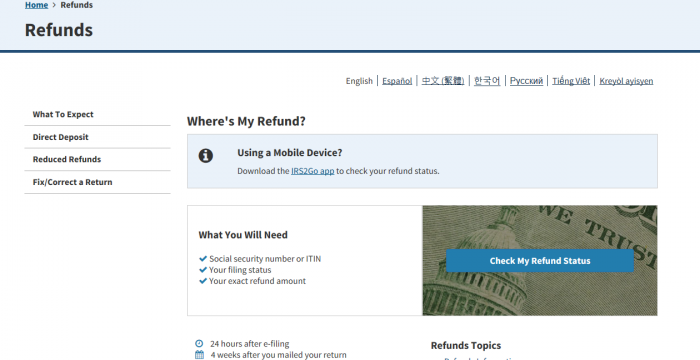 Another huge source of money held on the federal level is the U.S. Treasury, which has over $17 billion in unclaimed property. The majority of this property is held as unpaid savings bonds. The Treasury used to have an easy-to-use unclaimed money website. It no longer operates that website, but you can still visit the U.S. Treasury website at Treasury Direct or call them at 844-284-2676 to find out more information on claiming lost bonds: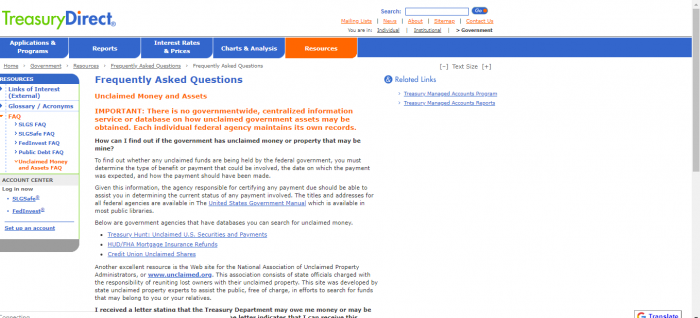 You may not realize that the federal government guarantees private pension benefits through the Pension Benefit Guaranty Corporation (PBGC). The PBGC operates a database to help people locate their unclaimed pension benefits: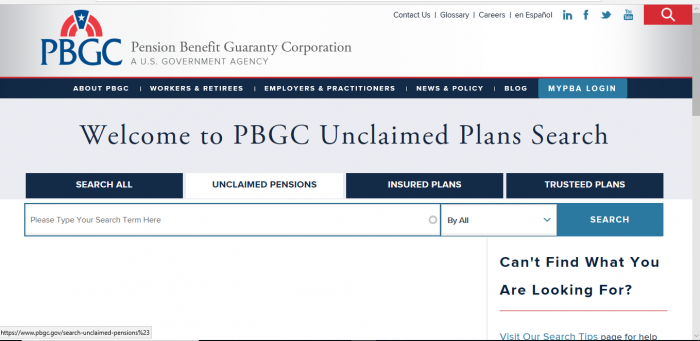 The final of the four must-visit national level sites is not operated by the federal government. Instead, it is operated by the National Association of Insurance Commissioners, a group composed of many life insurance agencies. The National Association of Insurance Commissioners' Life Insurance Policy Locator Service does not operate a searchable database, but does operate a system that lets you input your personal information and then distributes it to member agencies, so they can see if you are a named beneficiary in one of their policies: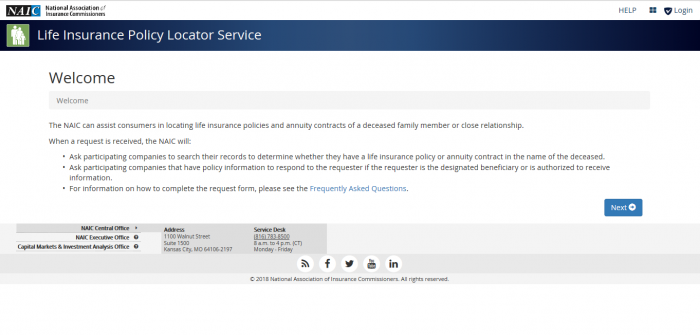 What is the best way prevent my property from becoming lost or unclaimed?
Nevada gives specific tips to prevent property from becoming abandoned. These tips include: updating accounts anytime you have an address or name change; maintaining accurate and current records of your accounts, deposits, stocks, and safe deposit box locations; responding to companies when they inquire about keeping your accounts active; and cashing all checks promptly. We would also suggest opting for electronic account management, when available.
How do I make sure my heirs know where my assets are if I die?
A will is not sufficient to make sure that your heirs get your assets when you pass; they have to know where to find the property. Designate a trusted person and leave them with information on how to access your accounts in the event that you die or become incapacitated.
Should I hire a finder to conduct the search?
Because searching and filing a claim are both free, there may not be any reason for you to hire a finder service. However, if you feel like the process would be too time-consuming or difficult, you can always choose to hire a finder. Under Nevada Revised Statutes § 648.012 all finders must be licensed as private investigators in Nevada; no claims are paid to the finders; and all transactions between finders and claimants are between them, without the state's involvement.
Why does Nevada take possession of unclaimed property?
Like most unclaimed property programs, Nevada operates the program to facilitate actual owners in their efforts to find and claim their abandoned property.
Conclusion
Want to treasure hunt without the risk? Then search for your unclaimed property, today. Millions of people around the U.S. have missing money just waiting to be claimed. Are you one of them?