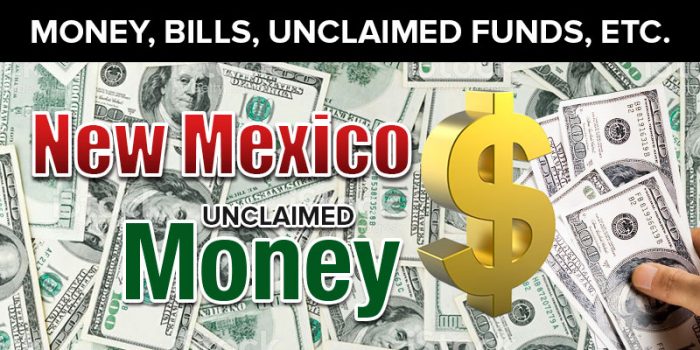 Introduction
Running an unclaimed money search in New Mexico? We can help. Our step-by-step tutorial takes you through all of the steps you need to follow search for unclaimed property, whether you live in New Mexico, previously lived in New Mexico, or are searching for property for someone else who lived in New Mexico. In addition to helping you locate money or property that is being held in the custody of the New Mexico Department of Taxation and Revenue, our guide will also point out other places where you should search for unclaimed money and tell you how to run searches in those databases.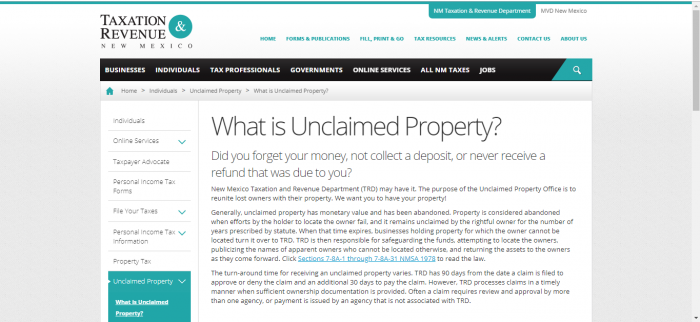 To run a full search for unclaimed property in New Mexico, you may need to look at resources that are not handled by the state of New Mexico. Fortunately, this guide tells you everything you need to know if you are searching for or want to claim unclaimed money or property. It covers the definition of unclaimed property; how to run an unclaimed property search; where to search for unclaimed money; why states have unclaimed/abandoned property databases; how New Mexico's unclaimed property law works; links to New Mexico's unclaimed property laws; links to New Mexico's unclaimed property websites; links to federal unclaimed property websites; how to file an unclaimed property claim; what types of documentation you may need to substantiate your unclaimed property claim; and an overview of "finder" services.
New Mexico's Department of Taxation and Revenue is responsible for maintaining its unclaimed money database. It also safeguards unclaimed property for property or money for the property's rightful owners. Once a claim is filed with the Taxation and Revenue Department, New Mexico has 90 days to process the claim, and then an additional 30 days to pay the claim after it is processed. New Mexico uses the Missing Money, a service that provides unclaimed property databases for a number of different states, but not for all states and territories in the United States. In addition to being able to go directly to the Missing Money website, you can access it from the New Mexico Taxation and Revenue Department's website: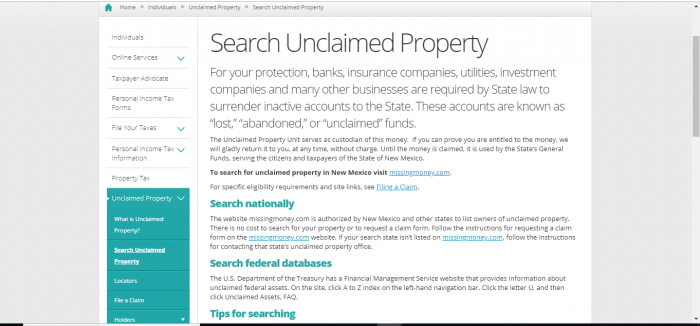 Even if you reside in New Mexico, you may need to look at other places when conducting a search for property that may be in the government's custody. For example, if you lived in other states in the past, then you may have unclaimed money in those states. Furthermore, there are some specific types of money, such as tax returns and U.S. savings bonds, that do not escheat to the state.
Some people find the idea of running an asset search to be intimidating. However, the process is rather straightforward. State government, territorial governments, and some branches of the federal government have tools that have been specifically designed to help you find and claim your abandoned property. The only real problem with these tools is that using them can become very time-consuming. That is not because any one of the tools is especially burdensome, but because a complete search needs to involve looking at the databases in every state where you have resided or had business contacts, as well as some federal databases.
What is Unclaimed Money?
Unclaimed money, which may also be known as unclaimed property, is property that has monetary value and has been abandoned. Before property can be considered abandoned, the holder must have made efforts to locate the owner, but been unable to do so. In addition, the owner must have failed to claim the property for a period of time, as designated by statute. When that statutory period of time expires, the holders turn the unclaimed property over to the Taxation and Revenue Department. The Taxation and Revenue Department takes custody, but not ownership, instead acting as a custodian for the funds. As a custodian, the Taxation and Revenue Department is responsible for safeguarding the funds, attempting to locate the owners, publicizing the names of owners who cannot otherwise be located, and returning the property to the owners when the owners claim the property. In New Mexico, unclaimed property is governed by New Mexico Statutes Annotated §§ 7-8A-1 to 7-8A-31.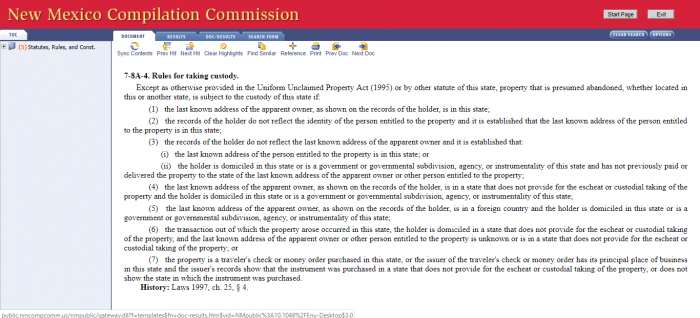 How Much Unclaimed Money is in New Mexico?

New Mexico has a significant amount of unclaimed property. It is holding approximately $150 million in funds for New Mexico property owners, as well as tangible personal property with an unspecified total value. This may seem like a lot, but it is actually only a small fraction of the amount of unclaimed property available in the united states. The National Association of Unclaimed Property Administrators (NAUPA), a nationwide organization devoted to caring for unclaimed property, estimates that there is $42 billion in unclaimed property in the United States.
New Mexico Unclaimed Money Finder
New Mexico does not operate its own independent unclaimed money database, but instead uses the Missing Money site. To search for money in New Mexico, go to www.missingmoney.com, fill in your last name, first name, and New Mexico. It will then perform a search of the New Mexico database.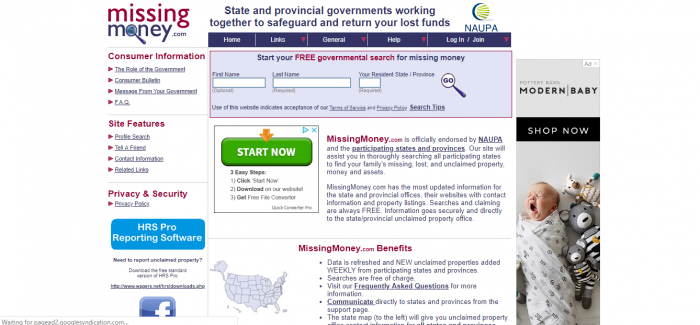 As with other states, all of New Mexico's counties report unclaimed money to the central state database. This means that you can find information for all of the following counties by searching at the state level: Bernalillo, Catron, Chaves, Cibola, Colfax, Curry, De Baca, Dona Ana, Eddy, Grant, Guadalupe, Harding, Hidalgo, Lea, Lincoln, Los Alamos, Luna, McKinley, Mora, Otero, Quay, Rio Arriba, Roosevelt, Sandoval, San Juan, San Miguel, Santa Fe, Sierra, Socorro, Taos, Torrance, Union, and Valencia. In addition, when publishing lists of unclaimed property, New Mexico often breaks the lists down into counties or even into towns, in an effort to make it easier for people to locate their abandoned property.
Because New Mexico uses Missing Money to run its unclaimed property database, all that you need to begin your search is last name or company name if you are searching for a business and first name.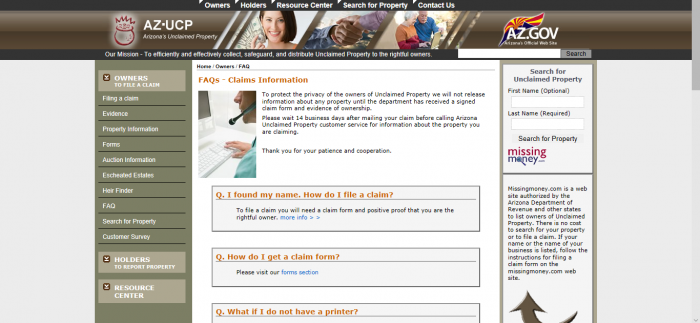 Depending on how common your name is, you may find a number of false positives when using those parameters. Having the following information available should help you narrow down your list of potential property claims to likely property claims: all names including married names, maiden names, nicknames, and aliases; current address; prior address; employer names and addresses; social security number; and common misspellings of your name.
After you have located your money, you need to fill out a claim form and provide documentation to support that you are the rightful owner. The type of documentation and the eligibility requirements depends on the type of property and your relationship to the property owner. In some instances, the Sate of New Mexico may request additional documentation.
Send your claim and documentation to:
New Mexico Taxation & Revenue Department
Unclaimed Property Division
P.O. Box 25123
Santa Fe, NM 87504-5123
For original owners or people claiming on behalf of original owners, New Mexico requests that claimants submit the following evidence: a signed and notarized claim form; a copy of a government-issued photo ID; proof of Social Security Number; proof that you lived at or received mail at the address associated with the property; legal documentation of the relationship to the owner if claiming on behalf of another; photo identification for the owner and the person claiming, if applicable (if the original owner lacks photo identification because of incapacitation, and you can provide a notarized statement from a care provider to establish this). To prove that you lived at a listed address, you can provide the following documents showing the address: auto registration; bank statements; utility statements; birth certificates; marriage certificates; court documents; credit reports; driver's licenses; Medicare card; insurance policy; postmarked envelope addressed to you at the address you are proving; proof of ownership (like a deed or mortgage); and school transcripts.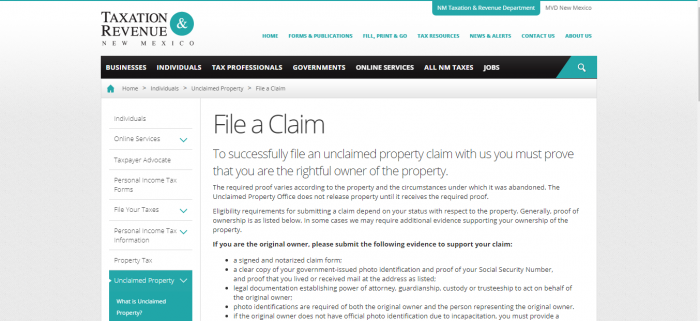 Unclaimed Money Laws in New Mexico
In New Mexico, unclaimed property is governed by New Mexico Statutes Annotated §§ 7-8A-1 to 7-8A-31.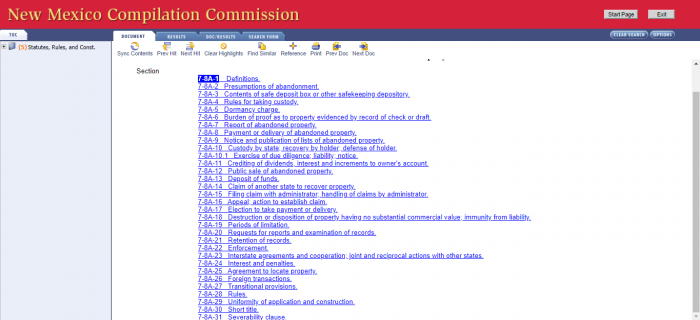 New Mexico Unclaimed Money FAQ
How long does New Mexico hold unclaimed money?
Unclaimed personal property may be sold after three years. However, if the cost of sale will exceed the value of the property or the price offered at auction is considered insufficient, the state does not have to sell the property. New Mexico holds onto unclaimed money and the proceeds from selling personal property that has value for an indefinite period of time. It can be claimed by the actual owner at any time.
Examples of Unclaimed Money
Unclaimed property is any type of property that has value, which has been abandoned by the owner for a statutory period of time. Examples of unclaimed money include: money deposited into checking or savings accounts, deposits, uncashed checks, drafts, interest dividends, income, uncashed payroll checks, checking accounts, savings accounts, safe deposit box contents, customer overpayments, securities, credit balances, and unidentified remittances.
Does state of NM make effort to locate owners?
Yes. Under New Mexico Statutes Annotated §7-8A-9, each year the state is required to publish a list of property that was received from holders the previous year. The state must publish that list in a publication that gets general circulation in the county where the property was held.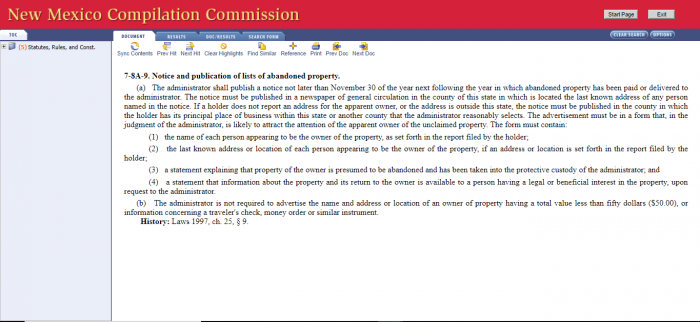 Other sources to search besides NM state database?
Even if you, or the person for whom you are searching, never resided outside of the state of New Mexico, we believe a methodical approach to searching for unclaimed money is the only way to make sure that you have not missed any assets. Depending on your individual circumstances, some steps may not apply; in that case, simply skip that step.
First, start with making a list of all the states where the person resided or may have had business contacts. The types of business contacts that sometimes result in the state holding money for a non-resident tend to be related to employment and insurance, so look for states where employers may have been headquartered and where insurance may have been purchased.
There are also some important national databases to search for unclaimed property, because not all unclaimed property will make it into the state databases.
One place where people may have money and not realize it, because bonds are often given as gifts, is with the U.S. Treasury. This is a huge source of unclaimed property, with over $17 billion in unclaimed savings bonds. There is no easy-to-search database. While the U.S. Treasury used to operate a lost savings bond database at its Treasury Direct website, it discontinued that site. However, you can get information about missing savings bonds by calling them at 844-284-2676 or writing to the Bureau of Public Debt.
Probably the most important non-state site to search is the Internal Revenue Service. The IRS does not forward tax refund checks, and it does not turn over those uncashed refund checks to the state.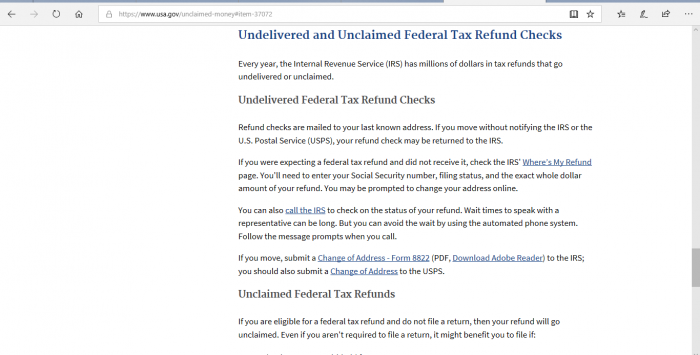 To find out if you have tax refund money waiting for you at the IRS, you can visit its Where's My Refund? page: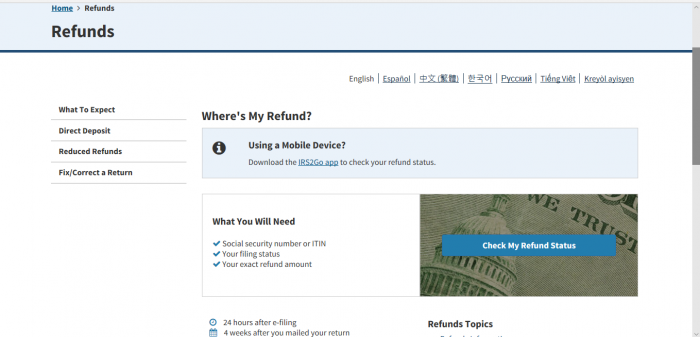 Another surprising source of missing money is in pension benefits. Many people never claim their pension benefits. While pensions are maintained by private companies, they are guaranteed by a federal agency, the Pension Benefit Guaranty Corporation. This agency operates a database for unpaid pension claims, which has over $400 million in unclaimed pension benefits, belonging to over 70,000 potential claimants. Many of these pensions are small, but there is at least one $1million pension.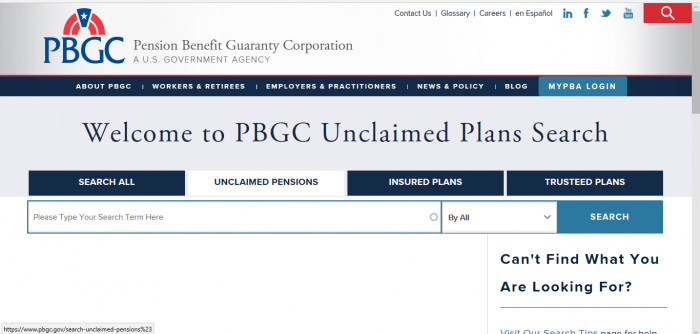 Like savings bonds, you may be the recipient of another source of money and not even be aware of it: life insurance. Unfortunately, looking for unpaid life insurance policies is not as easy as putting in your name and searching a database to see if you are a recipient. They do not offer that service, and some of them do not turn over their unclaimed money claims to the states because they do not have a known address for the intended recipient. Further complicating matters is the fact that not all life insurance companies provide information to a single oversight organization. However, National Association of Insurance Commissioners' Life Insurance Policy Locator Service has information for a number of different agencies, and, while it does not offer a searchable database for potential beneficiaries, it does have a website where you can enter your information for insurers to check against their own unpaid benefits.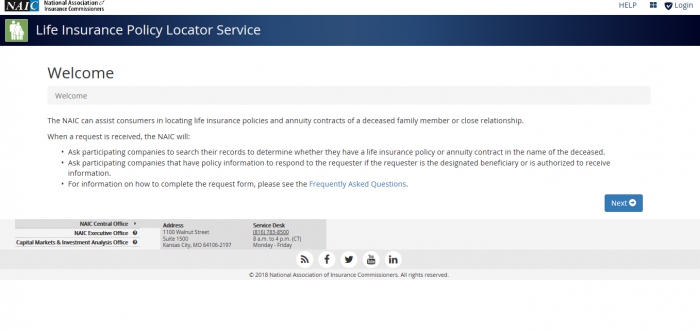 Depending on your circumstances, you may also be listed on other databases that handle unclaimed, abandoned, or even stolen property outside of the United States. One such database is the Holocaust Survivors and Victims Database.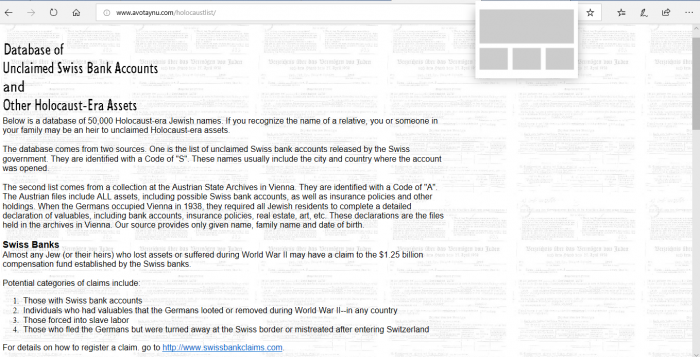 How do I make sure my heirs know where my assets are if I die?
Many people mistakenly believe that all you need to do to make sure your heirs can locate your assets when you die is to write a will. That is not true. A will's purpose is to direct your administrator or other estate representative how to distribute your assets. It can also help your representative get custody of those assets, in order to distribute them according to your wishes. However, it does not tell your administrator where to find those assets.
In order to ensure that your heirs know where to locate your assets, it is important to make sure that a trusted person has information how to access your financial records in case of your death or disability. Frequently, this trusted person is your estate administrator, though it may also be a spouse or other family member. You should also make sure they know where to locate any tangible personal assets, including items in safe deposit boxes.
How can I prevent my property from becoming lost or unclaimed?
The best way to keep track of unclaimed property is to never lose it. Most people abandon property because they forget about it. Life changes, such as moves, result in people losing contact with their financial institutions. Therefore, keeping detailed financial records is critical to never losing track of your money.
Write down accounts when you open them. Include the following information: the name of the financial institution or other holder; the name you used to open the account; the account numbers; the date you opened the account; when deposits are due back to you; the amount of the account of deposit; the physical address of the holder; and phone numbers for the holder. If property is in a physical location, include information about its physical location, such as box number, and a duplicate key.
We highly recommend using electronic account management when it is available. Because you may move or change phone numbers, but are unlikely to change your email address. Just make sure and use a personal email address, rather than one attached to an employer.
Immediately notify all of your financial institutions and other holders of any changes such as name changes, change in address, or change in phone number.
Should I hire a finder to conduct the search?
Finders are third parties, also known as heir locators or asset location services, which search for your unclaimed property or money for you, then, if they find it, file the claim for it on your behalf. While claiming your unclaimed property is free, finders usually charge a fee for their services. These fees can vary, but are usually structured as a percentage of any money recovered on your behalf.
Many people want to know whether or not they should use a finder to conduct their unclaimed property search. There is no single straightforward answer to that question. Every person can perform all of the same actions as a finder, and they can do so for free. However, while the process is free, it is also time consuming. In fact, it can be so time consuming that many people will never find time to do it. Therefore, hiring a finder service may be well worth the fee you spend, if it results in your recovering money that you would not have otherwise recovered.
If you do decide to use a finder service, you need to be cautious and aware of the possibility of fraud. Finder services require your personal information, such as your social security number, to find and claim unclaimed property. There are some fraudulent services that use finder schemes to phish personal property for the purposes of identity fraud. There are also finder services that legitimately perform the service, but charge excessive fees for their services.
Why does New Mexico take possession of unclaimed property?
States take possession of property for two reasons. First, before states took possession, holders of unclaimed property had no incentive to try to find the original owners, because they could use the unclaimed funds to make money until the original owner claimed the property. By creating an unclaimed property register, the state has removed any incentive for holders not to make efforts to keep in contact with owners. The second reason is more pragmatic; the state uses the income that the property produces until the original owner is located.
Conclusion
If you use the helpful tips in our comprehensive guide, you should be able to find unclaimed property in New Mexico, as well as other states and federal databases. Who knows how much money you have out there, just waiting for you to claim it.