While most states handle their unclaimed property programs through their state treasuries, in North Dakota the unclaimed money program is handled through the Department of Trust Lands and the North Dakota Unclaimed Property Division. The Department of Trust Lands is under the authority of the North Dakota Board of University and School Lands. The goal of the North Dakota Unclaimed Property Division is to help reunite owners with their misplaced, lost, or abandoned property. In addition, the Unclaimed Property Division is responsible for educating the public about the unclaimed property program and making sure that the holders of unclaimed property understand the laws and can comply with them.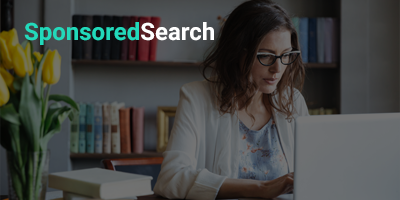 Search Public Records
Are you uncertain whether you may be able to claim any unclaimed money or property? To help you determine if you can, you first need to understand what unclaimed money is. Some people mistakenly believe that unclaimed money is money with no identified owner. While the name implies this, the reality is that unclaimed money is money that has an identified owner. The reason it is unclaimed is that the holder of the money, which is usually a bank, financial institution, or other business, is unable to get into contact with the property owner for a specified period of time. Any customer-driven action counts as contact with the property owner, but if a customer does not take actions on an account and fails to respond to the holder's attempts to establish contact, then the property can become unclaimed.
Almost any type of property can become unclaimed property. The two notable exceptions are real property and motor vehicles, which may be considered abandoned, but do not go through the same type of unclaimed property process as other types of property. Instead, unclaimed property is generally going to refer to the type of intangible person property that can be easily converted into cash. Things like checking and savings accounts, stocks, bonds, securities, uncashed checks, insurance payouts, and other forms of negotiable instruments frequently become unclaimed property. In addition, the contents of safety deposit boxes can become unclaimed property, though the contents may be sold and converted to cash if the property is going to become part of the state's unclaimed property program.
You may have heard of the website, Missing Money. This popular site handles the unclaimed property searchable databases for 37 states in the United States and allows you to run searches in multiple states at the same time. You can find that searchable site at the Missing Money website: www.missingmoney.com. However, in North Dakota, the state handles its own missing money website. Running a search on that website is very similar to running a search on other state databases. However, if you have any questions, you can follow along with this tutorial, which will take you step-by-step through the process of finding and claiming unclaimed money. In this tutorial, we not only provide instructions, but also screen shots so that you can see exactly what we are doing. If you need help in other states, we have tutorials for other states available, as well.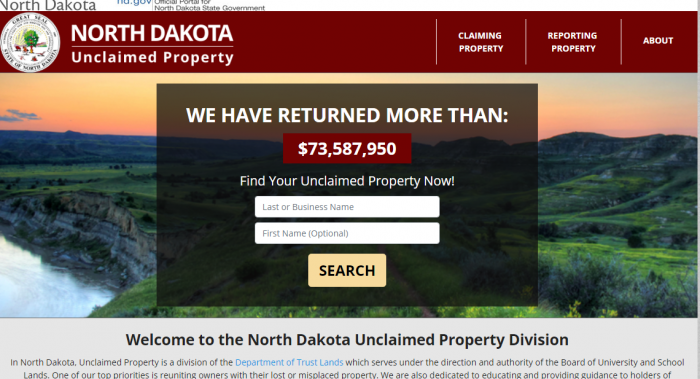 North Dakota's Unclaimed Property Database
While many states began having unclaimed property programs as early as the 1930s, they were often handled at a county-level. In North Dakota, that would have meant searching all of the following counties: Adams, Barnes, Benson, Billings, Bottineau, Bowman, Burke, Burleigh, Cass, Cavalier, Dickey, Divide, Dunn, Eddy, Emmons, Foster, Golden Valley, Grand Forks, Grant, Griggs, Hettinger, Kidder, LaMoure, Logan, McHenry, McIntosh, McKenzie, McLean, Mercer, Morton, Mountrail, Nelson, Oliver, Pembina, Pierce, Ramsey, Ransom, Renville, Richland, Rolette, Sargent, Sheridan, Sioux, Slope, Stark, Steele, Stutsman, Towner, Traill, Walsh, Ward, Wells, and Williams. Fortunately, all of North Dakota's counties now report their unclaimed money to the state's database.
What is Unclaimed Money / Property?
According to the state of North Dakota, the term unclaimed property, which may be used interchangeably with the term abandoned property, refers to accounts held by companies or financial institutions where there has been no activity or contact with the owner of the account for a specific period of time. The most common forms of unclaimed property include: stocks, savings accounts, checking accounts, refunds, uncashed dividend checks, uncashed payroll checks, trust distributions, unredeemed gift certificates, traveler's checks, unredeemed money orders, life insurance policies, certificates of deposit, insurance payments or refunds, annuities, utility security deposits, customer overpayments, mineral royalty payments, and the contents of safe deposit boxes.
How Much Unclaimed Money is in North Dakota?
North Dakota has only a small portion of the unclaimed money available in the United States. Of the more than $42 billion in unclaimed property that National Association of Unclaimed Property Administrators (NAUPA) estimates is available, only $29 million of it is being held by North Dakota.
North Dakota's Unclaimed Money / Property Finder
You can begin your search for unclaimed money in North Dakota at their unclaimed property page.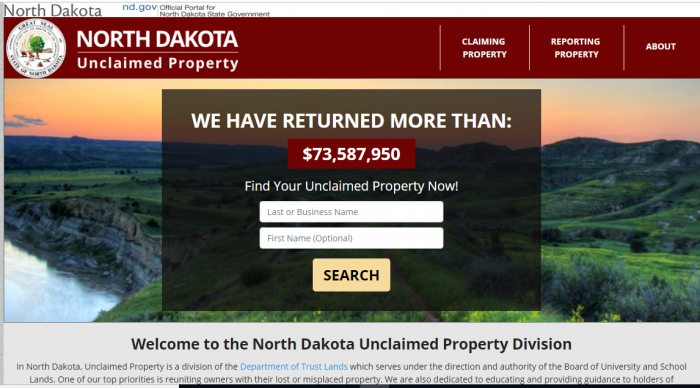 One of the things that you will notice is that the first part of the North Dakota unclaimed money search page only gives you the option of searching by last or business name and first name. It does not include the additional parameters you might find in other searchable databases, such as city, zip code, or property id number.
To keep our tutorials consistent, we use the same name for our searches in every tutorial. In addition, we chose a very common name: Bob Smith. The reason we chose a common name is because there are some common pitfalls that searchers encounter when looking for fairly common names. By taking you step by step through a search using a common name, we can share our tips for how to avoid some of those pitfalls, so that you can meaningfully narrow down your search results. We begin the search by looking for the last name Smith. While the search narrows down the results below the 1,000 result parameter, it still resulted with 873 potential hits: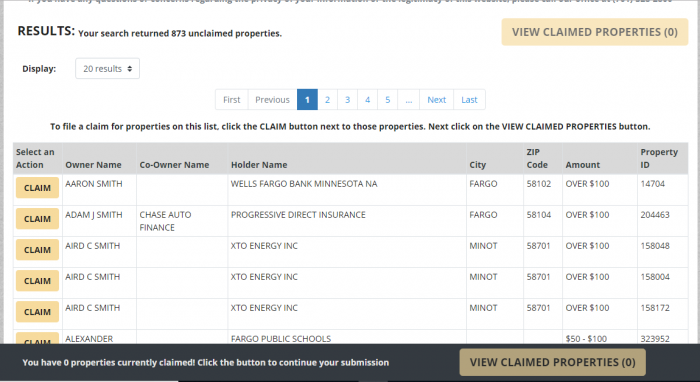 Also, beginning your search brings up the opportunity to put in additional search parameters. Those search parameters include: first name, city, zip code, and property ID: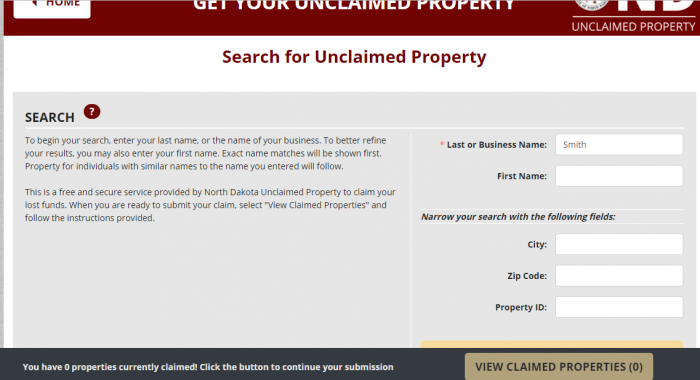 We add in the first name Bob to help narrow down results. Using Bob Smith does not actually remove any of the search results, because it still shows 873 results. Instead, what it does is prioritize the search results. Interestingly enough, there do not appear to be any properties in the name Bob. However, there are properties listed under names that are frequently used when one is named bob, such as Robert. These names are then listed at the top of the search results: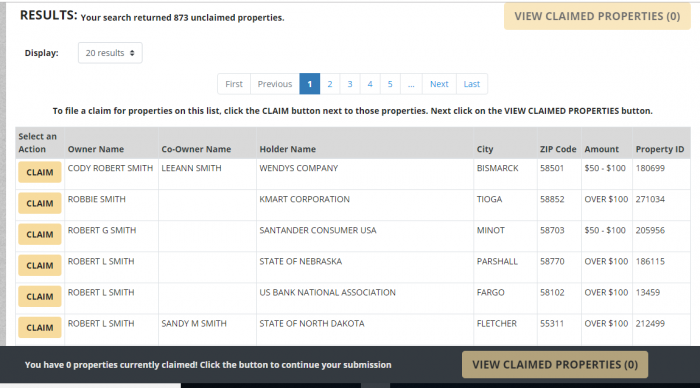 To narrow down the results even more, you can use one of the additional search parameters, such as city, zip code, or property ID number. If you have a property ID number, that is a great tool to use in a search. However, if you do not, using a city can be a good way to limit your potential results. If you do that, just make sure and run the same search for each city if you lived in multiple cities. For our example, we chose the city of Fargo: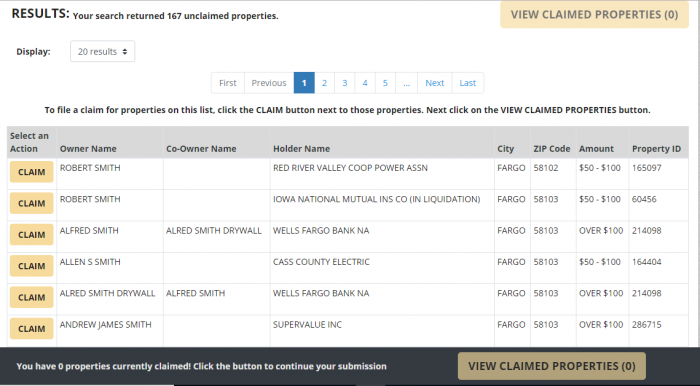 This narrows down the possible results to 167 unclaimed properties, though none are exact matches to the name Bob Smith, but instead just the last name smith, with a few Robert Smith names at the top of the list.
There is not a significant amount of information available from these overviews, but there should be enough information to help you determine whether or not you own the property. Looking at each record, there is an owner name, a co-owner name (if applicable), a holder name, the city, the zip code, the amount of the claim, and the property ID numbers. You will also notice that there is a claim button in the left hand "select an action" column.
To claim a property, you hit the claim button in the selection an action column. When you do so, you will notice a change in the left hand column. It will change it from the claim button to an x that gives you the option to remove the property from your claimed list: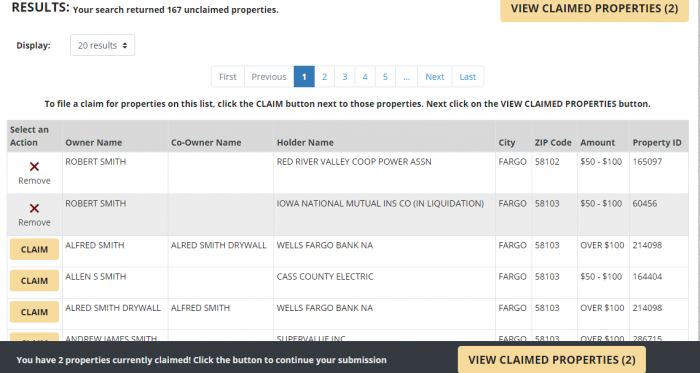 After you have claimed the properties, you can hit one of the view claimed properties buttons on the page. You will notice one in the top right and one in the bottom right of the screen: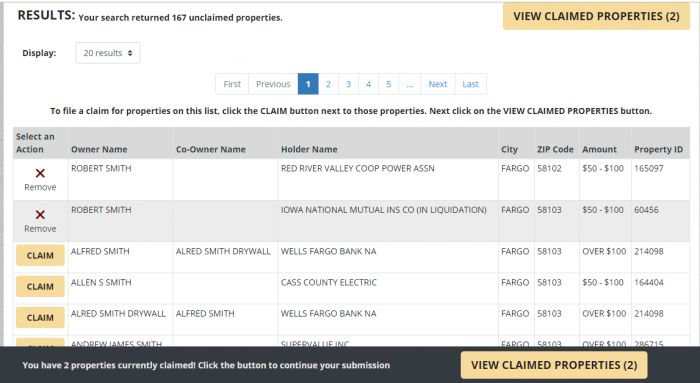 After hitting this view claimed properties button, you are taken to an overview page, where you can review all of the properties that you have chosen to claim. If you have made any errors, you can remove the property at this stage: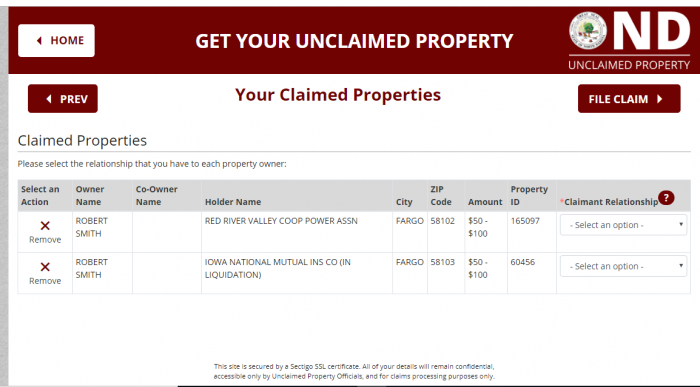 You will also notice that, on this page there is a space for you to choose the claimant relationship. This means the relationship that you have to the original property owner. The options that you have when selecting the claimant relationship include: owner, estate, business, and legal representative: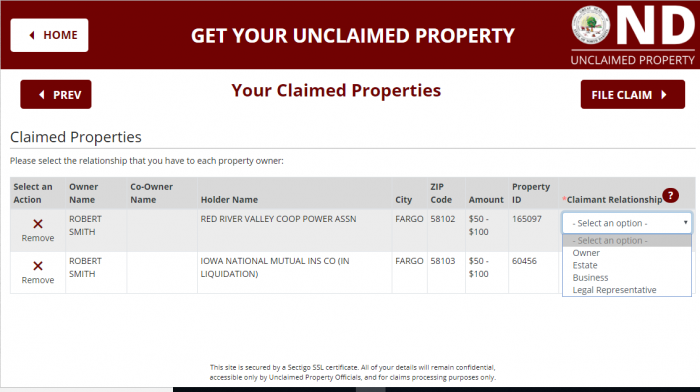 Picking a claimant relationship is not optional; you must pick a claimant relationship if you want to proceed to the next step. After you do that, you can hit the file claim button. That button is located near the top right of the screen: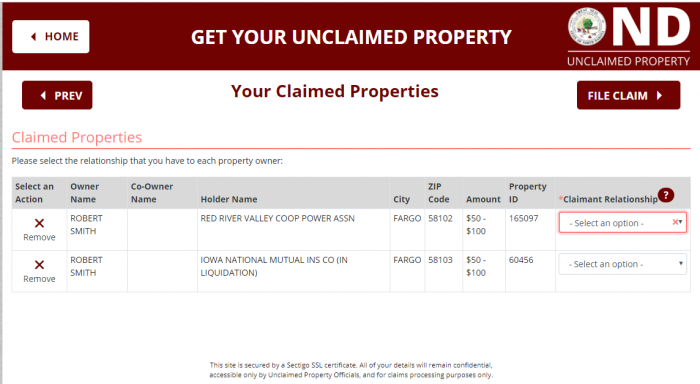 Once you hit the button to file a claim, you are then taken to a claimant information form. This form asks you for identifying information to help establish the claim. The information requested includes your: last name, first name, middle name, date of birth, email address, home phone, social security or tax id number, address, and how you heard about the program: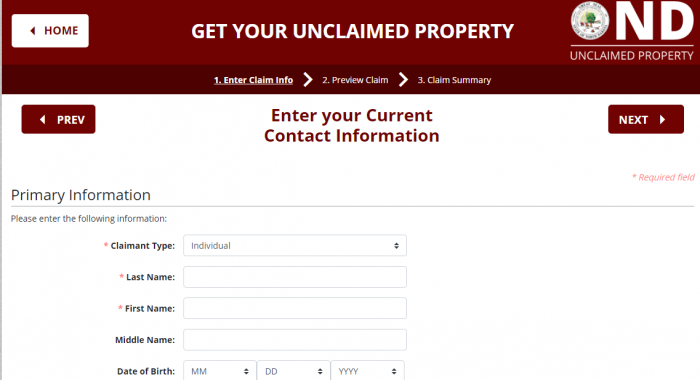 Once you have filled in all of your required contact information, you can hit the next button that is located on the top right of the screen. Once you submit this information, depending on the type of property being claimed and the claimant relationship that you selected, you will get specific information about the type of documentation/ proof you must provide in order to proceed with your claim.
Unclaimed Property Laws in North Dakota
You can find North Dakota's unclaimed property laws in North Dakota Century Code Chapter 47-30.1 in the Uniform Unclaimed Property Act.
North Dakota Unclaimed Money FAQ
How long does North Dakota hold unclaimed money?
North Dakota will hold property owner's money indefinitely until the property owner or the property owner's heirs can claim the money.
Examples of Unclaimed Money
Most intangible property held in accounts can become unclaimed or abandoned money if the property owner loses contact with the holder of the property. Two types of property are specifically exempted from unclaimed property: real property (such as land or real estate) and motor vehicles. Common examples of unclaimed property include: money in savings accounts, money in checking accounts, stocks, bonds, dividends, unpaid wages, uncashed checks, and property in safe deposit boxes.
Does the state of ND make efforts to locate owners?
The State of North Dakota will make outreach efforts to inform people that they have money in the unclaimed property program; however, North Dakota cautions anyone against agreeing to pay a fee to recover that money. If the state contacts you, there will be no fee associated.
Other sources to search besides ND state database?
In addition to searching the state where you live, you also want to include some other sites in your unclaimed property search. You need to make a list of states that you should search. These states should include any state where you have lived, states where someone who may have put property in your name or left you property you could inherit may have lived, and states where you may have established business contacts. You want to include those states on your list.
In addition to state searchable databases, you want to look at some federal sites. This is because money held by the federal government will not escheat to the state. In other words, states will not take possession of federal property. The top four we suggest people search include: the Internal Revenue Service (IRS), the Pension Benefit Guaranty Corporation, the U.S. Treasury, and the Life Insurance Policy Locator.
You know what the IRS is and what it does, but do you know why we suggest that you search for unclaimed money with the IRS? The IRS is responsible for processing income taxes for all federal taxpayers in the United States, which means that it has probably had some of your money in its possession in the past. In addition, the IRS has an official policy of not forwarding income tax returns that it receives back as undeliverable because a taxpayer has had a change of address. You can find out more information on this policy at: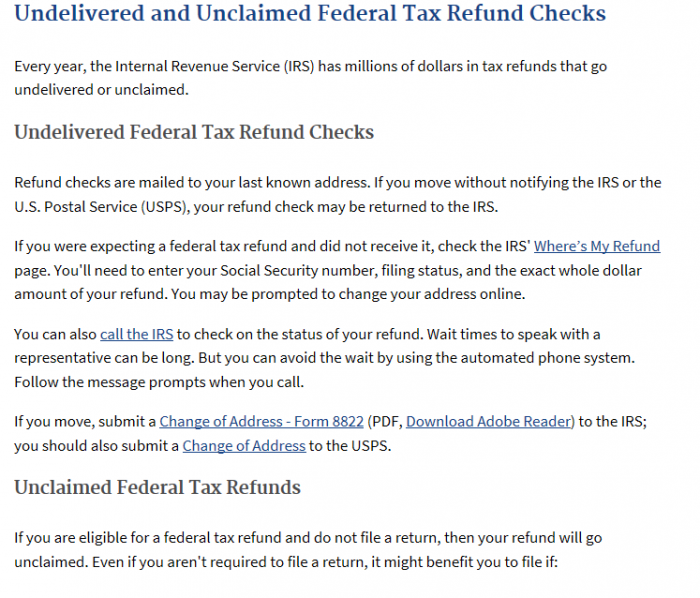 Think you might have a missing income tax return? No problem; head over to the IRS's Where's My Refund? page, to help you locate your money: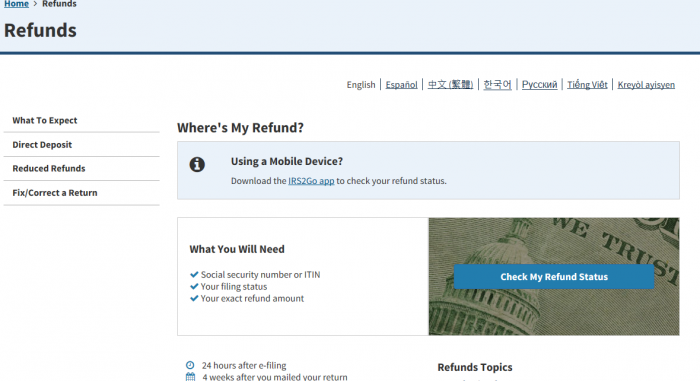 While it is not a mandatory processor for money for Americans, the U.S. Treasury is another organization that processes a huge amount of money for Americans. That is because many people buy U.S. Savings Bonds and other Treasury items from the Treasury. Moreover, many of these items are given as gifts, which makes it easy for the possible owner to lose track of the property. The U.S. Treasury has made it more difficult for people to find their missing money. Not long ago, it operated a searchable database that operated a lot like state missing money databases and helped people reconnect with their money. While it has discontinued that service, you can still contact the Treasury for assistance in finding and claiming your unclaimed money. Contact them by phone at 844-284-2676 or visiting the Treasury Direct website: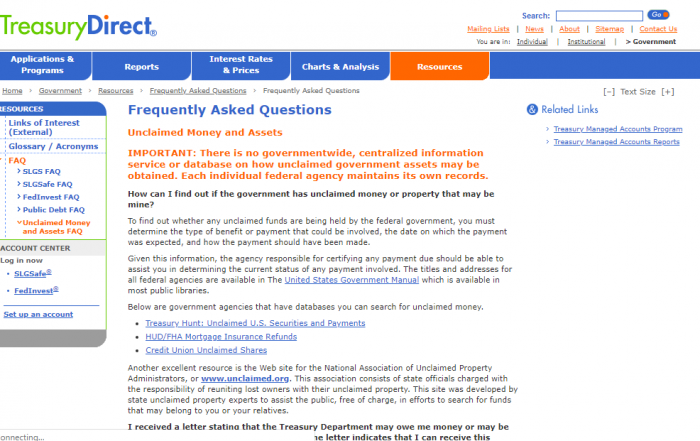 One of the most interesting federal websites to search for unclaimed property is one that not many people know about: the, Pension Benefit Guaranty Corporation (PBGC). This organization is a government-run corporation, whose role is to guarantee private pension benefits. Many people forget that they have pension benefits due to them; in fact, one person has failed to claim a pension worth over $1 million. Fortunately, the PBGC has a searchable database: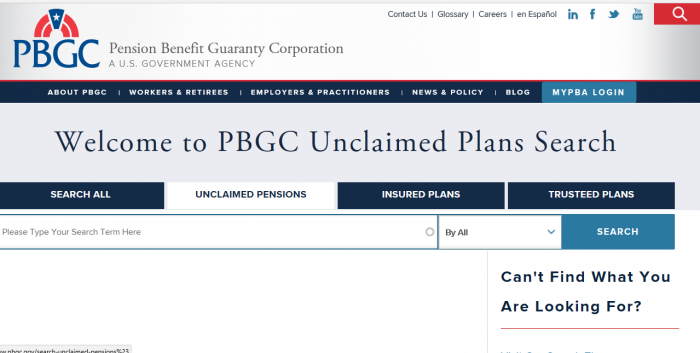 Finally, we recommend putting your information into a fourth site that is run at a national level, but is not part of the federal government or the government for any state. It is the National Association of Insurance Commissioners' Life Insurance Policy Locator Service. This organization is composed of many of the life insurance companies in the United States. These companies may be holding a policy for which you are a beneficiary, but may not be able to report these claims to your state of residence, because it is possible to name a beneficiary on a life insurance claim without giving their address. The only downside to this service is that you do not get instantaneous results. It is not a searchable database that provides you with potential hits. On the contrary, once you supply your information, it is distributed to all of the member agencies, who then search their records to see if they have any policies with you as the beneficiary: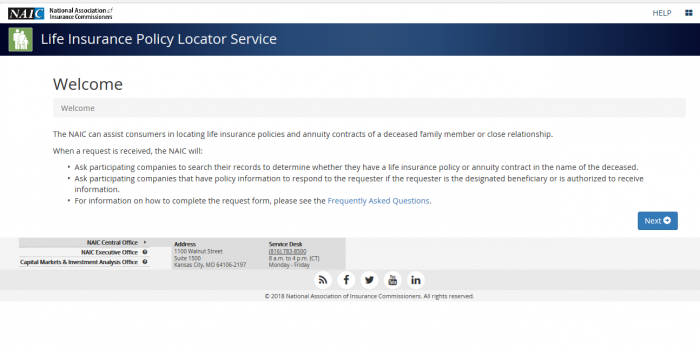 There may be additional sites for you to search, if you have ever had any contact with these agencies. Not all people will have been in contact with them, but, for those who have, it is worth looking to them to see if they are holding any of your unclaimed property. These organizations include: the FDIC, the Department of Housing and Urban Development, the National Credit Union Administration, and the Veterans Administration Benefits Department.
What is the best way prevent my property from becoming lost or unclaimed?
Property becomes classified as abandoned or unclaimed when you lose contact with the holder. The best way to prevent that from occurring is to keep detailed account records with all of your information for all of your accounts and to schedule contact with each institution holding your money for at least a year. Electronic account management can simplify the process. In addition, make sure to inform the holder if you have a change your contact information, have a name change, or a change in marital status.
How do I make sure my heirs know where my assets are if I die?
Designate a trusted person to access your account information in the event that you die or are incapacitated.
Should I hire a finder to conduct the search?
This is a personal choice. It is free to search for and claim your property in North Dakota and the state will never solicit money from you for this process. In addition, the process is relatively simple. However, it can be time consuming. If you do not believe that you will devote the time to a search, then you might find it economical to hire a finder to conduct your search.
Why does North Dakota take possession of unclaimed property?
There are two reasons that North Dakota takes possession of unclaimed property. The first is that it uses the property to create income for the state until the property is claimed by the actual owner. The second is that, by consolidating all of the state's unclaimed property into a single location, North Dakota makes it easier for owners to find and claim their property.
Conclusion
North Dakota has returned more than $73 million in unclaimed property to its rightful owners. Could you be next?