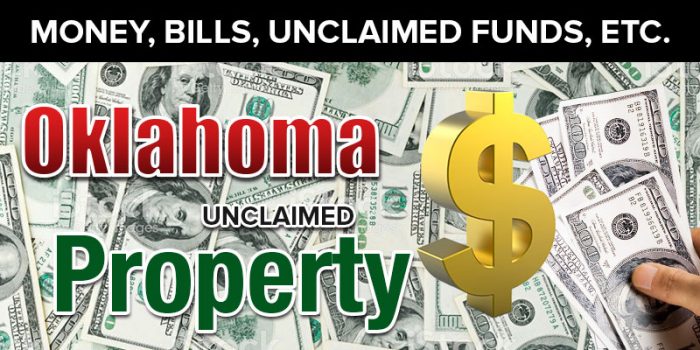 In July of 2000, the Oklahoma State Treasurer took over responsibility for the state's unclaimed property program. The role of the unclaimed property database is to help rightful owners reclaim their abandoned or unclaimed property and money. If you had an address in Oklahoma at the time that property became abandoned, then the property might be located in Oklahoma's unclaimed property database.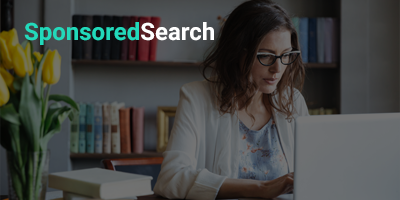 Search Public Records
Many people are uncertain about where to start their unclaimed property searches. You can start your search anyplace where you might realistically have unclaimed property, but most people find it easiest to start in the state where they reside or a state where they recently resided. Where you start your search is not nearly as important as what all you include in your search; you do not want to limit yourself to a single state. If you stop at your state or residence, there is a good chance that you will miss some of your unclaimed property. That is why we put together a complete guide to finding and claiming your unclaimed money.
If you have never conducted an unclaimed property search, then you might find yourself intimidated by the process. Fortunately, while searching for unclaimed money can become time consuming, the process is actually very straightforward. Most states and U.S. territories have a very similar process for looking for and claiming your unclaimed money, as do some (though not all) of the federal-level sites you will also want to search. Once you have completed a search on one of the databases, you will probably be much more comfortable with the process.
We get plenty of questions about how to run an unclaimed money search in Oklahoma. We actually get the same questions for almost every state, but, while the states have similar processes, there are enough differences that we have created state-specific pages. In this document, we provide answer to the frequently asked questions about unclaimed property in Oklahoma. We let you know how Oklahoma defines unclaimed money/ unclaimed property and provide links to the state's unclaimed property laws and unclaimed property sites. We also provide an easy-to-follow tutorial that takes you step-by-step through Oklahoma's unclaimed money process. We explain the types of proof that you may need when making your claim. Finally, we discuss finder services, also known as locator services, and whether or not you need them to run your search.
The Oklahoma unclaimed money program is known as OK Treasure. It is run by the Oklahoma State Treasurer. The Unclaimed Property Division is located at 2300 N Lincoln Blvd, Room 217 in Oklahoma City. You can call them at 405-521-4273 or email them at unclaimed@treasurer.ok.gov. Their office hours are 8:00am to 5:00pm Monday-Friday.
The website for Oklahoma's unclaimed money database.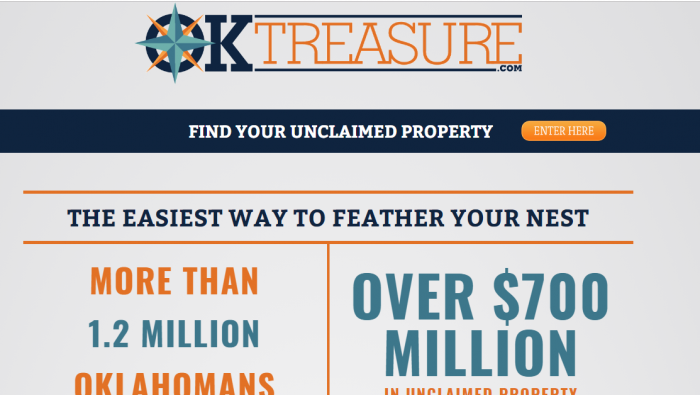 You may hear unclaimed property referred to as unclaimed property, unclaimed money, or sometimes abandoned property or money. To be considered unclaimed, the holder of the money (usually a financial institution, but it can be any business that legally holds onto an owner's money for some purpose) has to have lost contact with the actual owner of the money for a statutory period of time. This generally happens because the actual owner has forgotten about the account and has moved without giving the holder information on how to contact them. Another common scenario is that the owner has died, leaving their heirs without knowledge of the property.
It is logical to start your unclaimed property search in Oklahoma if you live in Oklahoma, previously lived in Oklahoma, or are searching for property for someone who lived in Oklahoma. However, you want to be prepared to expand your search beyond the state. Some times of money never escheat (become custody of) the state. This includes money held by the federal government, including IRS tax returns. In addition, you may have unclaimed money in other states where you have resided or in states where you have established business contacts.
Oklahoma Unclaimed Property Database
Before states moved towards having statewide unclaimed property databases, counties often had their own registries for unclaimed money. This process was far less efficient, and would have meant that searching for unclaimed property in Oklahoma would have required you to run individual searches in all of the following counties: Adair, Alfalfa, Atoka, Beaver, Beckham, Blaine, Bryan, Caddo, Canadian, Carter, Cherokee, Choctaw, Cimarron, Cleveland, Coal, Comanche, Cotton, Craig, Creek, Custer, Delaware, Dewey, Ellis, Garfield, Garvin, Grady, Grant, Greer, Harmon, Harper, Haskell, Hughes, Jackson, Jefferson, Johnston, Kay, Kingfisher, Kiowa, Latimer, Le Flore, Lincoln, Logan, Love, McClain, McCurtain, McIntosh, Major Marshall, Mayes, Murray, Muskogee, Noble, Nowata, Okfuskee, Oklahoma, Okmulgee, Osage, Ottawa, Pawnee, Payne, Pittsburg, Pontotoc, Pottawatomie, Pushmataha, Roger Mills, Rogers, Seminole, Sequoyah, Stephens, Texas, Tillman, Tulsa, Wagoner, Washington, Washita, Woods, and Woodward.
What is Unclaimed Property?
While the definition of unclaimed money/ unclaimed property is fairly consistent from state-to-state, because it is defined by state law there can be some differences. Oklahoma defines unclaimed property as "various types of obligations or liabilities of a business which have been inactive or have not been paid for a period of time after they became payable." The state provides a non-exhaustive list of things that can be considered unclaimed property, which includes: overpayments, loan collateral, credits, refunds, rebates, stocks, deposits, bonds, items held in safekeeping, mutual funds, payroll or wage obligations, garnishments, security deposits, escrow funds, court deposits, unidentified receipts, dividends, amounts held by fiduciaries or trustees, matured insurance policy proceeds and other insurance benefits, royalties, and interest. Like other states, Oklahoma does not include real property such as real estate in its unclaimed money. In addition, motor vehicles are exempted.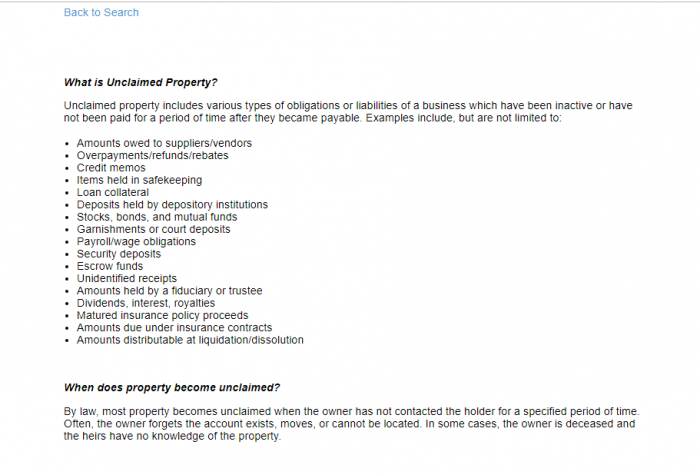 How Much Unclaimed Money in Oklahoma?
Oklahoma has more than $700 million in unclaimed money with over 825,000 potential claimants. This is actually a little more than you would expect, based on Oklahoma's population because, according to the National Association of Unclaimed Property Administrators (NAUPA) there is currently at least $42 billion in unclaimed funds available in the United States.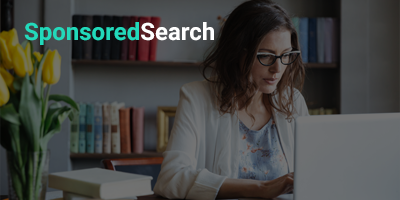 Search Public Records
Oklahoma Unclaimed Money Finder
Oklahoma's unclaimed money database is located at here.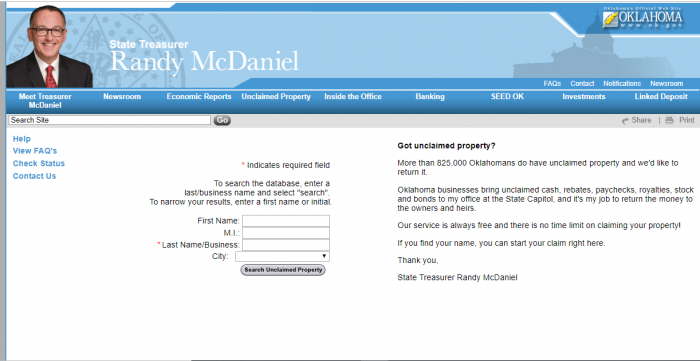 Starting the search is easy; all you need to get started is a business name or a last name: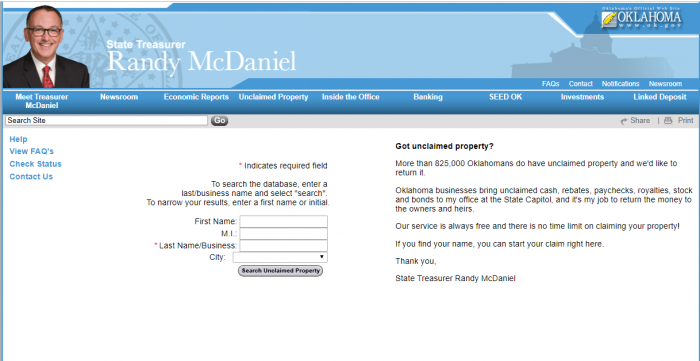 However, this option is not always practically. Even in a state with a relatively small population, like Oklahoma, a common last name can make last-name only searching impossible. For example, we ran a search with the last name "Smith." It returned so many hits that we are unable to actually view them: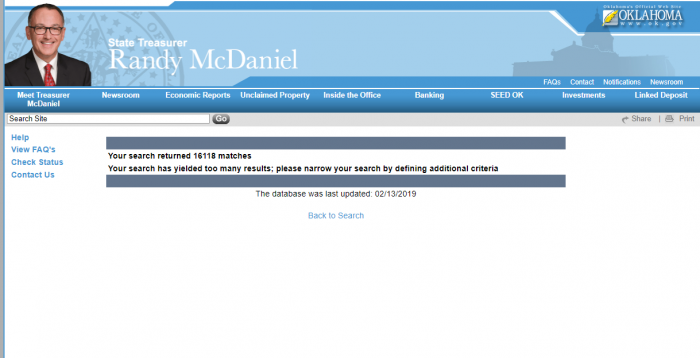 We can the search again using the name "Bob Smith." This took us from an unmanageable number of hits down to 81 hits: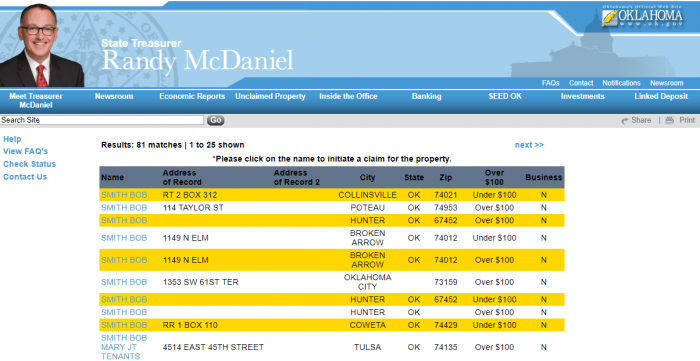 Each hit provides an overview of the property in question. It gives the name of the owner, the address on record, the city, the state, the zip code, whether the amount in question is over or under $100 and whether the owner on record is a business.
We could further narrow the search by looking in a specific city. For example, if we search for "Bob Smith" in Tulsa, we go from over 80 possible matches down to 15 matches: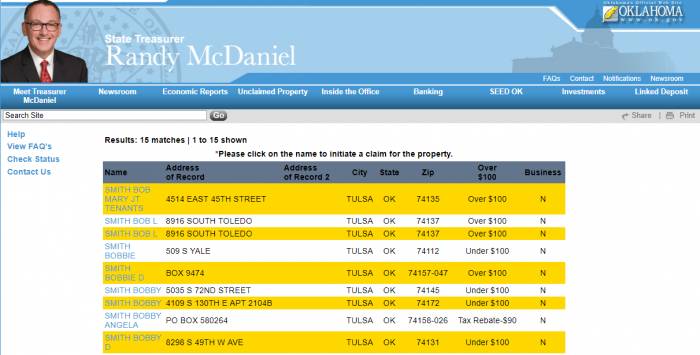 Using all of the available search parameters can really make your search more manageable. However, you have to remember to that when you exclude results, you exclude possible matches. You may want to run multiple searches for first initial, other possible names that would be used (like Robert instead of Bob) and for any cities where a person may have lived.
If you click on a property, you are taken to the page where you can submit a claim for the property. That page looks like this: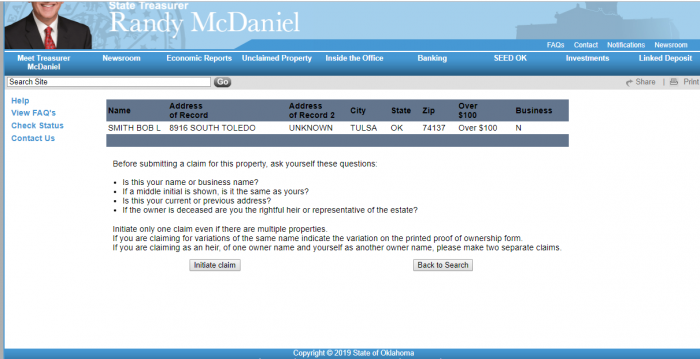 Before submitting a claim, you are asked if that is your name or business name; if a middle initial is shown, if it matches yours, if the address in the record matches your current or previous address, or if you are the rightful heir of a deceased person named in the record. If you can provide positive answers to those questions, you can hit the "initiate claim" button: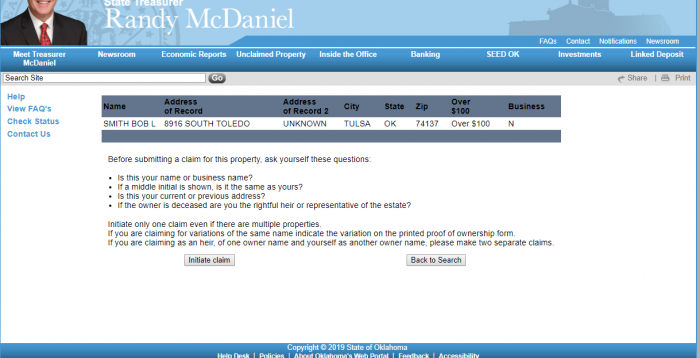 After you have initiated a claim, you will be asked to fill out a claim form. On this form, you will be asked to provide information about yourself. This information includes he same page contains a claimant information form that you need to complete to begin your claim process. The form asks information about the claimant, including: first name, last name, current address, current city, current state, current zip code, your email address, your phone number, your social security number or tax identification (FEI) number, whether or not you are the owner, and whether the owner is deceased: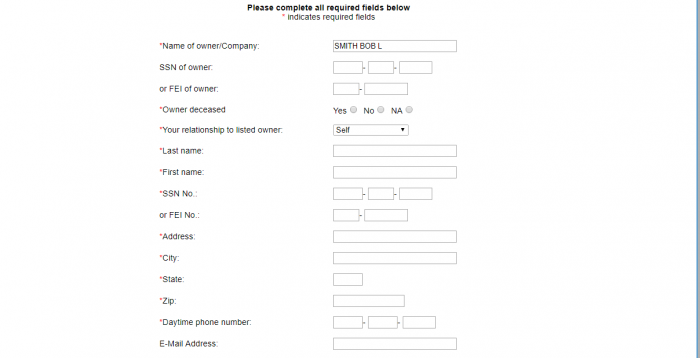 In the middle of the claimant form, you will notice a drop-down box that asks you for your relationship to the listed owner. You need to select a choice from that box. The choices include: self, spouse, son, daughter, grandchild, corporate officer, power of attorney, trustee, and other: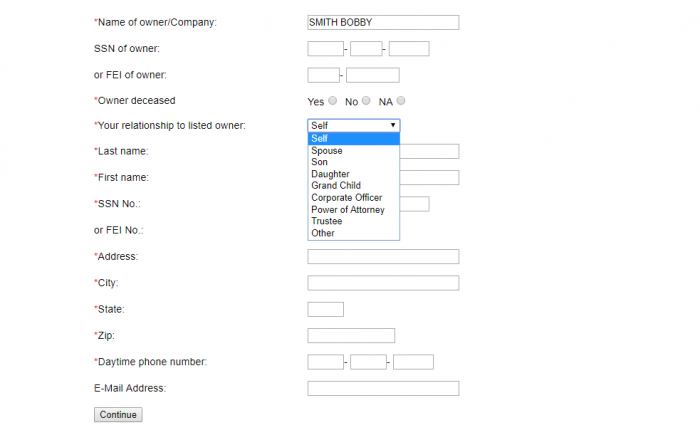 This is a very important step, because establishing your relationship to the owner will help the state properly inform you what type of proof you need to continue with your claim.
The type of proof you have to provide in order to get your abandoned property depends on the specifics of your individual claim. You generally need to provide your driver's license or a state issued identification card, a document providing your social security or tax identification number, and an additional type of identification such as a: birth certificate, marriage certificate, divorce decree, will or letters testamentary, guardianship or trust agreement, or a document from the holder authorizing release of the funds. In addition, you may need to provide proof of the address listed on the claim.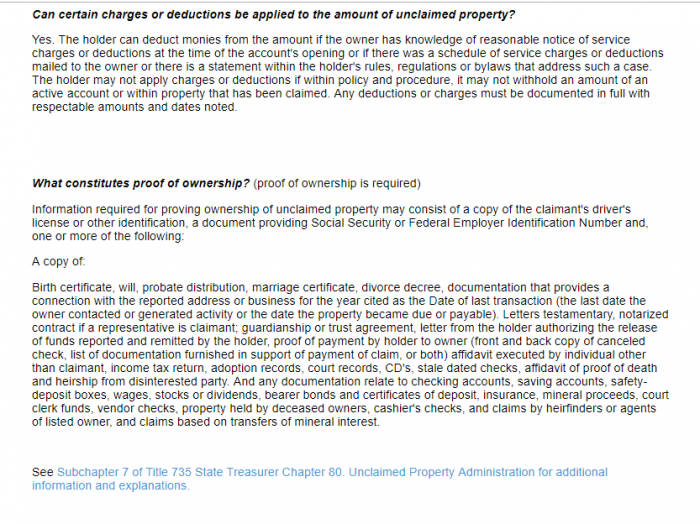 Oklahoma Unclaimed Property Laws
Oklahoma's unclaimed money laws are found in Oklahoma Administrative Code, Title 735, Chapter 80.
Oklahoma Unclaimed Property FAQ
How long does Oklahoma hold unclaimed money?
Oklahoma holds unclaimed money indefinitely for property owners and their heirs.
Examples of Unclaimed Property
Oklahoma provides a more comprehensive list of examples of unclaimed money than most states. That list includes: credit memos, amounts due under insurance contracts, unidentified receipts, amounts owed to suppliers/vendors, amounts held by a fiduciary or trustee, amounts due under insurance contracts, overpayments/refunds/rebates, items held in safekeeping, dividends/interest/royalties, amounts distributable at liquidation/dissolution, matured insurance policies, escrow funds, loan collateral, garnishments or court deposits, security deposits, stocks/bonds/mutual funds, deposits held by depository institutions, and payroll/wage obligations.
Does the state of OK make efforts to locate owners?
Yes. The Oklahoma State Treasurer attempts to contact the property owners and maintains the state database so that owners can search for their property.
Other sources to search besides OK state database?
There are a number of places you should search in addition to the Oklahoma State Database. Not all of them will apply to all people, but they are helpful to know when you are conducting your search.
Of course, you want to include any states that may be holding your unclaimed money/property for you. You already know to include that state where you live as well as states where you have lived in the past. In addition, if you could be an heir to someone, you want to search states where they lived as well. It gets a little trickier when you start to consider whether or not to include other states. Do you have business contacts in any other states? If you or an ancestor had a business that was headquartered in another state or perhaps an insurer that was headquartered in another state, then you may want to include those states on your list as well.
We also highly recommend that people check out some national-level databases. There are specific databases that may or may not apply to your specific circumstances, like websites for veterans or for survivors of the Holocaust. Whether or not to search those sites is going to depend on your specific circumstances. However, there are four sites that we suggest everyone visit: the Internal Revenue Service (IRS), the Pension Benefit Guaranty Corporation, the U.S. Treasury, and the Life Insurance Policy Locator.
You may wonder why we want you to visit the IRS, but it is the single largest issuer of refunds in the United States. In other words, you might have some tax refund money out there that you have not received. That is because the IRS does not forward tax refunds if a person's address has changed between filing income taxes and the mailing of refunds. In addition, the IRS does not hand over that refund money to the states, but hold onto it until it is claimed by the original owner: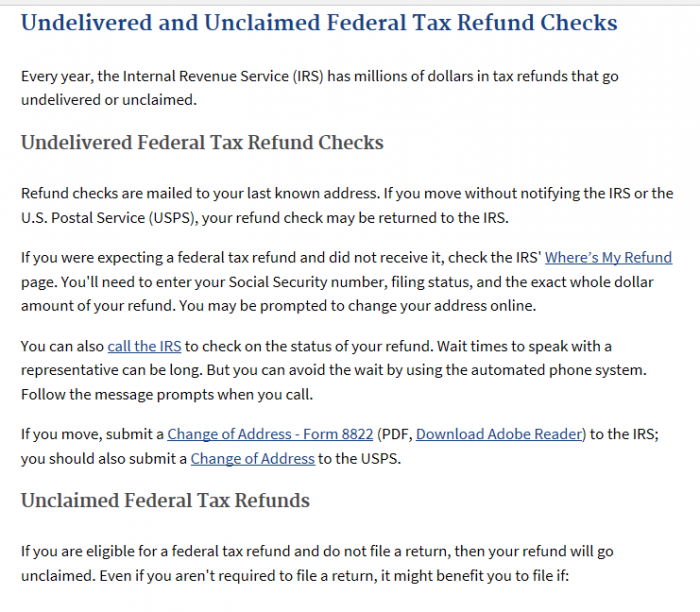 To help people locate their missing tax refund checks, the IRS established a Where's My Refund? page on its website: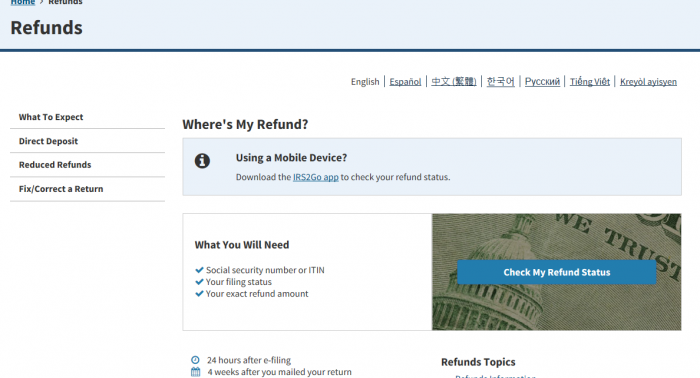 Another major source of unclaimed federal money is the U.S. Treasury. In fact, the U.S. Treasury has over $17 billion in unclaimed property due to unpaid savings bond funds. Unfortunately, the Treasury has not made it easy to claim your abandoned bonds. They used to have a website that worked much like state unclaimed property databases, but they discontinued it. Now, you have to jump through some hoops to get your unclaimed bonds, but you can still claim them. For more information, contact the treasury by phone at 844-284-2676 or visit their website at Treasury Direct: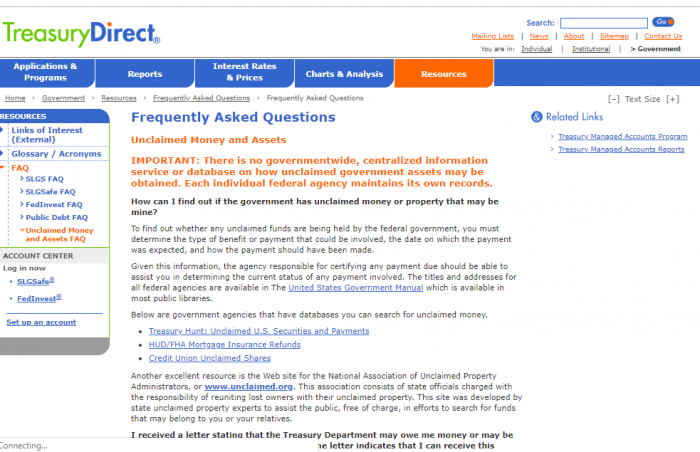 The federal government does not just have federal money in its custody, but also an important type of money: pensions. In fact, many people are unaware that the federal government actually guarantees pension benefits through the Pension Benefit Guaranty Corporation. The PBGC can also help you locate missing pension benefits with its user-friendly database. It is worth searching, especially if you are an older person or are searching as an heir, since pension benefits were common when many older people began working. The decline in pensions has meant that many people have forgotten that they once earned them. The result is that the PBGC reports that there are over 70,000 people out there that have failed to claim their pension benefits and that they have over $400 million in potential benefits. While the average amount of these benefits is relatively small, some of the pensions are large; there is even one unclaimed pension worth over $1 million: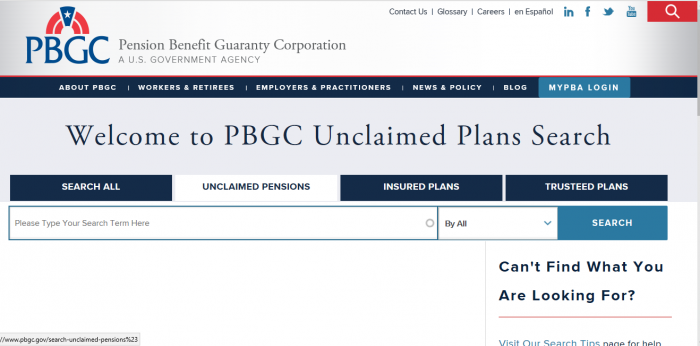 The final one of our four must-visit national-level sites is the National Association of Insurance Commissioners' Life Insurance Policy Locator Service. Though this is a national-level site that has data for all of the states, it is not a federal site and is not run by the government. Instead, it is operated by an insurance industry organization. It does not offer a searchable database where you can look to see if you are the named beneficiary on any unclaimed insurance proceeds. Instead, you can submit your information and its member organizations will check their records to see if you match any of the beneficiaries of their unclaimed policies: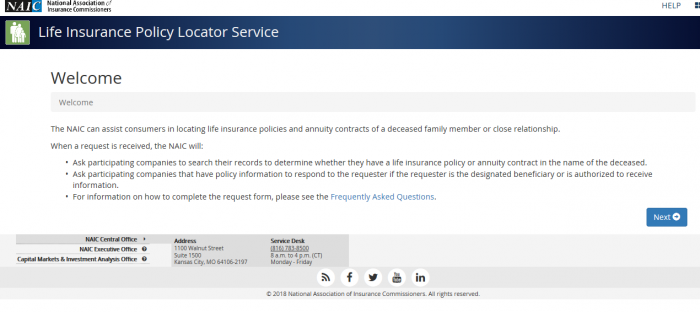 In addition to the top four national-level sites, there are some others that you might want to check. These include: the FDIC site, the Department of Housing and Urban Development site, the National Credit Union Administration site, and the Veterans Administration Benefits Department site.
What is the best way prevent my property from becoming lost or unclaimed?
When people realize how much abandoned/unclaimed property is out there, they realize that the best course of action is to keep their money from going missing in the first place. We wholeheartedly agree. Therefore, we have put together a list of things you can do to help you keep track of your property:
Establish an email account that you use for all of your financial dealings and use it to keep track of your records and set up your calendar. Use electronic banking wherever possible and create files in your email for each address. You can also have documents linked to this account with further account information.
Document every new account that you open, and include the following information: the name you used on the account, the physical location of the holder of the property, the account number, due dates for any deposits or rebates, and contact information for the holder.
Keep track of your passwords, but do not keep them in the same location as your account numbers or other identifying information.
Promptly deposit or cash all checks, including dividend checks and rebates.
Review your accounts on a yearly basis and contact your holders if you have not had any activity on an account in the past year.
Contact all financial institutions if you have a change in address, phone number, marital status, or name.
Designate a trusted person and give them information on how to access your accounts and your passwords in the event you become incapacitated or die.
Respond to all legitimate efforts to contact you that are made by your holders.
If you notice that you have stopped receiving mail or other updates from a financial institution, contact them to make sure they still have your contact information.
How do I make sure my heirs know where my assets are if I die?
One of the major ways that money becomes unclaimed is that someone dies and their heirs do not know about an account or other money that is due to them. That is why it is so important to designate a trusted person to access your financial information and accounts if you die or are incapacitated. You need to give them specific information about how to access this information, not just name them in a will.
Should I hire a finder to conduct the search?
A finder/locator service is a third-party service that searches for and claims unclaimed property on your behalf in exchange for a fee. Running an unclaimed property search is free, which means that, for many people, it simply does not make sense to hire a finder or locator service. However, if you do not have the time to run your own search, then you might choose to hire a finder. Generally, finders charge a percentage of any funds that they recover on your behalf. In Oklahoma, they are limited to charging you a maximum of 25% of any recovered fees: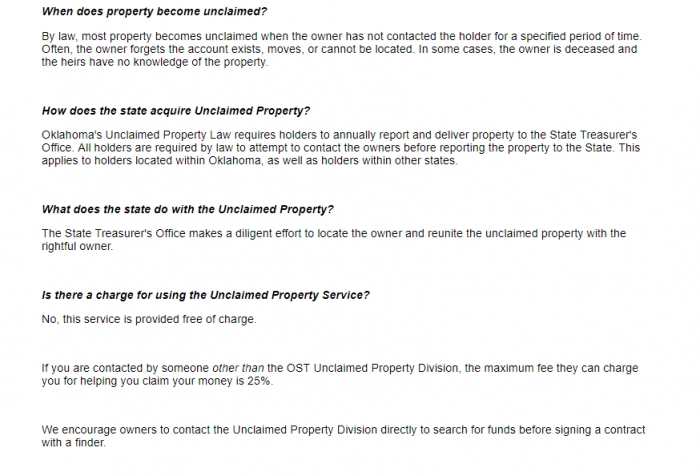 Why does Oklahoma take possession of unclaimed property?
The goal of the unclaimed property program is to help owners locate their property.
Conclusion
Oklahoma has a surprising amount of unclaimed funds available, given its relatively small population. That is why we strongly suggest running an Oklahoma unclaimed money search if you live in Oklahoma, have ever lived in Oklahoma, have ancestors from Oklahoma, or even if you have business contacts in the state. The process is quick and easy and you might end up finding some money!