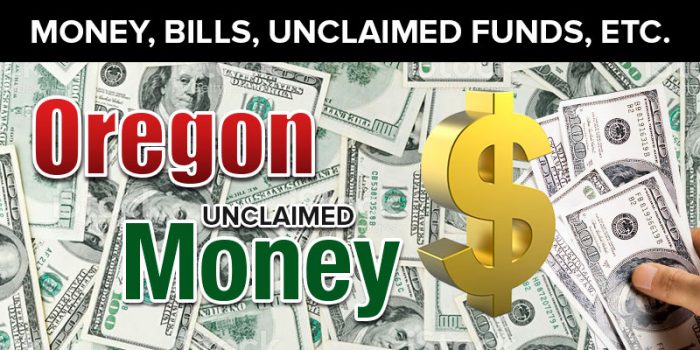 Each year the state of Oregon gets about $50 million in unclaimed funds. Could some of that money be yours? If so, then you need to look at Oregon's Unclaimed Money database. While most state unclaimed money databases are managed by their treasurer, in Oregon the missing money database is run by the Oregon Department of State Lands: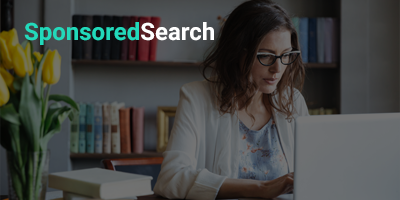 Search Public Records
Starting your search for unclaimed property is easy. Generally, you either pick the state in which you reside or a state in which you have recently resided and search through their unclaimed property database. However, that is only the first step in an unclaimed property search. If you stop there, you may not find all of your property. Have no fear, though; our comprehensive guide to finding unclaimed money will tell you all the steps you need to find your missing property.
There is more good news. While an unclaimed money search might be time-consuming, it is not actually difficult. The steps to find unclaimed money are similar in each state. Moreover, some of the national-level databases have similar steps. That is why we think that after you have completed a search in one-state, you will be much more comfortable searching in additional states.
We have some frequently asked questions about searching for money in Oregon. While they are the same kind of questions that we get about the other states, the information is tailored specifically to Oregon. We start by providing Oregon's definition of unclaimed property. We also provide links to unclaimed property databases, unclaimed property sites, and Oregon's unclaimed property laws. We go through the unclaimed money process in Oregon, taking you step-by-step through the process with an example search. We let you know what type of proof you will need for your unclaimed property claim. We end our frequently asked questions with a discussion of finder services, also known as locator services, what they do, and whether you need them.
While many states use Missing Money to run their state's unclaimed property databases, Oregon manages its own database, which can be found on the Oregon state website. If you want to be able to track your claim, you have to sign up for an account before filing your claim: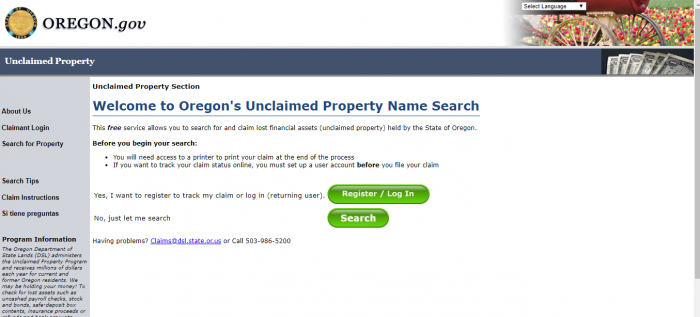 Oregon is a little unusual when compared to other states, because its Unclaimed Property Fund is not managed by the state treasurer. Instead, it is handled by the Oregon Department of State Lands (DSL), which is the administrative arm of the State Land Board. The Land Board is connected to the State Treasurer because it is composed of multiple members, including the Governor, the Secretary of State, and the State Treasurer.
Unclaimed money, may also be known as unclaimed property, and is sometimes referred to as abandoned property. For property to be considered unclaimed, the owner of the property has to have lost contact with the holder of the property for a statutory period of time. The holder of the property is usually a business that has some type of financial services, including banks and financial institutions. Various types of property can become unclaimed money. Examples include: vendor checks, payroll checks, old life insurance policies, contents of safety deposit boxes, and stocks.
You want to start your search with the Oregon unclaimed property database if you live in Oregon, recently lived in Oregon, or moved out of Oregon at a time that would make it likely for you to have property on Oregon's unclaimed money site. However, you do not want to stop your search at the Oregon site. Even if you have only lived in Oregon, you may have money in other locations. A number of property holders will never escheat to the states, including money held by the federal government. This includes some important sources of money like income tax returns from the IRS and U.S. Savings bonds as well as some pension funds and some insurance proceeds or benefits.
Oregon's Unclaimed Property Database
The Oregon Unclaimed Property Database contains information on unclaimed property that is held in all of its counties, including: Baker, Benton, Clackamas, Clatsop, Columbia, Coos, Crook, Curry, Deschutes, Douglas, Gilliam, Grant, Harney, Hood River, Jackson, Jefferson, Josephine, Klamath, Lake, Lane, Lincoln, Linn, Malheur, Marion, Morrow, Multnomah, Polk, Sherman, Tillamook, Umatilla, Union, Wallowa, Wasco, Washington, Wheeler, and Yarnhill. Because you can find information in a single state database, you do not have to go look in each county to find unclaimed money. However, knowing the county where you lived when an account was owned can be helpful when running your unclaimed property search.
What is unclaimed money?
The Oregon Department of State Lands publishes a brochure that details unclaimed money and serves as a great resource for information about unclaimed property in the state. You can find that brochure online. In the brochure, the state's unclaimed property laws are explained. Unclaimed money is mostly money, but can refer to any type of financial asset that has not been claimed by the owner or been the subject of any owner-generated activity for a statutory period of time. In Oregon, the statutory period is one to three years for most items. Examples of unclaimed money include, but are not limited to, payroll checks, overpayments, mutual funds, refunds, bank accounts, securities, and money orders. Real property is specifically exempted from the unclaimed property laws.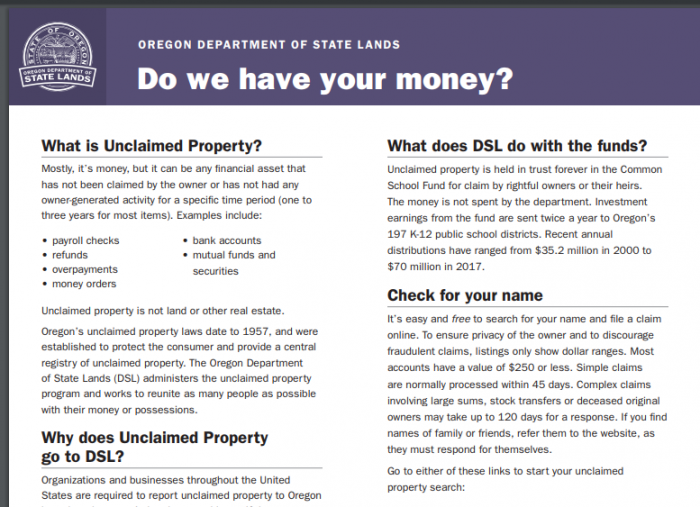 How Much Unclaimed Money is in Oregon?
Each year the state of Oregon receives approximately $50 million in unclaimed funds. The interest from this property is paid to the Common School Fund, but the principal of the property is held indefinitely for the original property owners. Oregon actually holds only a small portion of the nation's unclaimed money; according to the National Association of Unclaimed Property Administrators (NAUPA) there is currently at least $42 billion in unclaimed funds available in the United States. NAUPA is an organization that was established to help property owners find and recover abandoned property.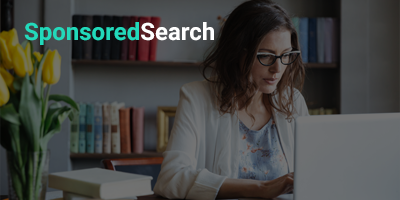 Search Public Records
Oregon Unclaimed Money Finder
Oregon operates its own unclaimed money database.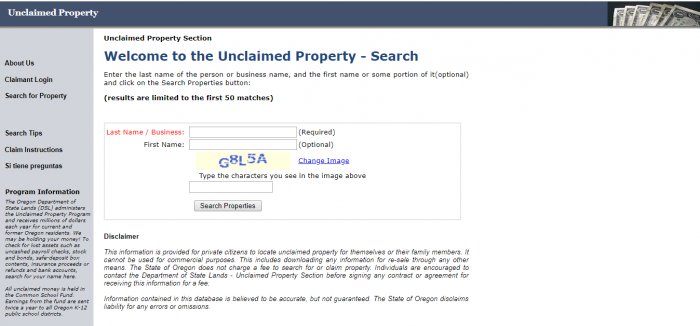 You can begin the search with just a last name or a business name: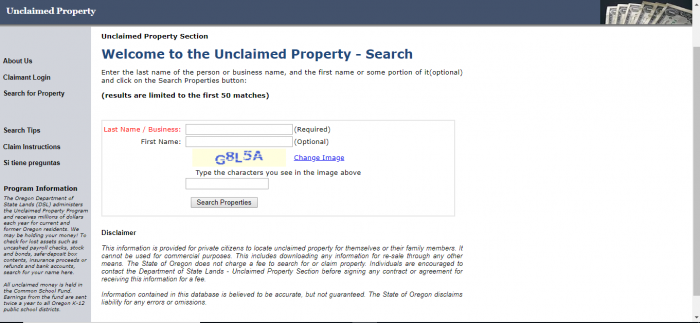 When you have a state that is sparsely populated, such as Oregon, then the last-name only option can actually be useful for your entire search. This is not the case in more populated states, where a last-name only search can result in so many hits that you cannot even get all the results in a single search. However, while a last-name only search may not return too many results to be manageable, it can still provide a large number of results that can make searching more difficult. To highlight this, we begin by looking for the last name "Smith" in Oregon: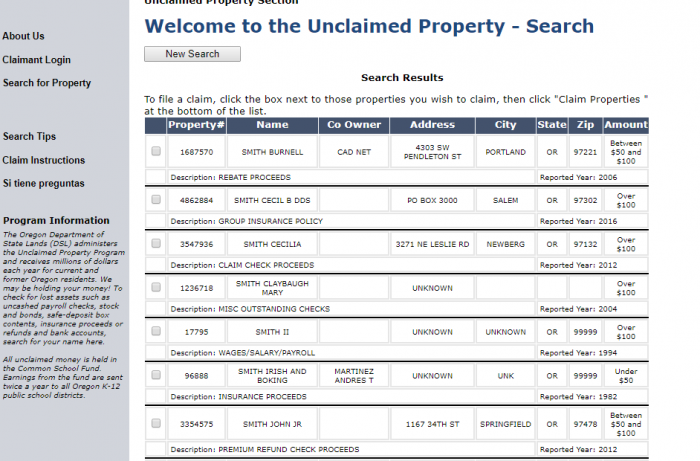 As you can see, the information that Oregon gives you includes the property number, a name, a co-owner if applicable, an address, city, state, zip code, amount, a description of the type of property, and when the claim was reported. You can also choose to narrow down the results by including a first name. We stuck with the common name theme and used the name "Bob Smith," which resulted in significantly fewer search results: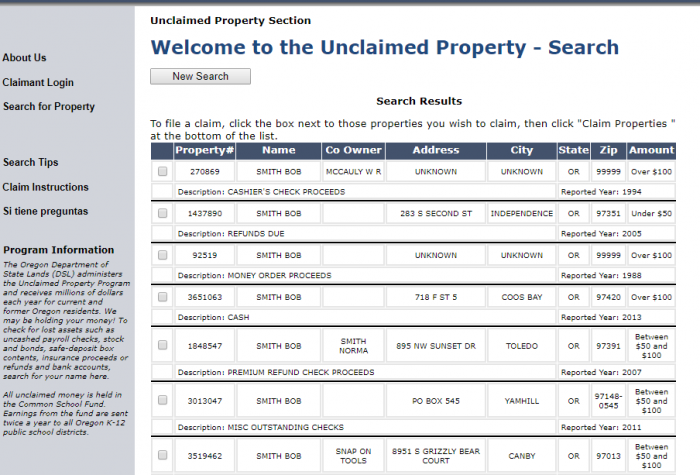 Some states allow you to further tailor your searches, for example they may let you include a county or city in your search parameters. This would significantly lessen the number of results you got with each search and could make a search much more manageable in a high-population state, but with Oregon's small population, the feature is not really necessary and the state does not use it.
After you have identified property that could belong to you, you can begin the claim process. To get the process started, you are going to click on the box that appears on the left of the property record: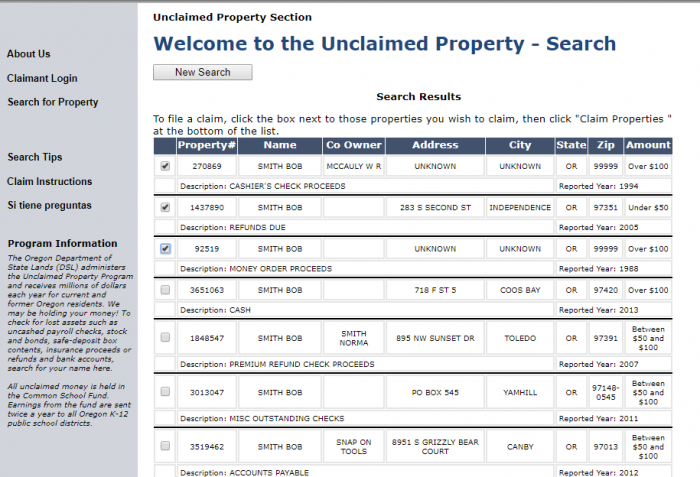 After you have selected all of the properties that you believe you can claim, you can then hit the "claim properties" button at the bottom of the list: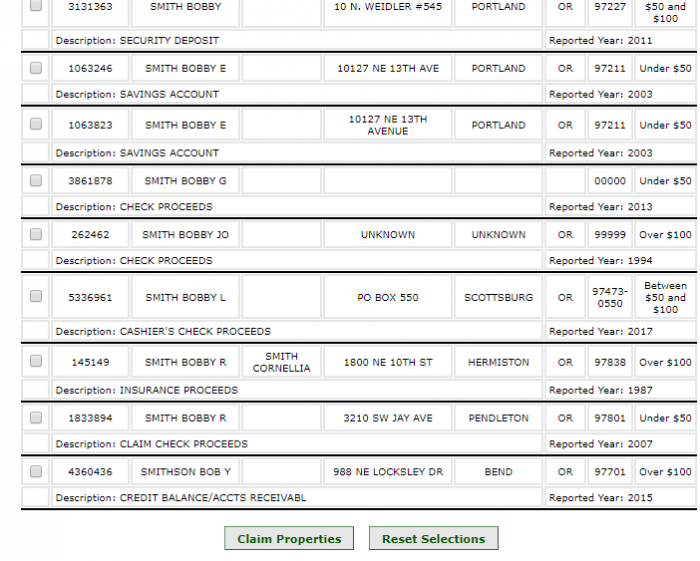 After you have claimed property and hit the "claim properties" button, you will be taken to a page that provides you with an overview of the properties that you want to claim: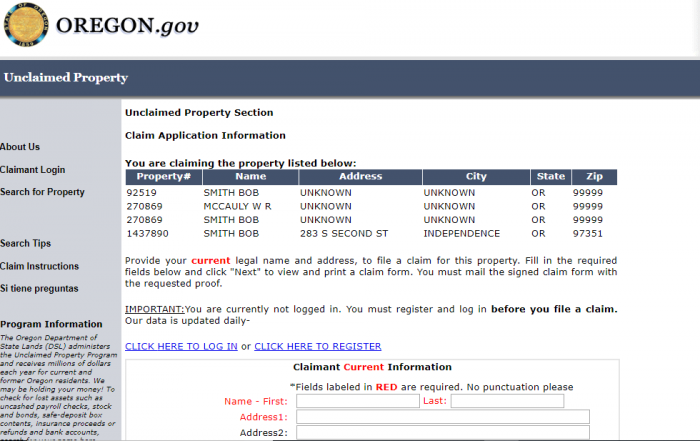 The same page contains a claimant information form that you need to complete to begin your claim process. The form asks information about the claimant, including: first name, last name, middle name, current address, current city, current state, current zip code, your email address, your phone number, your social security number or tax identification number, and your date of birth. You do not have to include your whole social security number, even including the last four digits of it can help simplify your claim process: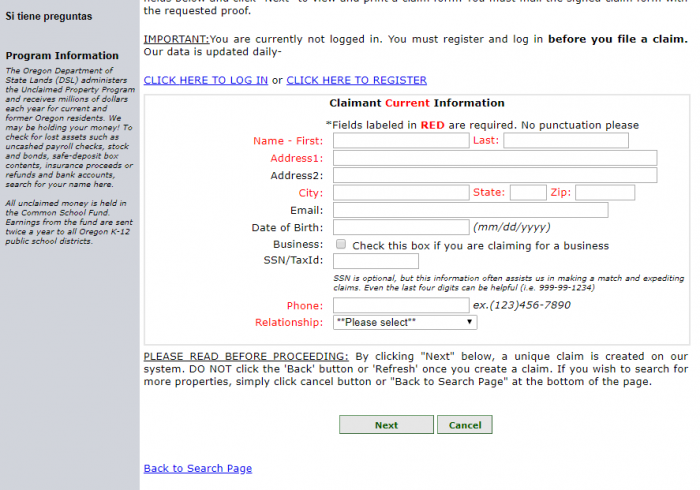 At the bottom of the claimant information form, you will notice a drop-down box asking you for relationship. The options you get in this drop-down box include: owner, heir/administrator, claim for business, and other. Selecting the right relationship is important, because the type of relationship can impact the type of proof you need to provide: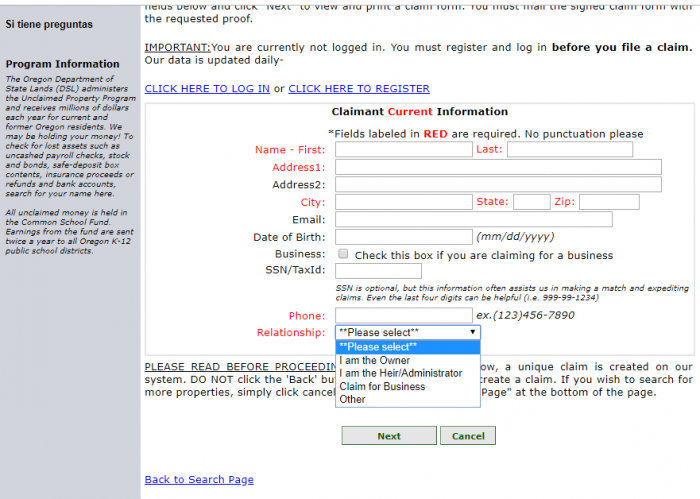 The type of proof you have to provide in order to get your abandoned property depends on the type of unclaimed property you are trying to claim. Fortunately, the state will provide you with additional information once you initiate the claim process. Some types of identification you may be asked to provide include: photo identification, proof of address, and proof of social security or tax identity number. Furthermore, you may be required to provide legal documents if you are claiming on behalf of another party or if you had a change of name since you opened the account in question: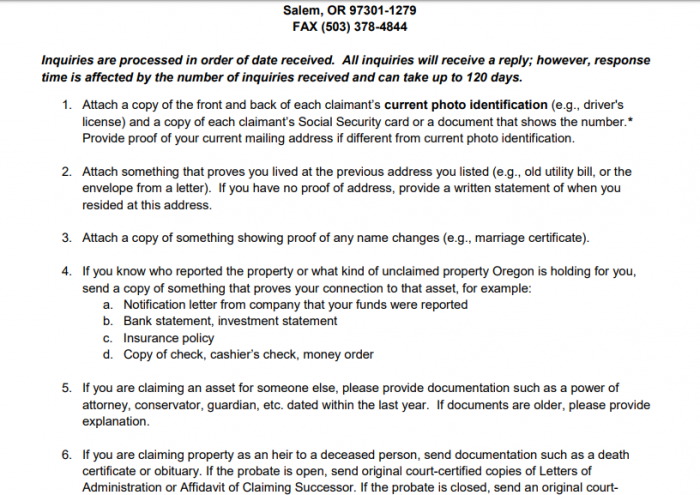 Generally, using the website is the quickest way to locate and claim your abandoned property. However, you can also fill out a claim form and send it to the state to begin an unclaimed property search. You would send it to:
Unclaimed Property Section
Department of State Lands
775 Summer St. NE #100
Salem, OR 97301-1279
Unclaimed Money Laws in Oregon
You can find laws resulted to Oregon's unclaimed money process at its Laws and Rules page. The law is found in Oregon Revised Statutes Chpt. 98.
Oregon Unclaimed Money FAQ
How long does Oregon hold unclaimed money?
Oregon holds unclaimed money indefinitely for property owners and their heirs, but owners are not entitled to interest that accrues while the state is holding the property. Instead, the interest goes into the Common School Fund.
Examples of Unclaimed Money
Almost any type of intangible property can be considered unclaimed money, including things such as money in checking or savings accounts, money orders, uncashed checks, unpaid deposits, refunds, rebates, and other negotiable interests. Tangible property is usually exempted, though the contents of safe deposit boxes can become unclaimed money.
Does the state of OR make efforts to locate owners?
Oregon maintains the online database and will assist property owners in finding their property if they fax or mail in claim forms. However, it does not engage in the same level of unclaimed money outreach as many states.
Other sources to search besides OR state database?
Oregon actually specifically suggests looking at several interesting databases for unclaimed money, including: Oregon Department of Revenue, Veterans Administration, Oregon Public Employees Retirement System, US Savings Bonds, Federal Government Search, Swiss Bank Accounts, FHA/HUD, Pension Benefit Guaranty Fund, and the Screen Actors' Guild: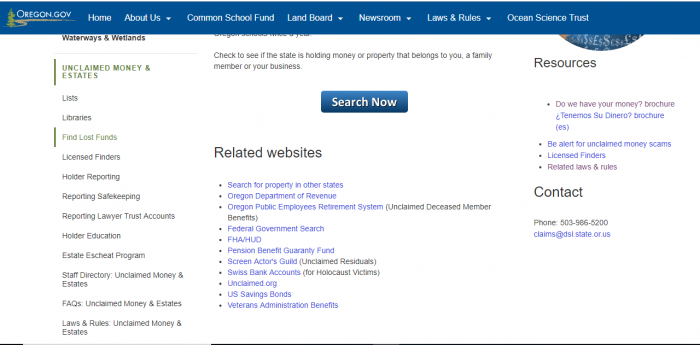 The first thing we do is suggest that people make a list of all of the states they should search when running an unclaimed property search. In addition to your state of residence, you want to include any states where you have lived in the past, any states where other people may have put property in your name, and any states where an ancestor who may have left you the heir to property may have resided. In addition, do not forget to include states where you may have established business relationships.
Once you finish checking the state databases, you want to check national-level databases. While some of them are very specific, we think that there are four sites that all people should investigate: the Internal Revenue Service, the Pension Benefit Guaranty Corporation, the U.S. Treasury, and the Life Insurance Policy Locator.
Why is it so important to check the IRS? You may have a tax refund out there that you never received. How could that happen? Well, the IRS will not forward income tax return refunds if a person moves; they get returned to the IRS and stay in IRS custody. More importantly, those funds never become part of a state's unclaimed property, but stay in federal custody: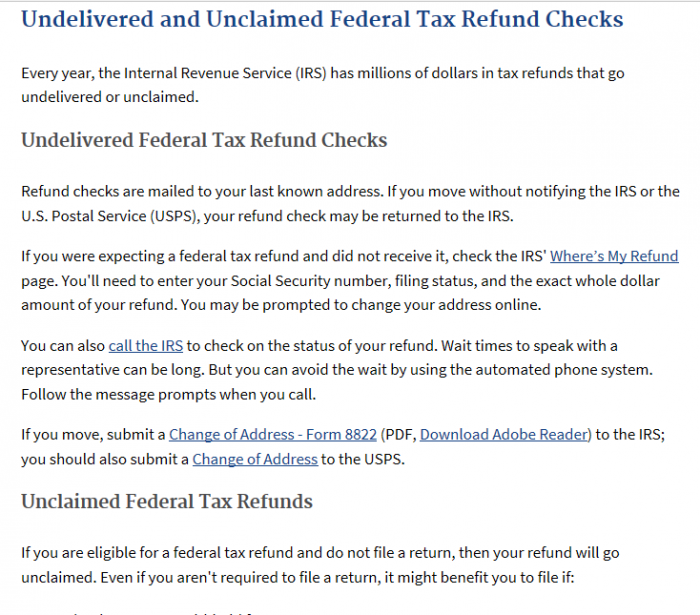 In fact, the problem of undelivered income tax returns is so common that the IRS has even set up a Where's My Refund? page on its website: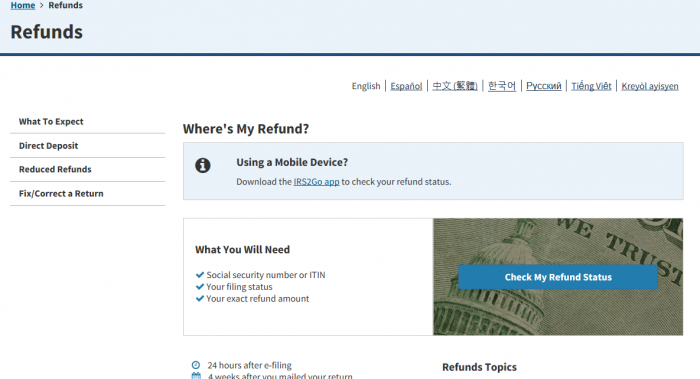 The U.S. Treasury is another important federal source for unclaimed funds. However, they do not offer an easy to use website. That is unfortunate, because, unless physical bonds are located in a safety deposit box, they do not usually who up on a state's unclaimed property list. This is a significant issue, since the U.S. Treasury has over $17 billion in unclaimed property due to unpaid savings bond funds. You can contact the treasury by phone at 844-284-2676 or visit their website at Treasury Direct: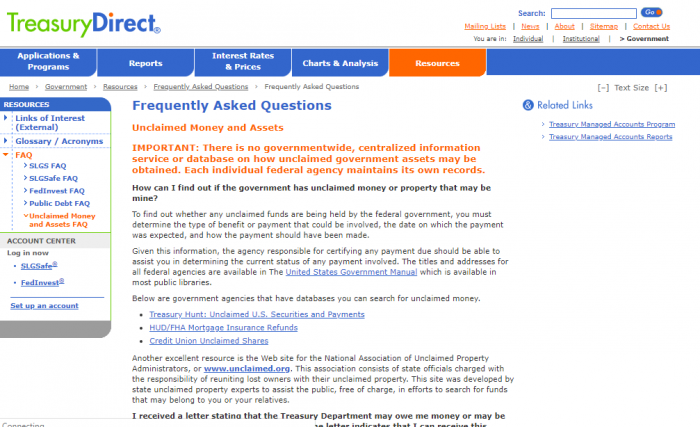 A lesser-known federal government agency is the Pension Benefit Guaranty Corporation. This Pension Benefit Guaranty Corporation, or PBGC for short, is a federal government organization that guarantees pension benefits. The PBGC has a user-friendly database that you can search for your unclaimed pension benefits. According to the PBGC, there are over 70,000 people out there that have failed to claim their pension benefits, and the aggregate pension amount is over $400 million. There is even a mystery claimant that has a pension of over $1 million waiting to be claimed: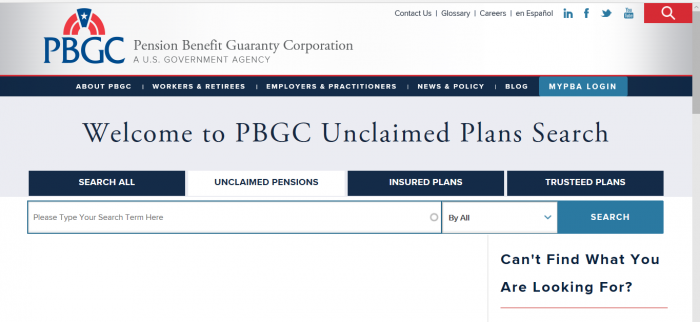 Although not as straightforward as the PBGC, you also need to visit the National Association of Insurance Commissioners' Life Insurance Policy Locator Service. Unlike our other suggested resources, this is not a government-run source. Instead, it is a clearinghouse for a number of insurance companies. You do not get to search their databases, but if you think that you are the beneficiary of an unpaid insurance claim, you can submit your information so that their member agencies can search for you and see if you have any unclaimed money that should be coming to you: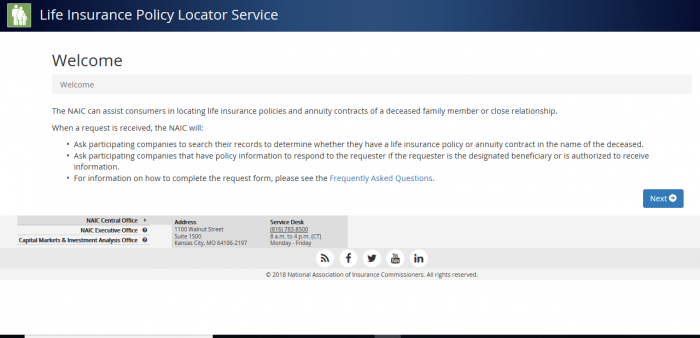 Depending on what you have done in your past, there are four other federal-level sites that might be able to help you locate your unclaimed money including the FDIC site, the Department of Housing and Urban Development site, the National Credit Union Administration site , and the Veteran's Administration Benefits Department.
What is the best way prevent my property from becoming lost or unclaimed?
While finding abandoned property is great, never losing it in the first place is even better. To help you keep track of your property, we suggest you take the following steps:
Promptly deposit or cash all checks that you receive, including dividend checks and rebates;
Create thorough records of all of your existing financial accounts and document every new account you open;
Set up a yearly account review for all of your financial accounts and contact holders regularly;
When you set up your counts, provide financial institutions with back-up contact information;
Let your beneficiaries know they are beneficiaries and make sure that your financial institutions have up-to-date contact information for beneficiaries;
If a business or financial institution contacts you, respond to the contact;
Provide all holders with changes in your personal information, such as new addresses, new phone numbers, name changes, and changes in marital status; and
If you stop receiving communication from a financial institution, immediately contact the financial institution.
How do I make sure my heirs know where my assets are if I die?
Many people erroneously believe that all that they have to do is write a will to make sure that their heirs get their property when they die. However, heirs cannot get property they cannot locate. Make sure and designate a trusted person to get access to your financial records in the event of your death or incapacitation.
Should I hire a finder to conduct the search?
It is free to search for and claim your unclaimed property, so hiring a locator or finder service is not necessary. However, the process can be time consuming, so you may choose to hire a locator to save you time. In Oregon, finders should be licensed, and you can find out more information about that process on their website.
Why does Oregon take possession of unclaimed property?
Oregon takes possession of unclaimed property for two reasons: to put money in the Common School Fund to earn interest for the state schools and to help simplify the process of finding your unclaimed assets by centralizing them into one location.
Conclusion
Oregon may not make the same efforts to reach property owners as some other states, but it still offers an easy-to-use unclaimed property database that can help you locate your abandoned property. The process is so quick and easy and you have nothing to lose by checking to see if you have assets to claim.