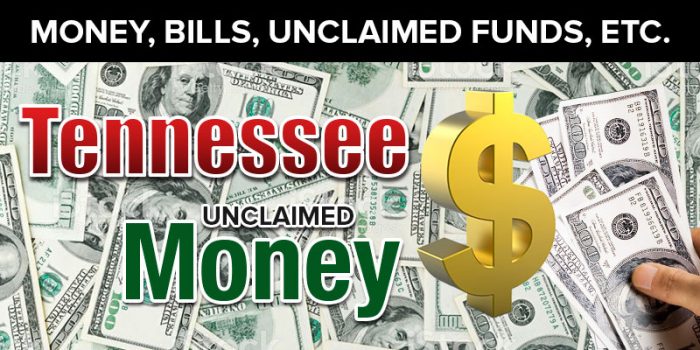 People looking for unclaimed property in Tennessee often start at the Tennessee Department of Treasury's Unclaimed Property website. At that website, you can find a video introduction to the process for finding and claiming unclaimed property in Tennessee.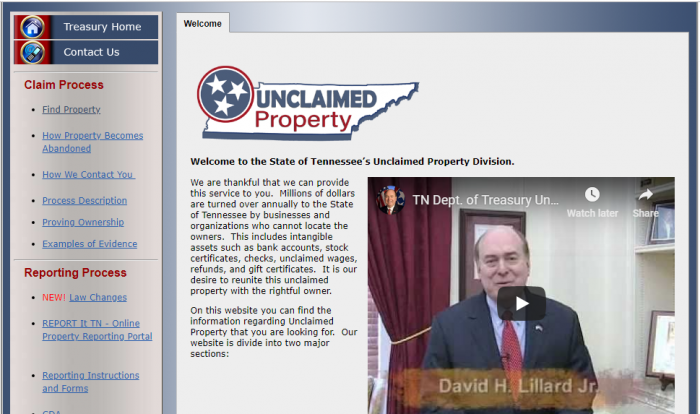 Although the Tennessee state database can help you find unclaimed property that is in the state, it is a common mistake to think that your state database is the only place you need to look to complete an unclaimed property search. While the Tennessee database can help you find your unclaimed property that is being held in the state's custody, many people have business or financial contacts outside of their state, not just in it. Therefore, it is always possible that you may have unclaimed property in other databases, including state and federal level databases. To make sure you look at all potential sources for unclaimed money, you want to follow every step in our how-to guide.
We have included everything you need to know to start your own property search in this comprehensive how-to-guide. We cover all of the most frequently asked questions about unclaimed money and unclaimed property, giving you answers to questions like: What is unclaimed money? What is unclaimed property? Is abandoned property the same as unclaimed money? Where do I search for unclaimed property? How do I run an unclaimed money search? What are Tennessee's unclaimed property laws? Does Tennessee have any state resources where I can search for unclaimed property? Why does Tennessee have an unclaimed money database? Other than the Tennessee unclaimed money database, where else should I search or unclaimed property? How do I file a claim for my unclaimed property? What will I need to prove that I am the owner of unclaimed property? Do I need to use a finder service to claim my unclaimed property?
In Tennessee, the Tennessee Department of Treasury's Unclaimed Property Division handles abandoned and unclaimed property and money that is located in the state. Like many other states, Tennessee has laws that require third-party holders of money to turn money over to the custody of the state if the actual owner of the property has not been in contact with the third-party holder for a statutory period of time. The theory behind this is that if the property's actual owner has lost contact with the holder, they have probably forgotten that they have property being held by that organization.
Tennessee's Unclaimed Property Division operates a website where you can search for your unclaimed property, www.claimittn.gov: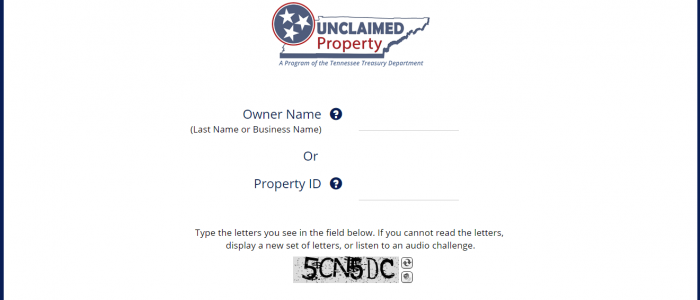 While the Tennessee database is a great place to start your unclaimed property search, we want to caution you against ending your property search after looking at that database. It is important to keep in mind that Tennessee, like other states and territories, only maintains information for property abandoned within the state. Even if you have only ever lived in Tennessee, you may have financial contacts out of the state. For example, if you have relatives in other states, you may have unclaimed property in the state where they live or lived. If your employer or an insurance company is out-of-state, then you might have assets out of state and not even realize it. In addition, there are types of property that do not revert to the state, such as federal income taxes, U.S. savings bonds, and property where the actual owner's state cannot be determined. Fortunately, there are sites where you can find that property.
Finding out that an unclaimed property search may involve more than one site can be somewhat overwhelming for people. The good thing is that all states and U.S. territories, and most federal government agencies that hold money for actual owners, have set up websites that make that make searching as simple and easy as possible.
What is Unclaimed Money?
Unclaimed money or property, which may also be known as abandoned property or money, is money that is considered abandoned by the state. Whether or not property is considered abandoned depends on the state laws. Generally, a loss of contact with the property owner for a period of time defined by statute results in it being considered unclaimed property. Various different types of property can be considered abandoned, including: cash, stock bonds, mutual funds, vendor balances or overpayments, unclaimed customer refunds, and uncashed payroll checks. It is important to know that some types of property will not be considered abandoned property, including: land, homes, and vehicles.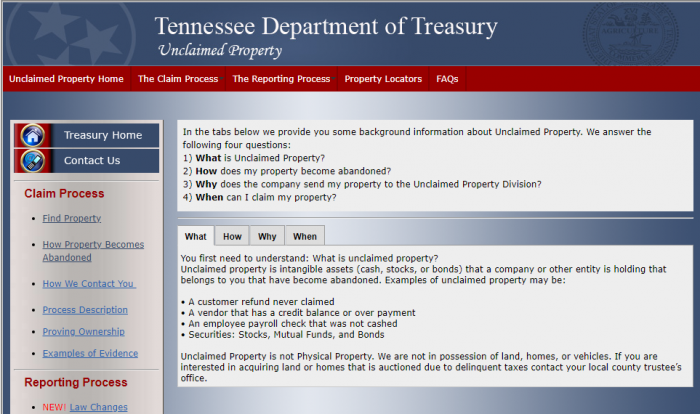 How Much Unclaimed Money is in Tennessee?
Tennessee has around $890 million in unclaimed property. This is a fluctuating amount because property is constantly being claimed and reported as unclaimed. Tennessee's unclaimed property is one portion of the large amount of unclaimed money out there. The National Association of Unclaimed Property Administrators (NAUPA), a nationwide organization that is devoted to caring for unclaimed/abandoned money and property, there is around $42 billion in unclaimed property in the United States, alone. Worldwide the figures are even larger.
Tennessee Unclaimed Money Finder
Tennessee's unclaimed property finder is located at https://www.claimittn.gov/: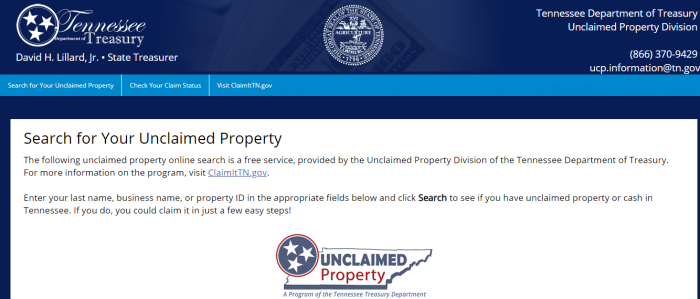 The Tennessee database includes unclaimed property from all of the counties in the state, including: Anderson, Bedford, Benton, Bledsoe, Blount, Bradley, Campbell, Cannon, Carroll, Carter, Cheatham, Chester, Claiborne, Clay, Cocke, Coffee, Crockett, Cumberland, Davidson, Decatur, DeKalb, Dickson, Dyer, Fayette, Fentress, Franklin, Gibson, Giles, Grainer, Greene, Grundy, Hamblen, Hamilton, Hancock, Hardeman, Hardin, Hawkins, Haywood, Henderson, Henry, Hickman, Houston, Humphreys, Jackson, Jefferson, Johnson, Knox, Lake, Lauderdale, Lawrence, Lewis, Lincoln, Loudon, McMinn, McNairy, Macon, Madison, Marion, Marshall, Maury, Meigs, Monroe, Montgomery, Moore, Morgan, Obion, Overton, Perry, Pickett, Polk, Putnam, Rhea, Roane, Robertson, Rutherford, Scott, Sequatchie, Sevier, Shelby, Smith, Stewart, Sullivan, Sumner, Tipton, Trousdale, Unicoi, Union, Van Buren, Warren, Washington, Wayne, Weakley, White, Williamson, and Wilson.
There are two ways to begin your unclaimed money/property search: with your last name or business name or with your property i.d. number: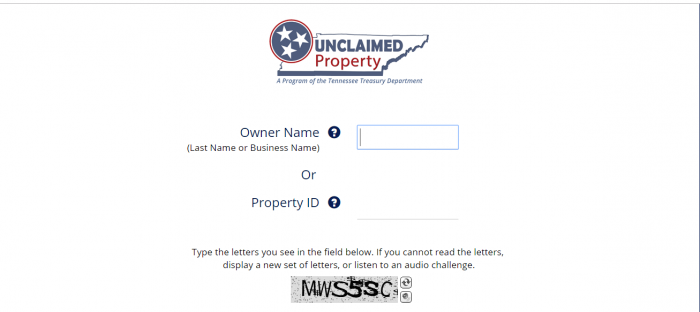 You can search by last name. This can make searching easier, but it also comes with the risk that the search will return too many results for you to search through all of them. For example, running a search with the common last name, Smith, results in 28,105 hits: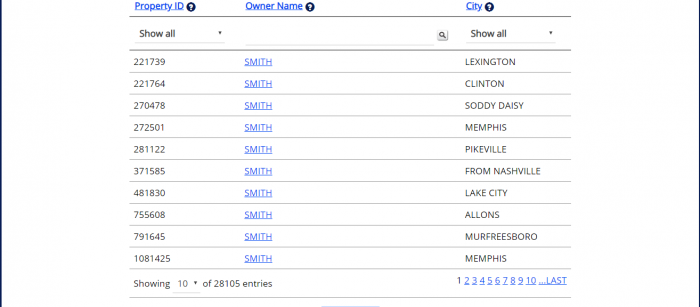 While Tennessee does not provide address information in each of the results, it does provide the city of the address where the property owner was last located. However, you can click on the results, and, once you do that, you have access to that address.
If you find a claim that you believe is yours, you can begin the claim process from that page: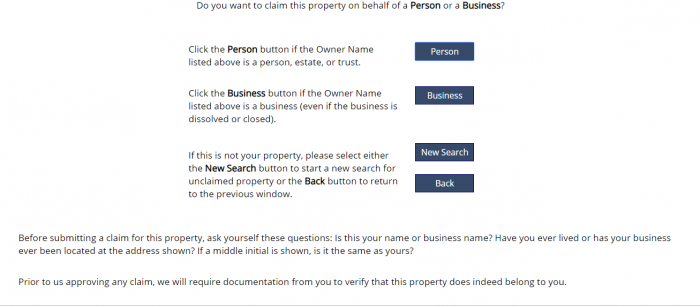 As you can see, you have the options to choose whether you are claiming as a person or as a business. If you click the button to claim the property, then you are asked to certify that you are the owner: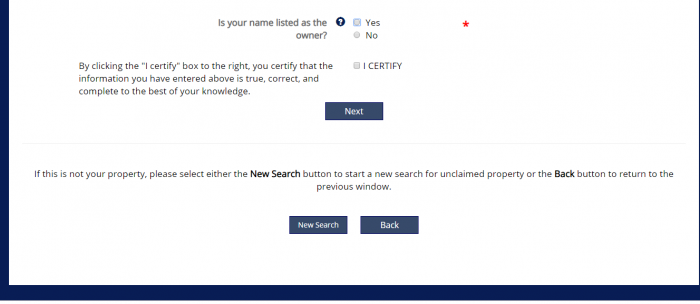 If you are not the owner, but are claiming on behalf of another person, then you will choose "no" and will be asked to answer a series of questions.
Once you have clicked to claim, there will be a claim form. You need to fill in the claim form, and it needs to be signed by the property owner or the person claiming the property on behalf of the owner. Make sure that whatever address you have on the claim form is where you want to get the check. You will have to provide a photocopy of a driver's license or other form of photo identification. You will have to provide documentation that you reside at the address where you want the check sent. The owner has to provide documentation of your social security number. In addition, you will have to provide documentation establishing that the funds belong to the claimant.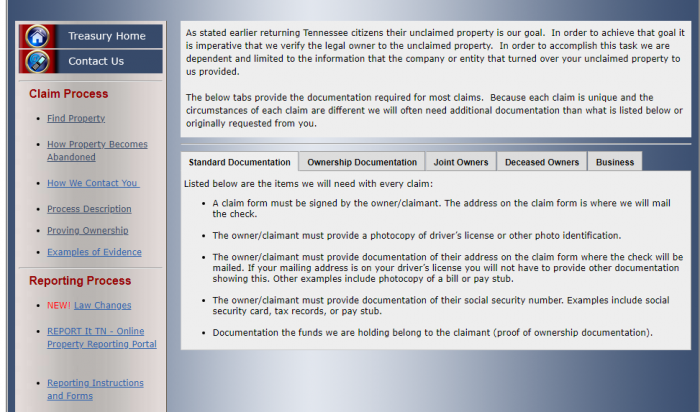 Unclaimed Money Laws in Tennessee
In July, Tennessee made significant changes to their existing abandoned property law, by adopting the Revised Uniformed Unclaimed Property Act, Tennessee Code Annotated § 66-29-101, et seq.: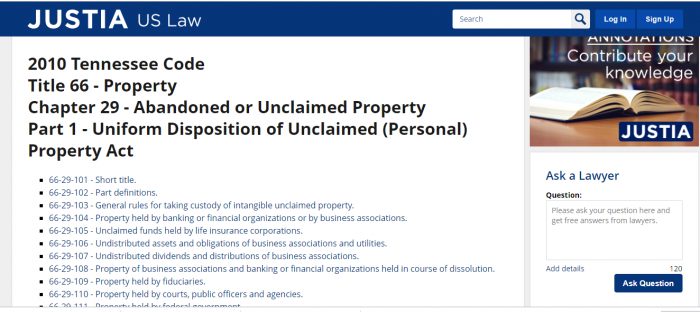 Tennessee Unclaimed Money FAQ
How long does Tennessee hold unclaimed money?
The State of Tennessee will hold property for an indefinite period of time, and there is no time limit for a property owner or the owner's heirs to file a claim. However, if the property was a stock, then shares are liquidated within 12 months of the property being received and you will receive the sale amount rather than the stocks.
Examples of Unclaimed Money
Almost any type of intangible personal property that has value can become unclaimed property. Real property and vehicles will not become unclaimed property. Different types of unclaimed property include: uncashed pay checks; security instruments like stocks and bonds; bank accounts; certificates of deposit; unpaid wages and commissions; customer deposits, credits, refunds, or overpayments; paid-up life insurance policies; and safe deposit box contents.
In addition, if your property was earning interest before it was turned over to the state, it will continue to earn interest while it is in the state's custody.
Does state of TN make efforts to locate owners?
Yes. Tennessee makes efforts to contact property owners in several different ways: by internet, mailing notices to your home, mailing notices to your work, through advertisements, and through other outreach methods.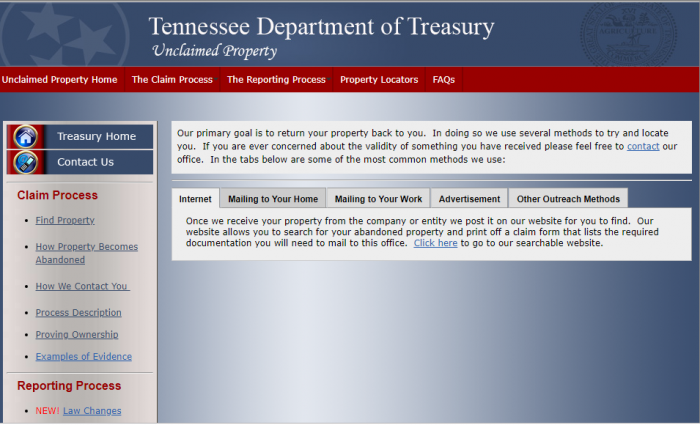 Other sources to search besides TN state database?
At the beginning, we warned you that you would need to look at other databases to locate unclaimed property. Here are some of the places you should think about including in your unclaimed property search:
The first thing you need to do is consider whether there are other states that might be holding your unclaimed money. Make sure and list every state or territory where you have ever resided. In addition, you should include any states where your relatives reside or have resided. If you have any financial or business contacts in other states, you may want to check those states, as well. If your employer is headquartered in another state, or if you have insurance or other financial contracts in another state, then you need to check that state as well. In addition, you may have contacts with the state if you have purchased money orders, traveler's checks, or gift cards in another state.
Next, you want to think about nationwide sites. These sites include four that we consider must-search sites for anyone looking for property: the U.S. Treasury, the IRS, the National Pension Benefit Guaranty Corporation, and the Life Insurance Policy Locator Service.
The U.S. Treasury website is one of the largest holders of unclaimed property in the United States, with over $17 billion in unclaimed savings bonds. It is also the least user-friendly of any website we suggest our visitors need to check out when running a search for abandoned property. Not long ago, the U.S. Treasury had a very easy way to find and claim abandoned saving bonds, with an online database that was easy to access. However, they discontinued that process. Now, if you need help finding a lost savings bond, you can look for information on the process at the Treasury Direct website, call them at 844-284-2676, or write to the Bureau of Public Debt.
While most people think of the Internal Revenue Service as an agency that takes our money, it is actually a huge federal source of unclaimed property claims. That is because it sends millions of tax refunds checks each year. When checks are undeliverable, they are returned to the IRS, not forwarded: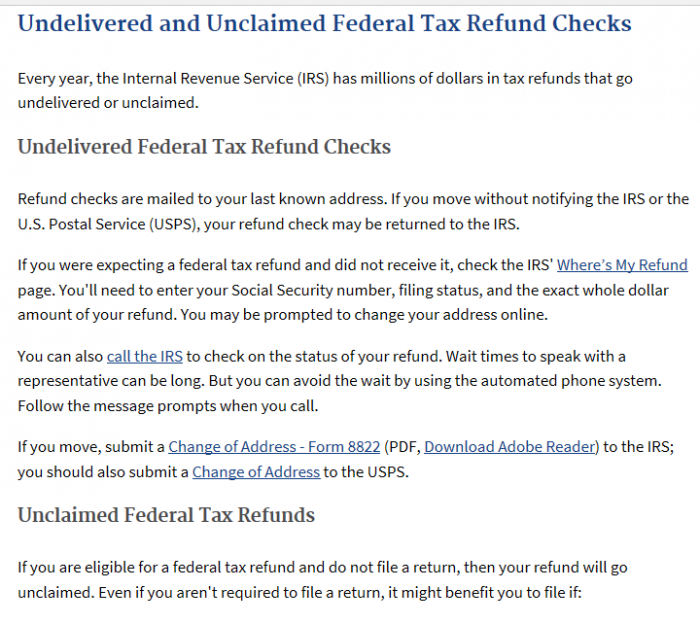 The IRS is so accustomed to having people searching for their unclaimed tax refunds that they have set up a Where's My Refund? page to help you track your missing refund money: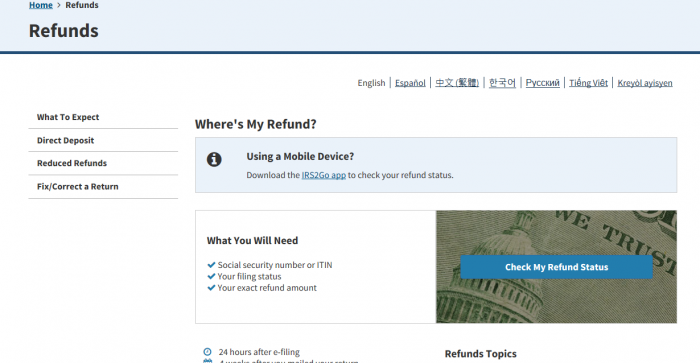 The Pension Benefit Guaranty Corporation, which is a federal agency that guarantees private pensions, is another source for unclaimed property claims. They currently have over $400 million in unclaimed pension benefits, with over 70,000 potential claimants. The PBGC operates a database that allows people to search for missing pension benefits: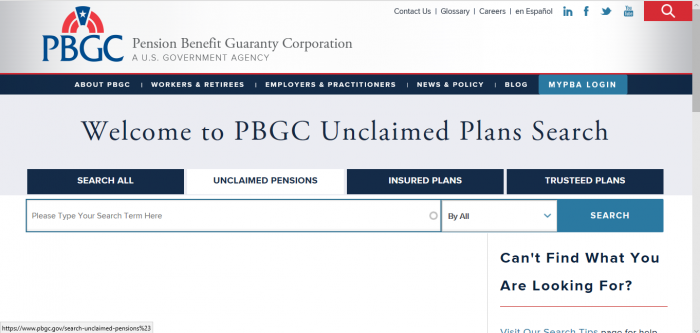 Another site that we suggest people visit is the National Association of Insurance Commissioners' Life Insurance Policy Locator Service. While there is no database where you can search to see if you are the beneficiary of unpaid life insurance claims, you can submit information at this site so that its member life insurance companies can check their databases to see if they have any unpaid claims for you: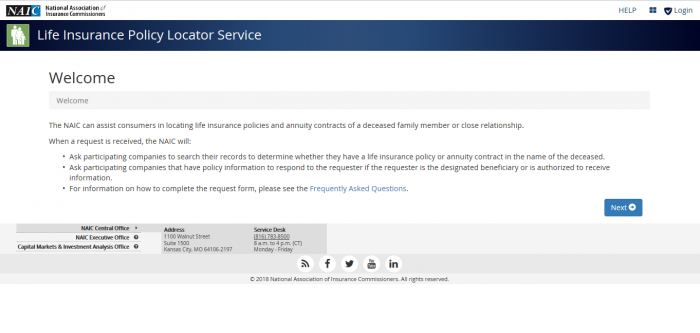 How do I make sure my heirs know where my assets are if I die?
One of the best ways to keep your property from becoming abandoned it making sure you're your heirs know how and where to locate your property when you die. Unfortunately, many people think that estate planning begins and ends with writing a will. However, a will does not contain information on how to locate assets. You need to give a trusted individual information about how to contact your financial records if you are incapacitated or die. With that information, you also want to make sure and include locations of any assets, as well as any keys you need to open safety deposit boxes or other storage areas.

How can I prevent my property from becoming lost or unclaimed?
The best way to keep your property from becoming lost is to make accurate financial records every time you open any kind of account or put money anywhere. Whenever possible, we recommend you using electronic account management. We also suggest you open an email address that is completely your own, not linked to any employer, which you use for financial records. Use this email address whenever you opt to use any type of electronic account service. We suggest that you set up a file with information on these accounts, and ensure that a trusted individual has access to that account.
A second great step is to make sure that you notify any of your financial institutions of any time you have a change in address, phone number, or a name change. One way to make sure that you do that is to set aside a day each year to review your financial records and make sure that all of your financial organizations have your information.
When you are keeping your financial records, there are some details that you want to include, which should help you or a trusted person find your assets. We suggest you include the following information for each account: the name of the financial institution or other holder; the name you used to open the account; the account numbers; the date you opened the account; when deposits are due back to you; the amount of the account of deposit; the physical address of the holder; and phone numbers for the holder. In addition, if the account is related to tangible property, make sure you include the physical location of the property and a key or other way to access the property.
Should I hire a finder to conduct the search?
Finder services, also known as locator services, can be somewhat controversial. Locator services are third-party services that will search for and claim your unclaimed property for you, in exchange for a fee. Usually that fee is a percentage of the funds that are recovered. Many people get concerned about that fee because you can make your own claims for free. However, that does not mean that finder services are illegitimate. Instead, it really comes down to whether the time savings are worth the fee for you. If you would not conduct your own search and file your own claims, then a finder service might be a good investment.
While there are plenty of legitimate locator and finder services, because they need to use your personal information to run searches and file claims, using an illegitimate finder can open you up to a risk of identity theft. Therefore, do not respond to unsolicited ads from finder services and take the time to check out the finder service before using it.
Why does Tennessee take possession of unclaimed property?
The goal of the unclaimed property law is to collect, safeguard, and return property to its rightful owners.
Conclusion
While you will probably not encounter pirates or cryptic maps, starting an unclaimed property search is still a lot like looking for hidden treasure. You may not have abandoned property out there waiting for you, but millions of people have billions of dollars in unclaimed property claims. Time to find out if some that money is yours!