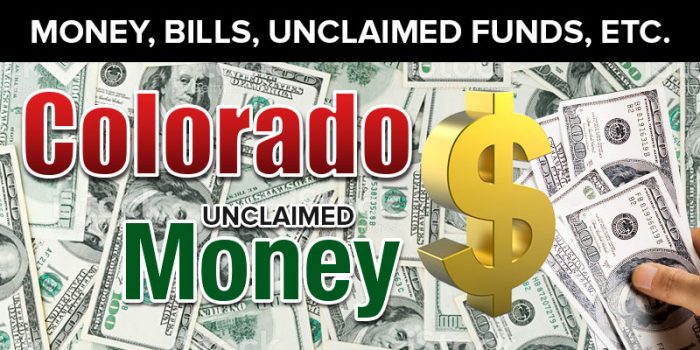 Looking for Unclaimed Property or Money in Colorado?  This article will provide you with all the information you need, as well as an up-to-date search so you can track down any property or payment owed to you and retrieve it in record time.
In Colorado, the Office of the State Treasurer handles the unclaimed property claims. The program, known as The Great Colorado Payback, is responsible for reuniting people and businesses in Colorado with lost or forgotten assets. After it is labeled unclaimed or abandoned, money is turned over to the State Treasury for safe keeping. The money never changes ownership; it is remains the property of the owner, but is simply put in the state's custody. Currently, there are over 1.7 million individuals with property in the custody of the state. You can find more information at Colorado's Unclaimed Property Website.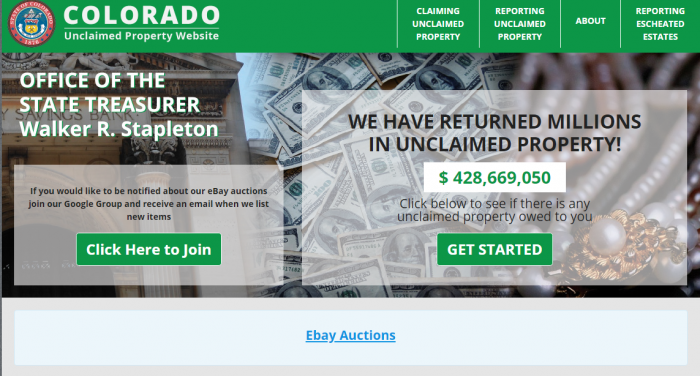 If you live in Colorado, or are searching specifically for property you feel became unclaimed while you had a Colorado address, then you want to start with Colorado's unclaimed property page. We suggest that most people begin their unclaimed property searches by going to their state's unclaimed property page, since each state operates its own unclaimed property website. However, because these sites are state-specific, and most people have contacts outside of a single state, we discourage you from stopping your search after looking at Colorado's unclaimed property page. Instead, we urge you to think of other locations that might have information on property you may have abandoned.
To run a comprehensive property search, we suggest you start by making a list of all the states where you previously resided, as well as states where you may have property. Think of states where employers or insurers were headquartered, as well as states where relatives may have lived. Then, think about the national websites that may have information on money that you have abandoned. Money that originates with the federal government never escheats to the state, so you will want to check federal-level resources to see if you have any unclaimed money at those sites.
We understand that the unclaimed money search process can be a little daunting. However, it is easier than most people fear. The real problem is that it is somewhat time-consuming, which can make the process feel more difficult than it really is. That is why, whether you are a veteran unclaimed property hunter or this is your first time to try to locate unclaimed money, we urge you to read through our comprehensive unclaimed property guide. In this guide, we tell you how to simplify the search for abandoned property, answer the most frequently asked questions about unclaimed money searches and claims, and point you to the websites where you can search for your unclaimed property.
Read on to find out the answers to questions like:
(1) Where do you search to find unclaimed money and unclaimed property?
(2) Are abandoned property/money and unclaimed property/money the same thing?
(3) How does Colorado decide when to call property unclaimed/abandoned?
(4) In Colorado, how long must property be abandoned in order for it to be considered unclaimed and/or abandoned?
(5) How do I conduct an unclaimed property search? Are there specific steps?
(6) What do I need to file a claim for my unclaimed money in Colorado?
(7) Does Colorado take any special steps to help people locate their unclaimed money?
(8) What is a finder service? Is it the same as a locator service?
(9) Should I use a finder service; will that help me locate or claim abandoned property?
The Colorado Office of the State Treasurer is responsible for taking custody of unclaimed property on behalf of owners who have not had contact with the holder for a period of time, which is set by statute. Once that time period expires, holders in the state of Colorado are required to report the property to the state. Failure to report the property can actually result in punishments for the holder.
To search for unclaimed property, you can head to Colorado's Claim Unclaimed Property page.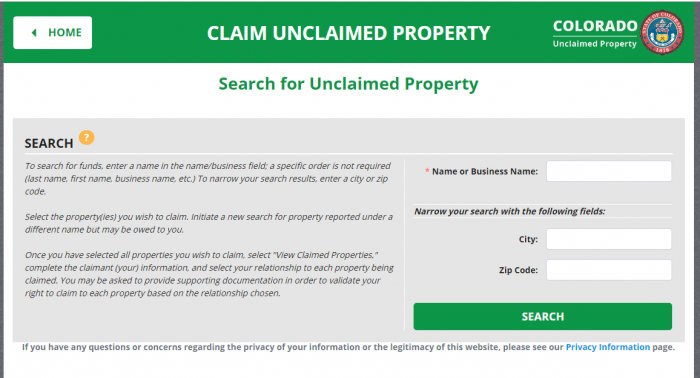 Colorado's State Treasurer also maintains a frequently asked question page in order to answer any questions you may have about Colorado unclaimed property.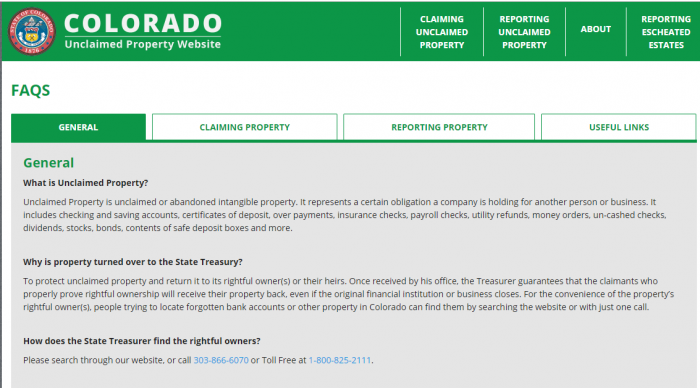 Even if you want to start your search in Colorado, chances are that you are going to need to look in other locations as well. That is because, while some states are on the MissingMoney website, which lets you search multiples states at once, not all of them are. Instead, they are on separate state databases. That is why you may need to look at multiple state databases as well as several national-level sites.
What is Unclaimed Money?
Each state defines unclaimed property for itself. This means that while unclaimed property/unclaimed money are similar from state-to-state, you really need to look at individual state rules to discover what unclaimed property is for that state. The State of Colorado classifies unclaimed property specifically as unclaimed or abandoned intangible property. The unclaimed property stands for an obligation that a company (or holder) is holding on behalf of a person or business known as the owner. This intangible property can come in multiple forms, but is most likely to be composed of: checking accounts, saving accounts, over-payments, insurance checks, certificates of deposit, payroll checks, utility refunds, un-cashed checks, money orders, bonds, stocks, and dividends. In addition, there are some very limited types of tangible personal property that might count as unclaimed property, specifically the contents of safe deposit boxes.
How Much Unclaimed Money is in Colorado?
While Colorado does not provide the amount of money that it is currently holding for actual owners, it does report that it has returned $428,669,050 to actual owners. If you search other states and the federal sites, you are even more likely to find unclaimed money. There is an organization that exists in order to track unclaimed property and try to reunite original owners with it: the National Association of Unclaimed Property Administrators (NAUPA). According to NAUPA, there is an estimated $42 billion in unclaimed funds in the United States.
Colorado Unclaimed Money Finder
You can search for unclaimed property on Colorado's Unclaimed Property site.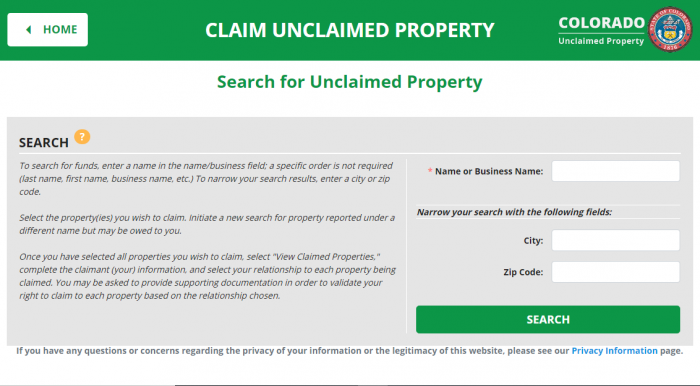 Colorado's unclaimed property is consolidated into a single source. Therefore, you can search to find property that has escheated in any of the following counties: Adams, Alamosa, Arapahoe, Archuleta, Baca, Bent, Boulder, Broomfield, Chaffee, Cheyenne, Clear Creek, Conejos, Costilla, Crowley, Custer, Delta, Denver, Dolores, Douglas, Eagle, Elbert, El Paso, Fremont, Garfield, Gilpin, Grand, Gunnison, Hinsdale, Huerfano, Jackson, Jefferson, Kiowa, Kit Carson, Lake, La Plata, Larimer, Las Animas, Lincoln, Logan, Mesa, Mineral, Moffat, Montezuma, Montrose, Morgan, Otero, Ouray, Park, Phillips, Pitkin, Prowers, Pueblo, Rio Blanco, Rio Grande, Routt, Saguache, San Juan, San Miguel, Sedgwick, Summit, Teller, Washington, Weld, and Yuma.
Starting your search is simple. All you have to do is put in your last name or your business name in the search fields of the unclaimed search.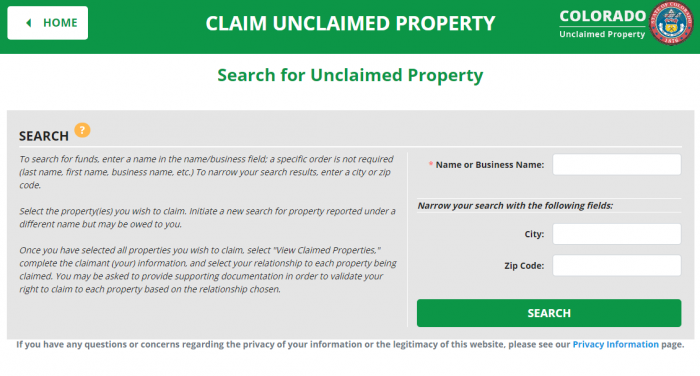 The Colorado website lets you narrow your search by city or zip code, but all you need to run a search is a last name. While this can help you ensure that you find any money that might be yours, it can make it difficult to narrow down your search results if you have a common last name, like Smith. This resulted in over 1,000 search results, but the website only shows 1,000 because that is the limit: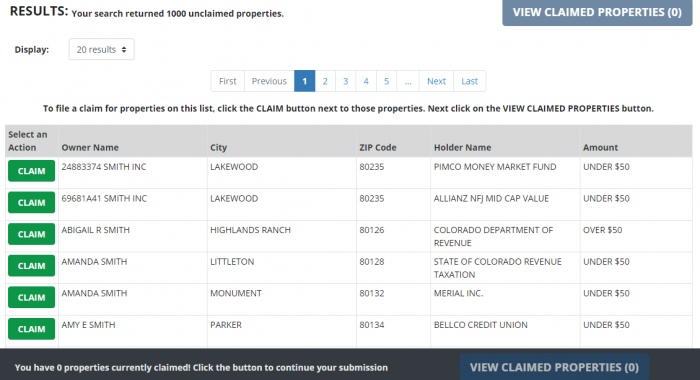 Adding in additional information lets you narrow down the search. In some locations, adding a first name can result in a meaningful narrowing of your search results. However, it does not necessarily result in a meaningful difference. For example, when we searched for "Bob Smith" instead of just Smith, we still had over 1,000 results: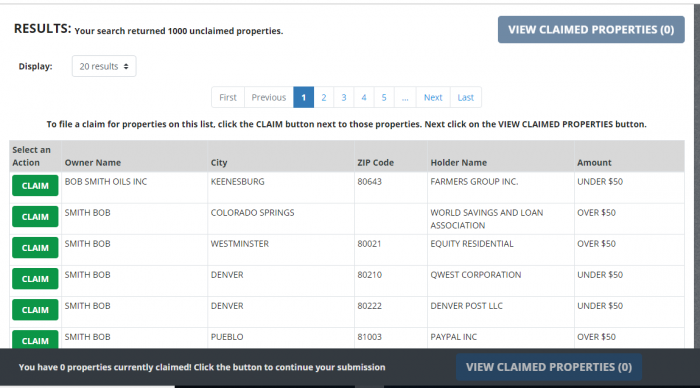 With search results like this, you probably need to go ahead and include any additional information that you can use to narrow your results. We narrowed the search by including the city of Colorado City, and got the following results: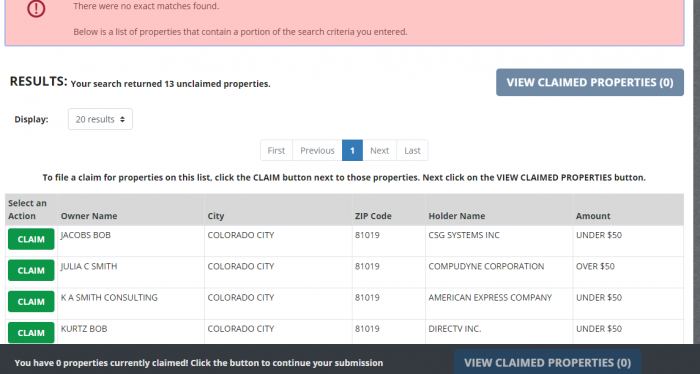 Narrowing that result actually eliminates any exact matches, but does narrow the number of results down to 14.
When you have a list of results, you can see that there is a "select an action" column that allows you to click on the "claim" button. Once you have claimed the properties, they will have an X next to them; if you click the X you can remove them from the claimed list: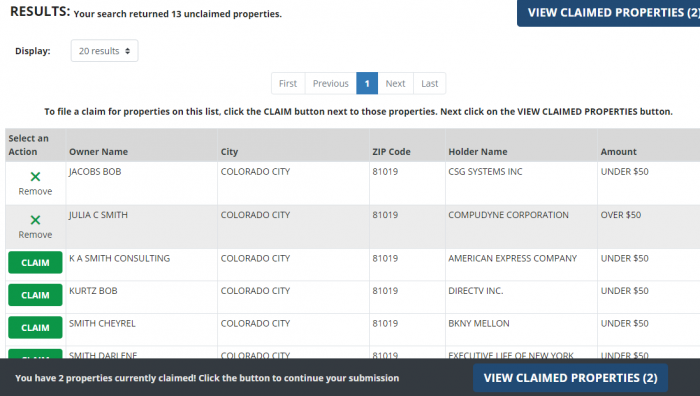 You can then choose the option to "view claimed properties (2):"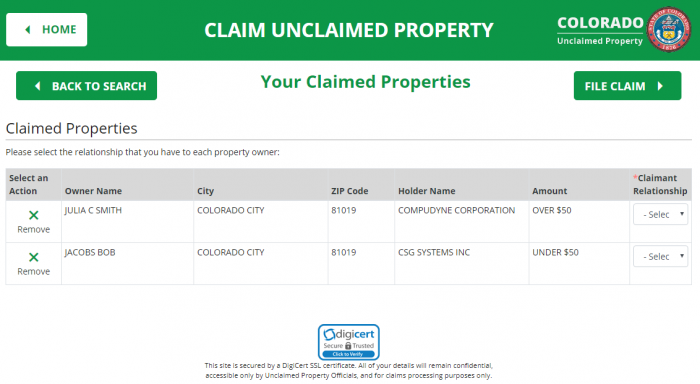 As you can see, when you get to the above screen, you have the option of choosing a claimant relationship. You use these drop down menus to pick your relationship to the property owner. Once you have done that, you can choose to file a claim. To file a claim, you can then click the "file claim" button at the top right of the screen. Doing so takes you to the following screen: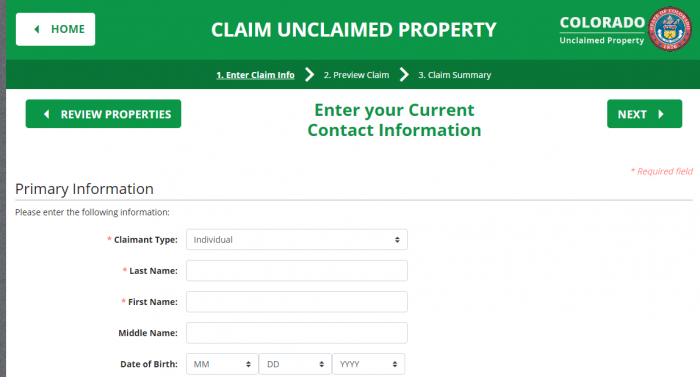 This contact information screen asks you for the type of claimant, your last name, first name, middle name, date of birth, email address, phone number, social security number or tax identity number, and address. Once you enter the information, you will be given the opportunity to preview your claim prior to submitting it. After submitting your claim, the state will let you know what type of supporting documentation you need to provide in order to claim the property.
You can upload documents online to support your claim. You will need your claim number to upload the documents: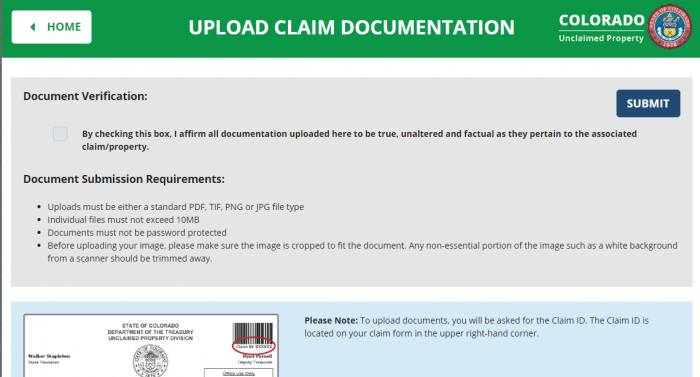 Unclaimed Money Laws in Colorado
Colorado's Unclaimed Property Act, also known as Article 13, can be found at Colorado Revised Statutes § 38-13-101 et seq.
Colorado Unclaimed Money FAQ
How long does Colorado hold unclaimed money?
The State of Colorado's Treasurer's Office does not take possession of unclaimed money/ unclaimed property. It just takes custody of it. It holds the property in custody indefinitely for actual owners.
Examples of Unclaimed Money
Generally, Colorado defines unclaimed money as intangible unclaimed property. However, some tangible property, such as property held in safe deposit boxes, may qualify as unclaimed property. The types of property that are generally listed as unclaimed property include: money in savings or checking accounts, uncashed checks, unclaimed wages, dividends, bonds, stocks, insurance benefits and claims, deposits, over-payments, and refunds.
Does state of CO make efforts to locate owners?
While some states make extraordinary efforts to locate the actual owners, Colorado is not one of them. However, there are three ways that people searching for their property can try to find it. They can visit the website; they can call 303-866-6070 or call toll free at 800-825-2111.
Other sources to search besides Colorado state database?
People living in Colorado generally begin their property searches by searching in the Colorado unclaimed property database. However, even if you have only ever lived in Colorado, the reality is that you need to look at some other places to run a comprehensive unclaimed property claim.
First, you want to consider which states you should search. You should search any state where you live, where you previously lived, or where someone for whom you may be a natural heir (such as a parent or grandparent) lived. In addition, you want to include any state where you might have business contacts. Think of states where your employer or your insurer may have been incorporated.
Some money never escheats to the state. That is why you want to look at non-state sources. We tell people to look at four sites, at a minimum, when running an unclaimed property source: the Life Insurance Policy Locator, the National Pension Benefit Guaranty Corporation, the Internal Revenue Service, and the U.S. Treasury. We will cover those sites in depth. However, depending on your individual circumstances, you may also want to look at the FDIC, the Department of Housing and Urban Development, the National Credit Union Administration, and the Veteran's Administration. You can contact the FDIC at their website. You can contact the Department of Housing and Urban Development at its website.  You can contact the National Credit Union Administration at its website. You can contact the Veteran's Administration Benefits department at its website.
If you do not search any other national-level site, you need to go to the Internal Revenue Service. It is important to look at the IRS, because the IRS will not forward income tax refunds if it does not have a current address for the taxpayer. In addition, the IRS never turns over tax returns to the state: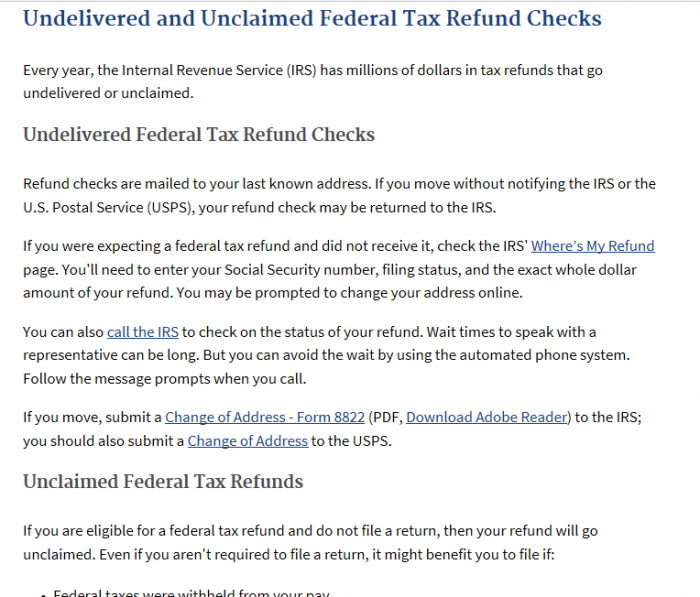 If you think you are missing a tax return, you can search specifically for it by going to the Where's My Refund? page.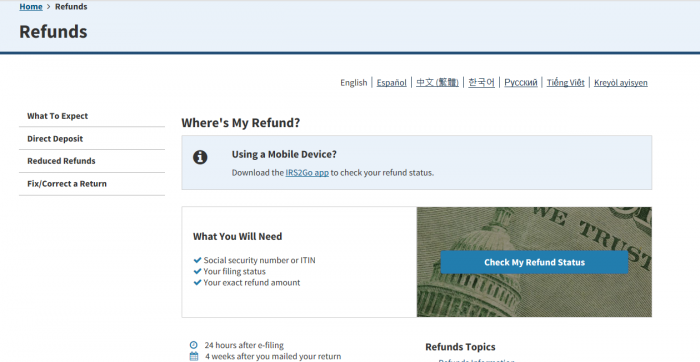 Another site that is important to search is the U.S. Treasury. Unclaimed treasury bonds are a major source of unclaimed funds. In fact, there is over $17 billion in unclaimed bond funds right now. It used to be easy to search for unclaimed bonds on the treasury website. It is no longer easy to search for those bonds. There is no database to search. However, you can still contact the Treasury to begin the process of looking for unclaimed bonds. You can contact the treasury by visiting the Treasury Direct website, writing to the Bureau of Public Debt, or calling them at 844-284-2676.
You may not realize that pension benefits are searchable at a federal site, but they are. That is because the Pension Benefit Guaranty Corporation guarantees pension benefits, and can also help you locate unpaid pension benefits. Right now, over 70,000 potential claimants have over $400 million in unclaimed pension benefits.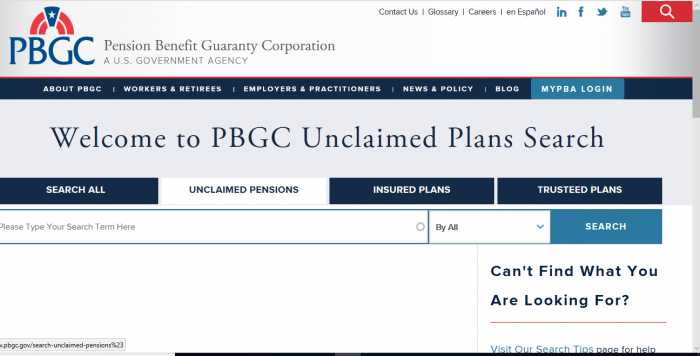 Although it is not exactly a federal resource, there is an additional non-state resource that you need to search when running an unclaimed property search: National Association of Insurance Commissioners' Life Insurance Policy Locator Service. This organization tries to reunite property owners with their missing property. While it does not have a searchable database, it does operate as a clearinghouse for benefits held by its member insurance companies. You put in your information and it distributes that information to member companies, who search to see if you have any unclaimed benefits: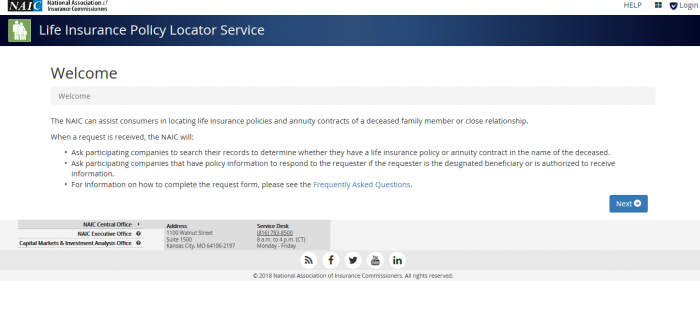 What is the best way prevent my property from becoming lost or unclaimed?
Ever heard the saying, "an ounce of prevention is worth a pound of cure?" This saying is especially true when talking about unclaimed money. The best way to keep access to your unclaimed money is to never lose it in the first place. Follow these steps to help you keep track of your money:
Make a record of all of your existing accounts and any new accounts at you open them.
Keep all of your account records in a single location. If you keep them in a digital location, make sure you have access to the password.
Do not store your account passwords with your other account information; instead, keep a database with your passwords, which are identifiable to you, but not readily identifiable to someone who might hack your system.
If you have property in a safety deposit box or a storage unit, make sure and include keys to those locations, as well as information about the physical address and box/unit number.
Your account information should include: the account numb, name used on the account, the holder's name and contact information. You want to keep a record of passwords, but not in the same location.
Keep a calendar that will remind you up updates when you have any deposits or refunds that are due.
Set up a reminder to contact your financial institutions at least once a year.
If you have any changes in personal information, such as marriages, divorces, name changes, address changes, and phone number changes, notify your financial institution when they occur.
Choose a trusted individual that can get immediate access to your information in the event of your death or incapacitation.
How do I make sure my heirs know where my assets are if I die?
Do not make the mistake of assuming that having a will helps your heirs locate your assets. They need to have access to your financial records. That is why you choose a trusted individual and give them the information that they need to access your complete financial records upon your death or incapacitation.
Should I hire a finder to conduct the search?
Finders, which may also be called locator services, charge you a fee in return for searching or and claiming unclaimed property on your behalf. There is no fee to search for and claim property. So, Colorado encourages you to search for yourself. However, you may choose to use a finder service if you do not feel like you have the time to conduct a search.
Why does Colorado take possession of unclaimed property?
Colorado operates its unclaimed money program for the same reason as other states and U.S. territories: to simplify the process for property owners to be reunited with their unclaimed money.
Conclusion
Think you may have unclaimed property waiting for you? There are billions and billions of reasons to start an unclaimed property search. It is somebody's money; you should start your search today and see if it is yours.