Searching for unclaimed property in California? Then you have come to the right place. This easy how-to guide will help you find any unclaimed money in California. In this guide, we not only cover how to find unclaimed property that is held in the state of California, but also provide links and tips to finding property being held outside of the state. Using the tips and links we provide, you should be well on your way to finding all of your unclaimed property. Best of all, the steps we outline are free, though they can be somewhat time consuming. Whether you decide to search for yourself or hire a search service, this guide will help you full understand the process for finding unclaimed money.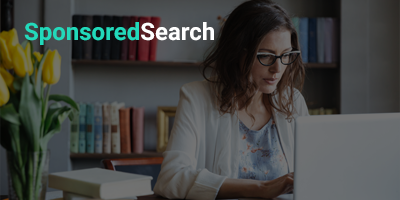 Search Public Records
Currently, every state in the United States, including California, has an unclaimed property program. U.S. territories have similar programs, as do a few foreign countries. There are also some national databases that can help you find unclaimed property.
California does not use the Missing Money database. However, you can run a simultaneous search in a number of different areas if you do search at www.missingmoney.com. Running a search at Missing Money allows you to simultaneously search: Alabama, Alberta Canada, Arizona, Arkansas, Colorado, District of Columbia, Florida, Idaho, Illinois, Indiana, Iowa, Kentucky, Louisiana, Maine, Maryland, Massachusetts, Michigan, Minnesota, Mississippi, Missouri, Montana, Nebraska, Nevada, New Hampshire, New Jersey, New Mexico, New York, North Carolina, North Dakota, Ohio, Oklahoma, Puerto Rico, Rhode Island, South Carolina, South Dakota, Tennessee, Texas, Utah, Vermont, Virginia, West Virginia, and Wisconsin.
The steps to finding unclaimed money depend somewhat on why you are searching for the money. If you are looking for unclaimed money of yours, then you are going to want to search in federal databases and in any of the states in which you have resided, as well as states where any employers have been headquartered. However, if you are looking for unclaimed money that may have been left to you by a deceased, you will have to expand your search. To ensure that your search is comprehensive, you will want to make a list of possible locations and work off of that list as you search.
For state searches, every state has a system in place to manage unclaimed money. These are generally run through a state's treasury and accessible on the internet for easy searching. However, be aware that it may not be labeled a treasury website; many states call their financial offices controllers or comptrollers, as well. You should be able to find your state's unclaimed property database by searching for your state name and the words unclaimed property or unclaimed money. Once you get to that page, the searches are relatively self-explanatory. However, make sure you search for variations of your name, such as your maiden name, former married names, first initial, and first name.
The search for unclaimed property is very similar in different states, even if they do not use the Missing Money database. If you have already run a search for unclaimed money in another state, then you can apply the same principals to a search in this state. You can search for unclaimed property in California by going to the California State Controller's website.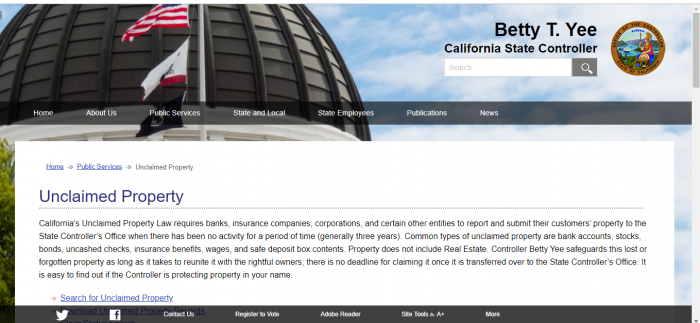 California Unclaimed Property Database
In terms of both area and population, California is one of the largest states in the nation. If you had to search each of its 58 counties individually, a search could rapidly become extremely time-consuming. Fortunately, California has a centralized unclaimed money website that allows you to simultaneously search for unclaimed property in: Alameda, Alpine, Amador, Butte, Calaveras, Colusa, Contra Costa, Del Norte, El Dorado, Fresno, Glenn, Humboldt, Imperial, Inyo, Kern, Kings, Lake, Lassen, Los Angeles, Madera, Marin, Mariposa, Medocino, Merced, Modoc, Mono, Monterey, Napa, Nevada, Orange, Placer, Plumas, Riverside, Sacramento, San Benito, San Bernardino, San Diego, San Francisco, San Joaquin, San Luis Obispo, San Mateo, Santa Barbara, Santa Clara, Santa Cruz, Shasta, Sierra, Siskiyou, Solano, Sonoma, Stanislaus, Sutter, Tehama, Trinity, Tulare, Tuolumne, Ventura, Yolo, and Yuba counties.
What is Unclaimed Property?
Before you get too excited, we should probably define unclaimed money. Unclaimed money is not just any money that has not yet been claimed. Instead, the terms unclaimed money and unclaimed property refer specifically to money or property that has not been claimed by its rightful owner. Generally, this property is being held by a financial institution, business, or other institution, which has been unable to reach the person named as the rightful owner for at least a year.
In California, unclaimed property is defined by statute. California's Unclaimed Property Law requires "holders", which include corporations, businesses, associations, insurance companies, and financial institutions, to report and deliver property to the California State Controller's Office after there has been no activity on the account or contact with the owner for a specific period of time, which varies according to the type of account or property, but is generally three or more years.
How Much Unclaimed Property in California?
While you may think that most people would not forget about property or money being out there, there is actually a surprising amount of unclaimed property out there. While some of the dollar amounts are very small, some of them are very large. For example, there is at least one million-dollar pension out there that has not been claimed. This makes it worth checking just to make sure you do not have any unclaimed property.
When we are talking about big numbers, we mean really big numbers. How big? Well, if the National Association of Unclaimed Property Administrators (NAUPA)'s, figures are correct, around $42 billion in the United States alone. A huge part of that money is located in California. The State of California is currently in possession of more than $8 billion in unclaimed property that rightfully belongs to around 32.5 million individuals or businesses.
California Unclaimed Property Finder
California's Unclaimed Money Finder is located at the California State Controller's website.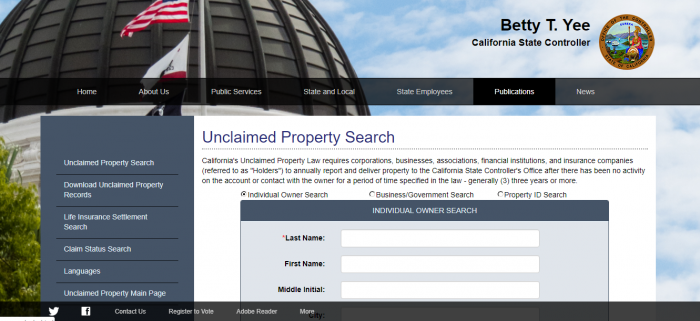 In California, you can search for property by looking by last name. You can also add first name and middle name, as well as by city.
If you have looked at any of our other tutorials, then you know that we use the same name in all of our tutorials. The name is a common name, Bob Smith. We use this name because it makes it easy to compare the different tutorials. We also use a common name because there are some pitfalls that come with searching for common names, and by using one in our tutorials, we can help you see how to deal with too many search results. You will notice that at the top of the page, you can also choose whether you are running an individual owner search, a business/government search, or a property ID search.
We begin the search by searching for the last name Smith: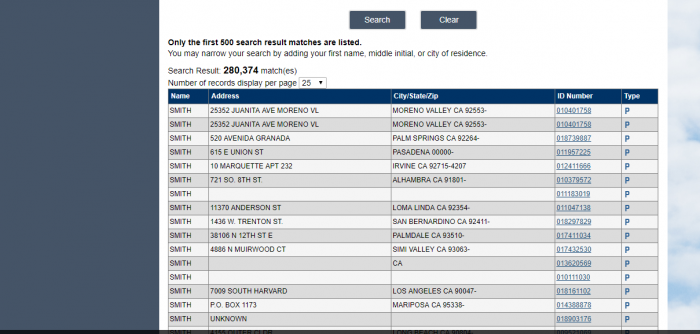 While many states will only say that there have been 1,000 results, California shows exactly how many results there are. For this particular search, there were 280,374 results. However, you only see the first 500 of the results. To narrow down the search, we can try adding the first name Bob:
Adding the first name Bob narrows down the search results tremendously. There are 514 results, and only the first 500 show in the results. You can further narrow the search by adding the city. We used the city of Los Angeles: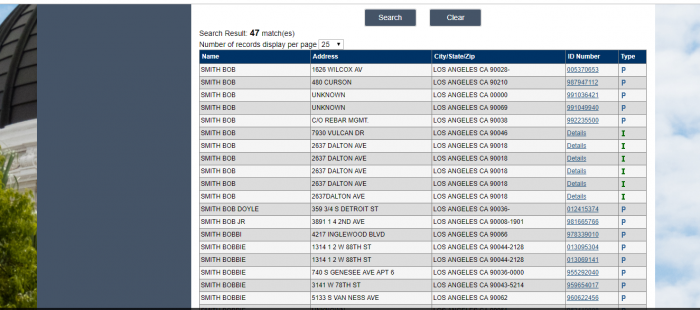 Doing so meaningfully narrows down the results to 47, a number that gets even smaller when you look at the results, because only the first dozen actually match the name Bob.
To get additional information or start the claim process, click on the property ID number, which has a link to the property details screen for that specific property. The property details screen looks like:
If you think you can claim the property, you will be given the option: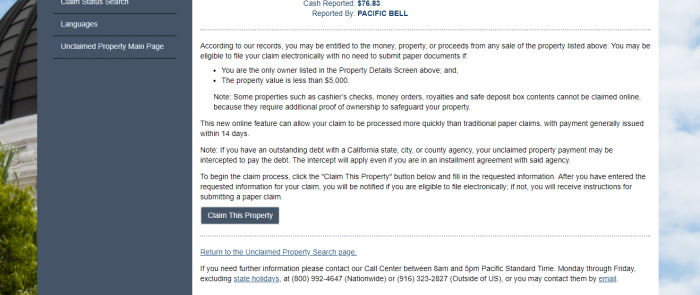 Hitting the claim button takes you to the claim affirmation fill in form, which looks like this: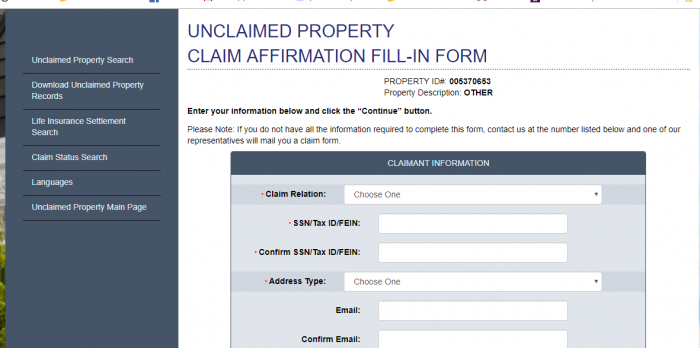 While filling in the form, you will need to choose your relation to the claim. Your options include: property owner, heir of the deceased owner of the property, the agent/officer of the business, and the agent/officer for the government agency listed on the website.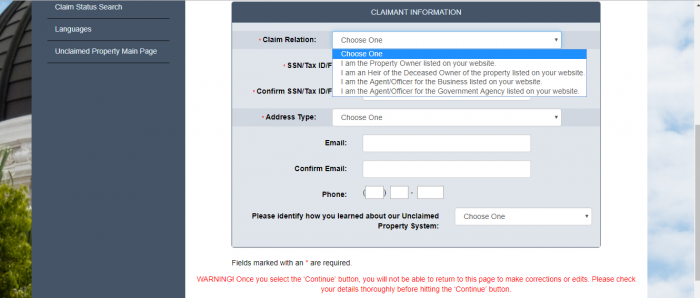 Fill out the form carefully, because, once submitted, you do not have the chance to go back and make changes.
Collecting unclaimed property in California depends on how the property was held. There are different instructions for individuals, businesses, government agencies, and for those filing on behalf of a deceased person. You can find detailed instructions here.
However, the general instructions are the same. Once you search the database, if you find any unclaimed property then you will get a Property ID number that is linked to the unclaimed property. If you follow the link, you will get to a Property Details Page, which will have a copy of the Claim Affirmation Form. You must follow all of the instructions on the form. Many of these links will give you the option of filing your claim electronically. Once the claim is submitted, then payment is usually issued within 14 days, unless the agency has additional questions or requires additional documentation. Not all claims can be handled electronically. If the claim is for more than $5,000; if the property has more than one listed owner; if the property includes cashier's checks, money orders, royalties, safe deposit box contents; or if the property requires additional proof of ownership, it may not be claimed online. In addition, if the amount of the claim is greater than $1,000, if the claim is for securities, or if the claim is for property held in a safe deposit box, then the signature on the claim form must be notarized.
Unclaimed Property Laws in California
You can find California's Unclaimed Property Law at the California Code of Civil Procedure Part 3, Title 10, Chapter 7- Unclaimed Property Law.
California Unclaimed Property FAQ
How long does California hold unclaimed property?
California does not have a deadline for claiming unclaimed property.
Examples of Unclaimed Property
While unclaimed property or unclaimed money can come in various forms, the most common types of unclaimed property include money in savings or checking accounts, stocks, uncashed dividend checks, uncashed payroll checks, uncashed money orders, unpaid life insurance policies, customer overpayments, certificates of deposit, security or other deposits, IRS refunds, state tax refunds, uncashed traveler's checks, various types of refunds including refunds for overpayments, unclaimed annuities, trust distributions, and mineral or other royalty payments. It can also include property that is being held, for example, property inside of a safety deposit box. Most other types of places where property could be held, such as storage units or rental properties, are able to liquidate the property after a period of time, rather than holding the property for the original owner.
Does California make efforts to locate owners?
Yes. When the state receives information from a "holder" that it has unclaimed property, the state then makes an effort to identify and notify the rightful owner. If it does, then it sends an unclaimed property notice to the owner, which directs the owner to contact the holder about the unclaimed funds. Owners who fail to contact the business by the deadline do not lose the rights to their property, but the property is then transferred from the owner to the state for safekeeping. There is no time limit for when a rightful owner can make a claim for the property.
Other sources to search besides the California unclaimed property database?
The State Controller's Office also entered into a settlement with several national life insurance companies to recover $266.7 million in unpaid benefits for California beneficiaries. You can search for those unclaimed property results at the State of California's Life Insurance Settlement page.
In addition, while the state unclaimed property databases do a wonderful job of tracking unclaimed property that is being held by financial institutions and companies within the state, they do not list certain types of property held by federal organizations. Federal income tax refunds, pension benefits, savings bonds, and life insurance policies are all searchable on larger nationally-based databases.
One of the biggest sources of unclaimed money is IRS income tax refunds. Therefore, when running an unclaimed property search, you want to be sure and check out the unclaimed property page on the Internal Revenue Service website. The reasons so many tax refunds remain unclaimed is that people move between filing their taxes and receiving their refunds and the IRS gets undeliverable refunds.
The IRS does not forward tax refund money if the refund is not deliverable. You can find more information about that policy on their website: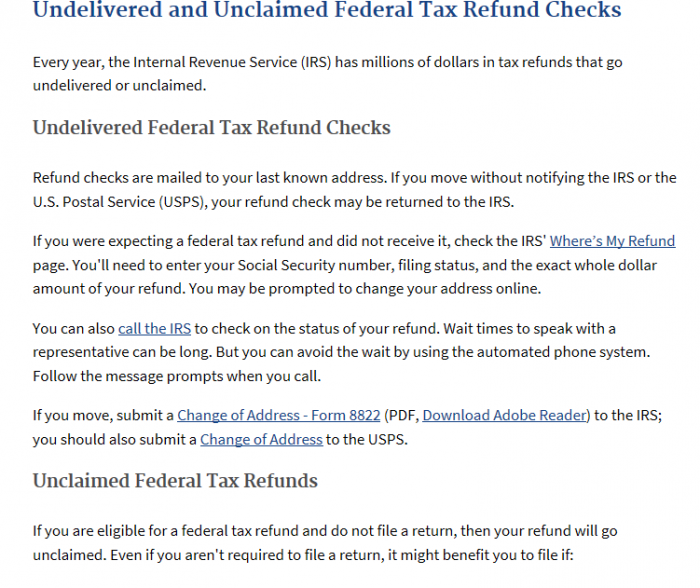 Many people may be expecting refunds, but not have received them. If you think you should be getting a tax refund, but have not received it, you can check the IRS's Where's My Refund? page: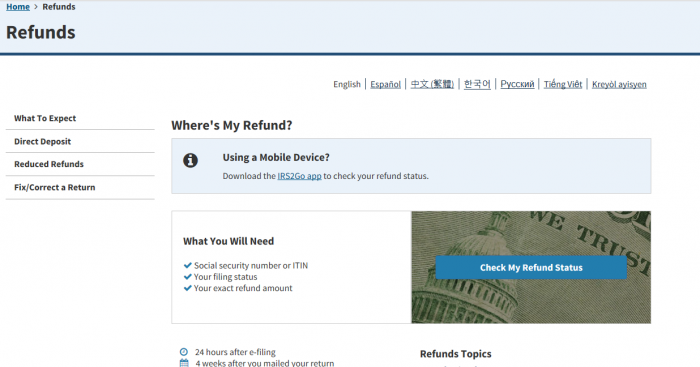 Do you think that you may have unclaimed money in the form of U.S. stocks and bonds? Even if you do not think you have missing bonds, you probably want to check to be sure, because bonds are frequently given as gifts when someone is born. You can go to the U.S. Treasury website at Treasury Direct. While it no longer has a user-friendly lost money website, it still allows you to claim lost bonds; you just might have to contact their customer service line at 844-284-2676.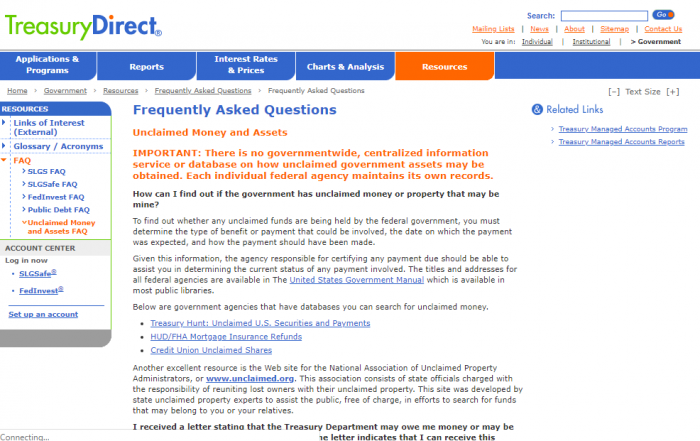 Another hidden source of unclaimed money comes from unclaimed pensions. Many people worked for companies with pension benefits, moved on to different jobs, and may not even be aware that they have pensions out there. The federal government has a solution for this; the Pension Benefit Guaranty Corporation, which was established to guarantee the pensions of U.S. Workers. Right now, it has over $400 million in unclaimed pension funds due to over 70,000 potential claimants, with amounts ranging from $.12 to almost 1 million per missing claimant. At their searchable database, you can look for missing pension funds by your last name, the state where the company was headquartered, or the business name.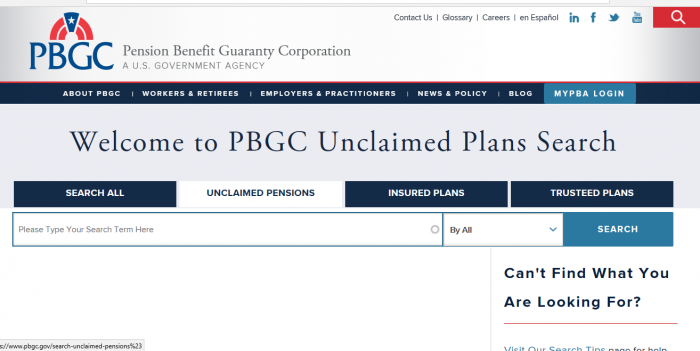 Finally, although you can find some information on unclaimed life insurance policies on state websites, they can be more difficult to locate than you might imagine. However, you definitely want to check on life insurance policies when running an unclaimed money search; about 1 in 600 Americans is the beneficiary of an unclaimed life insurance policy. Many of these policies are minimal; the average amount is around $2,000; but they are still a significant source of unclaimed funds.
The best way to find life insurance policies is to go through the deceased's paperwork and see if any life insurance policies are mentioned. Even if you cannot find the policy paperwork, if you can find the issuing company, the company should be able to locate the policy. If the insurance company is out of business, a successor company may still be obligated to honor the policy, but you may have to make inquiries with the state insurance department where the company operated or was incorporated. You should also check with any of the deceased's former employers to find out if any of them have policies.
Even if you do not find evidence that an insurance policy exists, you can use the database at the National Association of Insurance Commissioners' Life Insurance Policy Locator Service. This does not allow you to directly search for insurance policies, but, instead, allows you to enter information that allows insurers to search for you if you are the beneficiary of a policy or the survivor of a deceased who left a policy.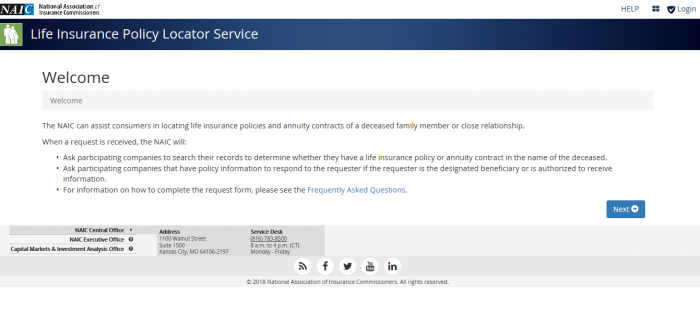 In addition, you might want to search the following sites: the FDIC, the Department of Housing and Urban Development, the National Credit Union Administration, and the Veterans Administration Benefits Department.
What is the best way prevent my property from becoming lost or unclaimed?
While the state has worked hard to make it possible for you to claim lost property, the best way to make sure that you do not have any unclaimed property is to create a centralized location for all of your financial information. This database should include pertinent information for all of your financial accounts including: the name of the bank or other institution, its physical location, the full name on the account, and any relevant account numbers. In addition, be sure to inform your banks and other financial institutions of any address changes or name changes. Whenever possible, you can also opt for electronic banking or account servicing, so that you will get information about your accounts, even if you forget to inform an institution about a move or name change.
A surprising source of unclaimed property is uncashed checks or other negotiable instruments. Therefore, we encourage people to immediately cash or deposit any checks that they receive, rather than storing them and waiting to deposit them. When available, choosing electronic deposits can also simplify the process.
Finally, the contents of safety deposit boxes are often forgotten or lost when someone passes away. If you have a safety deposit box, store information about it with your financial information. This information should include not only the bank's name, but also the physical location of the branch where the safety deposit box is located, the number of the box, and a spare key.
How do I make sure my heirs know where my assets are if I die?
Finally, you want to be sure that your loved ones have a way to locate your property if you die. Many people believe that a will ensures this will happen. However, it does not. While a will states what you want done with your money, it does not provide your executor or heirs with how to locate your money and property. We recommend keeping detailed financial records and ensuring that your executor or heirs will have access to those records when you pass.
Should I hire a finder to conduct the search?
You may have seen ads for services that offer to help you locate unclaimed money. Because the search for unclaimed money can be time-consuming, you may choose to use one of these paid services. They have their detractors, but if you do not have time to run the search yourself, they can be very helpful. Most will take a percentage of any money found, with no money due to them unless they locate unclaimed money for you. If you have an offer from a service asking for more than 20% of the claim or asking you to pay fees upfront, you may want to compare their offers with offers from other providers.
Why does California take possession of unclaimed property?
Prior to the introduction of the unclaimed property registers, the holders of such property could convert the money to their own and use it as income. The law now requires holders to provide those funds to the state, who holds the money and gives people a place to check for unclaimed property. Although not foolproof, this unclaimed property system has been very effective at returning money and property to its rightful owners, with about half of all funds that are initially identified as unclaimed eventually being claimed.
Conclusion
There are literally billions of dollars in unclaimed assets available in the United States. Some of that money may belong to you. That is why we encourage everyone to run an unclaimed money search every few years. Living in California, you can easily use their unclaimed property search tool to find unclaimed property, including life insurance settlements, that are being held by the state. Used in conjunction with websites from other states where you may have lived as well as national databases, these databases can help you locate and recover missing money.