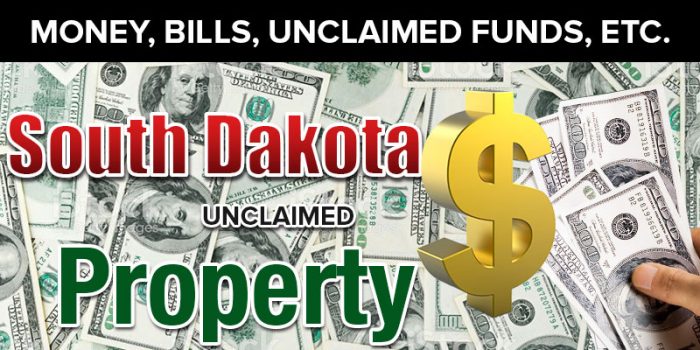 The South Dakota Treasurer handles South Dakota's Unclaimed Property Program. The South Dakota State Treasurer is holding millions of dollars in unclaimed property, and has been able to return more than $15 million in unclaimed property over the last two years. South Dakota's unclaimed property program is a no-cost program, which allows people to search for and claim their unclaimed property without paying any fees. South Dakota's unclaimed property program operates a searchable database, which is easy to search and makes finding unclaimed property easy.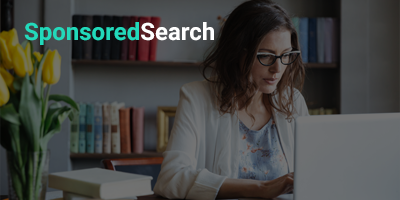 Search Public Records
The term unclaimed money might be a little misleading. It makes it seems as if money has no identified owner and is somehow up for grabs. However, the term actually means the opposite. Instead of meaning that money has no owner, it actually means that money or property has an identified owner. The reason that the money is considered unclaimed is because the holder of the money has been unable locate the identified property owner for whatever period of time is described in the applicable statute.
There are different types of property that can be considered unclaimed property. It refers to different types of lost or abandoned financial assets. These assets can come from checking and savings accounts, securities, unpaid wages, uncashed checks, life insurance payouts, and the proceeds of safe deposit boxes. There are certain types of property that are exempt from becoming unclaimed money: real property and motor vehicles.
Before property is reported to the state, the holder, which is the organization holding the unclaimed property, makes every effort to contact the owner. The goal is to establish activity with the property owner. This activity can be in the form of an online login, withdrawal, deposit, or an update to personal information, and written correspondence. If the holder is unable to produce activity, then the asset is reported to the state of the owner's last known address.
While many states use the Missing Money website to handle their unclaimed money programs, South Dakota runs its own unclaimed money program. If you are looking for a state that uses Missing Money, you can go to that state on the Missing Money website: www.missingmoney.com. For a South Dakota search, you need to visit the state's own state-run database. Fortunately, it operates in a way that is similar to other state-run unclaimed property databases. If you have run a search in other states or looked for money on the Missing Money website, then you may already be prepared to handle a search on South Dakota's website. If you have never run a search on another database, or if you are concerned about the process, you can use this tutorial to take you step by step through the search process. We provide a full example or a search, using screenshots of pages so that you can understand all of the instructions. We have tutorials available for most states, if you need to include other states in your search.
South Dakota's Unclaimed Property Database
Before states developed their statewide unclaimed property databases, many counties had their own unclaimed property databases. In those days, in order to search for unclaimed property in the state of South Dakota, someone may have had to have run searches in all of the following counties: Aurora, Beadle, Bennett, Bon Homme, Brookings, Brown, Brule, Buffalo, Butte, Campbell, Charles Mix, Clark, Clay, Codington, Corson, Custer, Davison, Day, Deuel, Dewey, Douglas, Edmunds, Fall River, Faulk, Grant, Gregory, Haakon, Hamlin, Hand, Hanson, Harding, Hughes, Hutchinson, Hyde, Jackson, Jerauld, Jones, Kingsbury, Lake, Lawrence, Lincoln, Lyman, McCook, McPherson, Marshall, Meade, Mellette, Miner, Minnehaha, Moody, Pennington, Perkins, Potter, Roberts, Sanborn, Shannon, Spink, Stanley, Sully, Todd, Tripp, Turner, Union, Walworth, Yankton, and Ziebach.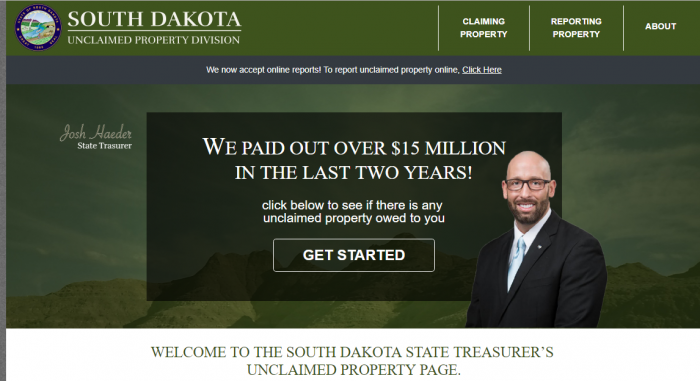 What is Unclaimed Property?
Each state has its own definition of unclaimed property, but they are surprisingly consistent across jurisdictions. In South Dakota, unclaimed property consists of abandoned financial assets such as securities, life insurance payouts, uncashed checks, unclaimed wages, and money in savings or checking accounts. Generally, tangible personal property is excluded from unclaimed money, and in South Dakota real estate and vehicles are exempted from it. However, one type of tangible property does qualify as unclaimed property: the contents of safety deposit boxes.
How Much Unclaimed Money is in South Dakota?
The South Dakota Treasurer has approximately $280 million in unclaimed property. It is estimated that 1 in 5 South Dakotans have money owed to them. The National Association of Unclaimed Property Administrators (NAUPA) estimates that there is $42 billion in unclaimed property nationwide.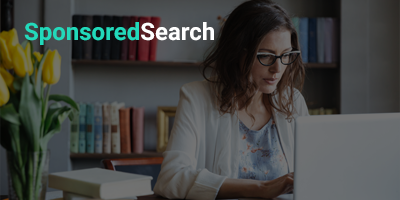 Search Public Records
South Dakota's Unclaimed Money Finder
Use South Dakota's Unclaimed Money Finder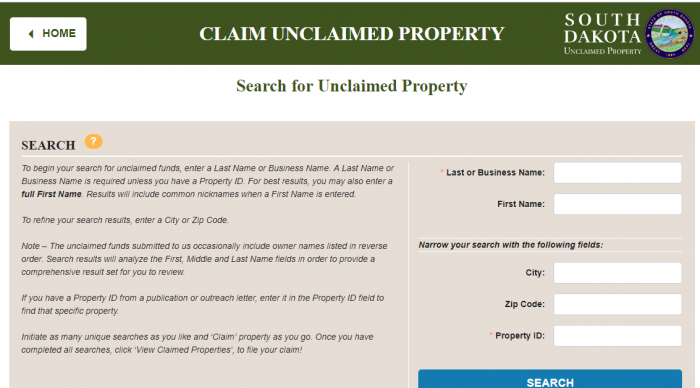 The South Dakota unclaimed money database lets you search using several different parameters: last or business name, first name, city, zip code, and property ID. You can begin a search with a last name or business name. You can add in more details to help narrow down your search.
In order to make our tutorials more helpful for our visitors, we search for property in the same name in each state. We have chosen the name Bob Smith for our searches. The choice of a common name is intentional; because common names can return an unmanageable number of results, we want to make sure you know ways to help narrow down your search results. We start the search by looking for the last name Smith. When we do that, we get the information that the search has returned 1,000 results. This information is actually somewhat misleading; the most results that it will show is 1,000, so we do not know if there are 1,000 results or 10,000 results: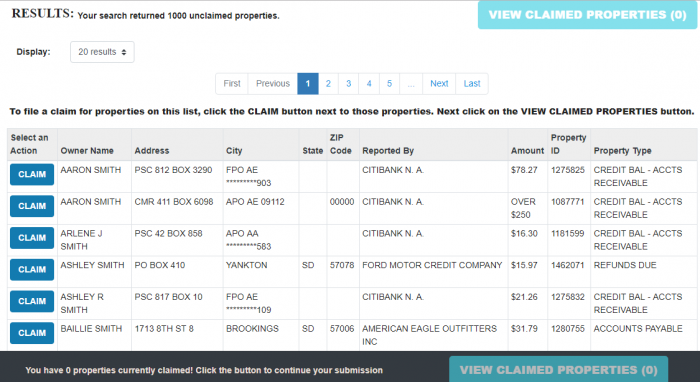 The next step is to narrow down the search by adding in the first name. We then use Bob Smith" in the name search bar instead of just "Smith." Bob Smith has a number of results in South Dakota, because there are still more than 1,000 results: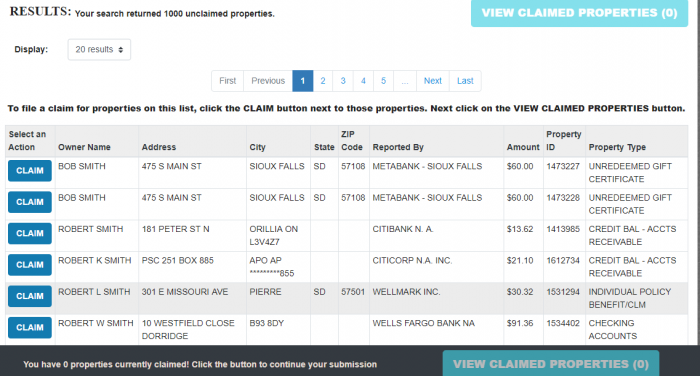 This does not eliminate some of the hits, but it also does not only return results just for Bob Smith. What it does do, however, is place the results for Bob Smith at the top of the results. In addition, it also places names that might frequently be used for Bob, such as Robert, at the top of the search results. Therefore, while it might not reduce your total number of hits, using a full name search helps you tailor your search results.
South Dakota's database also helps you use some other search parameters. These include the city, zip code, and property ID number. You can really narrow down your search results by adding one of these parameters. For example, we narrowed it down by using the city of Sioux Falls: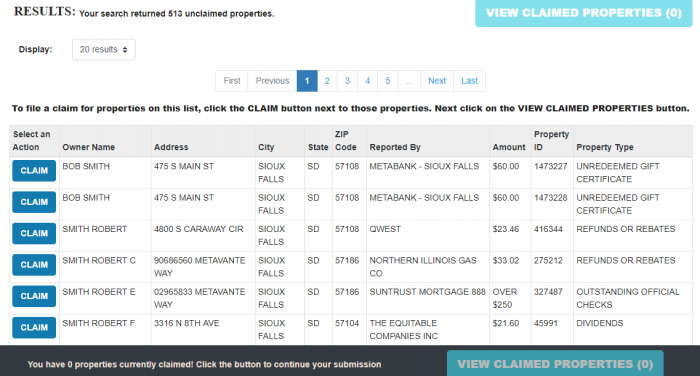 This takes us down to 513 possible results, with the two Bob Smith results in Sioux Falls at the top of the search results.
Looking at each record, you see some information for each record. This information includes the owner name, the owner's last known address, city state, zip code, who reported the funds, the amount of the claim, the property ID number, and the property type. There is also a claim button on the left side of each property record.
If you want to claim a property, you simply hit the claim button. This will change what you see in the left hand column; instead of seeing the blue claim button, you will see that the property has been claimed and it will give you the option to remove it from your claimed list: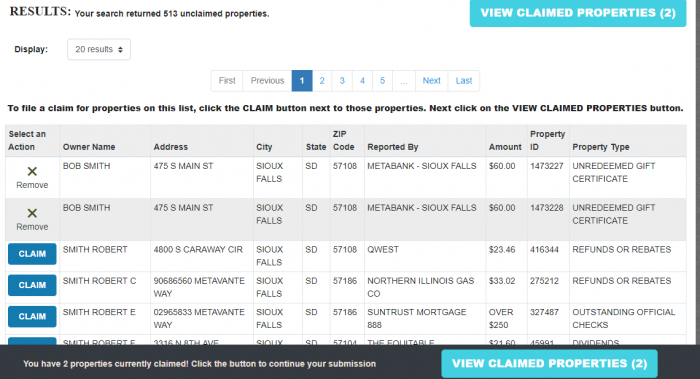 Once you have selected all of the properties you want to claim, you can claim them by hitting the view claimed properties button. There are two, one located on the top right of the screen and one located at the bottom right of the screen. If you hit that button, you are taken to a page that looks like this: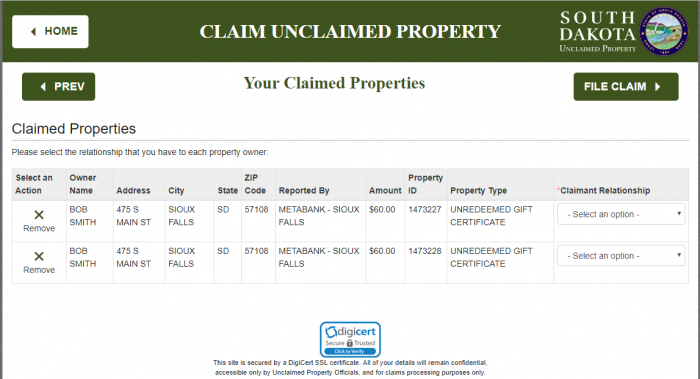 This page provides you a complete list of claimed properties, which you can review before claiming it. For each property, you are given the opportunity to select the claimant relationship. This refers to your relationship to the property owner. Your choices are: owner, estate representative, heir, and business representative: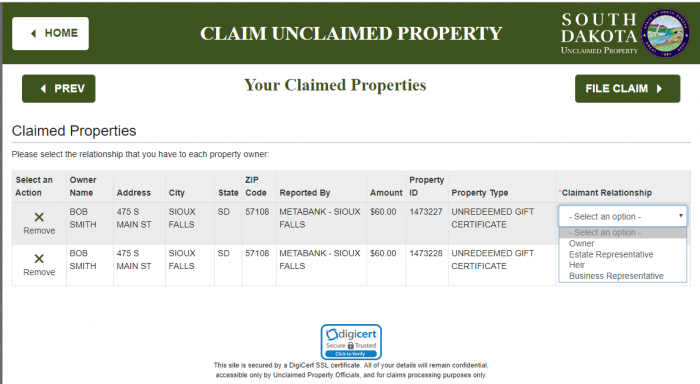 You have to choose a claimant relationship for each of the properties that you are attempting to claim. Once you have selected your relationship to the property owner for each property you have selected, you can hit the file claim button. There is one located in the top right and in the bottom right of the screen: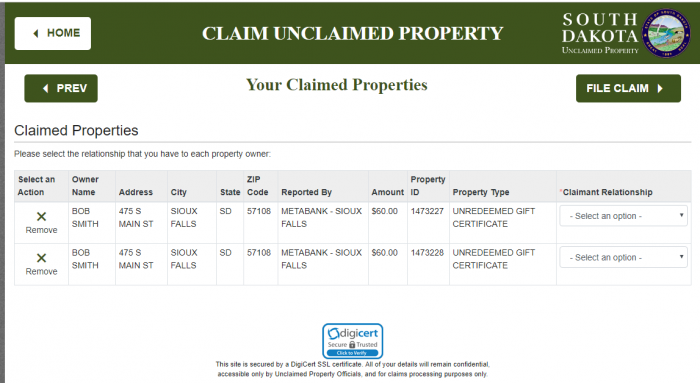 After you hit the file claim button, you will be taken to a page where you fill in your claimant information. The claimant information form asks for your: last name, first name, middle name, date of birth, email address, home phone, social security or tax id number, address, and how you heard about the program: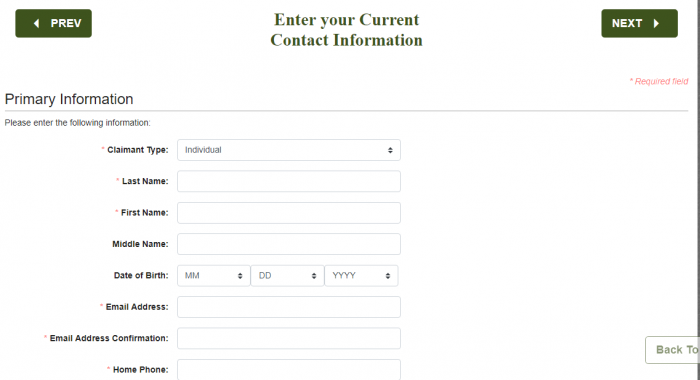 On this information page, you fill in your contact information. Once you have filled in this page, you hit the next button. The screen you see next depends significantly on what type of property you are claiming and the relationship to the claimant that you indicated. The screen will provide you with additional information about what you need to do in order to claim your information; generally, this will mean providing proof of your identity and proof that you resided at the address identified as the last address for the property owner.
Unclaimed Property Laws in South Dakota
South Dakota's unclaimed property laws are found in South Dakota Codified Laws § 43-41B.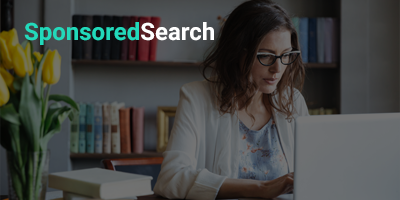 Search Public Records
South Dakota Unclaimed Money FAQ
How long does South Dakota hold unclaimed money?
South Dakota never takes possession of unclaimed property, but simply takes custody of it. It then holds that property for the property owners indefinitely.
Examples of Unclaimed Money
Almost any type of abandoned or lost property, except for real property and vehicles, can become unclaimed property. However, the most common types of unclaimed property include: unpaid wages, dividends, uncashed checks, money in savings or checking accounts, stocks, and bonds. In addition, the contents of safe deposit boxes, or at least the proceeds from their sales, often become unclaimed property.
Does the state of SD make efforts to locate owners?
In addition to operating its unclaimed property database, the state of South Dakota actually runs an extensive outreach program. They use mailings, social media, local media coverage, and advertisements to reach out to owners and to inform people about the unclaimed property program.
Other sources to search besides SD state database?
One of the biggest mistakes that people can make when they are running an unclaimed property search is to stop with only searching in their state. Even people who have only lived in a single state may need to look in some other states. That is because it is possible that you might have property in a state where you have never resided; for example, someone may have put property in your name or you may have inherited property from someone in another state. All of those states should be on your list of states to search.
Another mistake people make is thinking that all unclaimed money escheats to the states. In reality, the federal government does not turn over its unclaimed/abandoned money to the state property lists. In addition, some private businesses, specifically life insurance companies, may not have a state of residence for its property owners, and, therefore, cannot put the money on state unclaimed property lists. Therefore, we think all people searching for unclaimed property need to search the following four sites: the Internal Revenue Service (IRS), the Pension Benefit Guaranty Corporation, the U.S. Treasury, and the Life Insurance Policy Locator.
Everyone knows what the IRS is. However, they may not realize that the IRS handles a lot of money that belongs to other people; many, many taxpayers are owed a refund each year. That is why we think every single person who is looking for unclaimed money needs to check with the IRS. In fact, not only does the IRS handle a ton of money for different people, it also has a policy that makes it more likely that this money will not be returned to taxpayers who change their contact information. The IRS has an official policy that they will not forward income tax refund checks if they are returned as undeliverable. You can find out more information on this policy at: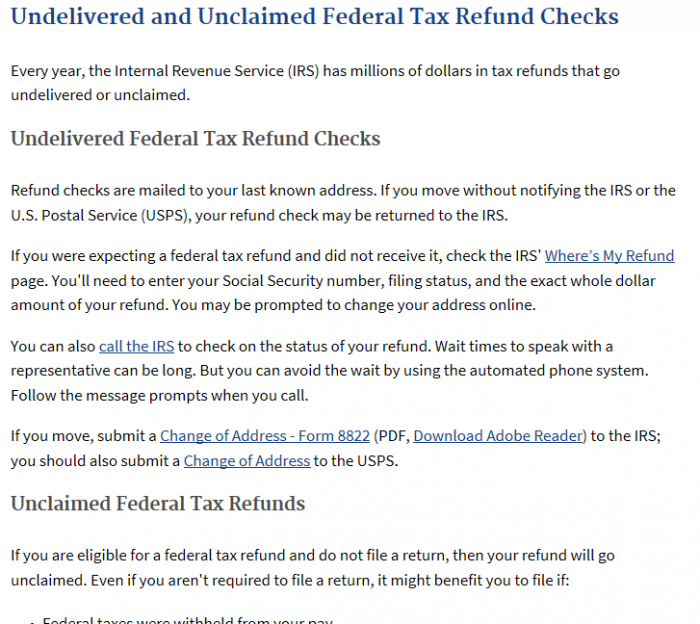 You could even go to the IRS's Where's My Refund? page, to help you locate your money: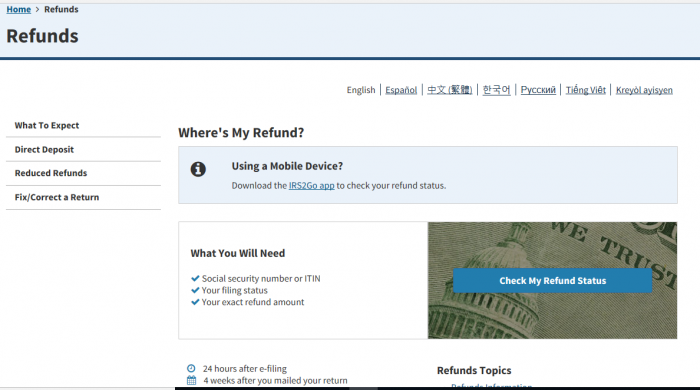 There are other federal agencies that also handle money for a lot of Americans. The next largest one is probably the U.S. Treasury. The Treasury sells treasury bonds. Moreover, many of these bonds are lost/unclaimed, because they are often bought as gifts for people. Finding those unclaimed bonds is more difficult than it was in the past. While the Treasury used to operate a searchable database that helped you find unclaimed bonds, it discontinued that service. You can still find those bonds; the process is just more difficult. You can get more information on how to find them by calling the U.S. Treasury at 844-284-2676 or visiting the Treasury Direct website.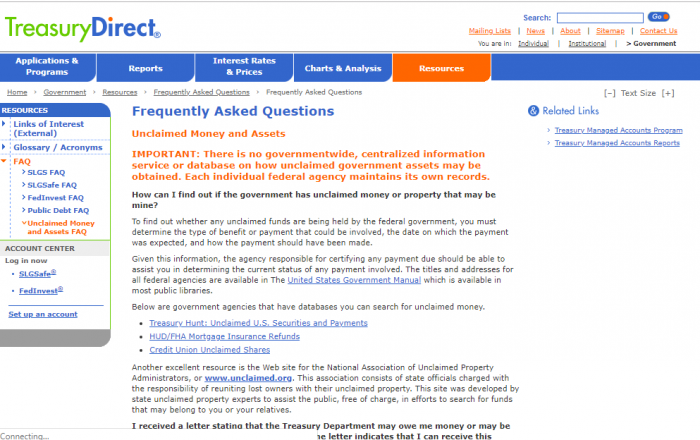 Not all federal holders of unclaimed money are so obvious. On the contrary, one of the sources is not well known at all. Most people do not realize that the federal government has an organization, Pension Benefit Guaranty Corporation (PBGC), which guarantees pension benefits. The PBGC has a searchable database, where you can look to see if you have any unpaid pension benefits: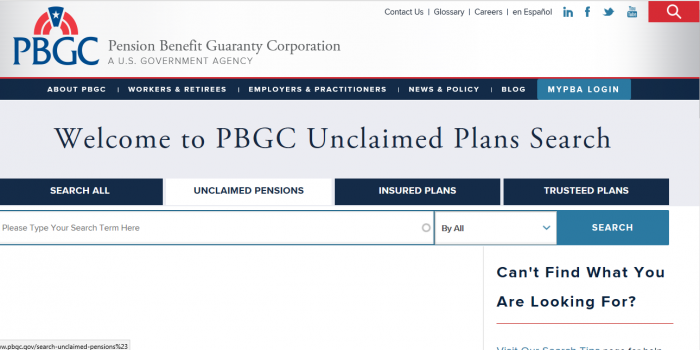 One of the more complicated areas of unclaimed property searching is looking for insurance benefits, particularly life insurance benefits. A person can name you the beneficiary of a life insurance policy without ever notifying you of that fact. In addition, a person can name you a beneficiary without giving a life insurance company enough information to find and locate you. If the insurance companies do not know where you are located, they do not know to which state database they should report unpaid claims. The National Association of Insurance Commissioners' Life Insurance Policy Locator Service, and organization that has many (but not all) of the various life insurance companies in the United States among its members, has established a service to help people located unpaid life insurance claims. It does not work the same as state unclaimed property databases; you cannot search their records. Instead, you can input information that the organization will distribute to its member agencies, so that the agencies can search through their records to see if they have any unclaimed policy benefits for you: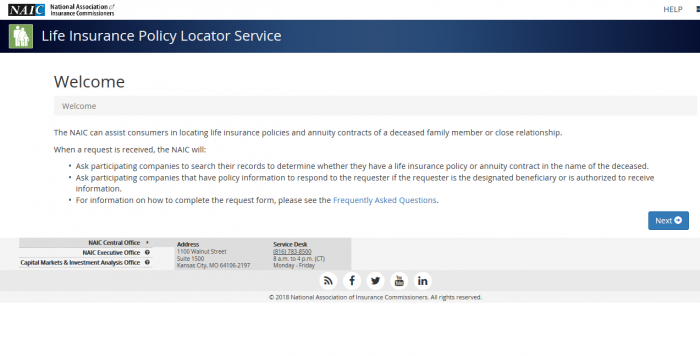 In addition to those four sites, we also suggest that people search some other sites, depending on their circumstances. You may want to look at the following places to see if they have any of your unclaimed funds: the FDIC, the Department of Housing and Urban Development, the National Credit Union Administration, and the Veteran's Administration Benefits Department.
What is the best way prevent my property from becoming lost or unclaimed?
Keeping your accounts active will keep your property from becoming lost, abandoned, or unclaimed. You also want to make sure that any holders of your property get notified any time you change your contact information, have a name change, or a change in marital status.
How do I make sure my heirs know where my assets are if I die?
A will is not sufficient to make sure your heirs can locate your assets. You need to designate a trusted person to have access to your accounts in the event that you die or become incapacitated.
Should I hire a finder to conduct the search?
South Dakota does not really address the use of finders. There is no fee to search for and file a claim for property. (There may be fees associated with some types of property, such as if you owe outstanding rent on a safe deposit box). Therefore, if you have the time to run a search yourself, you probably do not want to pay a fee to a finder to run the search or process your claims.
Why does South Dakota take possession of unclaimed property?
Like other states, South Dakota takes possession of unclaimed property for two reasons; the first reason is to help owners reclaim their lost property, the second reason is to provide an additional revenue source for the state, because the state can use the funds in the unclaimed property program to generate money for the state.
Conclusion
South Dakota has millions of dollars in unclaimed property, and 1 in 5 South Dakotans has money in the database. It is time for you to check and see if you are one of them.