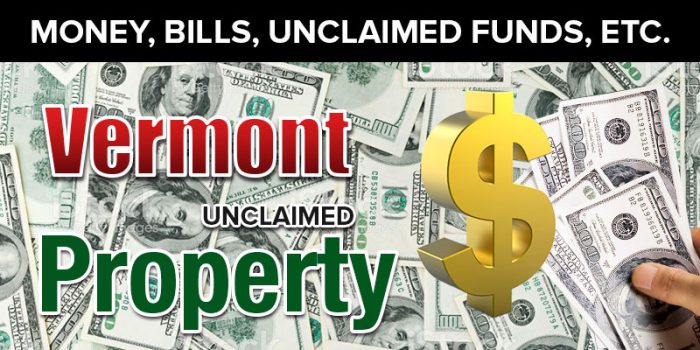 About Vermont Unclaimed Property
The Vermont State Treasurer's Office Unclaimed Property Division is in charge of Vermont's unclaimed property program. This program helps reunite the residents of Vermont with their unclaimed or abandoned assets. It reunites people with millions of dollars each year.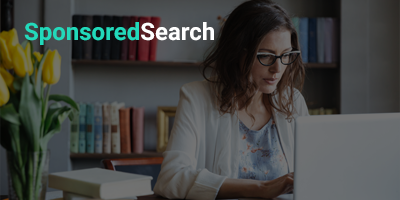 Search Public Records
There are some questions about what abandoned property means. Some people believe that it means property where the owner has given up rights to the property. That is not at all what it means. Instead of abandoned or unclaimed property, a better name might be lost property. Abandoned property is not available for anyone to claim; it has an identified owner, but is considered unclaimed because the third-party holding the property has not had any contact with the identified property owner for a specified period of time. This specified period of time is named in the state laws governing unclaimed property and can vary from state-to-state and with the type of property, but is going to be at least a year.
Some people wonder why or how property gets abandoned. Generally, it happens because a property owner forgets about property. Money is stuck in an account of some sort and the property owner forgets that it is there. Generally, the financial institution will reach out and try to locate the property owner. However, if the property owner has moved, changed names, or changed phone numbers, then the financial institution will be unable to locate the property owner. In addition, there can be errors or omissions in a financial institution's records, which can make it impossible for the financial institution to reach the property owner.
A number of different types of property can end up as unclaimed property. According to the state of Vermont, unclaimed property consists of any type of financial asset that is owned to its actual owner, which can be an individual, business, agency, nonprofit, or other property owner, but that is in possession of the holder. Holders may be corporations, credit unions, banks, insurance agencies, retailers, utilities, state agencies, states, brokerage houses, and other financial institutions. The property can be uncashed paychecks, savings accounts, checking accounts, unrefunded security deposits, stocks, IRAs, mutual funds, and the contents of safe deposit boxes. Certain types of property are exempted from the unclaimed property, such as motor vehicles and real property. The property is not just held by holders in Vermont, but can come from any of the 50 United States, the District of Columbia, Canada, Puerto Rico, and the Virgin Islands. Money may be turned into various territories, but it gets into the unclaimed property registry in the state of the property owner's last known address.
Like many other states and territories, Vermont uses the Missing Money website to help Vermont property owners locate their unclaimed property. You can use www.missingmoney.com to search the following states or territories simultaneously: Alabama, Alberta Canada, Arizona, Arkansas, Colorado, District of Columbia, Florida, Idaho, Illinois, Indiana, Iowa, Kentucky, Louisiana, Maine, Maryland, Massachusetts, Michigan, Minnesota, Mississippi, Missouri, Montana, Nebraska, Nevada, New Hampshire, New Jersey, New Mexico, New York, North Carolina, North Dakota, Ohio, Oklahoma, Puerto Rico, Rhode Island, South Carolina, South Dakota, Tennessee, Texas, Utah, Vermont, Virginia, West Virginia, and Wisconsin. However, Vermont also operates its own Missing Money website.
Although each state has some unique characteristics, searching for unclaimed money is fairly consistent from state to state. Therefore, once you have mastered the search process in one state, you will probably be able to apply it to other states. However, we have provided a full tutorial for searching for missing money in Vermont, which will take you through every step of the unclaimed money search process. We have even included screenshots of each step, so that you will know exactly what each step should look like. This can not only help you run a search in Vermont, but also in other states. Of course, if you have questions about how to search for unclaimed property in other states, you can check out our tutorials for other states.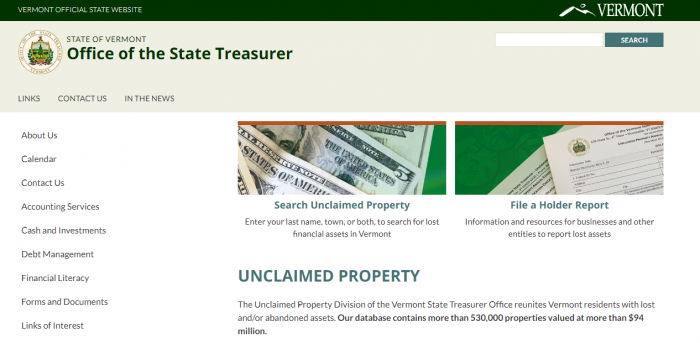 Vermont's Unclaimed Property Database
Before states developed statewide unclaimed property programs, counties handled unclaimed property. This meant that people had to search multiple places in a single state in order to find their unclaimed property. In Vermont, this would have meant searching Addison, Bennington, Caledonia, Chittenden, Essex, Franklin, Grand Isle, Lamoille, Orange, Orleans, Rutland, Washington, Windham, and Windsor counties. Fortunately, when you search Vermont's database, you now get information for each of these counties.
What is Unclaimed Property?
While every state has a specific definition of unclaimed property, unclaimed property generally refers to any type of money or property that has been unclaimed or abandoned. This property is held by a holder on behalf of the property owner, but the holder has been unable to reach the property owner for a statutory period of time. Holders include financial institutions like banks and credit unions, but also things like utility companies.
How Much Unclaimed Property in Vermont?
Vermont's unclaimed property database has over 530,000 properties worth more than $94 million. This is a relatively large amount, given Vermont's small population. Vermont's unclaimed property program has been active in helping reunite Vermont property owners with their property; in 2019 it helped return more than $6 million in assets to actual property owners. While Vermont may have a relatively large amount of unclaimed property, it only has a fraction of the unclaimed property available in the United States. According to the National Association of Unclaimed Property Administrators (NAUPA), there is approximately $42 billion available in the United States.
Vermont's Unclaimed Property Finder
There are two different ways to access Vermont's unclaimed money finder. You can go to www.MissingMoney.com to search for Vermont and other states and territories at the same time. You can also go directly to the unclaimed property pages at the Vermont Office of the Treasurer: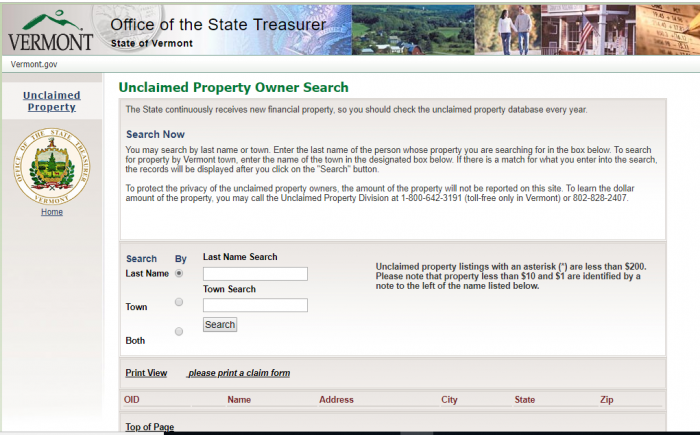 In Vermont, you can start your search in the traditional way by providing your last name. You can also put a business name in the last name search box. However, one of the things that makes Vermont's searchable database unique is that it allows you to run a search without using a last name; you can search by town and see all of the properties where the last known address was in a particular town.
Because we provide tutorials for a number of different states, we try to keep them consistent so that people can easily compare and contrast how to run searches in the different states. We use the same name, Bob Smith, for our tutorials. In addition to providing consistency, there are some potential problems that can occur when you search for a common name. Therefore, we chose to search for a common name so we can show you how to avoid those pitfalls.
In some states, the number of potential results are limited. Vermont is not one of those states. Therefore, we can see how many results are available. Searching just for Smith, there are 5,796 results: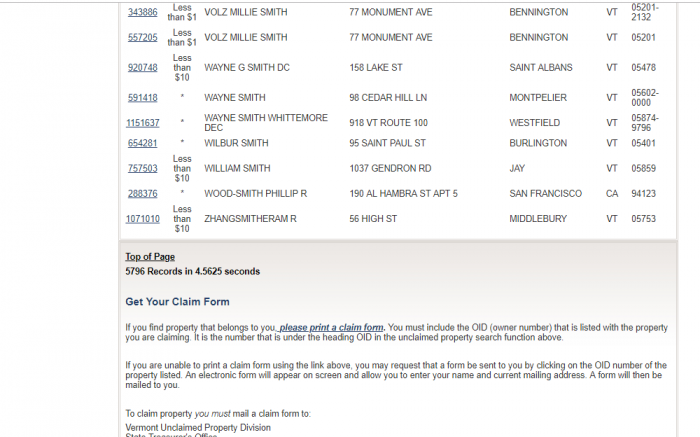 However, there are some difficulties with this process. It not only includes people with the last name Smith, but also people with last names that include Smith in them. Unfortunately, Vermont does not allow one to search by first name and last name together. You can do a CNTL + F search that helps you look for first names, which may help you find the first names you want.
While Vermont's property search function does not let you narrow down your results by first name, you can enter in additional information and search by last name and the town name. To narrow down search results, you can enter in the town name. We included the town name Springfield in order to reduce the number of search results. This brought the number of search results down to 75 results: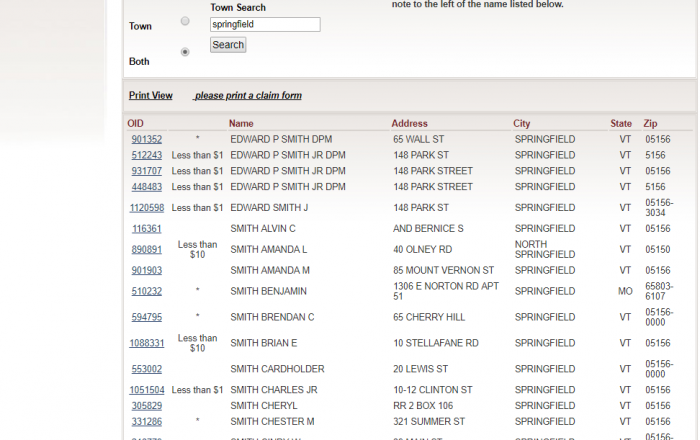 75 results is a significantly smaller number of potential results than the initial number, which was over 5,000. However, as you can see from the screenshot above, these results are not limited to just Bob Smith. You will still have to look through all of the results in order to find the Bob Smith results in the search. The search results happen to be alphabetical. As you can see above, there is no one identified as Bob Smith in the list. There are also no results for any names similar to Bob, such as Bobby or Robert. As a result, we will not be using the Springfield results. Instead, we return to the statewide results. Running the CNTL + F search for Bob, you find the following results: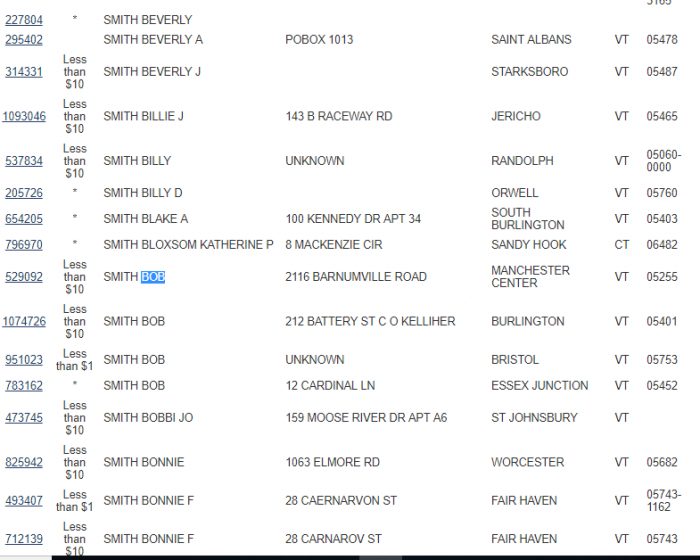 Looking at the search results, you can see some information about each of the property claims. Each of the property claims has the property number, the amount of the claim, the name of the owner of the property, the property owner's last known address, the city where the property owner lived, the state, and the zip code.
In many states, you will notice a claim button to the left of each property description, which you can hit to select that property as one of multiple properties to claim at a time. In Vermont, there is no claim button available on the property. Instead, you can simply select the property claim number. Doing so does not put the property into a shopping cart, but takes you directly to the page where you begin to claim that particular property. You will have to fill out individual claims for each property you attempt to claim: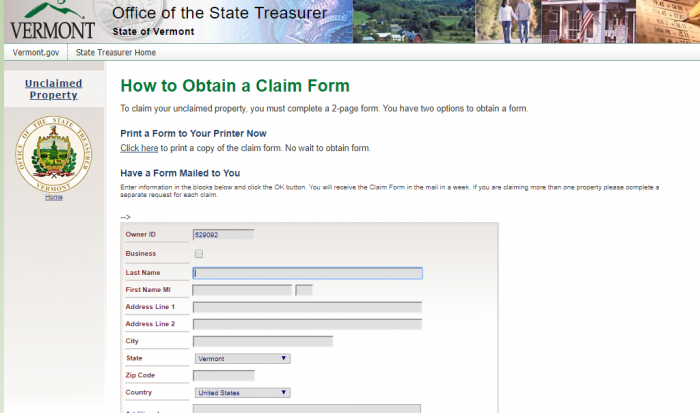 There is a difference between Vermont's process and the process in many other states. Although this form is available online and lets you fill in details, it is not actually an online processing form. Instead, you can either print out a form to mail to the state or you can fill out the form and have the state send it to you, where you will provide additional details and then send it back to the state. You are not providing information for a claim.
Once you submit this information, you will be provided with additional information about what type of proof you need to provide in order to claim your property.
Unclaimed Property Laws in Vermont
You can find the laws for unclaimed property in Vermont in Vermont Statutes Title 27: Property, Chapter 14: Unclaimed Property.
Vermont Unclaimed Property FAQ
How long does Vermont hold Unclaimed Property?
Vermont will hold property indefinitely for an actual owner or that owner's heirs to claim the property.
Examples of Unclaimed Property
There are a number of different examples of unclaimed money. These examples include, but are not limited to, money in savings and checking accounts, property in safety deposit boxes, uncashed checks, unpaid wages, stocks, bonds, and money IRAs.
Does Vermont make efforts to locate owners?
Vermont does not make significant efforts to locate property owners, but does make property searchable on the Vermont database and on the Missing Money database, to help Vermont property owners locate their money.
Other sources to search besides the Vermont unclaimed property database?
If you are beginning a search for unclaimed property, the logical place to begin is the state database for the state where you reside. However, it is a common mistake to just search in this one state database. You may need to include other states or even some federal or national databases to help you find additional unclaimed property.
When you want to create a list of states where you should search, you want to think about states where you may have established contacts. This includes states where you have resided, because most unclaimed property will be connected to the last known address of the property owner. However, sometimes unclaimed property is not linked to an address. Therefore, you want to include states where you may have business contacts and states where someone who may have put money in your name may resides. You should also search the Missing Money comprehensive database.
Once you have finished looking at the various state databases, you want to consider the national databases that you want to examine for unclaimed property, as well. It is very important to look for unclaimed property in these sites, because there are some types of property that will not ever be in the custody of the state databases. While there are multiple different national websites that may help you find your unclaimed property, there are four sites that we suggest for almost any person who is looking for unclaimed property. These sites are: the Internal Revenue Service (IRS), the Pension Benefit Guaranty Corporation, the U.S. Treasury, and the Life Insurance Policy Locator.
It is easy to see why the IRS is a must-search site for people who are looking for unclaimed property. It processes money for every taxpayer in the United States. In addition to being such a high-volume processor, it also has a policy that increases its likelihood of holding unclaimed property. It does not forward tax refunds if the taxpayer's address has changed or the income tax refund is otherwise undeliverable. You can find out more about this policy on the IRS's website: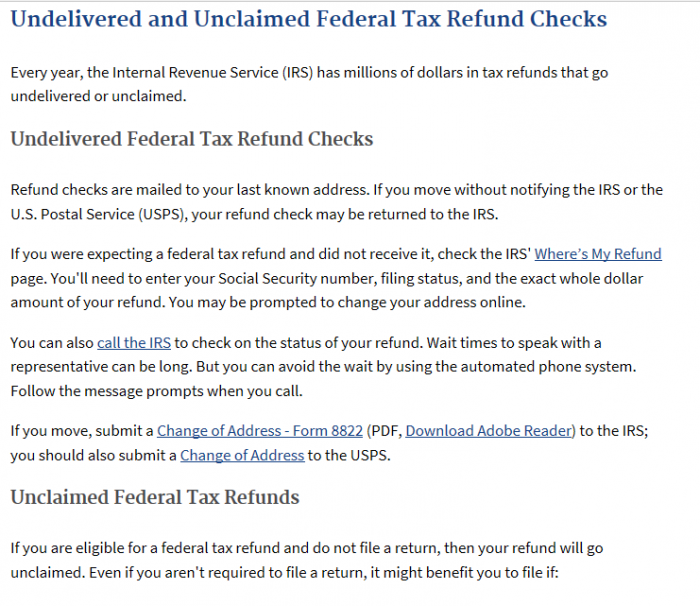 The IRS has made it easy to search for your unclaimed money, and they even have a specific page dedicated to helping people locate lost or missing income tax refunds. You can visit the IRS's Where's My Refund? page to locate it: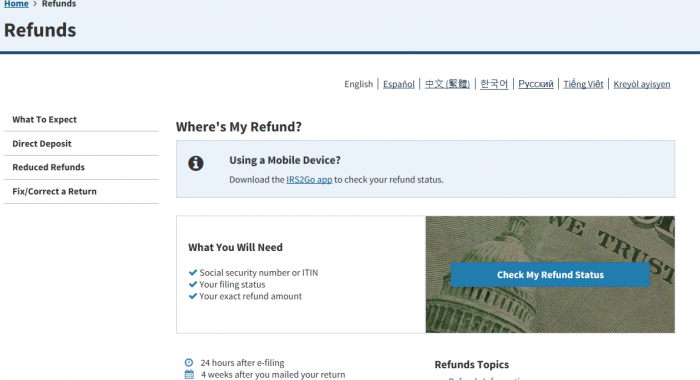 Another major federal holder of money for Americans is the U.S. Treasury. One of the things that makes the Treasury unique as a holder is that many people who have properties held by the Treasury may not even be aware of it, because Treasury properties are frequently purchased as gifts. Unfortunately, while the Treasury once had a searchable database that helped people locate their unclaimed property, they discontinued this process, which has made it more difficult to locate that money. To being the process, you can call the U.S. Treasury at 844-284-2676 or visit them online at the Treasury Direct website: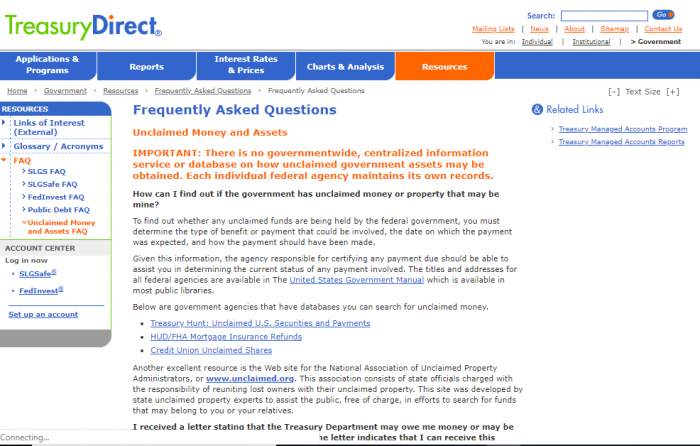 The third federal agency we suggest people search is one that is unknown to many people. This agency is the Pension Benefit Guaranty Corporation (PBGC). The PBGC is a government-run corporation, which was created to guarantee private pension benefits. One of the things that the PBGC does is to operate a searchable database that can help people find their missing pension benefits: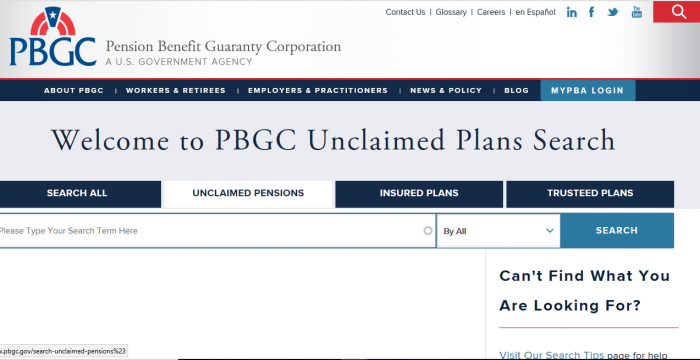 A final site that we suggest people search is a national level website, but not a government site. This is a website operated by the National Association of Insurance Commissioners' Life Insurance Policy Locator Service. This conglomeration of insurance companies does not have the same type of searchable database that you would find in a state system, and does not allow you to search their records. However, it lets you put information into their system, which they then distribute to member agencies, who can check and see if you are a beneficiary to any unpaid insurance benefits: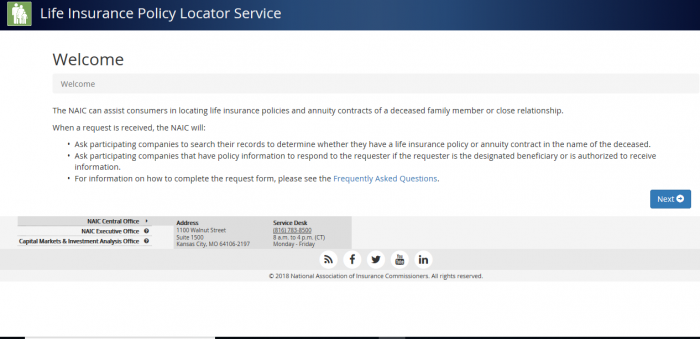 Some other sites may be worth searching for some individuals, though not for others. You should consider whether you have had contact with any of the following agencies, and, if so, you should search them for unclaimed property as well: the FDIC, the Department of Housing and Urban Development, the National Credit Union Administration, and the Veteran's Administration Benefits Department.
What is the best way prevent my property from becoming lost or unclaimed?
This is probably the number one question we get from people. Property is only considered lost or unclaimed if the holder is unable to contact you and there has been no activity on your account. Therefore, you want to keep accurate records of all of your accounts, update your holders anytime you have a change in contact or other personal information, and set up reminders to contact your account holders on a regular basis.
How do I make sure my heirs know where my assets are if I die?
Do not rely on your will to let your heirs know where to locate assets; instead, designate a trusted individual to have access to your financial records in the event that you die or become incapacitated.
Should I hire a finder to conduct the search?
While you can conduct a search and claim your property for free, Vermont does not discourage the use of finder services. The State of Vermont limits fees to 10 percent of the total property value. Even if you use a finder service, the State of Vermont will send the check directly to the property owner. It is then your responsibility to pay the asset locator/ finder service according to the terms of your contract.
Why does Vermont take possession of unclaimed property?
Vermont's unclaimed property law is a consumer protection statute, which is aimed at helping reunite people with their lost or abandoned property.
Conclusion
Vermont's unclaimed property program has millions of dollars available for more than half a million claimants. Could you be one of them?