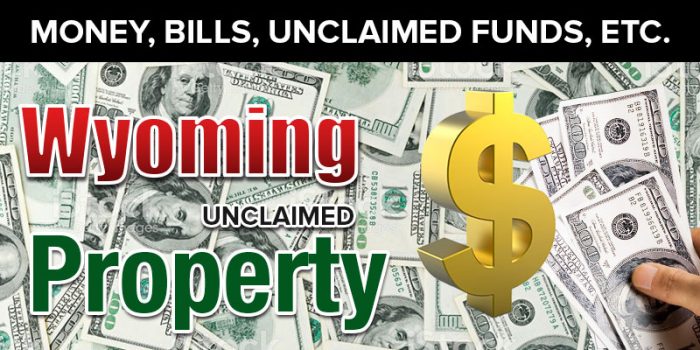 The Wyoming State Treasurer handles the state's unclaimed property program. The goal of the program is twofold. Primarily, it is a consumer protection program, which is aimed at reuniting property owners with their lost and abandoned property. Secondarily, it is a way for the state to generate income, because Wyoming uses the funds in its unclaimed property program to generate income. In the last 26 years, this Wyoming program has returned over $54 million in unclaimed property, but it still has millions to return to property owners.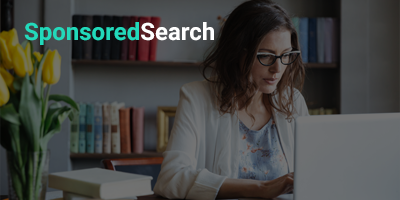 Search Public Records
There are some questions about what abandoned property means. It does not generally mean property that an owner has intentionally abandoned. Because unclaimed property is the type of tangible and intangible property that is usually easily converted to cash, it is rare for someone to intentionally abandon it. Instead, it really refers to property that has been forgotten, rather than abandoned. This property may have been in an account or in the form of a refund, and the property owner probably just forgot about it. While the holder is required to try to track down a property owner, if there is a glitch in the contact information or if the property owner has failed to provide updated contact information to the holder, then they may not be able to reach them. The type of changes that might lead to this can be a change in name, a change in address, or a change in marital status. Of course, clerical errors can also be the root cause of the problem. If the property owner and the holder lose contact for a specified period of time, usually at least a year, then the property may be considered abandoned and turned over to Wyoming's unclaimed property program.
When that happens, it does not mean that the money is up for grabs. On the contrary, the money still belongs to the original property owner and will be available for that property owner, or his or her heirs, to claim indefinitely. It is simply called unclaimed because the identified owner failed to claim it from the holder within the time period defined by the statute.
According to the state of Wyoming, unclaimed property includes the following types of property: refunds, deposits, savings accounts, customer overpayments, checking accounts, annuities, credit balances, endowments, monies distributed from trusts, uncashed insurance claim payments, uncashed dividends, money orders, stocks, and mutual funds. This is a non-exhaustive list; with the exception of motor vehicles and real property, almost any type of property that is held by a holder for an actual property owner, can become unclaimed property.
While most people think of holders as banks and other dedicated financial institutions, holders can actually be a variety of different types of businesses or organizations that might be in possession of someone else's money for some reason. They are frequently banks, credit unions, insurance agencies, brokerage houses, nonprofits, state agencies, retailers, utilities, and corporations. The holders do not have to be located in Wyoming. Holders from all around the United States, as well as in Canada, will report unclaimed property to Wyoming if the property owner's last known address was in Wyoming.
While many states use the Missing Money website to help people find their unclaimed money, Wyoming does not. If you are looking for money in one of the following states or territories, you can search www.missingmoney.com for your unclaimed money: Alabama, Alberta Canada, Arizona, Arkansas, Colorado, District of Columbia, Florida, Idaho, Illinois, Indiana, Iowa, Kentucky, Louisiana, Maine, Maryland, Massachusetts, Michigan, Minnesota, Mississippi, Missouri, Montana, Nebraska, Nevada, New Hampshire, New Jersey, New Mexico, New York, North Carolina, North Dakota, Ohio, Oklahoma, Puerto Rico, Rhode Island, South Carolina, South Dakota, Tennessee, Texas, Utah, Vermont, Virginia, West Virginia, and Wisconsin.
Looking for unclaimed money is similar in the various states, even if they use their own unclaimed money websites. This means that if you have done an unclaimed property search in another state, you may be prepared to run a search in Wyoming. However, there are some differences from each state. That is why we have prepared a full tutorial for each state, including screen shots, which takes you through each step of the search and claim process. By following this tutorial, you can easily handle an unclaimed money search in Wyoming. You can apply many of these steps when searching other states, or visit our state-specific tutorials for those states to learn more.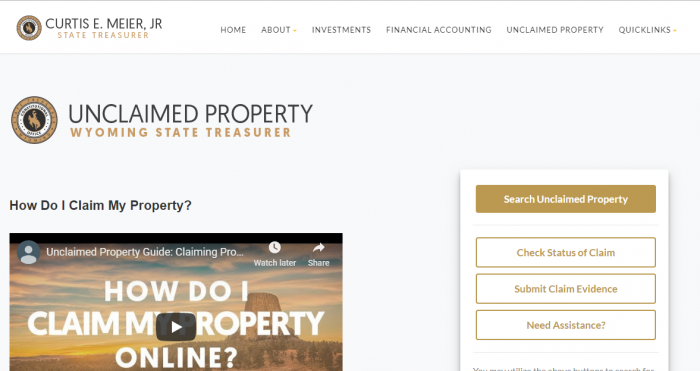 Wyoming Unclaimed Property Database
Prior to states developing statewide unclaimed property databases, people had to look in a county-by-county way to find unclaimed property in a state. In Wyoming, that meant looking in: Albany, Big Horn, Campbell, Carbon, Converse, Crook, Fremont, Goshen, Hot Springs, Johnson, Laramie, Lincoln, Natrona, Niobrara, Park, Platte, Sheridan, Sublette, Sweetwater, Teton, Uinta, Washakie, and Weston. Fortunately, the current state database covers all of these counties.
What is Unclaimed Property
To determine what unclaimed money is, you actually need to look at a state's statute. This is because, while most states have very similar definitions of unclaimed property, statutes help determined how long property has to be abandoned before being considered unclaimed. The period of abandonment refers to how long the holder has been unable to contact the property owner.
How Much Unclaimed Property in Wyoming?
Wyoming has returned $54 million to people over the last 26 years, but still has $85 million to return to property owners. This is a small amount compared to the $42 billion in unclaimed property that the National Association of Unclaimed Property Administrators (NAUPA) estimates is available in the United States of America.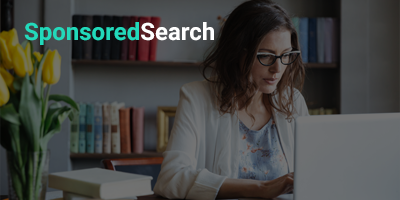 Search Public Records
Wyoming Unclaimed Property Finder
You can find Wyoming's unclaimed money finder at the Wyoming State Treasurer's website.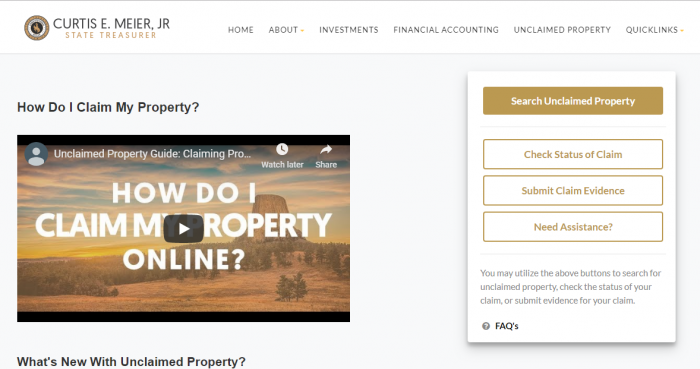 If you hit the button labeled search unclaimed property, you are taken to a page where you can begin putting in information and running your search: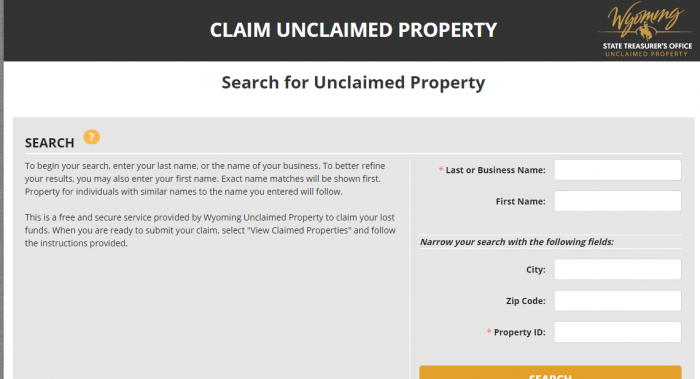 In Wyoming, you can search by last name, first name, city, zip code, and property ID. If you are searching for a business and not an individual, then you can put a business name in instead of a last name.
Since we do tutorials for each state and territory, we try to use the same search parameters so that our visitors can easily compare and contrast the search process in each state. For that reason, we have chosen the name, Bob Smith, to use in all of our example tutorials. The choice of the same name helps you look for similarities in the state search processes. In addition, the choice of a very common name is intentional because searching for common names can result in there being too many search results to be easily searchable. Therefore, with a common name, you might have to add in additional parameters to make the search results manageable.
In some states, the number of potential results are limited to 1000, and Wyoming is one of those states. When searching for the last name Smith, we see that there are 1,000 results, but we do not know if that really means that there are 1,001 results or 1 million results: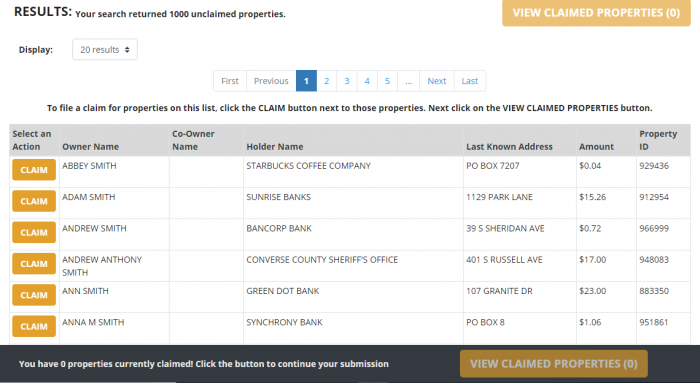 Therefore, the next thing a searcher will want to do is try to limit the search by adding in the first name Bob. At first, this does not seem to have limited your results, because you see that you still have 1,000 results: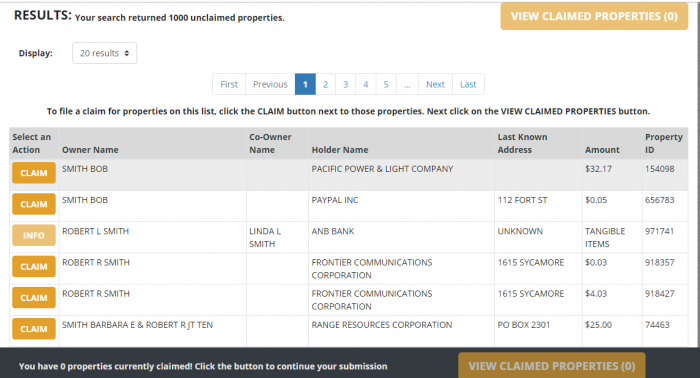 However, if you go through the results, you will see that the name Bob Smith is listed first, then Robert Smiths. The more than 1,000 results are actually for all Smiths. Therefore, you can look through the first few pages of results and find all of the actual matches for Bob Smith. If you look through the results and see that you still have an unmanageable number of results, you can still include additional search parameters to narrow down the results. For example, you could enter the city of your last known addresses or your zip code. Given that the results have already been narrowed to a manageable number, doing so is not necessary in this example.
Once you have found the list of potential properties for which you are searching, you can look at the information available for each property. There is a claim button, the name or names of the property owners, co-owners' names, the holder's name, the last known address, the amount of the claim, and the property ID number. For some of the properties, there will not be a claim button, but an info button instead. If there is an info button, then you can highlight the button and it will give you additional information. The information may state that the property is not in the state's custody, but is still being held by the holder.
If you want to pick a property, you can hit the claim button on the left. When you hit that button, it will indicate that the property has been claimed and give you the option to remove that property: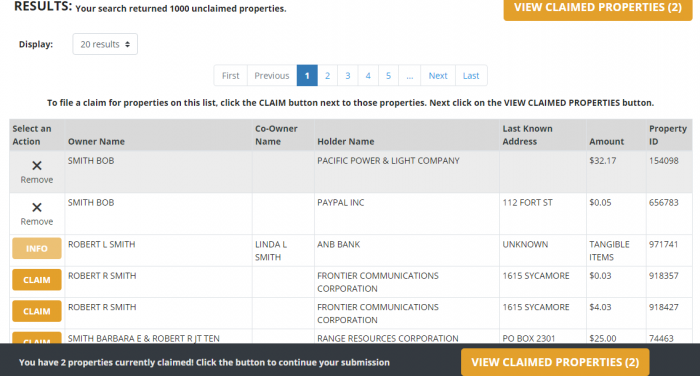 After you have selected the properties, you want to hit the view claimed properties button. You will be asked to choose a claimant relationship. The options will be: owner, business, business-dissolved, business-bankrupt, closed trust, open trust, and power of attorney: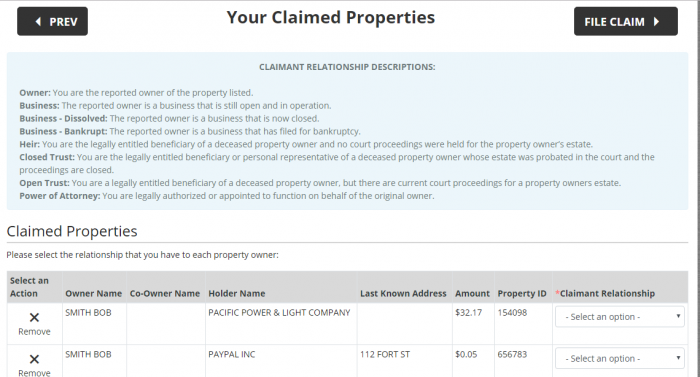 Unclaimed Property Laws in Wyoming
You can find Wyoming's Uniform Unclaimed Property Act in 2011 Wyoming Statutes Title 34 Chapter 24.
Wyoming Unclaimed Property FAQ
How long does Wyoming hold unclaimed money?
Like most states and territories, Wyoming will hold unclaimed property indefinitely until the actual owner or that owner's heirs are able to claim the money.
Examples of Unclaimed Property
There are a number of different examples of unclaimed money/ unclaimed property. A non-inclusive list of types of unclaimed property includes: money in checking accounts, money in savings accounts, IRA's, stocks, bonds, dividends, unpaid wages, uncashed checks, customer overpayments, refunds, insurance benefits, and property in safety deposit boxes. Almost any type of property can become unclaimed property, though intangible property and tangible property that can be easily converted to intangible property are more likely than other types of property. Real property (such as buildings and land) and motor vehicles are generally exempt.
Does Wyoming make efforts to locate owners?
While some states have extensive outreach programs to locate the owners of property, Wyoming does not really have a well-developed outreach program. Instead, it relies on property owners accessing information on the unclaimed property database.
Other sources to search besides the Wyoming unclaimed property database?
While most people start their property searches at the state database in the state where they reside, it is a mistake to end your property search in the same place. For most people, running a thorough search for unclaimed or abandoned property is going to involve looking at multiple state websites, as well as some federal/national level sites. We suggest you make a comprehensive list of all of the sites you want to search before beginning your unclaimed property search. Do not be surprised if your list grows after you start the search process.
One of the first steps in the process it to make a list of all of the states you want to search. Of course you want to include any state where you have ever resided, since it is possible that you have forgotten or lost assets in those states. However, what many people do not realize is that other states should be on their lists, as well. You want to think about any state where you may have established business contacts, in addition to any state where someone else (a grandparent or other relative, perhaps), may have put money in your name.
In addition to state databases, there may be some federal or national databases for you to search as well. Which ones will depend on the federal agencies with which you have had contact, and it is almost impossible to list all of the potential agencies that you need to investigate without knowing individual life circumstances. That said, there are some core national level sites that everyone should include in their unclaimed property searches. They are the Internal Revenue Service (IRS), the Pension Benefit Guaranty Corporation, the U.S. Treasury, and the Life Insurance Policy Locator.
While most people realize that the IRS handles property for literally millions of property owners each year, they do not necessarily think of them as a potential holder of unclaimed property. However, a few of the IRS's rules about property increase the likelihood that it will have unclaimed property. First, the IRS never turns income tax refunds that it cannot deliver over to the state; it holds onto the refund money. Second, the IRS will not forward refunds when it does not have contact information for the property owner. You can learn more about these policy's at the IRS's: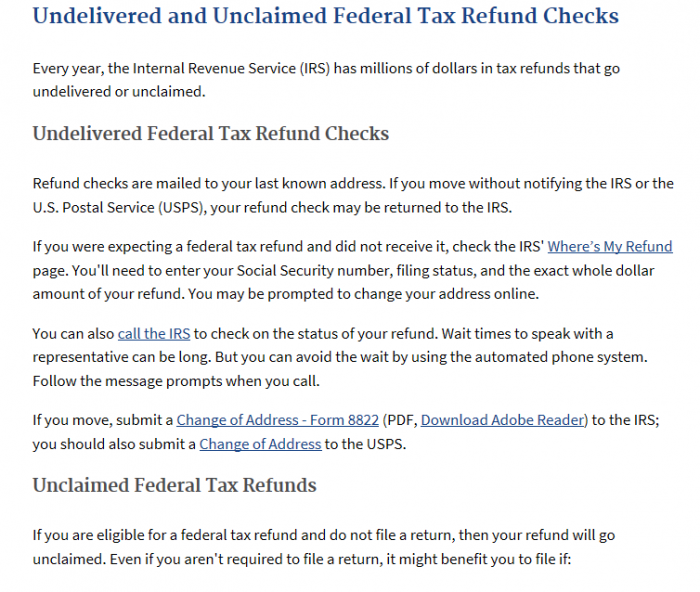 While the IRS will not forward refunds, it has set up a page that is specifically dedicated to helping people tack down their tax refunds. You can find the IRS's Where's My Refund? page to get started on tracking down your tax refund: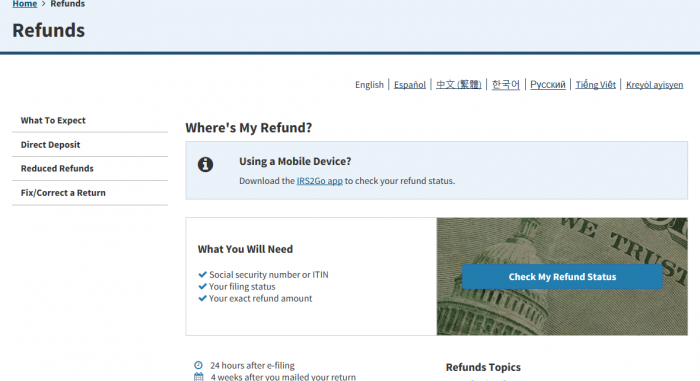 While the IRS makes it easy to track down your missing money, not all federal agencies are quite so cooperative. Next to the IRS, the U.S. Treasury is probably the largest holder of federal unclaimed money. However, it does not have a searchable database to help you look for your unclaimed property; it used to operate that service, but no longer does. However, you can contact the U.S. Treasury at 844-284-2676 or visit them online at the Treasury Direct website to get help with locating your unclaimed property: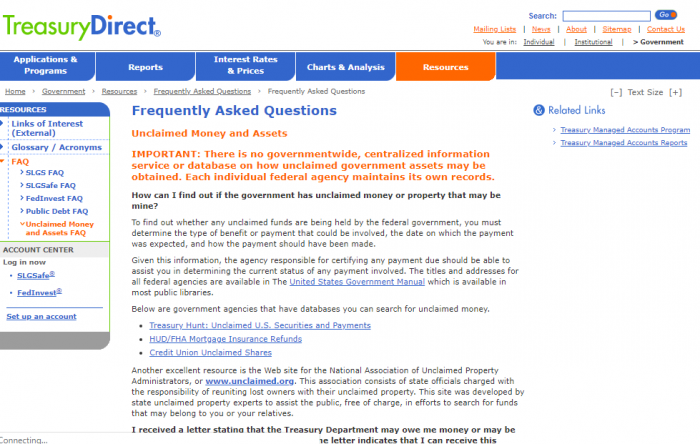 You might not have heard of the Pension Benefit Guaranty Corporation (PBGC), but it is another federal agency that might be holding money for you. The PBGC is a government-run corporation, which was created to guarantee private pension benefits, and it operates a searchable database that can help people find their unpaid pension benefits: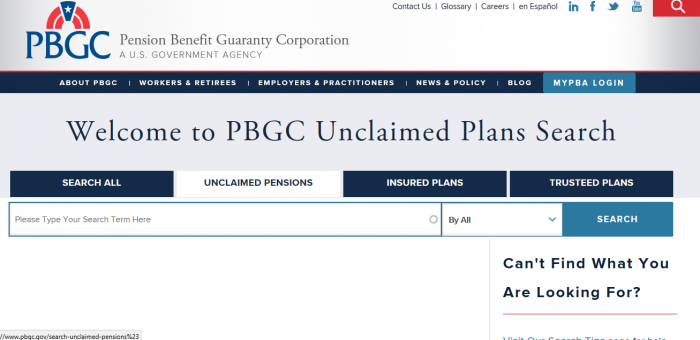 Not all national level sites are run by the government. Some are private sites run by their industries, with the goal of connecting people with their money. One of those is run by the National Association of Insurance Commissioners' Life Insurance Policy Locator Service. The National Association of Insurance Commissioners is a conglomeration of life insurance companies. While it does not operate a searchable database that allows you to input your information and search their records, it does let you input information, which it distributes to member agencies so that those agencies can search their records to see if you are the beneficiary on any unpaid policies: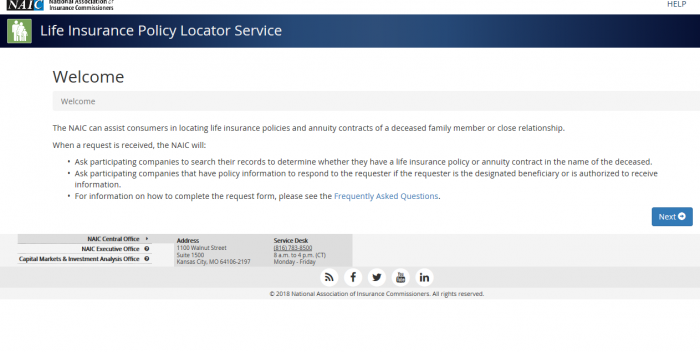 The above-listed sites are what we consider the must-search four of federal sites. However, many people can also locate unclaimed money in the following sites: the FDIC, the Department of Housing and Urban Development, the National Credit Union Administration, and the Veteran's Administration Benefits Department. Whether you should add them to your search depends on your individual circumstances.
What is the best way prevent my property from becoming lost or unclaimed?
When people find out about unclaimed property programs, their first thought is that they are a great idea. Their second thought is how to prevent themselves from ever needing to use one. Property becomes abandoned or unclaimed when the owner loses contact with the holder. To prevent this from happening, keep detailed account records and contact your holders on at least a yearly basis. In addition, be sure to inform your holders if you have a change in contact information, such as address, phone number, name, or even marital status.
How do I make sure my heirs know where my assets are if I die?
Another way that property becomes abandoned is that the owner dies and the heirs do not know about the property. Prevent this from happening by keeping detailed account records and appointing a trusted person to have access to those records in the event of your death or incapacitation.
Should I hire a finder to conduct the search?
The state of Wyoming does not take a position on finders, but stresses that you can use their search for free. If you choose to use a finder service, there will be a fee, usually a percentage of any property recovered.
Why does Wyoming take possession of unclaimed property?
Unclaimed property laws are consumer protection statutes, which also benefit the states that have them because the states are able to use the money in unclaimed property funds to build revenue for the state.
Conclusion
Wyoming may be a small state with a small population, but it has returned millions of dollars to property owners and is in possession of millions more. If you have contacts with Wyoming, you should check to see if any of it is yours.